Juniper Systems Limited has introduced Cedar CT8X2 rugged tablet recently to meet the needs of on-field use. It differs from its consumer variant in terms of its ruggedness. The new tablet retains the functionality and ruggedness of its predecessor tab CT8 in the Cedar series of devices.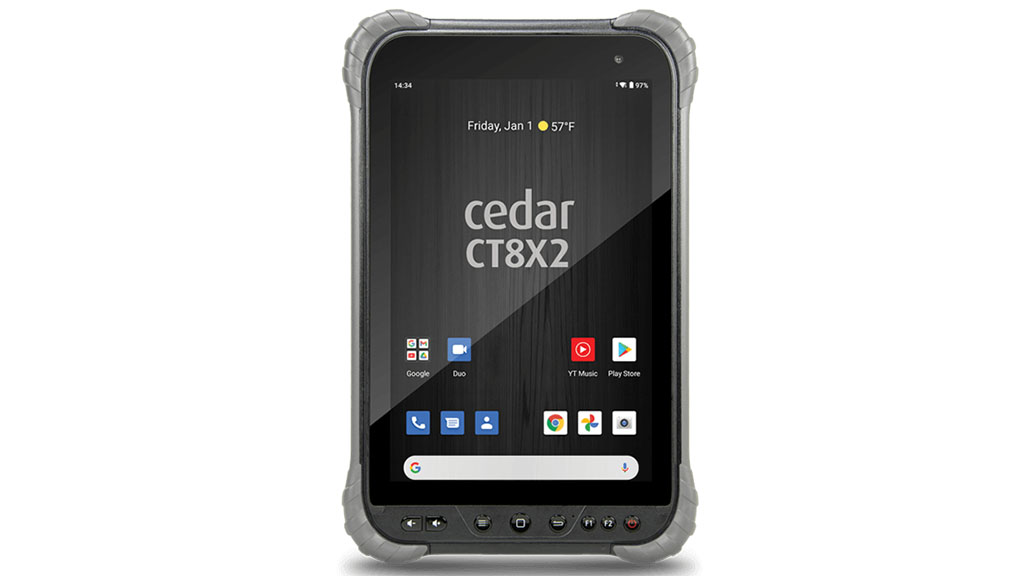 When on the field, simply a high-end computing device won't fulfill the job. It requires more sturdy and robust design along with longer battery time. Juniper System managing director shared such thought on the occasion of releasing Cedar CT8X2 device.
Let's see what this rugged tablet offers. It runs on the latest stable version of Android OS – Android 10. In addition to that, Cedar CT8X2 is Google Mobile Services (GMS) certified tablet which makes it a tablet capable of running applications required for apt functioning on-field and off-field.
Some of the Cedar CT8X2's specifications make it a stronger, faster, and high-storage capacity tablet. Considering the price point, this tablet is one of the best rugged tablets available on the market.
It runs on an Octa-Core Snapdragon SDM632 processor which works just fine. CT8X2 contains 4 GB RAM which makes it even faster compared with it's previous version CT8 with 3 GB RAM.
Talking about the storage capacity, it can store 64 GB of data without any memory cards. The storage capacity of CT8 was only 32 GB, so it's good upgrade from there. Moreover, it supports MicroSD cards which can extend the storage capacity up to 128 GB.
When it comes to using a tablet on-field, you can't miss considering the battery life and battery capacity of the device. The Cedar CT8X2 features an 8000 mAh battery that runs for almost 8 hours. However, you can use a hot swappable battery for a non-stop working when you don't have a facility or feasibility to charge your device.
This tablet offers an 8 inch, bright 450 Nits screen with 1280x 800 resolution. And the touchscreen facilitates 10-point touch. The primary orientation, unlike many new tablets, is portrait.
Cedar CT8X2 comes with and IP67 rating, which separates it as a rugged tablet from its consumer, tab. It has thick bumpers on the corner to protect the device from sever impacts and drops. It also protects the screen by coming first into contact with the hard surface.
However, it has a Gorilla Glass which is pretty much hardy for 1m impacts. Not to mention, its sweat proof and has scratch resisting properties. Cedar CT8X2 can work efficiently within -4 to 140 degrees Fahrenheit temperature range, which is perfect for normal in-the-field operations.
It comes with two Nano SIM card slot which supports LTE 4G connectivity. Other connectivity features include Wi-Fi 2.4 GHz & 5 GHz, Bluetooth 4.2, OTG support, NFC, and USB type C port.
The tablet also features a hand strap for holding device, which makes it convenient to handle the device while working on the tab on-field.
Lastly, Cedar CT8X2 has the same GNSS chip as the CT8 device. This chip is used for superior GPS accuracy required working out of the office. The u-blox M8030 GNSS chip offers one meter accuracy of GPS under open skies and five meter of accuracy under the dense tress in a forest like area. Also, it supports Juniper System's sub-meter GPS receiver, Geode. Once connected, CT8X2 can offer sub-meter accurate data.
The back of CT8X2 allows users to attach 1D/2D barcode scanners as well. At an affordable price point, such versatility of the tablet makes it perfect for using it for normal use to a wide range of outdoor fields.