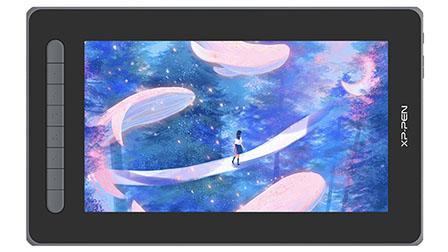 XP-Pen recently launched a new pen display, Artist 12 2nd generation.
If you already have its predecessor, XP-Pen Artist 12, you may want to get this new generation pen display because it comes with new upgrades and better functionalities at almost the same price. It's a good trade actually.
The new generation tab is introducing a new chapter for digital drawing enthusiasts XP-Pen says. It offers more colors, more sizes, and more functions for a whole new immersive drawing experience.
When it comes to the color of the device, you cannot not choose the color you've always wanted if given multiple options. Also, choosing the color that matches with your workstation's collective vibe makes you feel more satisfied while working on it. XP-Pen Artist 12 2nd Gen comes in Green, Black, Blue, and Pink color options.
The product dimensions are 346.2 x 209 x 12 mm with 263.23 x 148.07 mm work area. Its display features a 5080 LPI resolution. Meaning, it can show you 5080 lines in a one inch of area.
The Artist 12 2nd Gen features XP-Pen's new X3 smart chip. The company envisions dealing with computer graphics as real and natural as possible with its X3 chip. Thanks to its new X3 stylus that mimics a traditional tool for drawing and crafting your idea on a digital canvas.
Also, the XP-Pen flaunts that its new chip technology has brought infinite possibilities. Its X3 stylus is battery free, meaning you won't have to worry about charging the stylus when working.
It features 8192 levels of pressure sensitivity and 60 degrees of tilt angle. The high pressure sensitivity lets you draw lines with different thickness corresponding to the pressure you apply through the stylus.
This is similar to how we draw lines of different thickness naturally on a paper by varying the pressure. Moreover, its 60 degree tilt angle makes the shading easy.
In addition, the stylus comes with just 3 grams of initial activation force. This means that the force you need to apply to register a stroke on the pen tablet. With this 2nd gen tablet, this increases the sensitivity ten times compared to its predecessor.
The retraction distance of the stylus has also been reduced to its half; 0.6 mm. The company also claims that the life of new XP-Pen stylus powered with X3 chip has increased twice.
The Artist 12 2nd generation features a fully laminated display that offers 94% Adobe RGB, 90% NTSC, and 127% sRGB wide color gamut. This offers bright and vibrant colors even in the dark. Its lamination is closely packed with the display to reduce the parallax for superior accuracy and precision.
It has 8 multi-functioning customizable keys that will smoothen your workflow. The good thing about it is you can assign different functions to each button easily using its software.
It comes with dual ports. With a 3-in-1 port, you can easily connect your Artist 12 2nd generation to a different display or a computer through and HDMI cable. Moreover, it has a type C port and can purchase a fully featured type C cable separately if you want to make a type-C to type-C connection.
The Artist 12 2nd generation is compatible with Windows, Android, ChromeOS, Mac and Linux devices and high-end software like Adobe Illustrations, Adobe Photoshop, Fire Alpaca, Krita, Blender 3D, Medibang, CDR, and many other graphics software.