You as an illustrator or a designer are always fueled by instant hits of creativity that lets you design and nothing ever satisfies your creative thirst like XP-PEN Artist 12 graphics tablet. It is a tablet that is carefully designed to meet all your needs while being your favorite piece of device to create what you've always wanted. The looks and feel of the device is not that premium, and it won't range in that category too.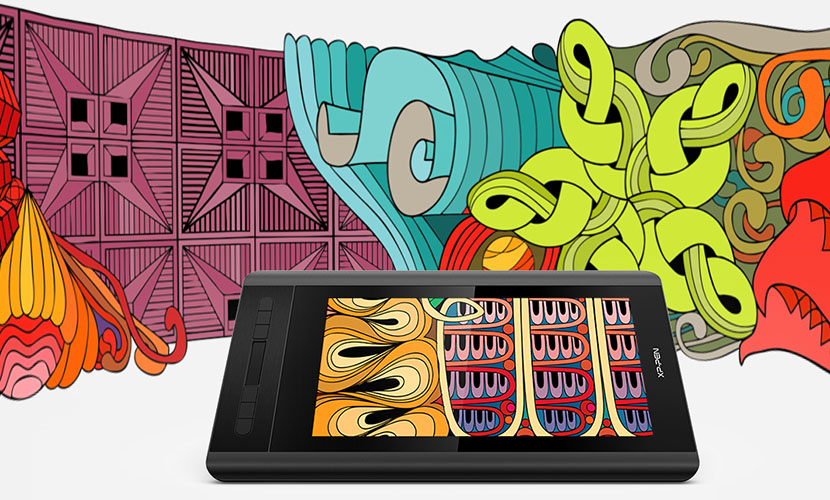 However, the issue with premium devices is that they give the same functioning as any other graphics tablet do. So it is utterly a waste of time trying to search for pricey graphics tablet while you have XP-PEN Artist 12 Graphics Tablet that can do the same job for you, if not, cheaper. The features and specifications of this tablet are interesting. It comes with some good details with it so that you can take that digital pen and create what you want instantly.
Features and Specifications
The XP-PEN Artist 12 Graphics Tablet is an agile and robust device that responds quickly and has several options for you to customize it into your way of functioning. This is a very simple device which has high utility. It is not fancy or premium (apart from the fact that 'Premium' is subjective) and looks like a regular fat tablet. Some things are better known about this tablet in its specifications, but the only thing turned me off about this tablet is its looks. It does not look sleek and slim and at all and can look like a very humble, simple device in the corner of your work area ready for you to give the output whenever you need. The manufacturing of this device is however strong, so it gives a certainty on your work patterns because you know what kind of output it gives. Let's dive into more details on what does this tablet offer you.
Design and Display
As mentioned above, this device is a simple looking device with thick bezels on display eventually reducing the screen space for creating. It is an 11.6-inch screen space that is small compared to other professional graphics or pen tablets. But this can be your handy graphics tablet; you can carry around or create while you are at home. This device has a good screen output and response to the stylus. It is 11.5mm thick not making it the sleekest looking device in the market. The tablet looks a bit old-fashioned, but it has superb finished and curved edged making it very ergonomic to hold. The fat body of this tablet is also because you can keep the tablet on the table for more extended periods of time because the back works as a pseudo stand for you.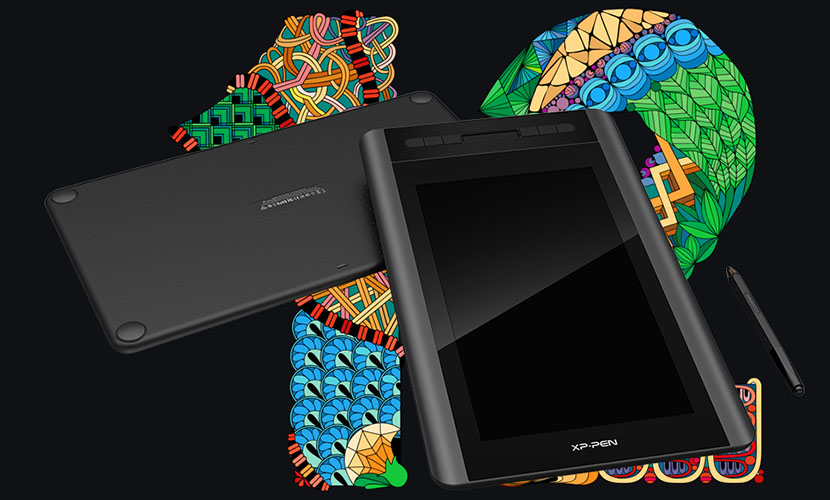 It gives you 1920 x 1080 pixel resolution with 72% NTSC Color Gamut that gives you a full and vivid range of natural colors on display. The visual deliverance of this tablet is fantastic with the 178-degree viewing angle providing you entirety on the visual watch of the artwork you create. The display features of this graphics tablet is a massive advantage as your artwork always needs an accurate and high-quality display with natural, full pixel-color gamut so that you can genuinely view your artwork naturally which is always what an artist wants. The display also has an anti-reflective coating which is a huge benefit as any light won't get reflected. It is designed to reflect them, giving you a bright and beautiful visual. It is also an IPS HD display perfect any creativity you want, be it regular sketching, drawing, designing, or animation. It gives superb clarity and vividness.
Shortcut Keys
This graphics tablet comes with six shortcut keys built into one vertical side of the device. It also has a touch bar that is infused for you to zoom in and out according to your necessities of the work you do. It does not with names or numbers that will help you in easily remembering the keys, however, you can customize the keys according to your workflow, and it will only result in greater efficiency. These shortcut keys or press keys can be a little challenging to use with the motion of your hand-side.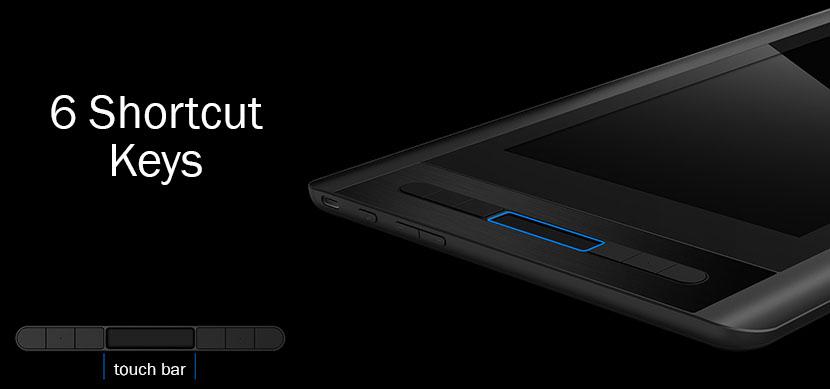 If you use your right-hand side, you will have to practice your left hand to press these keys and use the touch bar and vice versa. It will give you a heads-on to your workflow and give you faster functioning with the keys because it reduces the number of steps you need to carry out for specific functions. The shortcut keys it easy for you to work and at the same time gives a good look to the tablet itself. Just on the sides of the shortcut keys are the brightness adjustment buttons that are useful to gauge brightness according to the environment you sitting in.
Compatibility and Software specs
This graphics tablet is compatible with both Windows 7 or later and Mac OS 10.10 and higher. This latest and smallest graphics tablet integrates well with both operating systems and have options to configure their settings accordingly. The software you install for the device driver is very efficient.

This graphics tablet can endure up to 8192-levels of pressure sensitivity. It has a response time of 14ms along with report rate of 266 RPS. It also delivers a pen resolution of 5080 LPI with an accuracy of +0.5mm. These configurations of the device allow you to have a smoother and faster experience with this graphics tablet.
Battery-free Stylus
This tablet comes with the latest battery-free P06 stylus which dresses a hexagonal design with a partially transparent tip and a surprising digital eraser at the end. It is truly unique and innovative. It has incredible accuracy and quicker response.

Final Verdict
The XP-PEN Artist 12 Graphics Tablet is a fantastic device for anyone who wants a digital canvas to create and store your art instantly. It is portable, efficient and affordable.