Smartphones and Tablets are growing rapidly in terms of popularity, features, and functions. You can easily perform day-to-day tasks, business utilities, and study-related tasks on these devices, but not fully functional digital drawing activities. Digital drawing is altogether a different field and requires special attention devices to work efficiently. XP-Pen Deco 01 graphics drawing tablet is one of the devices which is specifically designed by looking at the requirements of digital artists.

Where huge screen gives you superb outreach, PN03 stylus helps you to develop fantastic images on the device. No issue whether you are a right-hander or a left-hander customizable express keys helps you to adjust it accordingly as per your comfort and convenience. This tablet is compatible with both Mac and Windows operating system.
Digital Drawing
The Digital art industry is a creative field. You can draw some interesting sketches, humorous cartoons, sarcastic images, and work with photography in digital drawing. Imagination and intent get wings if received adequate support from an excellent device. XP-Pen Deco 01 Graphics Drawing Tablet is the same sort of device which helps you to increase the graphic appeal of your drawing and images.
Elegant Characteristics
Deco 01 Graphics Drawing Tablet is rated as a premium digital drawing device from XP-Pen. This device features eye-catching design, slim, sleek, and elegant characteristic forces users or onlookers to turn their head once for sure. The highly compact design consists of just 13.8 x 8.5 x 0.3-inch dimensions, making it easy to slip it in medium-sized purse or bag and carry it anywhere along with you without any issues.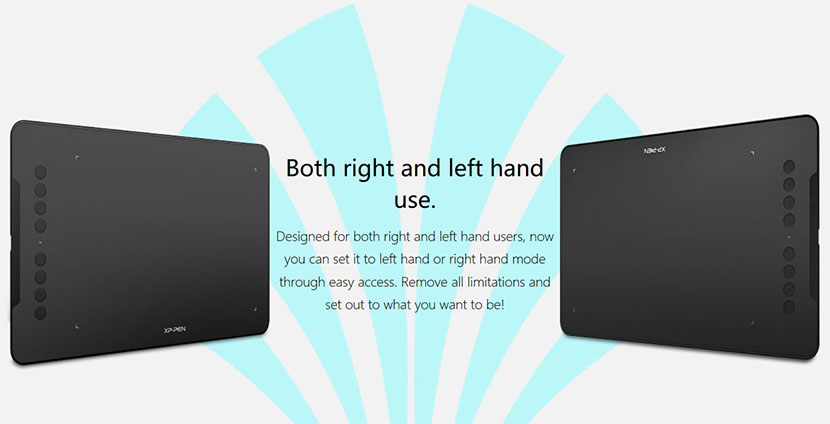 The front screen allows you to design, draw, paint, sketch, and edit photos. This tablet comes with 10 x 6.25 inch working space means you have a wider reach and maximum area to work upon. On the left-hand side, there are 8 round shaped customizable express keys giving users a lot of options. Lightly marked edges on the screen differentiate the working area and additional sidebars.`
This device measures just 8 mm of thickness and nicely rounded edges give this device a premium look and feel. Back of the device rubber padding is provided on all edges for durability and superior grip. The power button is also provided on the back of the tablet. You can easily switch between the pen and eraser using the one-click toggle. Overall, a splendid design that is visually appealing and works efficiently as well.
Responsive Screen
As far as digital drawing is concerned, the display screen plays an important role for effective images or functionality. This device boasts with 10 x 6.25 inch huge drawing screen accompanied by 8 customizable express keys on the left. Fully bonded protective film shield this device from any scratches and accidental dropouts. The working area has been marked through small light white marked edges. The express keys come with blind spot design and feature Ctrl, Brush, Eraser, Undo, and Save buttons. These express keys can rotate to 180-degrees making this device work with the same efficiency for both left and right-handed users. XP-Pen trademark is also embedded in the center of the front screen.

Expressive Stylus
The Stylus is another aspect which requires to be expressive for clear sketches and cartoons on any successful digital drawing device. XP-Pen Deco 01 Graphics Drawing Tablet offers PN03 stylus which works brilliantly with this drawing tablet. The 8192 levels of pressure sensitivity, battery-free operations, and ergonomic design provide great convenience for the users. It works like a normal pen so draw anything, utilizes brush options for thick and thin drawing, and ability to transform in an eraser with one-click toggle provides users a lot of options. Higher pressure level means more lively and vivid images on the screen.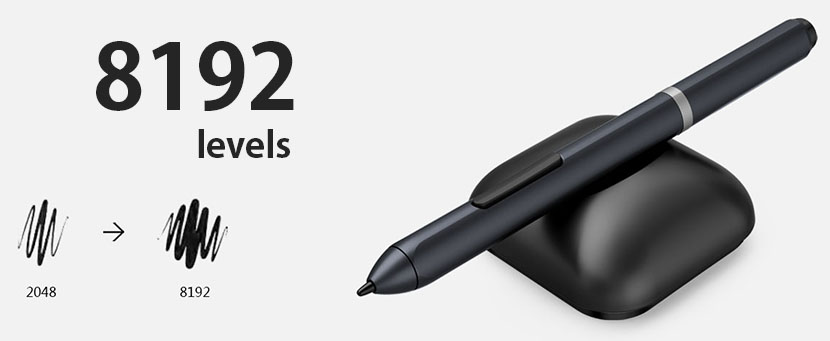 Compatibility
This device is compatible with both Mac and Windows operating system. So work this device with either any Windows 7/ 8/ 10 or Mac OS 10.10 and above, you will get desirable results every time. In addition to this, popular digital drawing applications such as CorelDraw, Flash, Painter, SAI, ZBrush, Autodesk Maya, Adobe Illustrator, Adobe Photoshop, and clip studio etc. can also be easily worked on this device. So explore your reach by drawing digital images, 3-D animation, lively sketches, and edited photographs using this device.
Added Advantages
Apart from all the mentioned advantages, there is drawing glove, pen stand, and USB cable as added accessories provided for the device. The USB Type-C port allows wired connections to attach to the device. Drawing gloves prevent your hands from smudging or any unnecessary fingerprints. These gloves are washable so you can easily wash these gloves as well. The Pen stand provides style with durability and you can replace Pen tips with this pen stand too.
Bottom Line
XP-Pen Deco 01 Graphics Drawing Tablet is not a normal device. This device is quite useful for digital artists or photographers. Some of scoring points for this device includes a large 10 x 6.25 inch working area, best in class P03 stylus with 8192 levels of pressure sensitivity and battery-free operations, fully bonded protective film ensures scratch free screen, USB Type-C support, rotational express customizable keys which becomes very handy for both right and left-handed users, Pen stand and hand gloves like accessories, and compatibility with Mac and Windows operating system.
Apart from all good points, there are a few disadvantages also associated with this drawing tablet which is easily noticeable. Scroll Wheel seems to be a big miss as it's tough to zoom in and out images without it. The other noted point is missing of kickstand because you have no comfortable viewing position available apart from lying this device straight on the table due to that.
Digital drawing tablets have not many options available in the market. With some superior functions and efficient Stylus, you can't ask for a much better option than this in this segment.