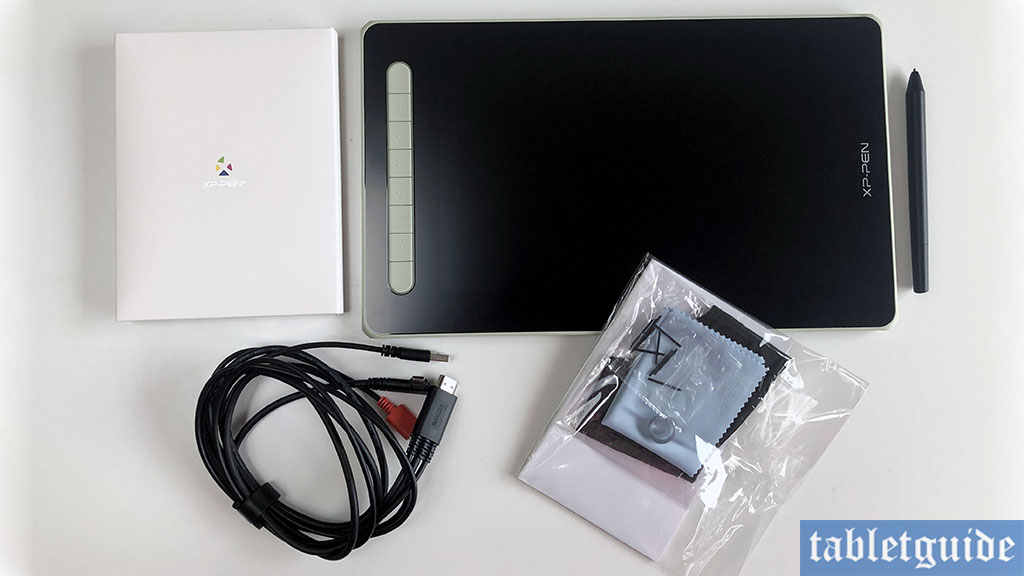 As we head towards the end of 2021 with Christmas just around the corner at the time of writing, new pen tablets and displays are getting released thick and fast by all the major (and not so major!) manufacturers, all vying to attract your hard-earned pennies, so it can be somewhat bewildering to know exactly the best deal and device for your needs and budget – which is where we at MyTabletGuide come in! XP-PEN are one of the aforementioned leading tablet manufacturers and today we are reviewing their new Artist 12 (2nd Generation) Pen Display.
Released in four pastel type 'flavours' of Black, Green, Blue and Pink, these pen displays all share the same specs: a fully laminated 1920 x 1080 Full HD screen, 127% sRGB, 90% NTSC and 94% Adobe RGB color gamut, 8 shortcut keys, 178° viewing angle and a 1000:1 contrast ratio.
The build quality of the display is really good and does feel like a premium device. It isn't very heavy and can easily be transported around in your bag/case.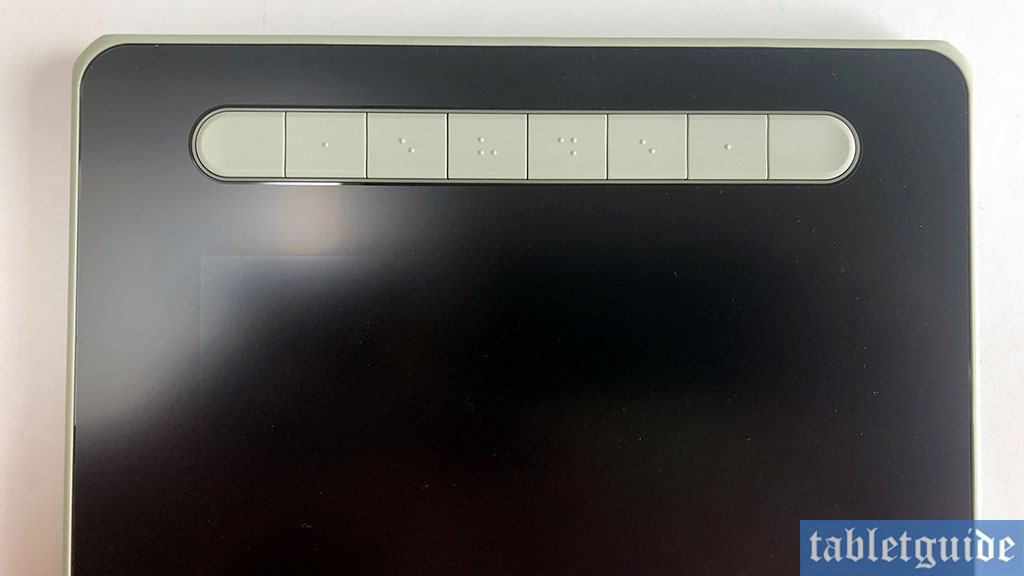 Down the left side are the 8 shortcut keys and on the opposite right side is the XP-PEN logo. Down the right edge of the tablet display, from top to bottom is the power button, power LED, 2 button/switches (for adjusting brightness etc), a 'hidden' USB-C port (it's covered with a small plastic removable cover?) and a second USB-C port.
Flip it over and on the reverse are the four rubber feet in each corner to keep it stable on your desk – note there is no stand supplied with this tablet (or pen holder for that matter!) 😊
What you do get in the box with the tablet are a Warranty Card, Drawing Glove, Quick Guide, Nib Extractor, 10 Spare Nibs, 3-in-1 USB/Power cable, Cleaning Cloth, USB Extension Lead and the new battery-free 'X3 Elite' Stylus.
The new 'X3 Elite Smart Chip Stylus', according the marketing blurb found on their website, has a '3 grams* initial activation force' with a '10-fold* increase in sensitivity' and '0.6 mm* retraction distance' which is '1/2* of our previous stylus'. (I think it means when in use the nib now only goes up and down a little bit and you don't have to press as hard…or something… 😊) Otherwise, the stylus shares the same specs as other XP-PEN pens like 8192 levels of pressure sensitivity and supports 60° of tilt.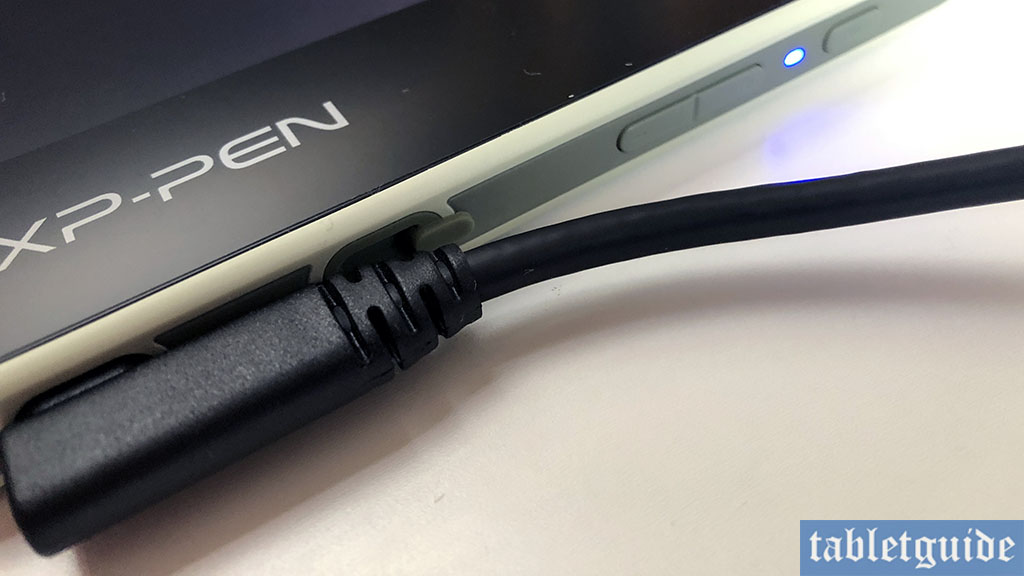 To get going, you need to connect the Artist 12 (2nd Gen) to your device of choice – mine being a Windows 10 laptop. Although, presumably, the tablet would work using a USB-C to USB-C cable, this isn't supplied – I had to make do with the 3-in-1 cable provided.
Buy XP-Pen Artist 12 (2nd Gen)
Whilst this is a perfectly good option, it does hog all your laptop ports – once the HDMI cable and the two USB (power and data) cable were connected, this left no space for my wireless mouse dongle. After downloading and installing the driver software, it was a bit frustrating trying to set up the display etc having to reach over to my laptop mouse pad (with the tablet in front!) to configure everything.
Luckily, I had a USB extension/extender cable which solved the issue. It's not a criticism as such, but having yet another device plugged in, on top of all the existing cabling, it does look a bit 'messy' – again, not a criticism, just an observation…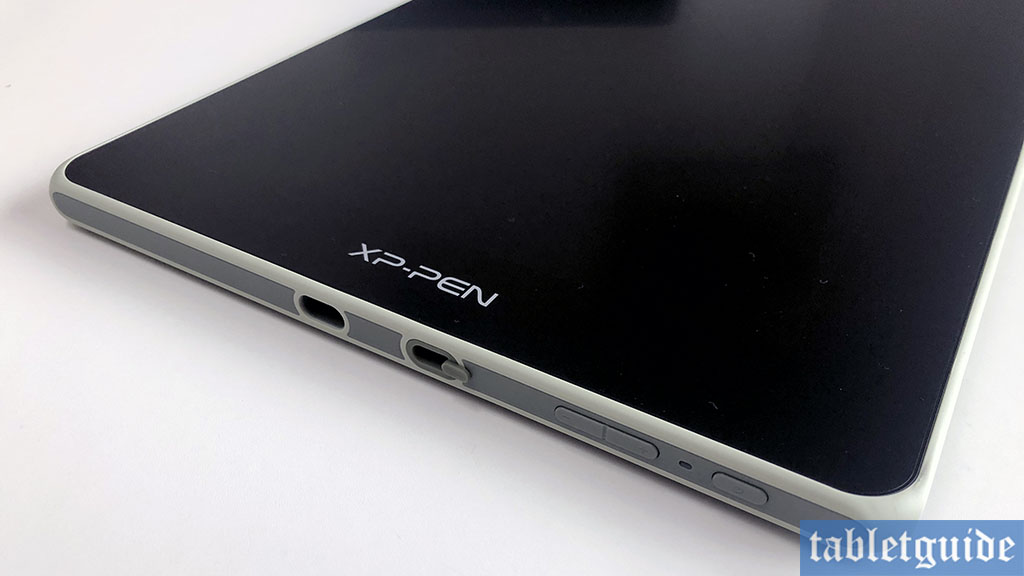 It took two installs, uninstalls and re-installs of the driver software to finally get the 'extend these displays' option to work correctly for some reason, but once it worked correctly, it was fine.
The driver software is nicely laid out and is easy to understand. It's here you can change and/or edit things like pen pressure, change the display settings, re-map the shortcut keys etc. I tend to find most shortcut key commands on these devices already have the best/most used options already set, but it's great you can amend if you so wish (I tend not to use them as I'm so used to using a keyboard!).
Clicking 'OK' still doesn't close the dialog box like you'd expect, but the last few tablets I've reviewed from XP-PEN all work this way – once you've finished making your changes, click the top right 'X' in the red box to close…
Drawing time! The pen is very, very light – probably the lightest I've used. It may be the most 'up-to-date' technology-wise pen from XP-PEN, but I have to say I actually prefer the look and feel (and design) of the pen that came with their Innovator 16 Pen Display. Although it works perfectly as you'd expect, it isn't the 'sexiest' of pens (if that's even a 'thing' 😊). It does the job and that's all you can ask for!
To be honest, drawing with it felt exactly the same as drawing with any other pen! Pressing harder produced thicker lines and vice-versa. Maybe I'm too heavy-handed and the new X3 chip couldn't cope(!), but it worked absolutely perfectly – no problems there!
I didn't experience any lagging, even when scribbling away quite fast. Drawing ever-so-sloooooooowly did produce a slight 'wobble' in straight lines, but to be fair, you're going to get that on most tablets. The end of the lines also tapered very nicely.
I 'forced' myself to try out the shortcut keys and I have to say they felt nice and responsive when pressed.
You wouldn't want a higher resolution than 1920 x 1080 on a tablet this size, as working in an app like Photoshop would make its many menus and tabs too small to work with – but here, it's all good.
The screen is nice and bright, colors looked excellent and the image was pin-sharp. Working in a bright, but naturally lit room, I didn't encounter any distracting glares or reflections.
As usual, all the main creative software apps will work with this like Adobe Photoshop, Adobe Illustrator (actually all the Adobe CC apps!), SAI, Corel, GIMP, Krita, Blender 3D, Clip Studio and MediBang etc.
The XP-PEN Artist 12 (2nd Gen) will run on Windows 7 (or later), Mac OS X 10.10 (or later), Android (USB3.1 DP1.2), Chrome OS 88 (or later)*, Linux.
Overall, it's a decent bit of kit, despite the few very small niggles I experienced. It's a shame a UBC-C to USB-C cable isn't included so I could see whether the initial set up could be a tad smoother, but I guess that's just nit-picking.
I personally prefer working on a larger screen/device, but for those who want a fairly inexpensive, smaller and portable pen display, you should write to Father Christmas now and get in quick before he runs out! 😊