Renowned manufacturer of rugged tablets, smartphones, and notebooks, WEROCK, launched a new rugged tablet Rocktab S208. The slate has a better value for money compared with other tablets by WEROCK. In addition to that, the managing director of WEROCK has said that Rocktab S208 would be perfect for medium-sized industries that have stricter budgets.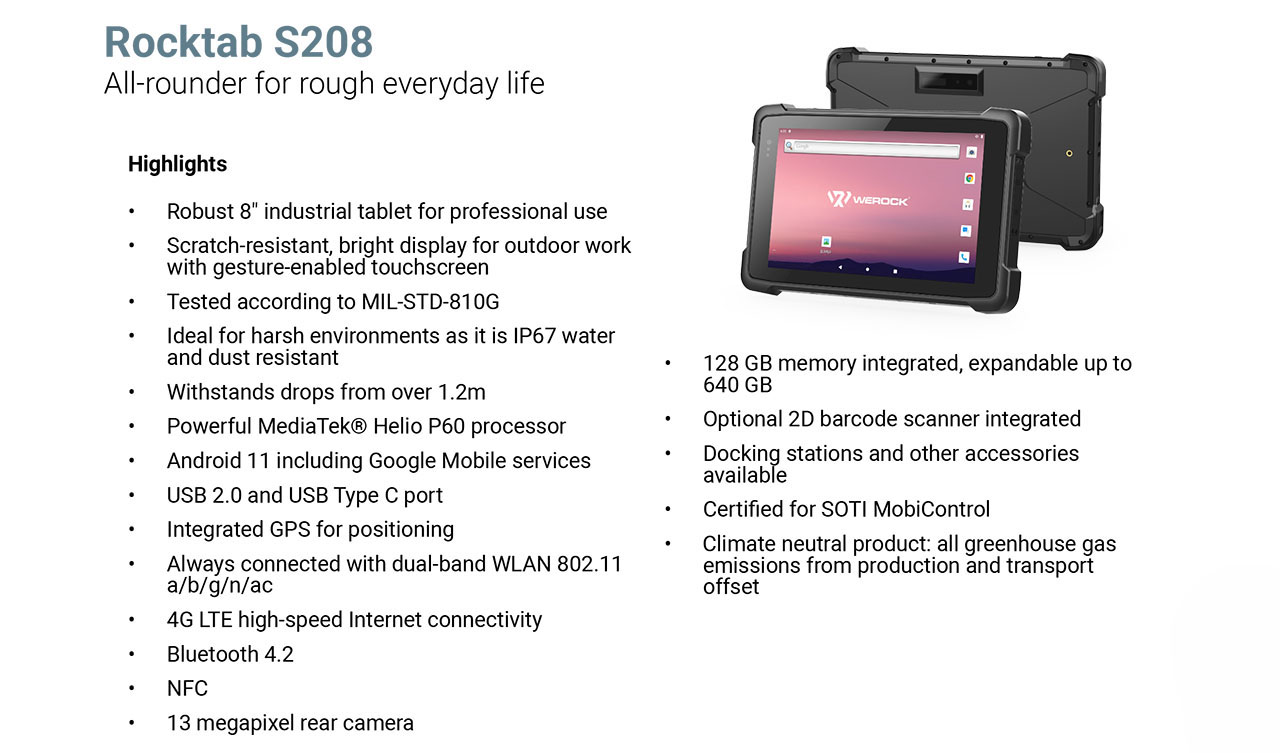 To begin with, the tablet has an 8" screen that's suitable for working in industries, indoors, and outdoors. It weighs about 680 grams and has a 21 mm thickness. Rocktab S208 comes certified with MIL-STD-810G.
It packs a bright screen which can be viewed properly in any light conditions. Not only that, the Rocktab S208 has a scratch-resistant and gesture compatible screen. This ensures an easy and convenient working experience in outdoor settings with harsh weather conditions. The rugged tablet comes with an IP67 rating for protection against water and dust.
While drops and shocks are common when working outdoors and in industrial space, WEROCK Rocktab S208 can withstand 1.2m occasional drops. It's also compatible with placing it on machinery and technical equipment. It works properly within -10 degree to 50 degree Celsius temperature range and protects the device from vibrations.
All in all, Rocktab S208 qualifies for its use literally everywhere! Well, the tablet is powerful from the inside as well. It is powered by a MediaTek Helio P60 processor and 6 GB RAM. Such a powerful CPU and RAM is a boon when efficiency in logistics and other working settings is of utmost importance.
Rocktab S208 comes with 128 GB of onboard storage. However, it can be expanded by an additional 640 GB. This is quite helpful where a large amount of data is being handled on day to day basis.
The tablet features a 22 Wh battery which lasts 8 hours of active work time. This means the workers would not have to worry about charging it now and then in the middle of the hectic workday. Rocktab S208 runs the Android 11 Operating System; hence, the users will have access to all Google Apps.
It also has an accurate integrated Global Positioning System for location data while working outdoors. And not to mention its 13 MP rear camera for quickly capturing images on the go.
As an extra attachment, you can purchase WEROCK's 2D barcode scanner separately for logistic procedures at work. Talking about its data transferring specification and power, WEROCK Rocktab S208 comes with a USB 2.0 and USB type C ports. This lets you quickly connect the tablet with devices like printers, scanners, computers, and digital machines.
For wireless data transfer, the slate features a Bluetooth 4.2 and dual-band WLAN 802.11 a/b/g/n/ac. Not only that, Rocktab S208 features NFC and SOTI MobiControl. Both of these boosts the overall efficiency at work and thereby productivity.
The tablet supports a 4G LTE connection for fast internet where WiFi is not always available. What's more? Rocktab S208 is a climate neutral product. All the Greenhouse Emissions are compensated conforming to WWF Gold Standards like other WEROCK digital devices.
You can visit the company's website and request a quotation according to your requirements. Also, you can purchase Rocktab S208 from channel partners as well. WEROCK also offers optional accessories like docking stations etc. That again, makes this rugged tablet a more affordable yet powerful tablet by WEROCK.