Samsung is toiling to offer the best to the audience. And this time, it is coming with something really special. The name is 'Samsung Galaxy Tab A7 SM-T505'. This is unique because this time Samsung considers affordability as its key feature. The Galaxy Tab A series was a bit higher in terms of money, although the features were rich too. Samsung Galaxy Tab A7 SM-T505 can be the most affordable inclusion placed in this series.

Samsung is a South Korean giant, which is working on the new Samsung Galaxy Tab A7 SM-T505 to launch. Geekbench has listed the new tablet with its model number Samsung SM-T505. The listing of Geekbench has disclosed a few pieces of information regarding the awaited tablet from Samsung. The device has a modest RAM of 3 GB. Additionally, the tablet includes the Qualcomm Snapdragon processor, which named 'Bengal'. This Samsung tablet is going to perform on Android 10.
Samsung's new tablet is positioned as an affordable device and as its model number represents it can make its room in Galaxy A range. With the codename Bengal, Samsung Galaxy Tab A7 SM-T505 will have a Qualcomm Snapdragon processor. Sufficient hints are indicating towards the newly launched Snapdragon 662 SoC is optimized in this device.
Related:
The table involves Geekbench 5.2.0 version for Android Aarch64 along with 317 Single-Core Score and 1358 Multi-Core Score. Android 10 is the used Operating System for the model number Samsung SM-T505 with 'Bengal' motherboard.
As far as we are talking about Single-Core Score and Multi-Core Score, we need to dig these two separately for a better demonstration of Samsung Galaxy Tab A7 SM-T505.
Single-Core performance
Single-Core Score: 317
Crypto Score: 491
Integer Score: 324
Floating Point Score: 274
Multi-Core performance
Multi-Core Score: 1358
Crypto Score: 1840
Integer Score: 1379
Floating Point Score: 1232
Some other processor information is explained below;
Base Frequency: 1.80 GHz
Topology: 1 Processor and 8 Cores
Name: Qualcomm Qualcomm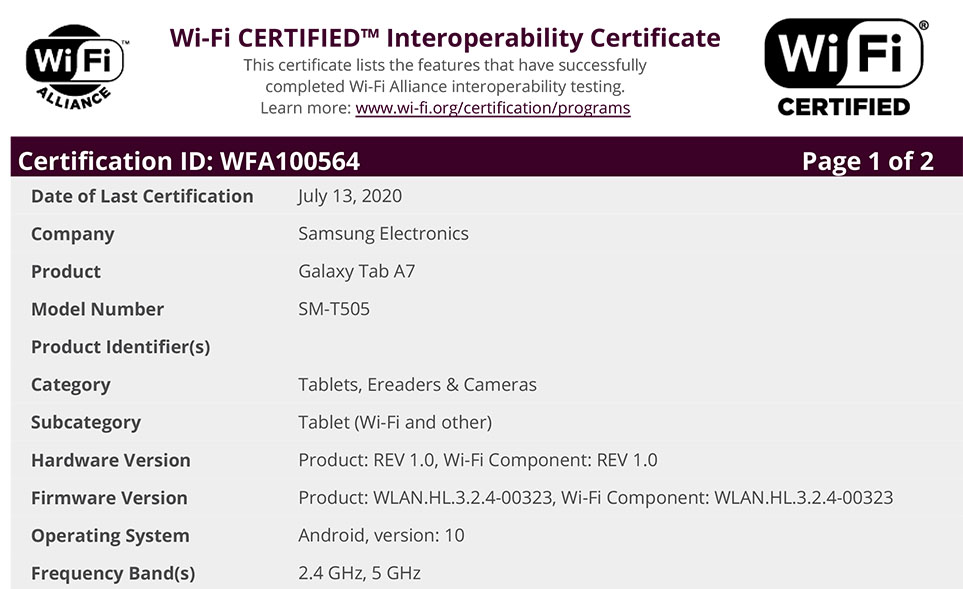 Along with Geekbench listing, the Samsung Galaxy Tab A7 SM-T505 also got Wi-Fi certification on July 13, 2020.
Qualcomm Snapdragon 662
January was the month when Qualcomm Snapdragon 662 came into existence. It came with Qualcomm Spectra 340T to support the configuration of the triple rear camera. This includes the primary sensor up to 48MP.
Samsung Galaxy Tab A7 got the FCC certification of the SM-T505. This LTE version exhibits that it measures 247.6 mm height and 157.36 mm width. The diagonal measurement of the device is considered around 10 inches. The schematic of Samsung Galaxy Tab A7 SM-T505 displays an idea about the rear of view of the device.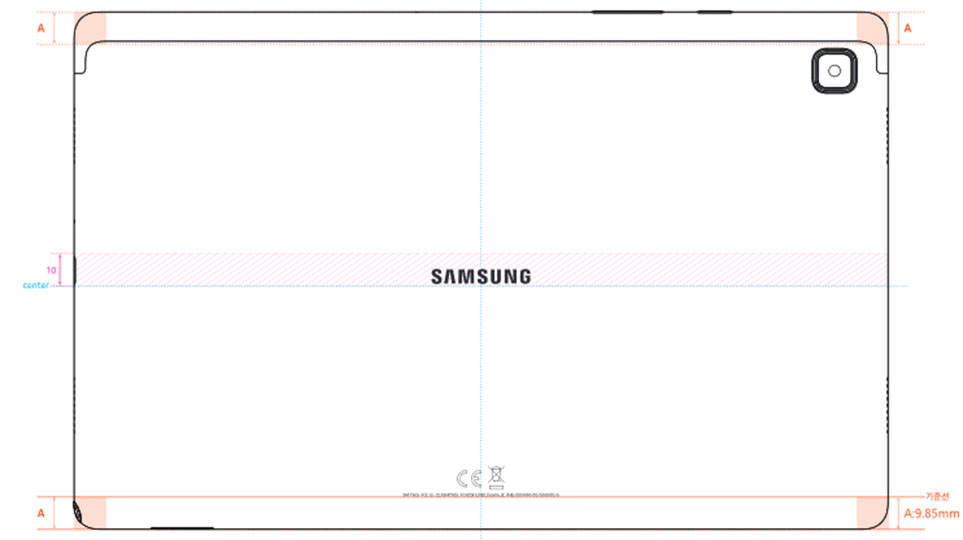 It is available in its FCC filings and demonstrates a slate, fitted with only one rear-mounted camera. The entire speculation on Samsung Galaxy Tab A7 SM-T505 begins with the Geekbench listing. This is the time when the device has bagged some essential certifications.
No need to grope for more information on Samsung Galaxy Tab A7 SM-T505. The rest is wrapped under layers that may go official soon. That will be the time when we can guess the structural and operational aspects of Samsung Galaxy Tab A7 SM-T505 with better transparency. Just keep the fingers crossed to get some affordable devices with unerring functionalities and features!