Samsung is coming with the new Android 10 tablet, which is considered as benchmarked on Geekbench. Samsung is purportedly all set to host SM-T575 tablet on the 5th of August 2020. The unveiling of the new product is going to be a benchmark for the company.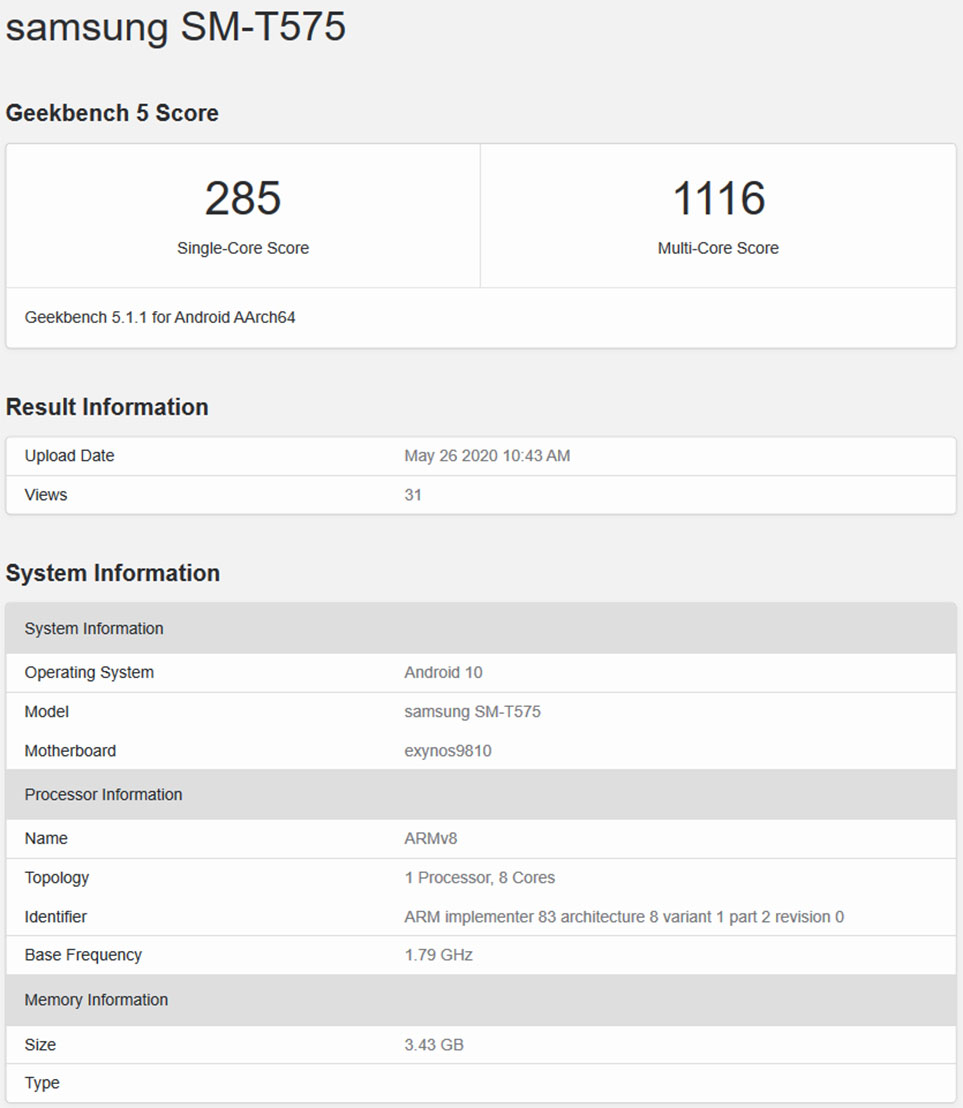 Galaxy Tab S7 series has brought a wide range of technology. But Samsung SM-T575 Android tablet is discovered as a different option, which technically superior to the previous one with the mid-range option.
Every gadget that comes from Samsung finds the benchmark, and SM-T575 Android 10 tablet is no exception. Here are some details;
Octa-core 1.79 GHz
Samsung Exynos 9
Exynos 9810 chipset
4 GB RAM
The processor is similar to the previous smartphone from Samsung. There is much processor information that SM-T575 contains;
Processor Name: ARMv8
Applied Base Frequency: 1.79 GHz
Used Topology: 1 Processor and 8 cores
Apart from the processor details, the system and memory information is explained below;
Model: Samsung SM-T575
Operating System: Android 10
Motherboard: Exynos 9810
Memory Size: 3.43 GB
Since the model is yet awaited, the assumptions are higher in concern to its looks and appearance. It may range around 9.6 to 10.1 inches of Samsung's Android tablets. Samsung SM-T575 clocks Geekbench 4 benchmark scores around 3750 in single-core. Additionally, it scores 9220 in multi-core scores.
Geekbench 5.1.1 for Android Aarch64 has brought 285 Single-Core Score and 1116 Multi-Core Score to Samsung SM-T575. The public information is explained here;
Issue details: TUV Rheinland Japan Ltd. on 30th June 2020.
Reference details: JPTUV – 110737.
Product and Model/Type ref: Secondary Li-ion Battery, EB – BT575BBE.
Some other specifications are here with a rating and principal characteristics like DC 3.85V, 4900 mAh, 18.87 Wh/ Typical: 5050 mAh, 19.44 Wh. Some listing reveals about 5,000 mAh battery of the device. Though the public information is issued, the rest can be mere speculation. Exynos 9810 is expected to perform with a wider margin. 1032 and 1146 are marked as the Integer and Floating-Point Score, respectively.
Samsung SM-T575 has bagged the TUV Rheinland certification and the device got appeared on Geekbench benchmarking platform in May. On the other hand, it is also conveyed that the final name of the product is still not known. The specs of the tablet have appeared as a mid-range device from the Samsung brand.
Samsung SM-T575 can be the LTE edition of the tablet. The Wi-Fi edition may have an SM-T570 model number. This looks like an altogether new Android 10 tablet from Samsung.
It will be too early if we assume anything about Samsung SM-T575. Samsung Galaxy Tab A 10.1 and Samsung Galaxy Tab E 9.6 are the gems of the brand. One can only wait for holding it in hand and bragging on the same!