Tablets have been around for almost two decades, but it skyrocketed in the market in April 2010, when Apple hit the gadget world with the launch of iPad. However, it was easy for Apple to do so because it has already overlapped the marketplace with iPhone, running on the same operating system iOS. iPad instantly hit it big, and people soon became a fan of tablets. And why they shouldn't be? Tablets are so comfortable, handy, and equipped with features all of a laptop.
Besides Apple, Google's Android was also growing at a faster pace and launching an Android tablet was not a big deal of them. Today both the tablets give fierce competition to each other.
However, iOS and Android are predicted to remain the most widely used tablets operating systems as they are anticipated to hold about 84% of the market together in 2018. More so, in 2017, Apple has been a leader in the market that delivered 43.8 million iPads to the users, but, Android tablet continues to the rule the market in 2018 by distributing 62% of the tablets.
It becomes challenging for users to pick the right tablet as both of the operating systems offer immense benefits in its own way. If you are in the same dilemma let me clear all your confusions, but first let's look at the list of iPad base models and popular android tablet brands.

iPad Mini
iPad
iPad Air
iPad Pro
In a nutshell, you can find only three type of iPad model that is iPad Mini, iPad, iPad Air, and iPad Pro. Whereas Google doesn't have its own flagship product with Android operations system, but I have listed top Android tablet brands influencing the market: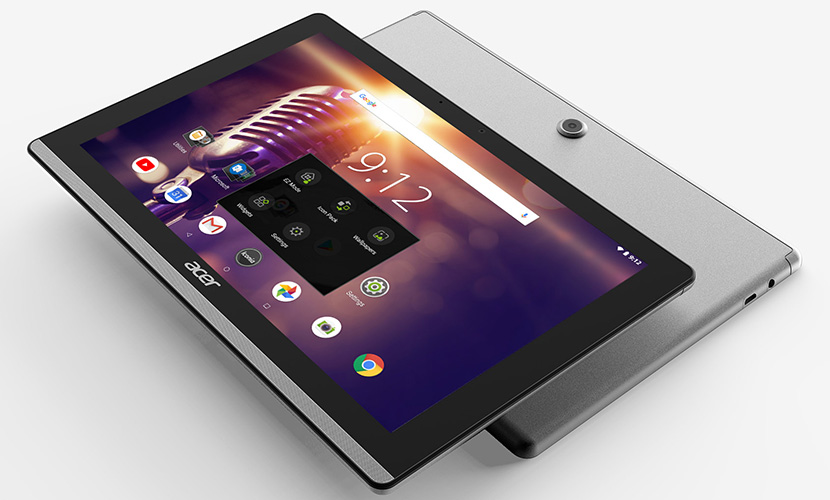 Samsung
Lenovo
Huawei
ASUS
Acer
Microsoft
Amazon Fire
Design
Well, iPad is known for its efficiency, but somewhere it lacks the looks. However, iPad is very sleek and thin with a home button at the center, but its appearance is not so attractive. More so, the screen size differs with each model that enable users to buy the iPad that they would love to flaunt with. The screen is quite brighter as they use Retina display that gives sharper picture quality. If Apple approaches iPhone X design for the rest of its tablets, it will surely allure more users to buy this iPad.
On the other hand, Google's Android doesn't have any flagship product, but the leading tablet in the Android world is the Samsung Galaxy Tab. However, the design of the tablet entirely depends on your budget, if you are looking for a cheap Android tablet with better looks is not possible you have to spend the right amount. In Android, defining the display quality becomes quite tricky as you will find an array of tablets with different display quality. If we consider Galaxy Tab S4, it has been equipped with Gorilla screen full HD display providing a better picture quality.
Next is the Software…
Well, the Android operating system is always vulnerable when it comes to larger screens. It doesn't optimize well on big screens, and users usually face issues while watching their favorite shows. However, popular apps like Netflix, Chrome, Microsoft runs good on Android, but difficulty occurs with the apps that are not designed according to the Android operating system. Furthermore, you'll find thousands of apps on Google Play store that are entirely free, but with Apple, the scenario is quite different.
Apple charges a few bucks for some apps. But somehow it wins the race! Apple has its own operating system iOS; thus, it optimizes very well on large as well as small screen. It gives you full efficiency over the apps running, ensuring that users don't face any haggling issue while using the iPad. You can watch your favorite better on iPad as compared to its iPhone. More so, iOS offers so many services like the Mac-style dock that enables users to run multiple apps at one time, drag and drop files between Windows, and a lot more. They give you a very user-friendly experience!
Now let's talk about the main aspect: Price…
Again it's the same story! In the case of Android, you can start cheap tablets and cost varies- all it depends on the configuration you want. The range of Android tablets begins at $39.99 and extends up to $750. Meanwhile, iPad starts with a price range of $269 and can reach $1,079. Thus, it upon you, your budget, and type of configuration you are looking for.
Today, you'll find maximum Android users as their tablets are cheap and fulfill the needs of users according to budget. But iPad can be a kind type of tablet that will give value to your money as it has equipped with best features, software, and storage.
What about choices?
If you are a business person and always on the go, then iPad is the right pick for you. Without any worries, you can save all your data on iCloud because Apple is known for its security, this is where Android lacks. People, who want to play, watch movies or shows wish to study and check emails frequently, then Android tablet can be the best choice as it is cheap and efficient to fulfill your basic needs. But storing data in Android will not guarantee you any security!
However, if you want to connect yourself with people around you seamlessly, again Android will help you attain this as they are known for their unhitched sharing. Whereas Apple is self-obsessed, users can only share data or media files across Apple devices, which is the main demerit of using Apple devices.
Verdict: iPad vs. Android Tablets
If we look at both the tablets, both are dynamic and efficient in their own unique way. Everything entirely depends on the consumer- from customer preferences, usage, to their budget. There's no winner except the consumer! They are the ultimate kings. Only a consumer can evaluate its requirement and then purchase a tablet.