iPad mini combines the portability of tablet with the strength and power of a full-fledged computer for users. It is definitely worth spending your money on the purchase of this wonder device. However, it is also important to explore the other possible alternatives that are available from other computing giants in the market.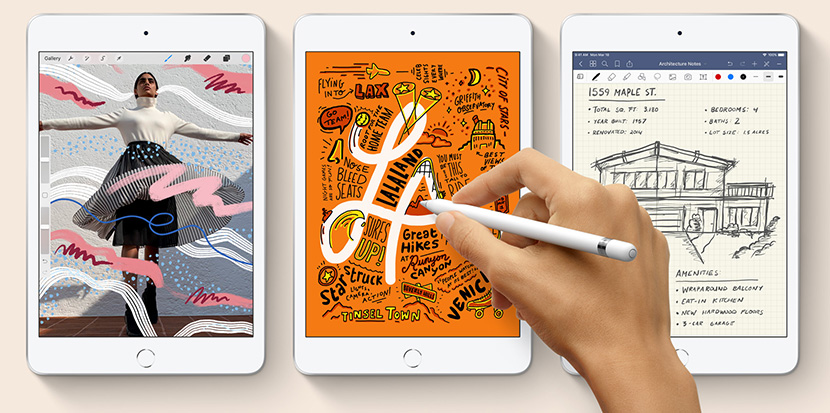 One such surprisingly feature rich device is the Surface Go from Microsoft. Here, the attempt will be to understand and compare the primary aspects of these two tablets to help potential buyers make their choice more effectively.
Design
iPad mini, apart from the host of super valuable features, is also loved for its sheer compactness and portability. With more than ever before reasons to love this mini powerful device, it is just what you need to take your imagination and productivity with you wherever is your destination. It is super light, weighing just 300 grams and is 6.1mm in thickness. Its body has been given a metal finish, to add to both its strength and sophistication.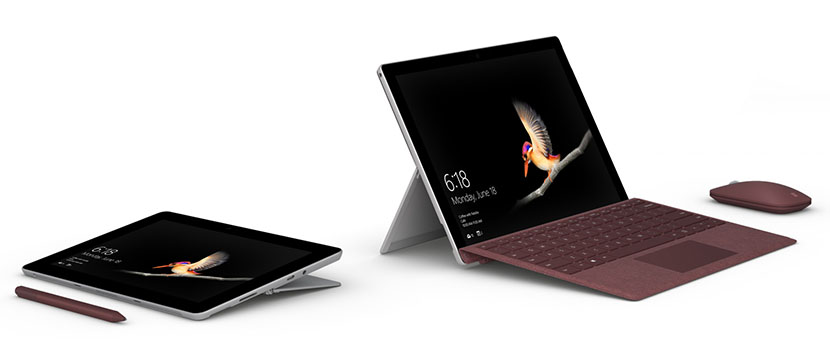 Now, coming to the Surface Go, it is also ultra-light and portable, taking the entire digital experience to a greater platform. Working in this smart device can be extremely satisfying owing to its compactness and high-end performance. It weighs from 522 grams, thus being ideal to be easily packed in a bag and carried along. It contributes to the overall convenience and smart operation and can be described as the thinnest and lightest Microsoft device. Another interesting aspect about the designing of Surface Go is that it has an innovative built in kickstand. With the help of the kickstand and type cover, it is possible to use this tablet in laptop mode, studio mode or simply in tablet mode.
Display
Surface Go provides for a spacious 10 inches scratch resistant display with PixelSense. Thus, everything across the screen reflects in great precision and clarity. With 1800 x 1200 resolution and 3:2 aspect ratio, it offers stunning touchscreen feel with 10-point multi-touch.
iPad Mini, on the other hand, sports a bright and rich 7.9 inch retina display that is packed with over 3 million pixel. The screen having anti-reflective coating further enhances the display. It portrays every single element in great details and makes everything on the screen look lively and radiant. Plus, the True Tone helps to adjust the white balance.
Capabilities and Performance
iPad Mini is bestowed with vast capability and performance wise is a digital wizard in itself. It is powered by A12 Bionic chip with Neural Engine. All this is possible by the application of real time machine learning that helps the device to understand patterns, make assessment and predictions and work accordingly.
It provides best augmented reality. Operating on iOS 12, iPad mini functions smoothly. Using and Launching of multiple apps at a time is easier with the Files App and Multi-touch gesture. Through iCloud and Files App, it is actually possible to keep all that is important and urgent always available while working with iPad mini. Coming from Microsoft and being powered by dual-core 1.6GHz Intel Pentium Gold 4415Y processor, Surface Go promises high speed unstoppable performance. It features the latest Windows 10 OS.
NOTE: iPad mini will receive a free iPadOS software update on September 30.

Digital and Artistic Creativeness
Apple Pencil is the most interesting aspect of iPad mini. It actually offers a whole new dimension to this excellent device. With Apple pencil, iPad mini can do all that a notebook is needed for. Right from taking note to signing documents, marking screenshots, etc. is achievable with this digital pencil. With it, iPad mini can also be used for creative jobs.
Surface Go can also be accessorized with Surface Pen. Surface Pen is faster and offers great precision with its tilt for shading and high level sensitivity. Thus, it can be ideally used as a real page to give shape to all that's creative.
Other Important Features and Parameters
Camera
iPad mini is also loved for the 7MP face-time front facing HD camera, that lets the users do so much with it. It also has 8MP rear camera. And Surface Go is designed to have 5MP front camera with Windows Hello face authentication and 8MP rear camera with auto-focus. Both cameras support 1080p HD video calling and recording.
Security
Along with simplicity of operation and amazing performance, iPad Mini also guarantees complete safety to the users. This fact is proven by the application of Touch ID in the device. This means that unlocking the device can only be done by the user and thus it assures full proof security. And with Surface Go, Microsoft provides ultimate built-in protection that requires face recognition and authentication for sign in. It also includes within it security periphery features like Windows Defender, parental controls, and world-class support.
Connectivity and Battery Back Up
iPad Mini can perform for almost 10 long hours once fully charged. It supports complete wireless connectivity, be it Wi-Fi or 4G LTE Advanced. Hence, it actually adds to the overall mobility and thereby contributes to the maximum productivity. Surface Go can actually perform for 9 hours when connected over WiFi and for 8.5 hours when connected through LTE Advanced.
Storage
Now as far as storage options are concerned, iPad is available in two varying capacities, 32GB and 128GB, while Surface Go is available in options of 4GB RAM with 64 GB of eMMC storage or 8GB of RAM with 128GB SSD storage.
Price
You can get your iPad mini at starting price of $399 (Wi-Fi) and $529 (Wi-Fi + Cellular). For Microsoft Surface Go tablet also, the price ranges from $349 and goes up to $629 depending on the storage capacity and RAM.
Thus, it is important to first understand your requirement and then make the purchase to be fully satisfied. Better understanding of the specifications and key features actually helps to make the well-judged choice.
iPad mini vs Surface Go Specs Table
Apple iPad mini 5
Microsoft Surface Go
Processor
A12 Bionic chip | Neural Engine | M12 coprocessor
Intel Pentium Gold 4415Y
Display
Retina 7.9" (2048 x 1536) 326ppi 500nits
10" (1800x 1200) 217 PPI PixelSense
Storage
64GB or 256GB
64GB eMMC or 128GB SSD
Camera
Front: 7MP FaceTime HD
Rear: 8MP
Front: 5MP (1080P HD Skype Video)
Rear: 8MP (1080P FHD Video)
Battery
19.1 Whr (Up to 10 hours)
Up to 9hrs
Weight
Wi-Fi Model: 0.66 lbs
Wi-Fi + Cellular Model: 0.68 lbs
Wi-Fi Model: Starts at 1.15lbs
LTE Advanced Model: Starts at 1.17lbs
Operating System
iOS 12 (iPad OS available)
Windows 10 Home in S Mode
Windows 10 Pro (For Business)
Price
Wi-Fi: Starting at $399
Wi-Fi + Cellular: Starting at $529
iPad mini on Amazon

Starting from $399 | Surface Go on Amazon