Welcome to another tablet review! It's Huion Kamvas 16 (2021) graphics pen display which was launched recently along with Kamvas 12.
Like its smaller counterpart, the Kamvas 12, this Kamvas 16 (2021) is a pen display that needs to be plugged into an external device, enabling you to draw on the screen, with the supplied pen, giving you almost the same artistic experience as drawing on paper… kind of! 😊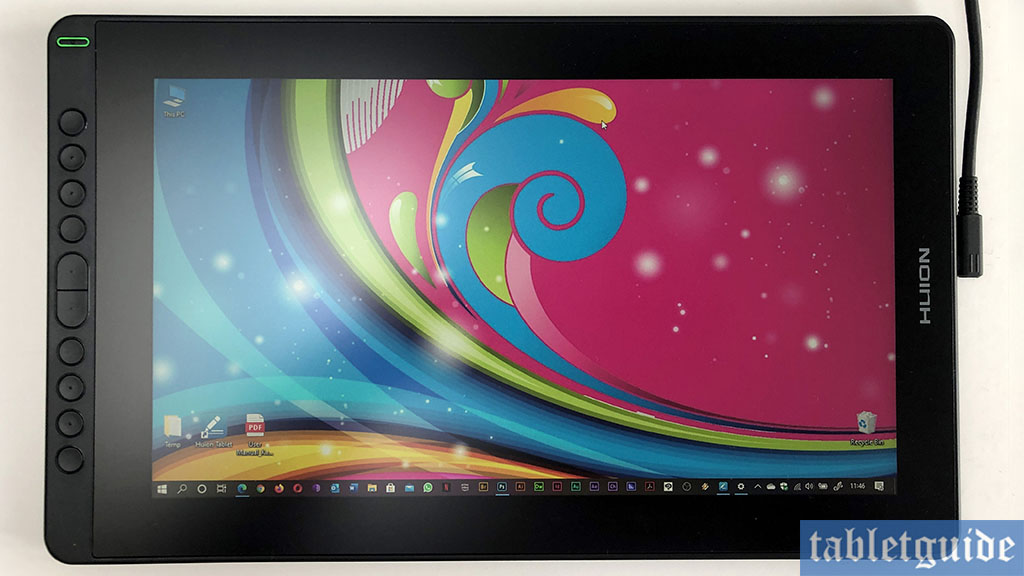 Available in two colors, 'Cosmo Black' and 'Twilight Blue' (both very cool!), this is a 16" Pen Display for use with Windows (7+) PC/Laptop, MacOS (10.12+) and certain Android (USB 3.1 DP1.2) devices.
Boasting a 120% sRGB color Gamut, anti-glare matt-film, a fully laminated 1920×1080 (16:9) Full HD IPS Screen (able to display 16.7 million colors!) with a 15.6" panel size, 10 programmable press/express/shortcut keys, battery-free pen capable of 8192 levels of pressure sensitivity, 178° viewing angle, 60° tilt support, 10mm sensing height, kitchen sink this tablet certainly looks like an asset to any designer or illustrator – let's see how it fairs…
In the box are the Tablet, Adjustable Stand, Pen, Pen Holder (which contains 10 replacement pen nibs and Pen Nib Clip for removing old nibs), USB Extension Cable, USB-C Cable, Power Cable, 3-In-1 Cable, Power Adaptor, Cleaning Cloth, Warranty Card, Quick Start Guide, and that very important Drawing Glove – perfect for keeping the screen smudge free and looking like a professional artist! 😊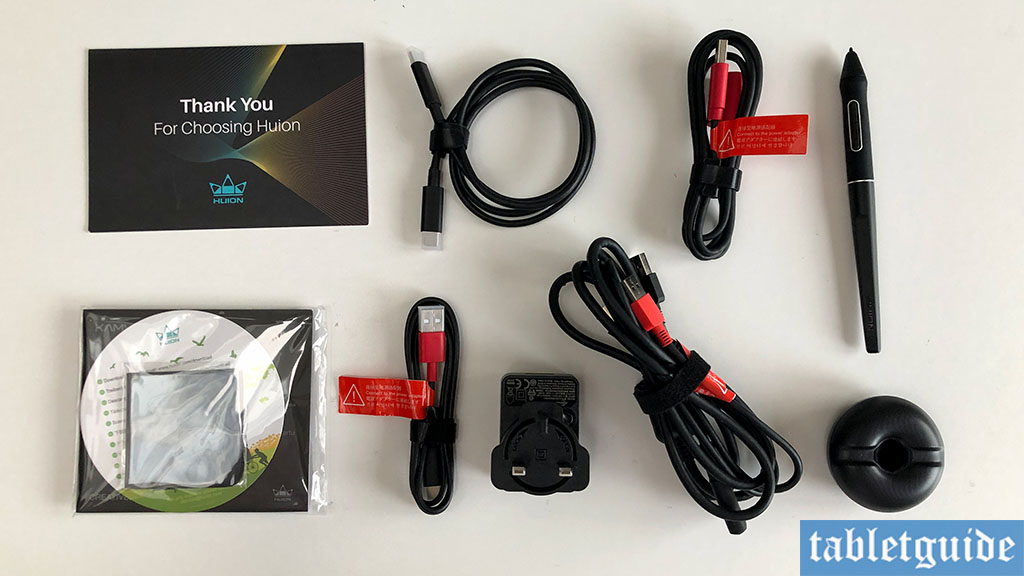 The stand is ergonomic and adjustable. By using either of the two metal supports, you can vary the height of the tablet to best suit your drawing needs. It has a small flap at the bottom to stop the drawing tablet sliding onto your lap from the table – nice idea!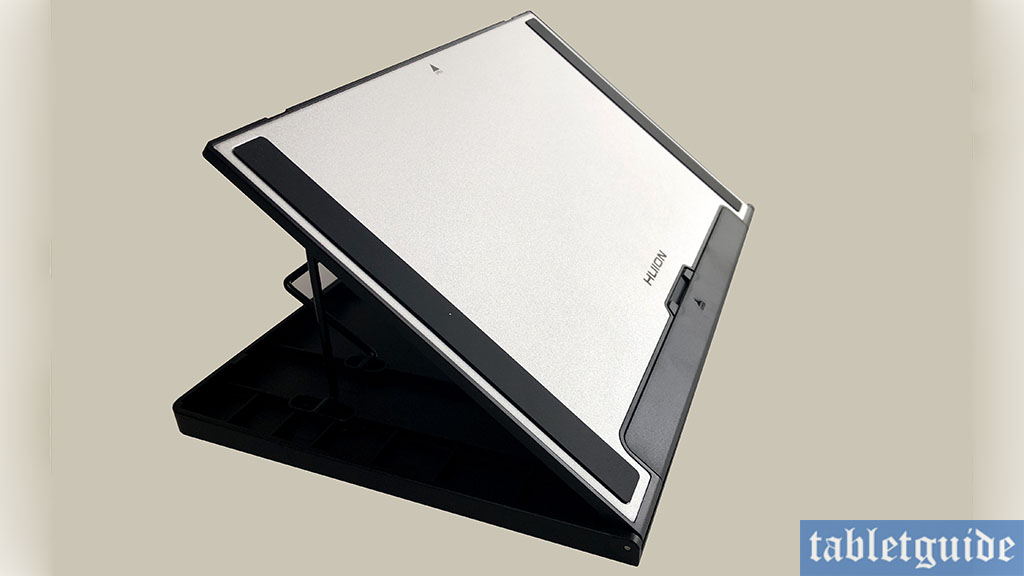 You can use the 3-in-1 Cable to connect the tablet to your PC/Laptop – the HDMI and USB plug into the device ports, whilst the color coded USB can be plugged into the Power Adaptor if your machine is under-powered. Alternatively, use the USB-C to USB-C cable to connect to a compatible Android device – see HUION website for a list of compatible devices. Drawing on a mobile phone isn't something I can see myself doing in the foreseeable future, but it has it's uses and I'm sure someone out there will benefit… 😊
In the next step, uninstall any previous Huion drivers and install the latest one for Kamvas 16 (2021) from official Huion website. Once you are done with the driver software, connect the pen display tablet with your PC and check out for Digital Pen settings on the software.
It's here you can adjust the pen sensitivity to your liking – I prefer a 'harder press' on the tablet to achieve a thicker line, so I tend to drag down the curved line in the 'Pressure Sensitivity Adjustment' box. Once you have made any changes you can have a quick scribble in the 'Pressure Test' box – to 'Reset', click the little icon above the box and try again to find a setting that suits you.
Other settings can made here: if you have a multi-monitor set-up, you can either have both your monitor and pen tablet display exactly the same image and/or desktop, or, as I prefer, have the tablet work as a 'second monitor' i.e. both displaying different content – Adobe Illustrator or Photoshop on my Kamvas 16 (2021) and YouTube on my laptop for instance – handy for any visual reference when creating/drawing.
Watch Huion Kamvas 16 (2021) Review Video
The round 10 Express (or shortcut) Keys can be modified here too. I've never really felt the need to change them as I tend to rely on traditional short keys on a keyboard when creating (plus these settings seem to have the most common options pre-defined), but by default they are as follows, top to bottom: 1 Brush, 2 Increase Brush Size, 3 Decrease Brush Size, 4 (F5) Brush Settings, 5 (CTRL+) Zoom In, 6 (CTRL-) Zoom Out, 7 (E) Eraser, 8 F6, 9 Spacebar and 10 (CTRL-Z) Undo.
That's a lot to remember, but I've seen a few other artists create their own little 'stickers' with icons on that match the buttons and stick them on the tablet – a cool idea!
The pen is light and has a nice rubber type covering around the bottom half making it feel nice to hold and presumably non-slip! The 2 buttons are customizable in the driver software should you need to change them from the default settings of 'Top Button: Mouse Right Click' and 'Bottom Button: E (Eraser)' functionality.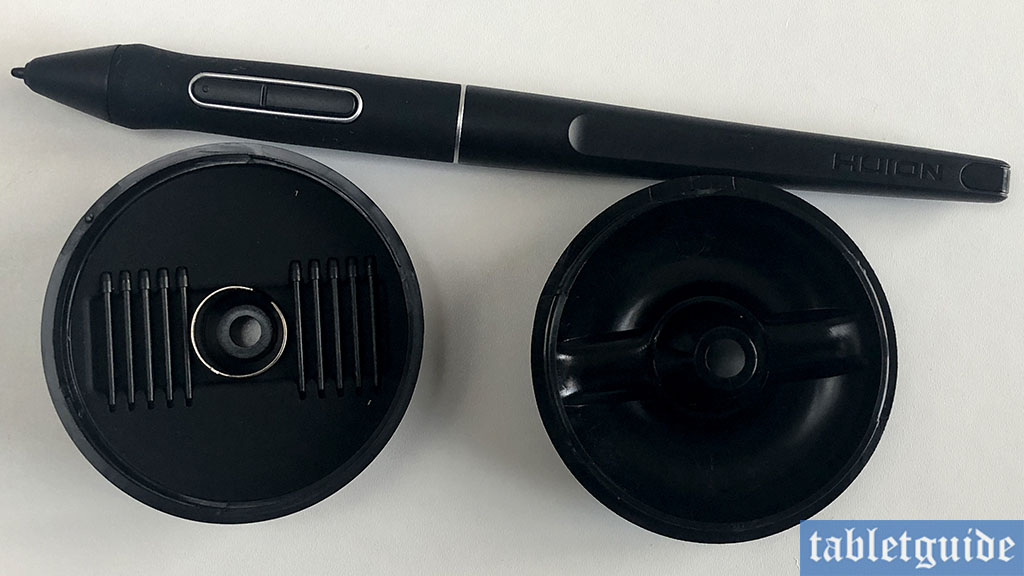 The pen display itself is well made and looks cool with its curved edges and small green power button illuminating the top left. At only 12mm thick and weighing 1.26kg, this can be easily transported from home to office/client etc. As with the smaller Kamvas 12, the 1920 x 1080 resolution works well with this size of tablet.
This is a fully laminated screen meaning there is no 'gap' between the pen nib and the brush/line you see on your screen. This was once a feature of more expensive tablets, but is now becoming the norm as prices drop too. An anti-glare protective film comes pre-installed preventing any glare (admit it – you knew I was going to say that…!) generating on the screen.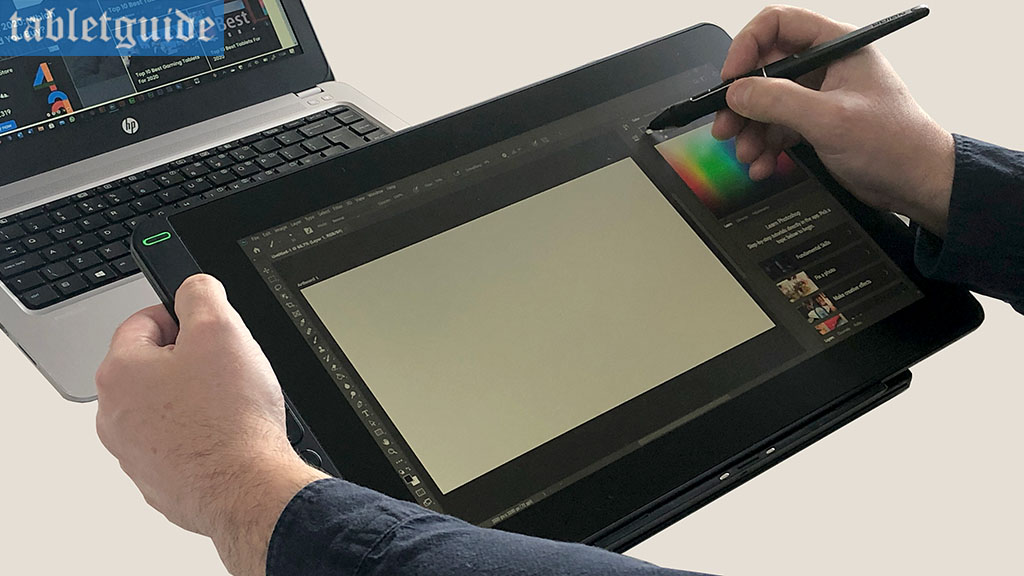 I used Photoshop for the sake of this review and suitably impressed. I was able to vary the thickness of my brush strokes with ease with the slightest of pressure. As previously mentioned, I prefer keyboard shortcuts when drawing, but using the shortcut keys on this unit, mainly brush zooming and canvas zoom did kinda speed things along.
Once these become second nature, I can see illustrating/creating becoming somewhat quicker to complete! The two 'middle' keys, named K5 & K6 in the manual, when pressed together for 3 seconds actually brings up the pen display's OSD menu – it's here you can update and/or change any settings relating to the display such as Brightness, Color Temperature, X & Y positioning etc – a handy tip (all part of the service)! 😊
HUION are knocking these new tablets out of the park with their Kamvas series. This is the third I've reviewed and can recommend them all. Produced in a variety of sizes i.e. 12" 16" and 22", you're sure to find one that suits you.
Related:
It's getting harder to choose between brands now what with them all now producing fully laminated, cool looking displays, but HUION are a well known and respected name you can't really go wrong choosing one of theirs. Plus, keep checking back here and we can help! 😊
This Kamvas 16 (2021) is available now and is compatible with most, if not all, creative software like Adobe Photoshop, Adobe Illustrator, Corel Painter, SAI, GIMP, Clip Studio Paint, Krita etc.