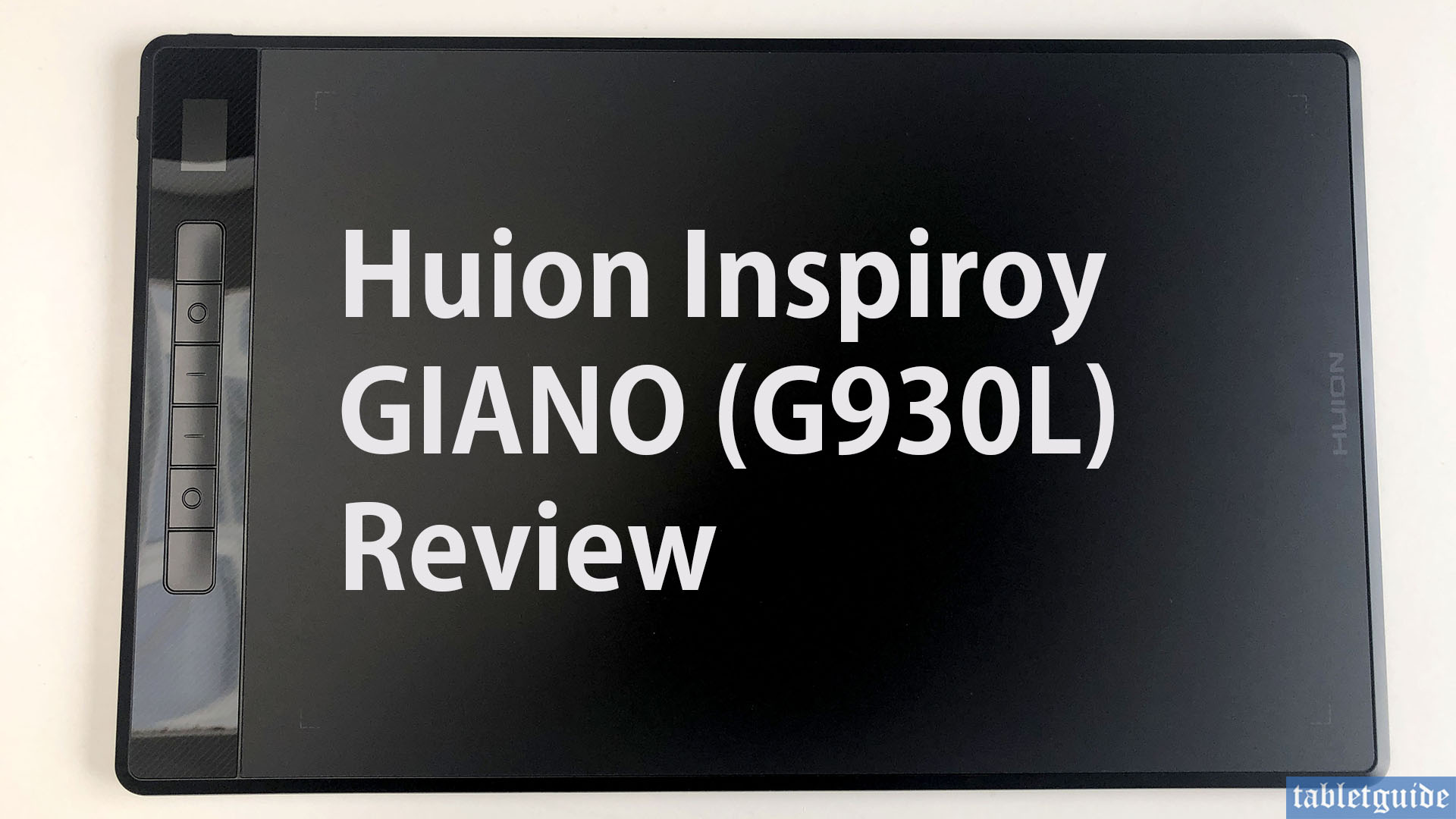 Huion have just released their largest Bluetooth pen tablet to date, the 13.6" X 8.5" (Drawing Area!) Inspiroy Giano G930L and we've got our artistic hands on one to have a test and a play with…! 😊
Housed in a cool and sexy matte black box, with its glossy 'Inspiroy Giano' brand lettering and neon-like blue strip dividing the top and bottom sections are the Tablet, Pen, Pen Holder (including 10 spare nibs; 5 standard and 5 felt), USB-C Cable, Drawing Glove and Quick Start Guide, all contained within their own smaller boxes (apart from the pen holder).
As mentioned above, this is currently Huion's largest Bluetooth drawing tablet, measuring 429mm X 260.9mm and is only 9mm high! It too is black – flip it over and you'll find four rubber feet in each corner to help stabilize it on your desk as it doesn't come with a stand. The back also has a nice grey aluminum metal finish to it – it does look rather expensive!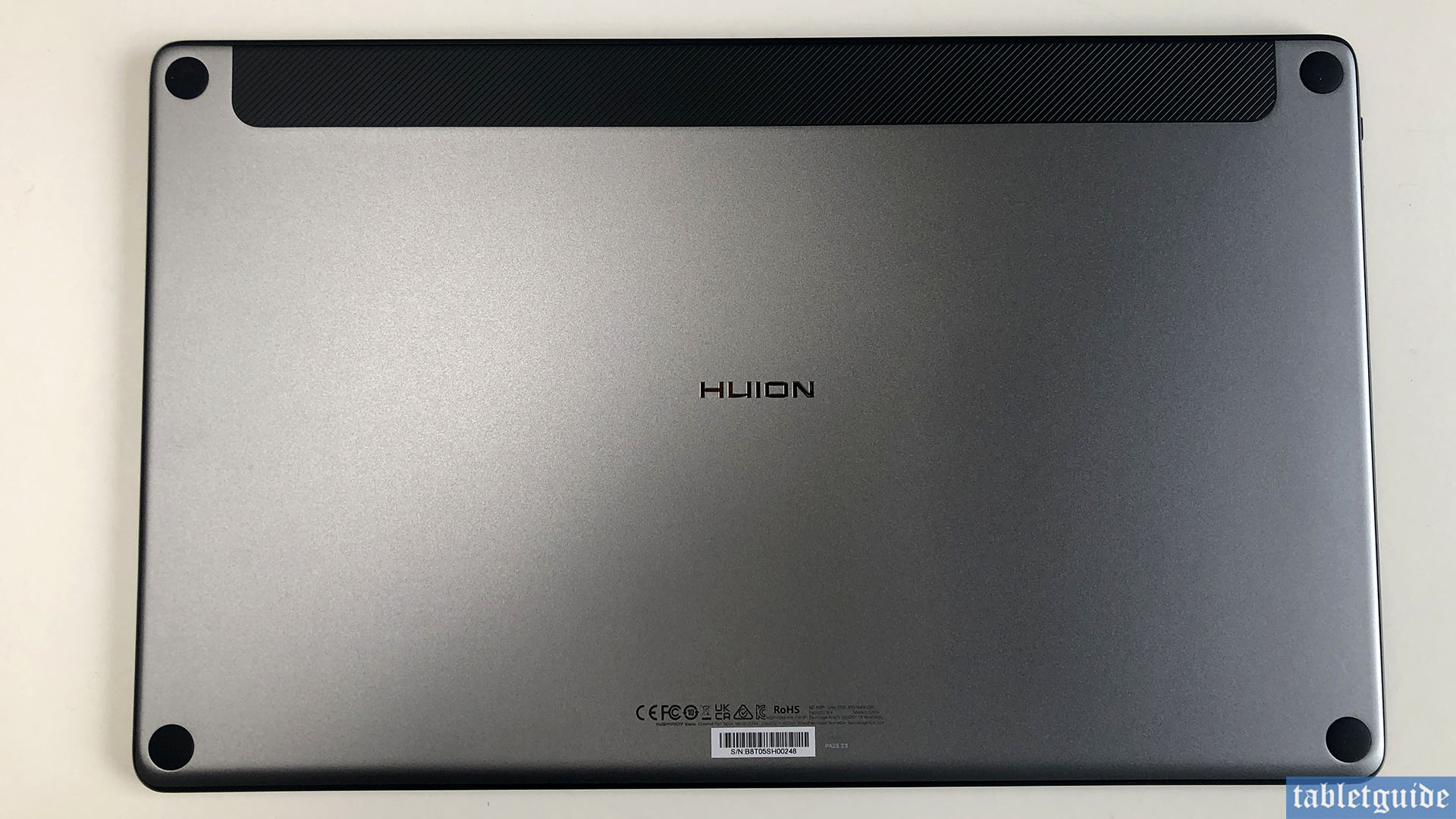 So what makes this stand out from other tablets on the market? It has a rather spiffy 'Smart LCD Screen' on the top left of the device, just above the 6 shortcut/express keys running down the left side.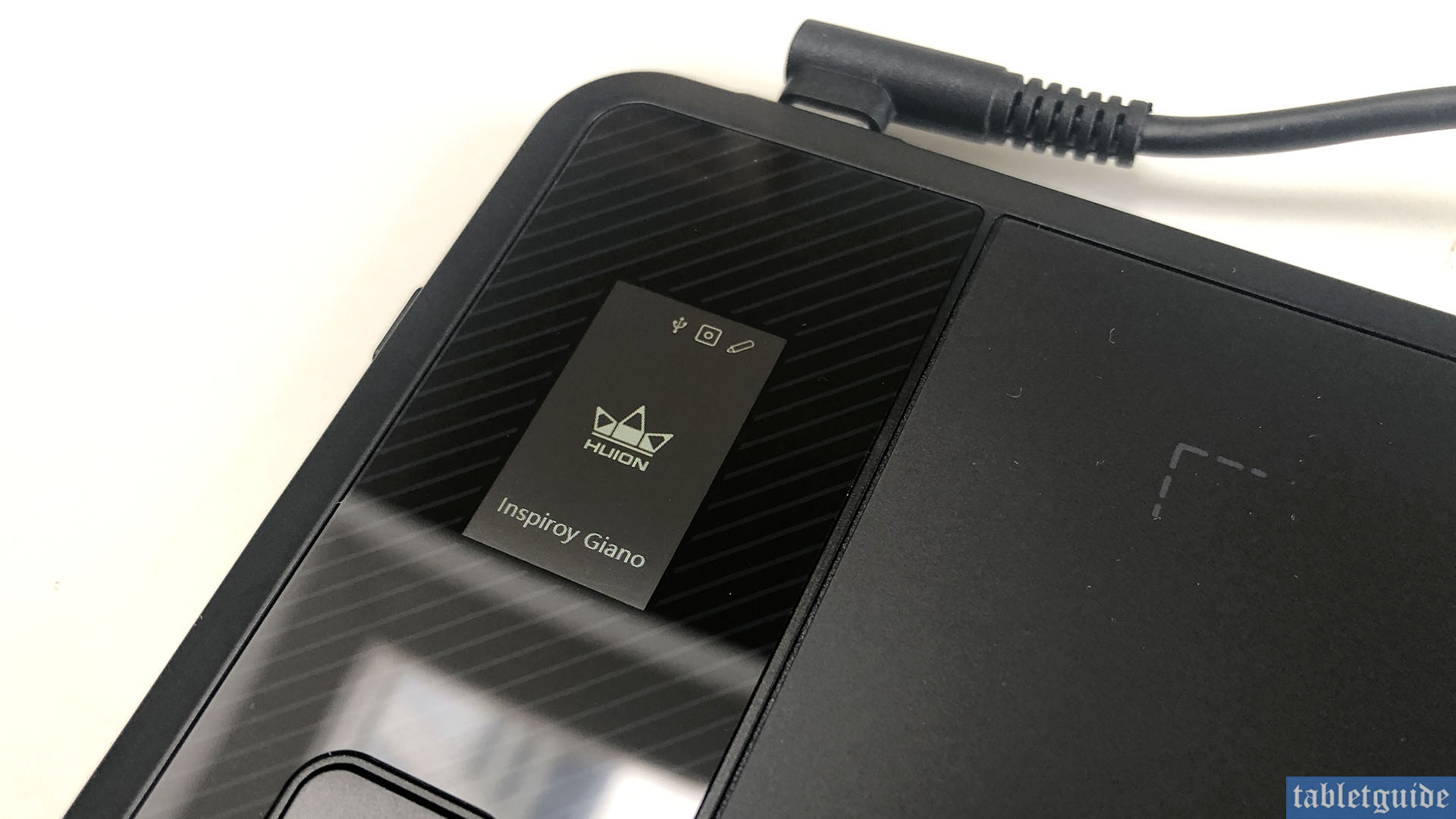 The screen, although quite small, displays battery-life, Bluetooth connection, key/pen activation. Sitting in the middle of this screen are the Huion icon (indicating its connected to a PC), a phone icon (indicating if the tablet is connected to a phone (obviously!) and a moon icon when it enters 'sleeping mode'.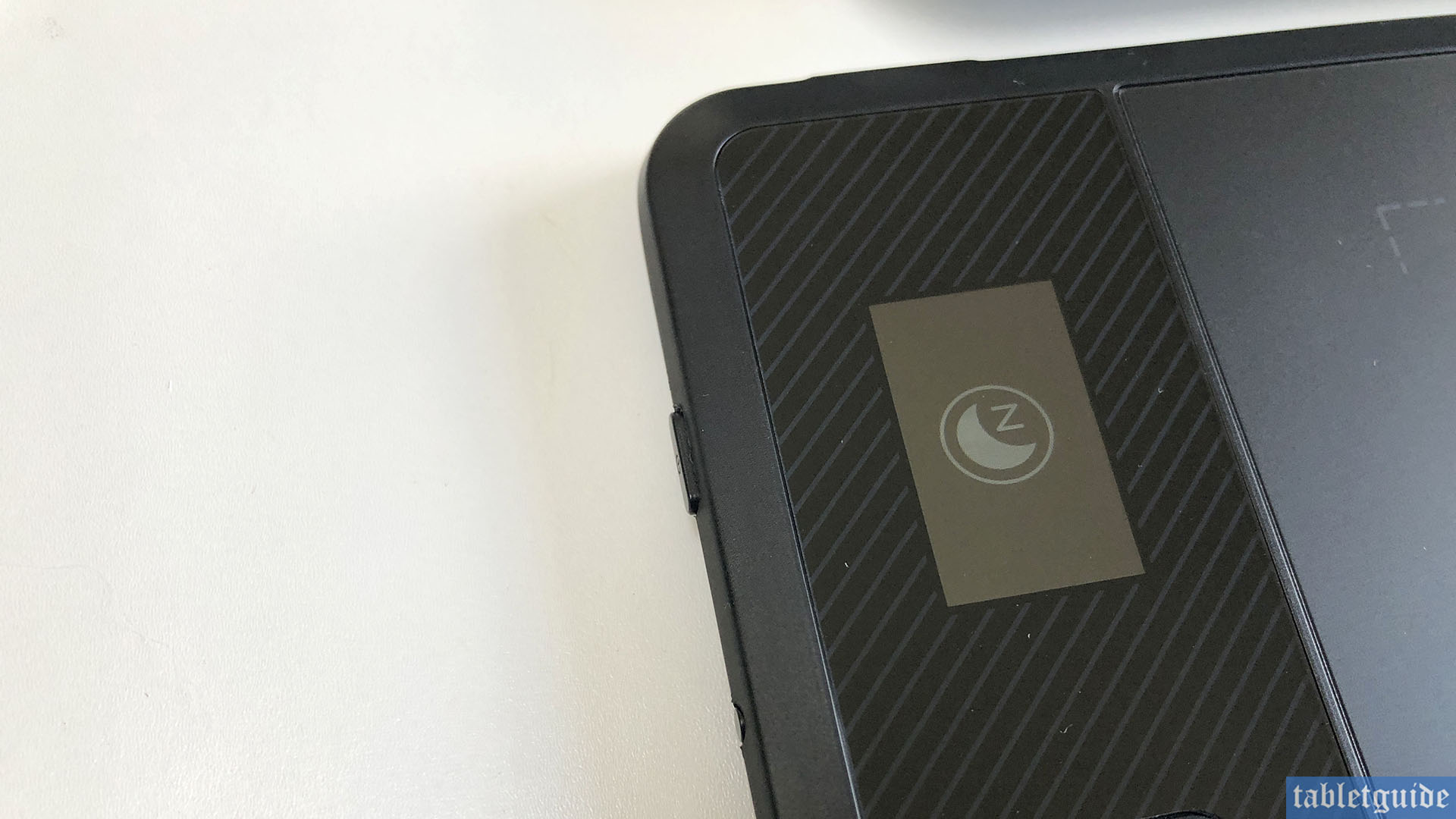 Rather amusing, after 2 hours of continuous use, a 'flashing exercise icon' or as Huion call it, a 'Sedentary Reminder' pops up to prompt you to put down that pen and go and get some exercise. Or some biscuits or cake, depending on your preference… 😊
On the actual left side of the tablet is the power button and below that the Bluetooth connection button.
Getting up and running worked flawlessly. A quick trip to Huion's website to download the newest drivers later, I initially connected the laptop and pen tablet via USB-C cable for some test scribbles.
Once everything was working ok, I disconnected the cable and connected via Bluetooth no problem – the device was instantly recognized by my laptop and more scribbling ensued without any quibbles.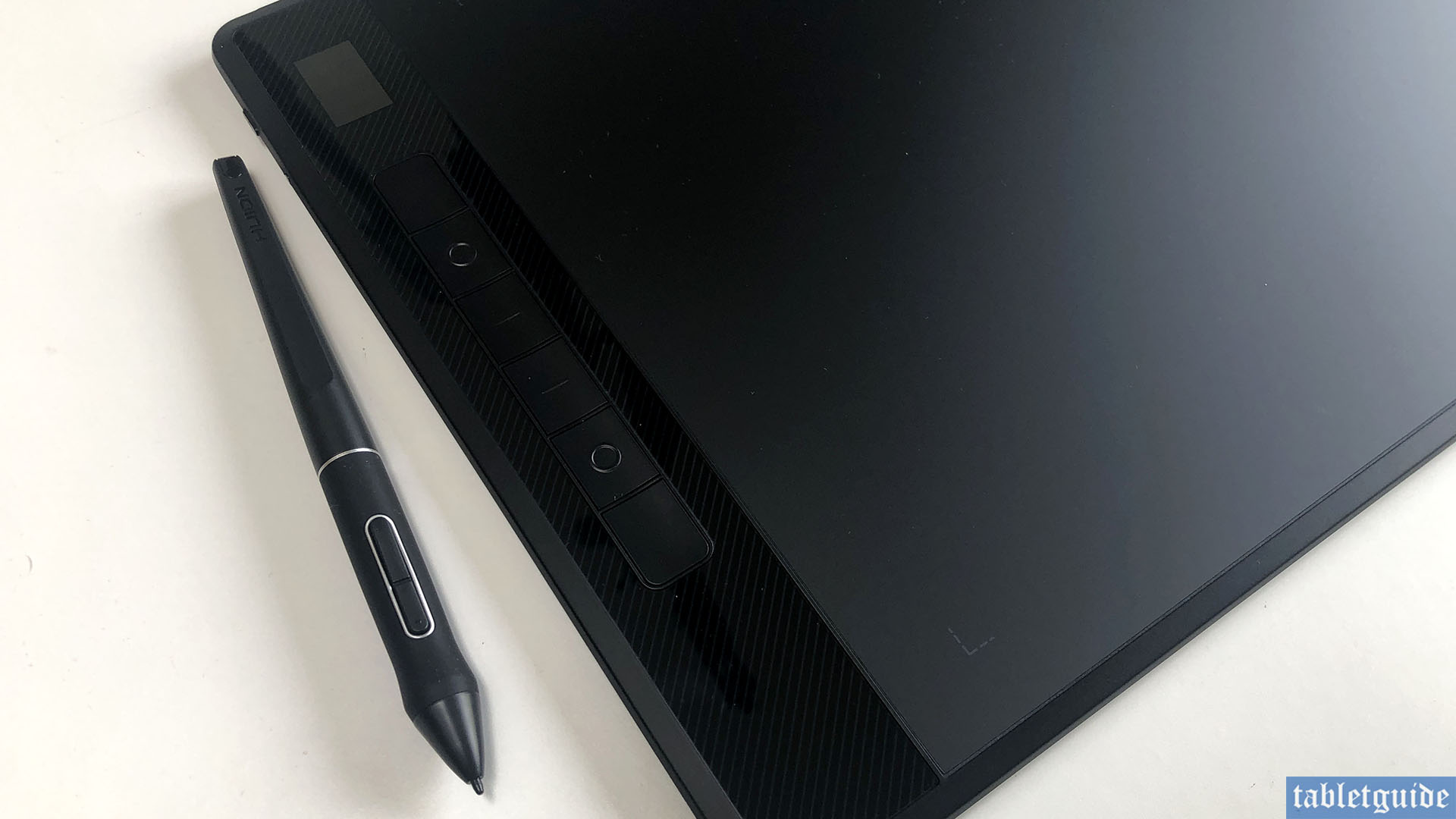 The 6 express/shortcut keys I mentioned earlier, by default are, from top to bottom:
K1: Brush: B
K2: Increase Brush Size: ]
K3: Decrease Brush Size: [
K4: Zoom In: Ctrl++
K5: Zoom Out: Ctrl+-
K6: Undo: Ctrl+Alt+Z
Personally, I don't tend to use these keys much on these devices, but I should imagine the default settings are perfect, but should you want to change and/or edit them, you can in the driver software to whatever combination you wish.
Speaking of driver software, as well changing the key settings, you can also change the pen buttons (which are by default 'Eraser' and 'Right Click'), pen pressure sensitivity, check for software updates, change the work area settings i.e. if you're left-handed, you can rotate it 0°, 90°, 180° and 270°, set the 'Sleep Time' i.e. 'Off', change the brightness of the LCD and even change the colour of the software interface from light to dark!
There's a lot more options to play with and test out, but it's all nicely laid out and simple to navigate. If you make a mistake or really mess up the settings, the 'Restore Defaults' button will be your new best friend…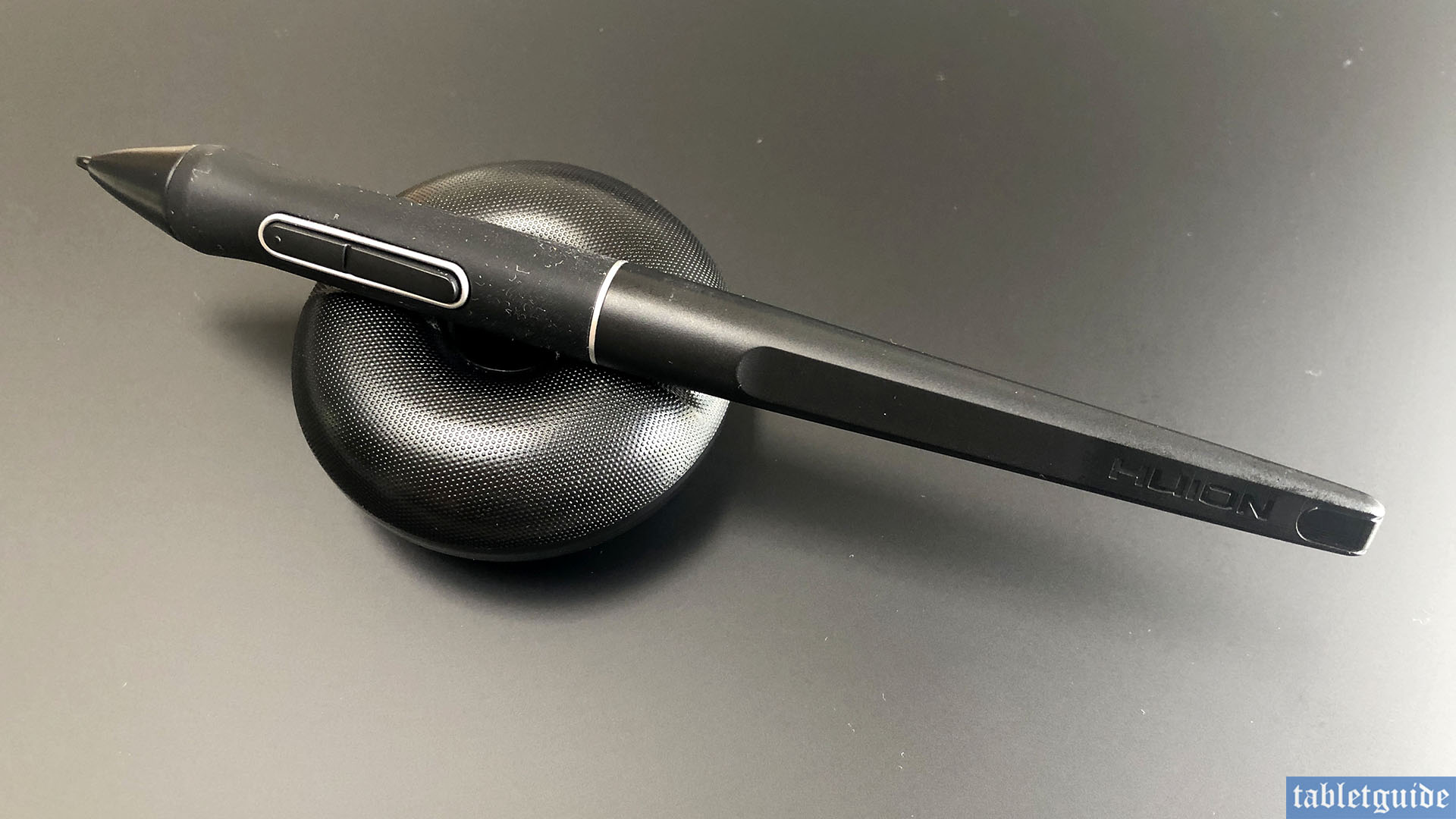 The pen provided with this device is the now familiar PW517 with Huion's upgraded PenTech 3.0 technology. This new tech gives the nib a shorter retraction distance than previous models. I actually prefer using the felt nibs whilst drawing as it gives a smoother feel. 10 spare nibs are provided which should last you quite sometime before you need to order any replacements.
The pen is nice and light and feels good to hold and is well balanced. With a report rate of over 300PPS and 8192 levels of pressure sensitivity, drawing with this pen felt natural and very comfortable. Pressing harder produced thicker lines and vice-versa.
The lines also tapered off nicely at the ends. When you've had enough of drawing, you can simply pop it into the top of the pen holder, (or doughnut as it's sometimes called!), to stop it running off your desk and onto the floor – which is easily done!
The pen nib needs to be only 10mm from the tablet to be registered. I had the tablet a couple of inches away from my laptop on my desk whilst drawing, but Huion claim the communication distance can be between 5-10m… not sure you'd see your screen well enough to work that far away, especially if using it with your phone! 😊
When using the tablet via a wired connection, you're good to draw for as long as you like. If you connect via Bluetooth, Huion claim you should get 18 hours use. If you've been working for that long continuously, you really do need to get up and take a walk!
To fully charge the tablet, it should take around 4.5 hours. To help keep the batteries charge, the device hibernates and/or enters sleep mode after 15 mins (this is adjustable in the driver software).
The build quality of the Inspiroy Giano is great – it really feels well-made and should last you a long time if carefully looked after. My experience with it was really positive and I liked the end result it produced in my work.
If you're looking for a large tablet and have the desk space, this comes recommended. At first, I thought the screen was a bit of a gimmick, but it's quite useful and adds to the professionalism of the design.
Huion Inspiroy Giano (G930L) is compatible with Windows 7/8/8.1 (Wired), Windows 10 (Bluetooth), MacOS 10.12 or later, Chrome OS 88 or later (Wired) and Android 6.0 or later (Bluetooth).