New XP-Pen graphic tablets, Star G960S and Star G960S Plus are finally here. With a slight variation in specs and features, both the graphic tablets are more or less the same. It is surprising that for a few bucks more to a price of XP-Pen Star G960, you can get superior tabs XP-Pen Star G960S and Star G960s Plus.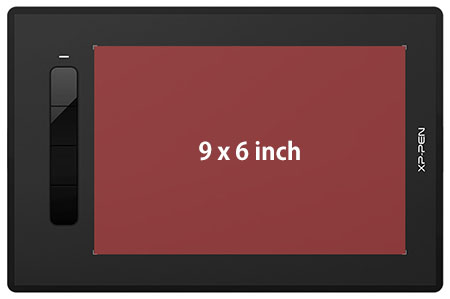 Apart from the type of stylus pen and the tilt angle with the screen of the tab, there is no difference in both the tabs. Let's now see all the features and specifications of these drawing tablets.
Design
The design is the same for both XP-Pen Star G960s and Star G960S Plus. Their dimensions are 319.5 x 209.5 x 10mm and with a 9 x 6 inch working area. However, the working area was a bit less in its previous tab Star G960 with 8.35 x 5.33 inches. Which means this tab gives you more space to craft your ideas upon.
Stylus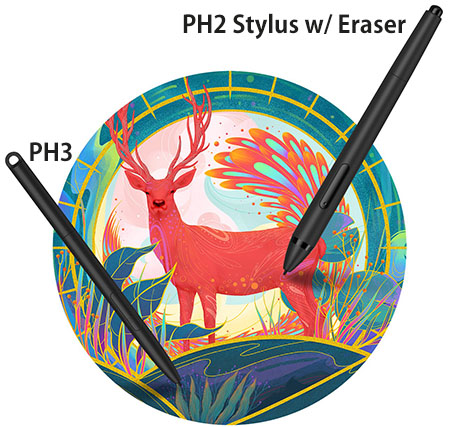 XP-Pen Star G90S Plus comes with a PH2 stylus, one of the pens XP-Pen offers. Creators have tried to make sketching and taking notes more conventional. This PH2 stylus has an eraser on its other end like one on a conventional graphite pencil. Of course, this would not be an actual eraser but a digital one.
This feature of the stylus will be quite comfortable as it is designed to meet a user's habit of using an eraser attached to their pencil. There are no buttons to be pressed to switch between a pencil and an eraser. Just use the eraser when you need and immediately make corrections to your work.
Whereas Star G960S has a PH3 stylus that can do everything a PH2 stylus can, except the eraser part.
Working Experience and Sensitivity
Both the stylus are battery-free so that you don't have to worry about their charge while you're using it. Superior 8192 levels of pressure sensitivity can let you write and express your ideas with various widths of a line. This will help you to do more exquisite strokes of the stylus.
The PH2 stylus in XP-Pen Star G960S Plus can also let you write and draw up to a 60-degree angle with the surface; thereby giving you a conventional writing and sketching experience due to its tilt brush effect.
Supported Software
Both Star G960S and Star G960S Plus supports Word, One Note, PowerPoint, Excel, etc. Well, you can digitally write and can also digitally ink on these software simultaneously. This can actually be helpful in teaching and for the office work to avoid using papers. Moreover, you can also digitally sign any documents immediately.
Not only Star G960S Plus and G960S can connect with laptops and computers, but also with your other Android tablets and Smart Phones. That being said, you can use the device wherever you go. Both the devices are compatible with most high-end software and applications like Zenbrush, Paint X, Medibang, Artrage, FlipaClip, Autodesk Sketchbook, etc.
Related:
Shortcut Keys
Both the device Star G960S Plus and Star G960S come with four shortcut keys for easy navigation and convenience. Also, you can edit your shortcuts as per your needs. This adds to better efficiency and convenience of the devices.

Orientation
Both the slates can be rotated and used as required. You can use it in a portrait mode with 90 degrees or 270 degrees or in a landscape mode with 0 degrees and 180 degrees.
Versatility
The XP-Pen Star G960S and Star G960S Plus is compatible on Windows 10/8/7, Mac OS X 10, and above, Android 6.0 and above. Moreover, both the devices let you use some bigger software like Krita, Fire, Alpaca, Autodesk Sketch, Medibang, Adobe Illustrator, and so on.
XP-Pen Star G960S and G960S Plus Specs
XP-Pen Star G960S & G960S Plus Specs
Dimensions
319.5 x 209.5 x 10 mm
Working Area
9 x 6 inch (228.8 x 152.6 mm)
Keys
4 Shortcut Keys
Pen
Star G960S: Battery-free PH3
Star G960S Plus: Battery-free PH2 w/ Eraser
Pressure Sensitivity
8192levels
Tilt Angle
60 degrees
Report Rate
Max. 230
Accuracy
±0.4mm
Reading Height
10mm
Input
USB
Compatibility
Windows 7, Mac OS X 10.10, Android 6 or higher versions
The End Note
All in all, both devices XP-Pen G960S/G960S Plus are superior devices to their previous version Star G960 with some new features. Also, these devices have a better report rate of 230 than the previous model. Not to mention the detachable USB connection cable which was fixed in the previous version of this slate.
If you're a teacher and want to teach your students with ease and convenience, these slates are perfect for you. Moreover, it is suitable for graphic and media professionals for making creative illustrations and taking quick notes. The office use for digitally sign documents, and representing your ideas in the meeting can also be made easier by these devices.