XP-Pen Artist 15.6 Pro is one of the best drawing tablet screen and Wacom Cintiq 16 alternative that comes with a Red Dial interface for smooth performance and optimal efficiency. The product has been designed to sit in your hand comfortably plus it is lightweight further making it portable and easy to set up in small spaces.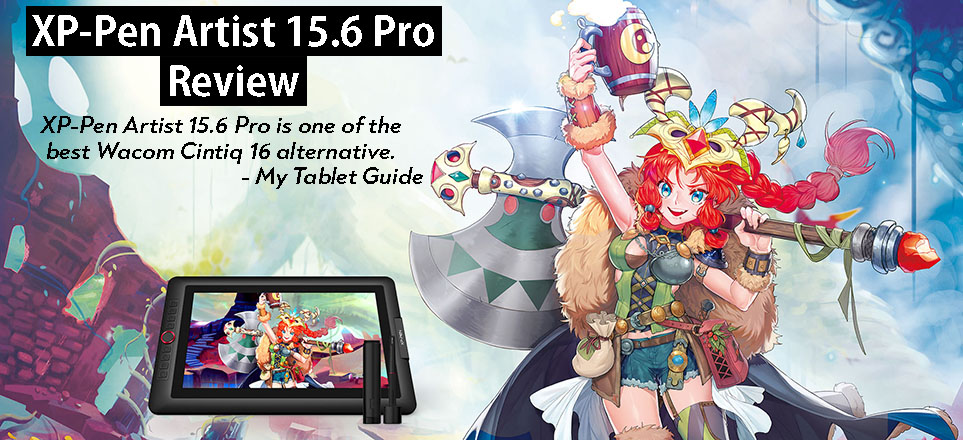 In terms of its features, the Artist 15.6 Pro comes with complete laminated technology. It can be programmed to zoom in and out on the canvas and scroll up and down with ease and accuracy using the red circular roller shortcut key.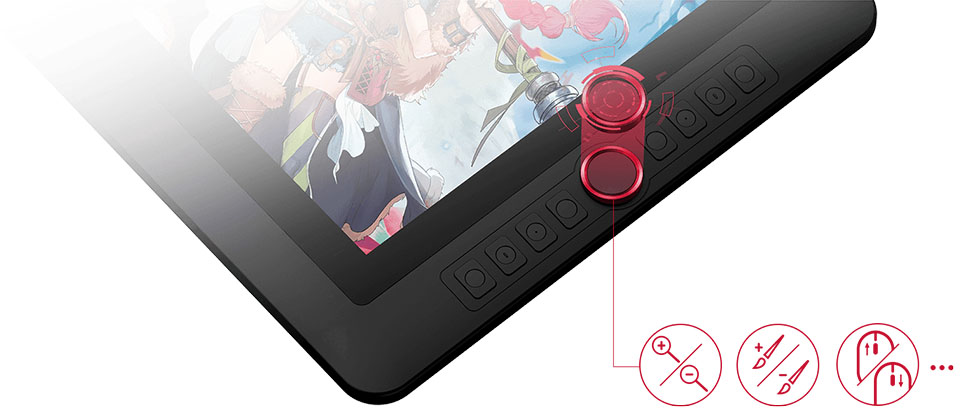 The glass and the screen of the device are combined so impeccably that it minimizes distraction and deliver easy on the eyes work experience. Moreover, the 15.6 inches full laminated IPS Display of the XP-Pen Artist 15.6 Pro is paired with the excellent 88% NTSC (120% sRGB) color precision. Its 178-degree visual angle offers vivid colors, vibrant images, and astounding details in wide view.
The Artist 15.6 Pro is further embedded with a 60-degree tilt function which gives the experience of a real tilting brush. This feature helps to flawlessly carry out the natural transition between lines and strokes further elevating the drawing experience.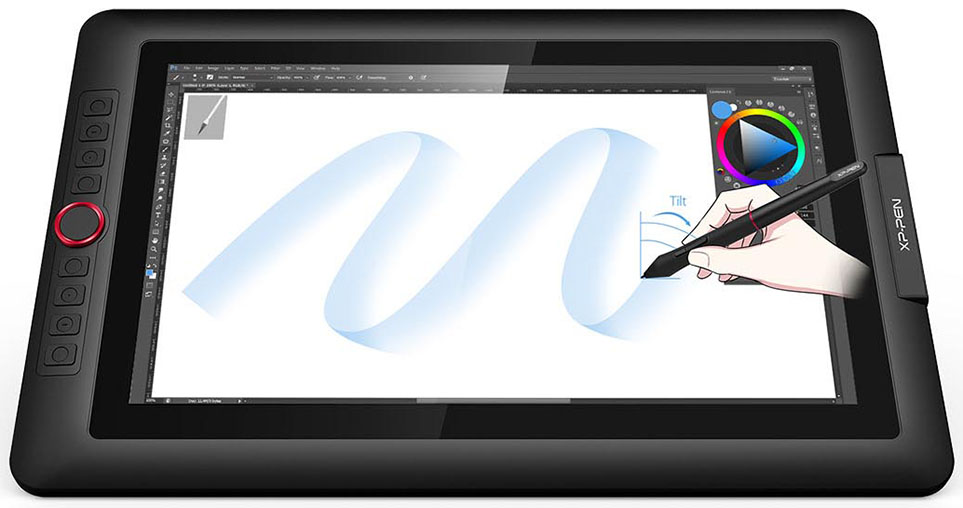 Besides this, the device also features a sleek 11mm profile with a smart and quick access screen-brightness button. This feature is very convenient to swiftly adjust the brightness as per requirement for a comfortable view and drawing.
In comparison to Artist 15.6, the Artist 15.6 Pro has more advanced features. The device the loaded with 8 fully customizable shortcut keys which can be adjusted as per requirement. This customization feature is perfect to get the preferred options handy and at disposal, plus it helps to put together ideas faster optimizing the creative flow.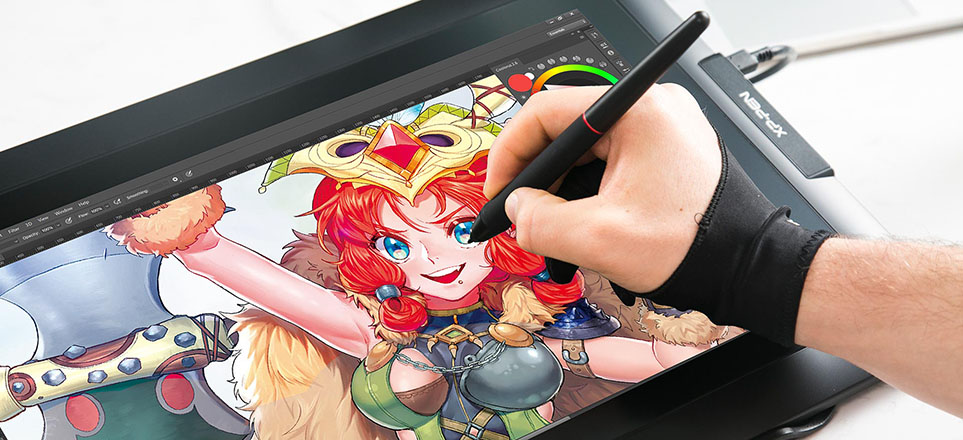 A comfortable stylus is key to creating art. Therefore, Artist 15.6 Pro has incorporated a PA2 Battery-free Stylus with approximately 8,192 levels of pressure sensitivity. This stylus not only enhances the performance but also helps to conveniently draw fine lines and sketches.
The Artist 15.6 Pro becomes a complete package with its perfectly complemented accessories. To safeguard the device from sliding off or shaking, a portable stand has been integrated which also helps in preventing eye fatigue and stiffness in hands.
It is also packed with a protective film for glare reduction and preventing scratches on the screen. Moreover, the pen holder keeps the pen and pen nibs secure and it can also be used as a pen stand or pen holder. This ensures stylus will be completely safe even while traveling.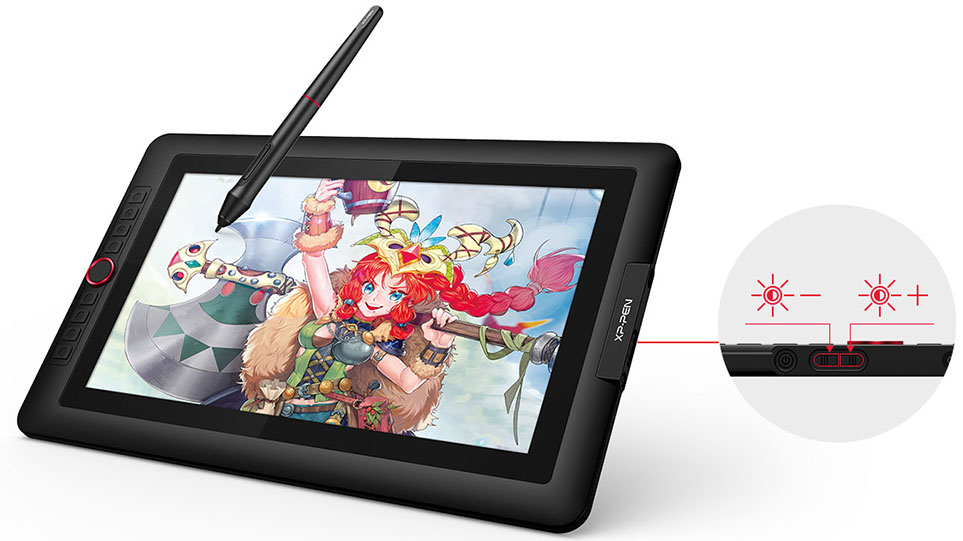 Using the USB connection cable the Artist 15.6 Pro can be connected to the display and get charged at the same time. It can also run on an external power bank further easing the portability. The package also contains one 3 in 1 cable, extension cord, quick guide, one drawing glove, and a cleaning cloth.
In terms of compatibility, the XP-Pen Artist 15.6 Pro can be easily paired with Windows 7 or later, Mac OS X 10.10 or later, and works fine with major graphic software like Photoshop, Illustrator, Painter, Clip Studio, etc.
Undoubtedly, the XP-Pen Artist 15.6 Pro's digital surface lets you sketch, paint, and design on the go. But it does fall short in some areas compared to its market counterpart Wacom Cintiq 16.
XP-Pen Artist 15.6 Pro Full Specifications
Dimensions
17.44 x 11 x 0.5 inch
Working Area
13.55" x 7.62" (344.16 x 193.59 mm)
Display Resolution
1920 x 1080 pixels
Color Gamut
120% sRGB, 88% NTSC
Keys
8 Shortcut Keys
1 Roller Wheel
Pen
PA2 Battery Free
Pressure Sensitivity
8192 levels
Tilt
60 degrees
Resolution
5080 LPI
Report Rate
≧200 RPS
OS Compatibility
Windows 7 or later
Mac OS X 10.10 or later
Price
$449 | Buy at Amazon
The Artist 15.6 Pro comes with an impressive gamut of 84% of Adobe RGB whereas, the Cintiq 16 has gamut close to 75% RGB but the color accuracy is still not perfect. A color calibrator will be required to fix this to avoid color inaccuracy while printing the artwork.
The Cintiq 16 has a minimalist look with a simple screen at the front, whereas, the Artist 15.6 Pro has been enabled with shortcut buttons alongside the screen at the front. Nonetheless, both tablets have a plastic body and are similar in terms of built quality.
The surface texture and screen of both the tablets are matte as well. Since Wacom more commonly uses etched glass where surface texture is directly present on the glass, the Cintiq 16 provides comparatively more natural and satisfying feeling than the Artist 15.6 Pro with its scratch-resistant and anti-glare screen.
The stylus of both the tablets are slightly different as well. The Wacom stylus has an eraser at the back, unlike the XP-Pen which does not provide an eraser with its stylus.
Depending upon the drawing and painting technique, some may find that the pressure sensitivity of the Artist 15.6 Pro stylus is slightly unresponsive as it requires some extra initial activation force than expected to draw fainter brushstrokes.
Adjusting the Pressure Curve in the setting will still not feel as natural and swift compared to the Cintiq 16. In terms of durability, the Artist 15.6 Pro is easily portable and lightweight compared to Cintiq 16 but marginally less durable.
Some heavy-handed artists may notice distortion in the screen upon pressing it or while working close to the edges. Otherwise, the Artists 15.6 Pro tablet runs quietly and most people may not even notice the minor distortion.
Moreover, it is quite fascinating that the Artist 15.6 Pro comes with 8 extra pen nibs, whereas, the Cintiq 16 has just 3 extra nibs.
Above mentioned pointers may not be a deal-breaker for everyone. Even after considering the criticism, the XP-Pen Artist 15.6 Pro is an excellent bit of kit. At present, it is the best alternative to Wacom Cintiq 16 for a pocket-friendly budget, and the Artist 15.6 Pro is giving tough competition to Cintiq 16 with its quality screen tablet.
Moreover, it has added an alternative in the market for beginner and hobbyist designers willing to pursue their creativity without investing a hefty sum of money.
The Artist 15.6 Pro is unquestionably an excellent product and value for money for all the 3D artists and designers out there. The slim design coupled with ample features gives the power to create naturally and intuitively. Moreover, the compact size of the device and lightweight feature makes it great travel and commute partner.