Graphics tablets have evolved dramatically over time. Nobody can ever imagine the age of drawing or painting on a piece of paper using pencils, paints, etc. Presently, to showcase your talent in the field of art, especially drawing, painting or sketching, being in touch with digital platforms is in trend. If you're a beginner, it is evident that choosing the right graphics tablet that will absolutely fit in your requirement can be daunting. Unfortunately, there are thousands of brand in the market that offer high-end graphics tablets, which ultimately put you in turmoil. This is where you'll require some source that can guide you correctly.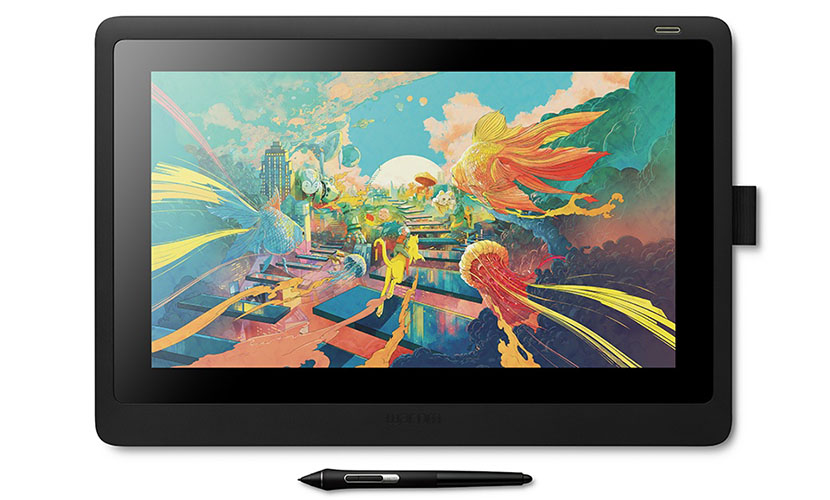 Therefore, in this article, we'll be comparing three 15.6-inch graphics display tablets – Wacom Cintiq 16, Huion KAMVAS Pro 16 and XP-Pen Artist 15.6 Pro to give you a clear idea, which tablet will best suit your needs.
Wacom Cintiq 16
Huion KAMVAS Pro 16
XP-Pen Artist 15.6 Pro
Working Area
13.6" x 7.6"
13.55" x 7.62"
13.55" x 7.62"
Pen
Pressure Sensitivity
Wacom Pro Pen 2
8192 levels
PW507 Battery Free
8192 levels
P05R Battery Free
8192 levels
Keys
No Press Keys
6 Press Keys
1 Touch Bar
8 Shortcut Keys
1 Roller Wheel
OS Compatibility
Windows 7 or later
macOS X 10.12 or later
Windows 7 or above
macOS 10.12 or above
Windows 7 or later
macOS X 10.10 or later
Price
Starts at $649.95 | Amazon
Starts at $399.99 | Amazon
Starts at $399.99 | Amazon
Display
Picture quality and display play a pivotal role in every drawing tablet as switching to a digital platform should not make users feel awkward at any moment.
Wacom Cintiq 16: It boasts 15.6" screen size that too with a resolution of 1920 x 1080 HD display. The tablet provides you with vibrant color quality, making your creativity more alluring and bright. More so, the tablet comes with foldable legs that enable you to adjust it according to your needs. Besides, you can explicitly observe every detail of your creativity with any hassle.
Huion KAMVAS Pro 16: It is similar to Wacom with regards to screen size as it also offers 15.6" screen, but it has IPS display. It provides vibrant colors and also protects you with harmful rays with its anti-glare technology. The display of Huion KAMVAS Pro 16 not only protects your eyes, but it also cut down the distance between the pen nib and cursor, enhancing your overall drawing experience. The tablet boasts six express keys and one-touch bar to make it more convenient and easy breezy. Even Huion KAMVAS Pro 16 provides you with robust tablet stand that makes it flexible and portable.
XP-Pen Artist 15.6 Pro: The screen size of XP-Pen Artist 15.6 Pro is also similar to the above two tablets. However, it boasts IPS display, yet features a laminated display that amalgamates screen and glass providing you hassle-free display. The tablet delivers supreme color accuracy and details of every image you see or draw on the smooth surface of XP-Pen Artist 15.6 Pro. Similar to Huion KAMVAS Pro 16, XP-Pen Artist 15.6 Pro also provides users with eight express keys and one-touch bar.
Pen
If the display is replacing papers, then the pen is replacing your pencil, eraser, brushes, etc. That's the reason artist always look for better pen quality along with tablet's display.
Wacom Cintiq 16: It comes with Wacom Pro Pen that features 8,192 pressure levels, which makes it extremely sensitive and enable you to draw better lines. You don't have to force the pen because this much sensitivity makes everything seamless. You can enjoy the utmost precision and better control over the pen as it also boasts two-button that works as a pen, pencil, eraser, and brushes. More so, the pen is lightweight that gives you perfect grip over the pen.
Huion KAMVAS Pro16: This tablet offer pen PW507, which also provide you with 8192 pressure level and tilt recognition. More so, the ergonomic design of the pen is elegantly designed, providing you with perfect grip over the tablet, comforting you draw seamlessly. This means users can have a fantastic experience of the tablet. You will also get accuracy and precision while drawing on the graphic tablet flawlessly.
XP-Pen Artist 15.6 Pro: The P05R pen of XP-Pen Artist 15.6 Pro support tilt recognition that means all the gestures and movement of the pen will be easier. You can seamlessly draw off the smooth surface of this tablet. The tablet also provides you with a natural transition between the lines, making your entire experience seamless. You will also get a pen holder for keeping the pen nibs so that you will not lose any nib.
Connectivity
Wacom Cintiq 16: You can easily connect the tablet with its 3-in-1 HDMI cable to your desktop to analyze your creativity on a bigger screen. The tablet is also compatible with top designing software such as SAI, Adobe Illustrator, Adobe Photoshop, etc. It can easily integrate with Windows and Mac iOS.
Huion KAMVAS Pro 16: It supports Type-C for connectivity with desktop and charging. It is also compatible with Windows 7 or the latest version and macOS.
XP-Pen Artist 15.6 Pro: This tablet is also compatible with designing software as mentioned above. And the compatibility is similar to the other two operating systems that are Windows and macOS.
Which is better?
The tablet Huion KAMVAS Pro 16 and XP-Pen Artist 15.6 Pro will cost you same that is $399.99, and Wacom Cintiq 16 costs $649.95. If you're a beginner, then investing in a small-budget tablet could be an ideal choice. But, if you're a pro artist and looking for change to enhance your experience and creativity, then Wacom Cintiq can be your perfect partner. All-in-all, Wacom Cintiq is an excellent tablet as compared to others as it offers a high-tech pen and HD display, delivering true and vivid colors. However, the low-end tablet will enable you to fit your hand over digital platforms efficiently.
Verdict
Choosing the right graphic tablet absolutely depends upon your requirement. That's the reason we suggest you make your check-list before plunging into the market that includes size, pen, compatibility, and most importantly your budget. If you have a good budget, then Wacom Cintiq 16 will be best, but if you have a minimal budget, then Huion KAMVAS Pro 16 and XP-Pen Artist 15.6 Pro can play a better role.
Before investing in any tablet, it is crucial that you check your own needs and then pick the graphic tablet. This will ultimately save you time and money, boosting your confidence before purchasing any tablet.