Hello again! Last year I reviewed the first device from VASTKING, the KingPad SA10 Android tablet and was suitably impressed considering it was a 'budget' tablet. Today I'm taking a look at the newly released VASTKING KingPad K10 Android tablet, so it has a lot to live up to…!
The (hereon in known as) K10 actually comes in two 'flavours' – there's the 'ever-so-slightly-higher-specced' 'Pro' version which comes with tablet, keyboard docking case and stylus provided in the box, or the tablet and keyboard docking case – I have the latter, so we're good to go…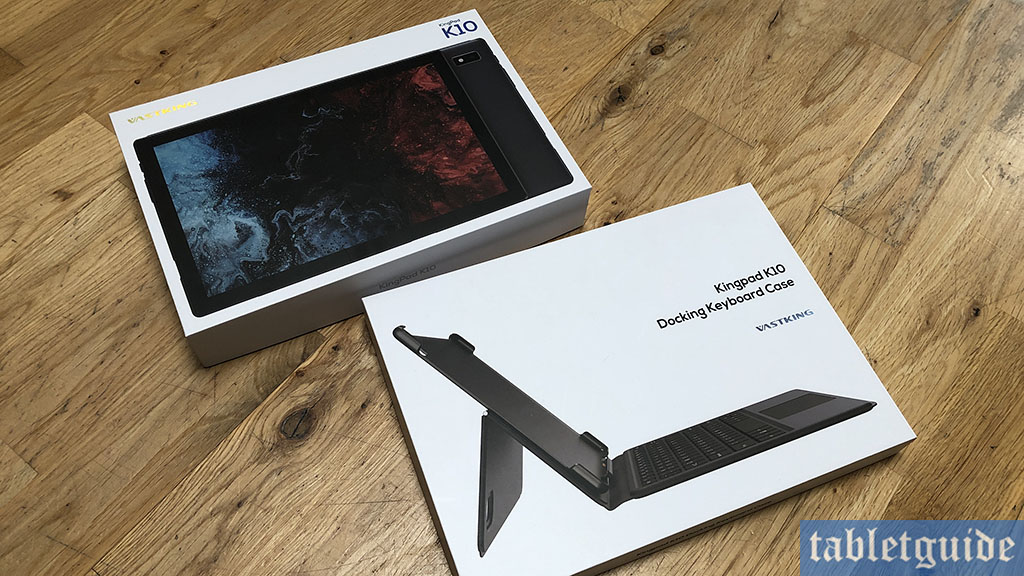 In the box: K10 Tablet, Plug, USB to USB-C cable, Warranty Card (which, by the way, is 2 years!), User Manual, Quick Start Guide and SIM tool.
In the other box: Keyboard Docking Case…erm… that's it! 😊
Tech Specs: This is a 10-inch Android 10 Tablet with an Octa-Core T610 (1.8GHz) CPU and 3GB RAM with a 12mm chipset, 32GB storage (upgradeable to 512GB with external microSD) and a 1920 x 1200 HD resolution. It also comes equipped with a 13MP rear camera (with flashlight) and a 5MB front camera, Blue Light Filter Screen, Facial Recognition, Dual Speakers, 20 Days Stand-By time with the 6000mAh Battery Capacity, 2.4Ghz & 5Ghz WIFI, Bluetooth, Offline Google Map and weighs 550g without the keyboard.
Usage/up times are quoted as 7 hours of video use, 8 hours of 'IMix-Use' (nope – me neither!) and 12 hours of reading.
Like its predecessor, the build quality of this VASTKING KingPad K10 device is really good – it has a nice 'premium' feel to it, with its metal backing. Obviously, it can be used either in 'portrait' or 'landscape' modes, but it's actually designed with 'landscape' being the default in mind with the top camera being positioned on the widest top edge – which of course makes sense once plugged into the keyboard case!
Buy Vastking KingPad K10 at Amazon
Along the left edge, from the bottom up, is the USB-C port, Reset button, Volume controls and Power button. Moving along the top is the 3.5mm headphone socket, microSD holder/tray. There's nothing on the right side, but underneath you'll find the Dual Stereo speakers with the 5-Pin docking port sitting nicely in the middle.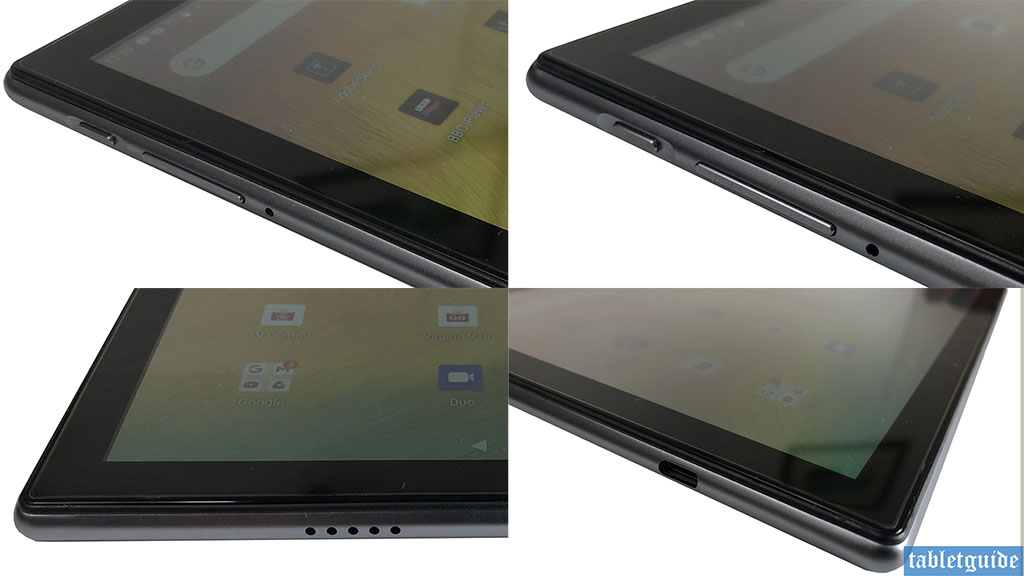 The K10 tablet comes with Android 10 OS pre-installed with no bloatware or any other rubbish installed, which is nice as it not only saves space, but it helps keep the tablet nice and speedy.
I was up and running within minutes of first turning the device on and was happily downloading my favourite Apps from the Google store – connection to my WIFI worked without any hiccups.
The tablet comes with Facial Recognition built in and, as expected, worked perfectly even in fairly low light.
At 550g, the tablet isn't too heavy and feels nice to hold. The tablet has a nice 'zippy' feel to it and was quite responsive, even with its 3GB RAM (The 'Pro' version comes with 4GB).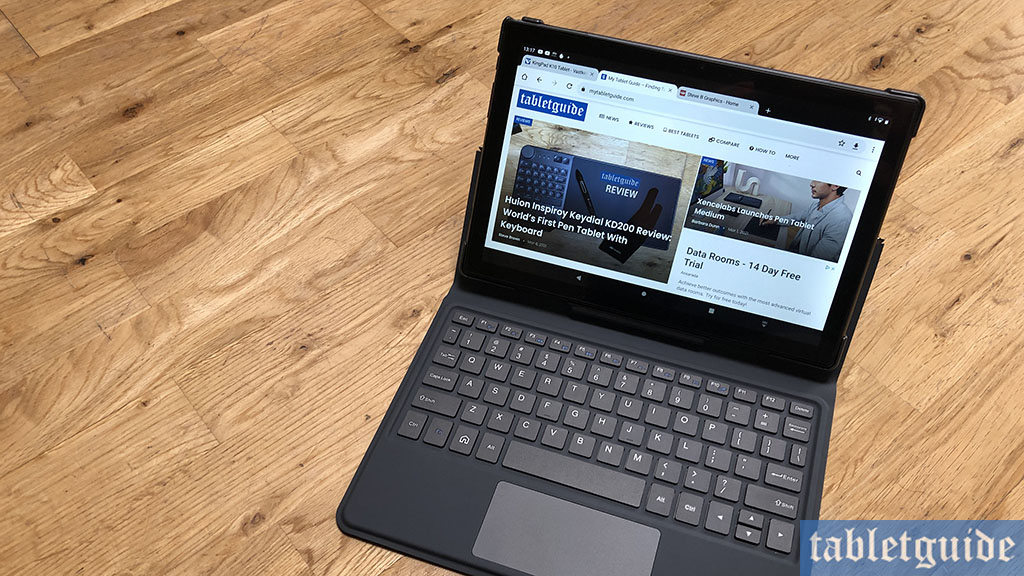 Watching movies on this K10 was a nice experience – both Netflix and Amazon Prime performed really well with no lagging and the picture quality and colours were superb – same for YouTube. Budget tablets are normally purchased as a 'spare', or something for the kids etc, but this device, especially with the keyboard attached, can be used on a daily basis for all your office and work needs.
There has to be sacrifices to keep the price down etc, and the only real downside of this tablet I'd say are the speakers. Of course, you can't expect that watching a film on this is going to give you the same audio experience as IMAX(!) and listening to music isn't going to feel like you're at the front row of a gig (Remember them? Ah, the good old days…!), but they are a bit underpowered being only 1W and 'tinny' on high volume.
They do the job and are OK for the odd notification and bleep. You can improve the audio experience somewhat by using headphones – at least there is some bass!
Camera quality is ok for a tablet at this level, especially when used in brighter environments to reduce 'noise' in the image, but you won't have to sell your DSLR just yet… It's perfect for video calls and they serve their purpose.
With the addition of the Keyboard Docking Case (sold separately), not only can you increase the ease of use and functionality of this tablet, you also get a nice protective case to protect your investment!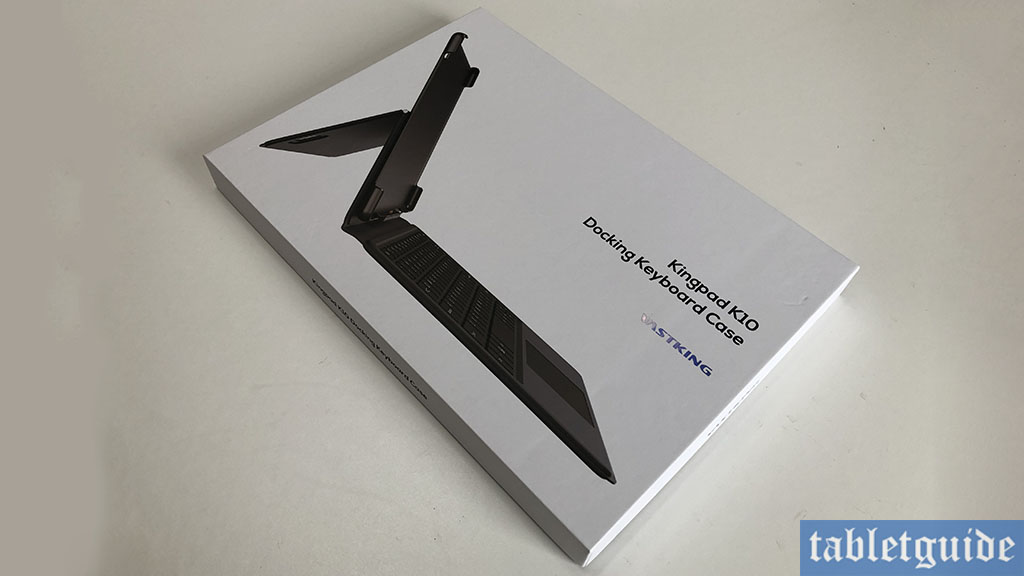 The case seems to be made from a plastic, rubbery material (hey – I'm no scientist!) and comes with a nice size QWERTY keyboard and Trackpad. I remember as a kid having some toys made of similar stuff that after heavy use split or came away at the seams, so who knows how long this will last with heavy use, but it isn't expensive and you can easily replace it!
The tablet slides easily into the case and you can start typing away immediately. The case has a handy, if somewhat stiff, hinged stand at the back so you can work away at your preferred angle.
The keys are a nice size, feel responsive and you can adjust brightness, volume etc as you can on a laptop with the 'Fn' key combinations. There's also a handy 'Home' button to take you back to the 'Desktop'. The edge (or lip) of the case extends beyond the tablet all round by a few mm, giving it that extra layer of protection.
Once the world gets back to 'normal' and we can once again commute to the office, this device is ideal for both the commute i.e. catching up on those box-sets and movies (don't forget those headphones!), but also for the daily 9-5 requirements with the relevant apps installed.
Browsing the web with this tablet was so smooth. I was able to have quite a few tabs open at once and scroll through many large pages without issue.
Being a designer and illustrator myself, I was unable to test the true drawing capabilities of this device as the VASTKING pen wasn't supplied with the review unit (it apparently is pressure sensitive AND has palm rejection technology built in, so seems pretty cool!), but drawing some scribbles with my finger(!) in Adobe Draw, Adobe Sketch, MediBang Pro and AutoDesk Sketch worked well with no lagging. Note to self: must get a pen… 😊
Overall, this is another great little tablet from VASTKING. They are a fairly recent player* AFAIK in the already crowded tablet market, but if they keep producing these goodies at a budget price, they'll soon become a lot more well-known – nice job!
(*According to their website, they have actually been around for the past decade co-manufacturing with such companies as Acer, Lenovo and Microsoft, so they obviously know what they are doing! 😊)
The VASTKING KingPad K10 and KingPad K10 Pro are available now.