As we are near to the end of year 2021, Samsung has announced the most awaited Galaxy Tab A8. Earlier the tech giant shared its scheduled production plan with thirty manufactures in South Korea. And Galaxy Tab A8 was scheduled to be manufactured starting from Q1 through Q4.
This means two things. The mid-range tablet will be available by the end of this year. And now, the Samsung announced its availability in the late December, following the timeline. And there will be booming sales of Tab A8 throughout the year. The plan also mentions that 11 million units of Galaxy Tab A8 are to be produced.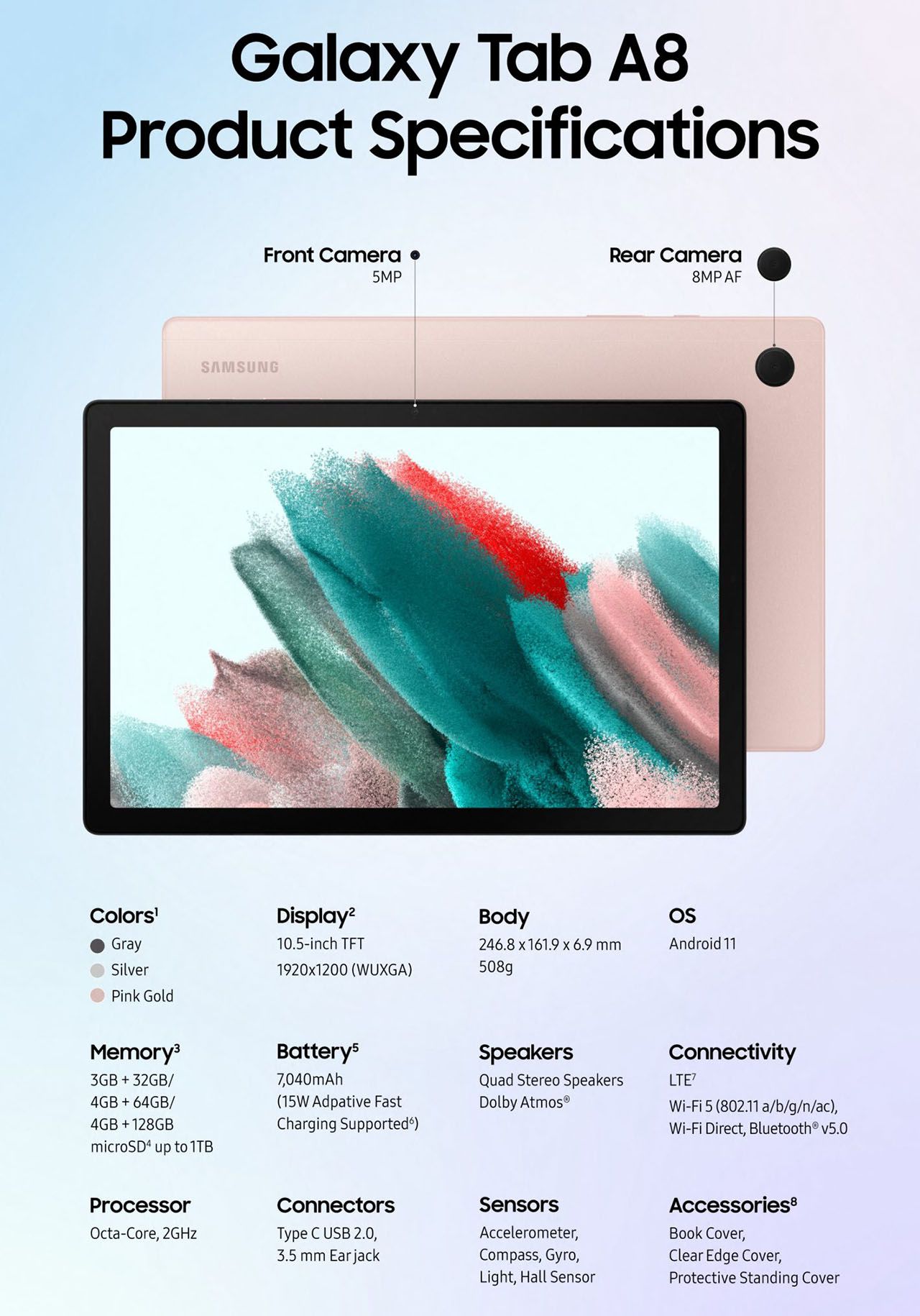 The year 2022 will also bring to us Galaxy A8 lite and four of Galaxy S8 series tablets. However, according to production plan, the number of S8 series tab units is quite less than A8 and A8 lite. Meaning, A8 will be a mid-range spec tablet and targeted to a wide range of consumers.
Samsung in the press release said that remote working and learning has become a norm and the Galaxy Tab A8 will offer the indispensable need for a tablet computer for all online activities and on the go. So, whether you want a tablet for online education, working, playing, or entertainment, it will be all-in-one device for you.
Let's now see what it possesses. The Galaxy Tab A8 is powered by a 2 GHz octa-core processor. Samsung claims that the tablet's GPU and CPU are 10% more powerful than its predecessors. Moreover, it features 3GB and 4GB RAM options. This will make the A series experience smoother, lag free, and faster than ever.
Now with Galaxy Tab A8, you will get 128 GB onboard storage option as well along with 32GB and 64 GB options. In addition, the storage can be expanded with up to 1 TB microSD card as well. That means, you won't have to worry about storage running out. Not to mention Samsung Cloud storage or cloud storage provided by other third party apps or ecosystems.
The battery capacity is 7200 mAh and it can be charged with 15W adaptive fast charging USB type C. This is quite appealing for seamless streaming of your favorite shows and gaming.
The Samsung Galaxy Tab A8 has a 10.5-inch display with 16:10 aspect ratio. Its 80 percent screen to body ratio results in a slim bezel-less design. It features 1920 x 1200 (WUXGA) resolution with TFT LCD technology. Also, a tablet with TFT display is a good option for people who don't want an LED or AMOLED.
With the power of Android 11, its features are fruitful for multitasking. It lets you use two apps simultaneously with a split screen feature. And with the help if its multi-window feature, you can use a pop up windows as well for conversation with teammates or classmates. Moreover, its Drag and Split feature automatically pops up a secondary browser window for simultaneous webpage browsing.
The tablet comes with an 8MP rear camera and a 5MP front camera along with benchmark Samsung camera technology and features. Galaxy Tab A8's screen recording is quite appealing feature. Its in-built and records the screen and voice with the utmost quality. So, whether you want to record games or your online meet, it's going to be quite useful.
The tablet is secured with Samsung's standard Knox security. This makes its face recognition security stronger. Also, its multi-layer protection keeps the device safe from all threats from apps being used on it.
Samsung Galaxy Tab A8 will be available from January 2022 in the United States and December 2021 in European region.