In this modern digital age, we have so many options to choose from a device for us. Now we have a device for every need and the optimization level has become so high and aim of achieving as much comfort as possible that for every age group, work purpose, area, etc. you have an option.
It all started with a computer with the size of a room and now we have devices which can fit on our fingertips. Mobile phones, Tablets, Phablets, Laptops, Computer, and the list goes on and on. The competition in the market has also increased so much that for every price range you have an option to go to. Now everybody can afford a device and now need of a device is also kind of mandatory.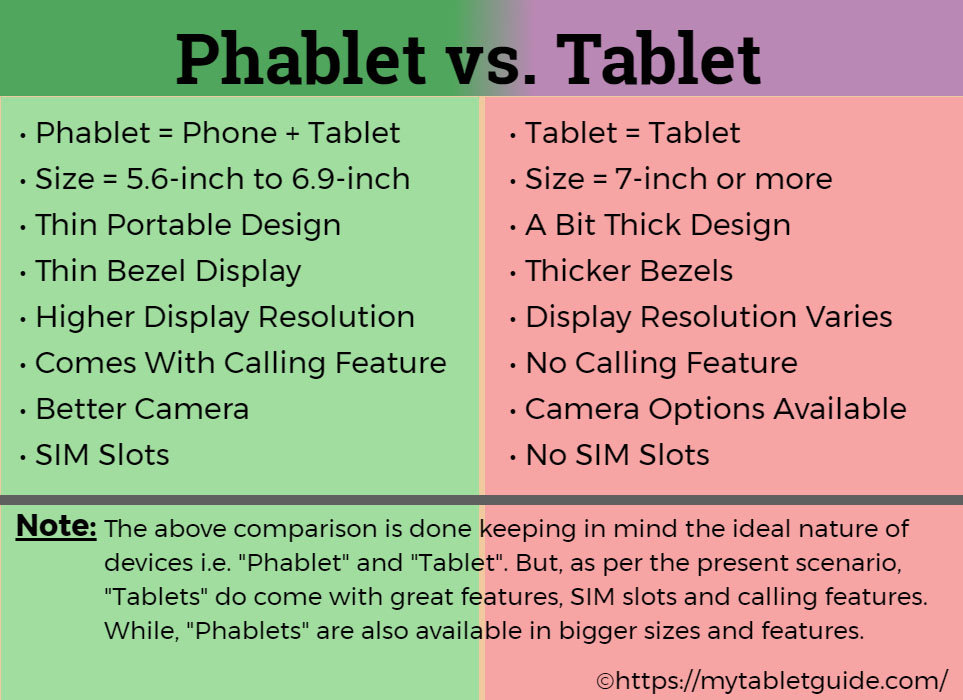 Most of the people know what mobile phones are but much confusion arises when they have to look and choose from tablets and phablets, and why not? They function similarly, and they look similar and in layman terms, the only difference is their size! Well, that's not correct. They are, if not completely but definitely different devices for different purposes and there is so much more than just their sizes. Let me give brief and light information about both of the devices.
Phablets are those smartphones who took annual gym subscription and came back. They are bigger, faster and more likely to be more expensive than smartphones. You will need your both hands to be free to use this device. The term 'Phablet' is made from the amalgamation of the two terms – 'Phone' and 'Tablet'. They usually range from 5.6-inch to 6.9-inch category and yes they are differentiated size-wise only to create no confusion.
On the other hand, we have tablets, which starts from 7 inches, and they can be used as a portable computer and it has many features like a phablet and smartphones. They also come with sim slots so one can make calls on these devices as well.
Phablet vs Tablet: How to choose?
Design and Built
Most of the tablets have a thicker bezel sometimes as big as 10mm but phablets have a very thin bezel. The bezel on a device contributes to the overall look of the device and gives them a certain look. It also adds to the weight of the device.
Tablets are not that portable devices because of their built and their usage. Tablets are commonly used on a stand, which suggests that it is not meant to be used as phablets. Phablets are easier to carry and its usage is the same as the smartphones so bezel is reduced to give it a sleek look and makes it easy to carry the device.
The grip of the devices also, therefore, is very different as phablets is an anywhere use device so it can be fit in our pockets. If not then you should reconsider your choice. While tablets are not meant to be those devices with which you roam around the street, they are generally kept in a case for its safety since the screen is also big.
Weight-wise, phablets are lighter than the tablets, which again show the portability of the devices. Tablets are generally used while sitting or at office/home while phablets are more likely to be treated the same as smartphones.
Display
Since the size is the major factor here, obviously tablets have larger displays as compared with phablets. Tablets start with the display of 7 inches where most phablets end with 6.5″. However, few phablets are as big as 6.8 to 6.9 but most the display size difference is about 1 inch at least.
Phablets are more about the mobility and portability while tablets are all about delivering as much content on the screen as possible. Anyway, the quality of the displays in phablets is more superior than tablets. High-end phablets come with full HD display while tablet's large display means low pixel density.
The average pixel density of a phablet is 240 PPI while a tablet is 209 PPI and it is a significant difference. Since the screen size of tablets is big they come with a digital pen so that you can write on them easily but nowadays few high-end phablets also have come up with the digital pen and use it as their one of the USPs.
Note: These days, even tablets come with very high-end resolution displays ranging up to (2732 x 2048) and more, and higher pixels per inch with up to 287ppi and more.
Communication
Phablets were meant to bridge the gap between smartphones and tablets they are bigger in sizes like tabs and they have features of smartphones and of them is calling. Phablets are also not that big and they can be held next to the ear while tablets are huge and highly inconvenient to hold up against your ears.
Nowadays flagship smartphones mean that the highest and best features available. They are large in size and so most of the flagship smartphones are phablets and are commonly known for using it for calls. Whereas some tablets also have come up with SIM slots but I don't think anybody will be using it regularly, it will be just an add-on feature which is good but not meant for regular use.
Camera
As said earlier phablets are generally high-end gadgets and their camera is very good in quality. They are actually one of the best in the market and they are very competitive about it among themselves. As far as tablets are concerned, they are not meant for clicking pictures since they are huge in size and not that compatible for clicking pictures.
But, with an increase in competition many tablets have started to give cameras in their devices which are good but not as good as the ones in phablets. Phablet makers give special dedication to bring the best camera in the market. If you like to click lots of pictures then you should go with the phablet.
Usage
Phablet is a combination of smartphones and tablets and they are used in that manner only. They are used for making calls, using apps, clicking pictures, and also it gives you extra screen space to use it for creative work and few comes with a pen so that also helps in the creative work.
Whereas tablets are concerned, they are used for more creative work, watching content, playing games, etc. They are big in size and give more space for creative work. Tablets are also used in the office for making presentations, making excel sheets etc. Some of the restaurants also use tablets as a menu where you can directly give orders to the kitchen.
Cost
Phablet carries many features and are generally the flagship and therefore they are expensive. On the other hand, tablets are not that expensive when compared to phablets. Tablets don't have those superior cameras which adds to the cost of the devices and also the sale of the tablets are not that much when compared to the phablets. Therefore, companies don't launch expensive tablets because the demand for these devices are less.
The price of any device depends upon the features that they have. Now considering the demand and companies are trying to spread their market reach, they have started to launch phablets or tablets with different variants so that they can cover most of the audience in the market.
Same phablets or tablets are launched with a different price which has slightly different specs, obviously the higher the price, the superior quality of specs. Therefore, the customer now has plenty of option to go with. With new companies adding up, the competition in the market has increased and which has resulted in favor of the audience, since the price of these devices is getting low.
Verdict
If you want a device in which you want all the apps that are available in android or iOS or iPadOS, love to click pictures, enjoy gaming and want to use it for calling and text but you don't have much problem with the size then you should go with the phablets. They come in a various price range starting from $50 to all the above $800, so the choice is yours.
On the other hand, if you want a device where you want to do more creative work like drawing, sketching, etc. or if you want to use it for office purposes like preparing presentations, making excel sheets, graphs, etc. or if you just like to watch movies and TV series, then tablets is the one for you. It also comes in different price ranges according to the features it has, it is up to you which one you want.
Finally, I want to conclude by saying that these both devices are available at all the price range with their own specialty, it is up to you and your needs. Go through the above article and decide for yourself that which one you want.