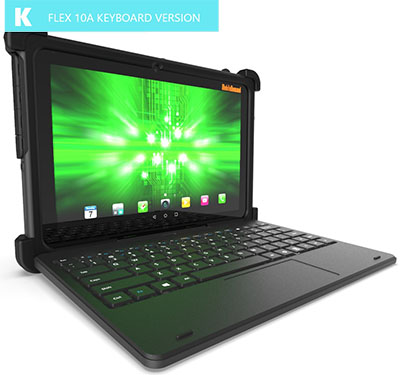 xTablet Flex 10A Rugged Tablet was recently announced by MobileDemand, thereby indicating another valuable addition to its already rich portfolio of performance-driven, rugged business-oriented tablets. The company has decided to come up with the product to provide cost-effective computing solutions to field-based workers, thereby adding to their mobility and productivity.
xTablet Flex 10A Rugged Tablet
This is an entry-level, lightweight tablet that is run on the Android 9.0 operating system. It is thus adept to support "light to mobile duty applications", as is required by first-line workers to carry on with their application based functionalities.
Important Features
The tablet's 10.1 inches familiar capacitive touch screen is navigable by gloved hands and stylus.
Being rugged in its built, the tablet has been engineered to do wonders even in rough working environment. The tablet is designed to be sturdy enough to withstand against any kind of damage that might arise due to drops.
The workers can even use the tablet in a dusty area without the risk of it being damaged. The tablet is provided with a highly durable case that is meant to protect it from any kind of damage. The screen of the device is also scratch and shatterproof.
Handy and clever features like briefcase handle and hand strap in the back increases the portability of the device
The tablet is also benefited with the company's patent snap mount system that provides mounting aid in any surrounding
The tablet also supports optional keyboard feature, thereby functioning as a full-fledged laptop when needed.
GMS and Mobile Device Management (MDM) certification further makes the device the best choice for mobile workers.
The overall maintenance cost of this type of rugged tablet has proven to be lesser compared to other consumer-grade devices of the same category. Also, they are easier to set up. Thus, fairly priced at $495, xTablet Flex 10A rugged tablet can be ordered online from its official website.