Microsoft recently launched the Surface Pro 7 and Surface Pro X. Since the last few years, Microsoft is investing heavily on design and whenever they come up with a new device, the world sits up and takes notice. When it was first launched, the Surface laptop-cum-tablet series started a revolution in Windows powered devices and redefined the power of the flagship Windows OS i.e. Windows 10.
Today I am doing a side-by-side review of the Surface Pro 7 and the Surface Pro X. While I must admit that both the devices look stunning in their own rights and are definitely value for money devices. However, I will compare both these stalwarts from Microsoft and put up an honest review and that's not all. I will also suggest which of the two devices suits what kind of an user. So let's get started.
Design
Honestly speaking, I love the design of the Surface Pro 7. It is the standard Surface design and you will not see raised eyebrows with this as people have started to get familiar with the design. However, the Surface Pro X comes with an all-new design. It is thinner, has minimal bezel and it features a larger display!

Processor
Both the devices are not just cosmetically or visually different. When it comes to the processor, they are built differently with different set of performance parameter in mind. The Surface Pro 7 comes with 10th Generation Intel Powered processor. So you can choose between Intel i3, i5 or i7, whichever suits your need and depending on your budget.
The Surface Pro X features a special processor Microsoft SQ1 that is co-engineered with Qualcomm. What this essentially means is that it is powered by a mobile processor. For the general user, it means that you got a lot of accessibility and usability features that are similar to that of a high end smart phone. Apart from that, it consumes a lot less power and you will not find any heating issues with normal use.
Battery
Surface pros have traditionally been a series of power saving devices. However, Microsoft takes the game to an altogether different level when it comes to the Surface Pro X. The light Qualcomm processor allows the device to run up to 13 hours of battery life (claimed by Microsoft). However on a practical usage, you can easily clock 10 hours of battery life which is great.
At the same time, the Surface Pro X comes with a fast charger that charges up the device really faster than the Surface Pro 7. So in terms of battery life and battery charging time, Surface Pro X is the clear winner.
Utility
Microsoft has done a commendable job at keeping the Surface Pro X slim. However, they did miss out on one point. Yes. They don't have a 3.5mm earphone jack. So, if you are a music or movie buff, then do get yourself a pair of Bluetooth headphones (if you have not already). That of course does not seem like a deal breaker to me. But some users might find it a potential turn off.
True to it's previous models, the Surface Pro 7 comes equipped with the 3.5mm jack and here is where it scores a point over the Pro X. But with a slightly thicker design, you might like to weigh the pros and cons. It clearly is a personal preference.
In terms of RAM as well you will find a notable difference between both devices. The Surface Pro 7 comes with up to 16GB of RAM. While the Surface Pro X has a 8GB and 16GB variant.
Pen
It might seem irrelevant that we are discussing pens! But trust me, this is a whole lot of engineering redesign in the pen that comes with Surface Pro X. Microsoft has finally come up with a thinner and flatter Surface Slim Pen that feel awesome to hold. While the functionalities of both the pens remain same, what does change is the experience. The new pen feels a lot smoother and easy to work on. While, Surface Pro 7 comes with new Surface Pen.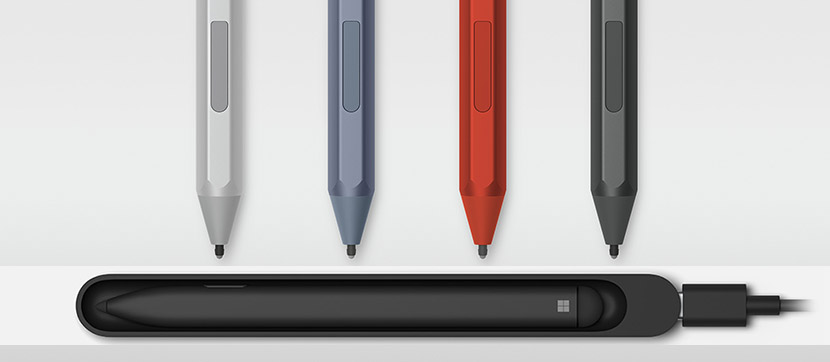 If you have used the earlier Surface Pros, you will find the same placement of the pen i.e. the usual magnetic hold in the sides in the Surface Pro 7. Is it same in the Surface Pro X? No! You are definitely in for a surprise here. There's a dedicated pen slot just over the keyboard and while you are not using the pen, it charges wirelessly in this special compartment. Now that's a real engineering marvel and a lot of you will like the pen and the charging feature in the Surface Pro X.
If you are a designer or tend to use the pen a lot, then the Surface Pro X is definitely the one for you.
Storage
Both the Surface Pro 7 and Surface Pro X comes with SSD variants. This improves the load time and both the devices are lag free to a large extent. Surface Pro X comes with up to 512GB removable SSD and Surface Pro 7 with up to 1TB SSD. In terms of load time as you can guess, there won't be much of a difference and both the devices will load the native windows 10 pretty fast.
So, there is apparently not much to compare when it comes to the hard drives used on both of them. Well No! Microsoft has introduced a removable SSD feature in the Surface Pro X. What this means is that you can easily upgrade to a larger storage and you don't even need to visit the service center to upgrade. It is as easy as changing the Micro SD card on a phone. I know it sounds unbelievable but wait till you get your hands on one of these.
However, if you feel you are not going to upgrade soon, then the Surface Pro 7 and Surface Pro X delivers almost similar performance.
Color Variants
This is for those people who love colors! The Microsoft Surface Pro 7 comes with bright color options – Platinum and Matte Black, like their previous models. In addition, you can create lots of color combinations on Surface Pro 7 with its accessories. However, you will be disappointed when it comes to color variants in a Surface Pro X.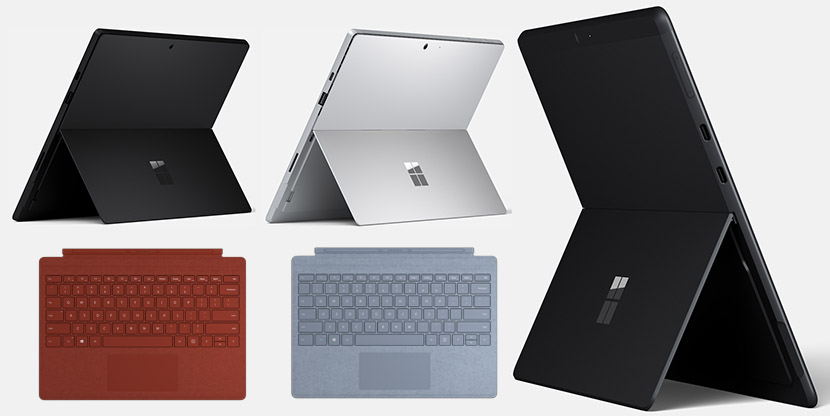 Surface Pro X comes with the standard Matte Black color and is yet to announce additional colors. But considering that the Surface Pro X comes with a new design, Microsoft will definitely introduce color option in the near future and it's not something to be disheartened about.
Graphics
We found the graphics of both the devices top notch. But if you really look to compare both the performance, then the Pro X stands out when it comes to gaming and graphic intensive tasks.
Don't believe that the Pro 7 is any less. It also delivers superior graphics performance and many users won't be able to differentiate between the graphics performance of both these devices.
Ports
Read all the reviews and forums for Previous Surface Pros, they all complain about the lack of USB C type Ports. Microsoft has taken note of the same and has introduces a single USB C port along with the standard USB A port. This will especially benefit users who regularly use USB ports for external storage devices, charging phones and other accessories. You don't need to invest on a type A to type C converter anymore with the Surface Pro 7.
It seems that Microsoft has built the Surface Pro X with the intention of making it a mass favorite and a device that is engineered for all types of users. Even though it's thinner and lighter than a Surface Pro 7, it features dual USB ports.
Price
The Microsoft Surface Pro 7 starts at $749 while the cheapest Surface Pro X will cost you $999. But don't let that deter you. If you have the budget go for those extra bucks and I guarantee you that you will love the overall experience and a ton of added features with those additional $250.
But if you are a heavy graphics lover and do decide to invest on the Surface Pro 7, then you might need to upgrade in a couple of years. But for a standard user, who would rather not cough up the additional $250, Surface Pro 7 is in no way an inferior device.
Verdict
Microsoft has really taken their Surface game a step ahead with the Surface Pro X. It seems better than a lot of other devices in the market. If you take the price point, portability, performance and create a device that is optimized to meet all of these criteria, then definitely you are looking at the Surface Pro 7 and Surface Pro X laptops.
Surface Pro 7
Surface Pro X
Display
12.3" (2736 x 1824) 267PPI PixelSense
13" (2880 x 1920) 267PPI 450nits PixelSense
Graphics
Core i3 Model: Intel UHD
Core i5, i7 Model: Intel Iris Plus
Microsoft SQ1 Adreno 685
Processor
10th Gen. Intel Core i3-1005G1, Core i5-1035G4 or Core i7-1065G7
Microsoft SQ1
RAM
4GB, 8GB or 16GB LPDDR4x
8GB or 16GB LPDDR4x
Storage
128GB to 1TB SSD Options
128GB to 512GB SSD Options
Weight
(Without Type Cover)
Core i3, i5 Model: 1.70 lb
Core i7 Model: 1.74 lb
1.7 lb
Camera
Front: 5MP | Rear: 8MP
Front: 5MP | Rear: 10MP
Battery
Up to 10.5hrs
Up to 13hrs
USB Ports
USB-C and USB-A
2 x USB-C
OS
Windows 10 Home
Windows 10 Home
Price
Starting from $749 | Check on Amazon
Starting from $999 | Check on Amazon
While we did find the Surface Pro X to be ahead in the race than the Surface Pro 7, both are equally engineered to win hearts of it's users.
I really believe that the Surface Pro 7 is a great device. Where Microsoft did go wrong is that it launched it aside the Surface Pro X, which seems to be a better deal.