As we know that Microsoft is a front-runner when it comes to operating system, the company is continuing to release their innovative ideas through products. Recently, the company has launched Microsoft SQ1 processor that has boomed the market with great enthusiasm. All the tech-savvy people were eagerly waiting for this launch due attain more efficiency in their work. If you're a gamer, then Microsoft SQ1 processor is that all you need! Now say goodbye to haggling games and enjoy high MB games without any hassle.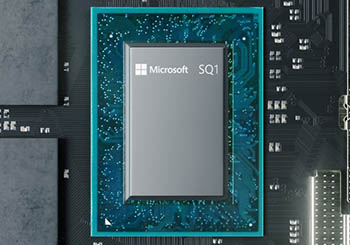 Microsoft has launched a line of products, and Surface Pro X tablet will be powered by Microsoft SQ1 processor. SQ1 processor has been developed in partnership with Qualcomm. Qualcomm is in itself a big brand that offers seamless functioning in various tablets, laptops, and smartphones as well. As I have mentioned above that Microsoft SQ1 is built in the alliance, it is typically, a 7nm 7w part, which provides Snapdragon 8cx with an advanced GPU. However, Snapdragon 8cx is very powerful and it features Adreno 680, on the other hand, SQ1 features more robust Adreno that is 685.
With Microsoft SQ1, you can enjoy the speed of 3 GHz along with Adreno 685 as the Octa-Core chip offers 2.1 TFLOPs of reckoning performance. Nothing can compare to the efficiency of the processor; not even the integrated GPU power can beat it. More so, SQ1 is far better than 8th Gen Intel i5 processor, but the i7 somewhat matches the power of SQ1.
In the conversation with Qualcomm, experts suggested that the graphics potentials are very elite of the SQ1 and would not be highlighted in the company's offerings. Another amazing feature of SQ1 is the AI. It boasts 9 TFLOPS of AI performance that can be of significant use in several tasks such as battery optimization, face/finger recognition for unlocking the device, and a lot more. It completely depends on the apps how they're utilizing the apps on a daily basis.
Surface Pro X is an excellent tablet that has been designed aiming businessperson. The tablet is extremely lightweight with a very sleek design, yet powerful. It is equipped with Microsoft SQ1 processor as well as the design is aesthetic. It can be your perfect on-the go partner as the Surface Pro X has one goal to modernize the office.
You will also get better LTE connectivity with the SQ1 processor that will not only give you better handiness but performance as well. This means Microsoft is all set to revolutionize the processor aspect besides operating systems and gadgets. The processor has to be tested to check its performance in the recently launched tablets. It has always been groundbreaking as Microsoft is recognized for releasing new product lines, operating systems as well as processors.
Microsoft is also planning to emerge in web application experiences and run two 4K videos efficiently that can be used for this type of GPU, which is highly powerful, robust, and incredible. For more details, stay tuned with us!