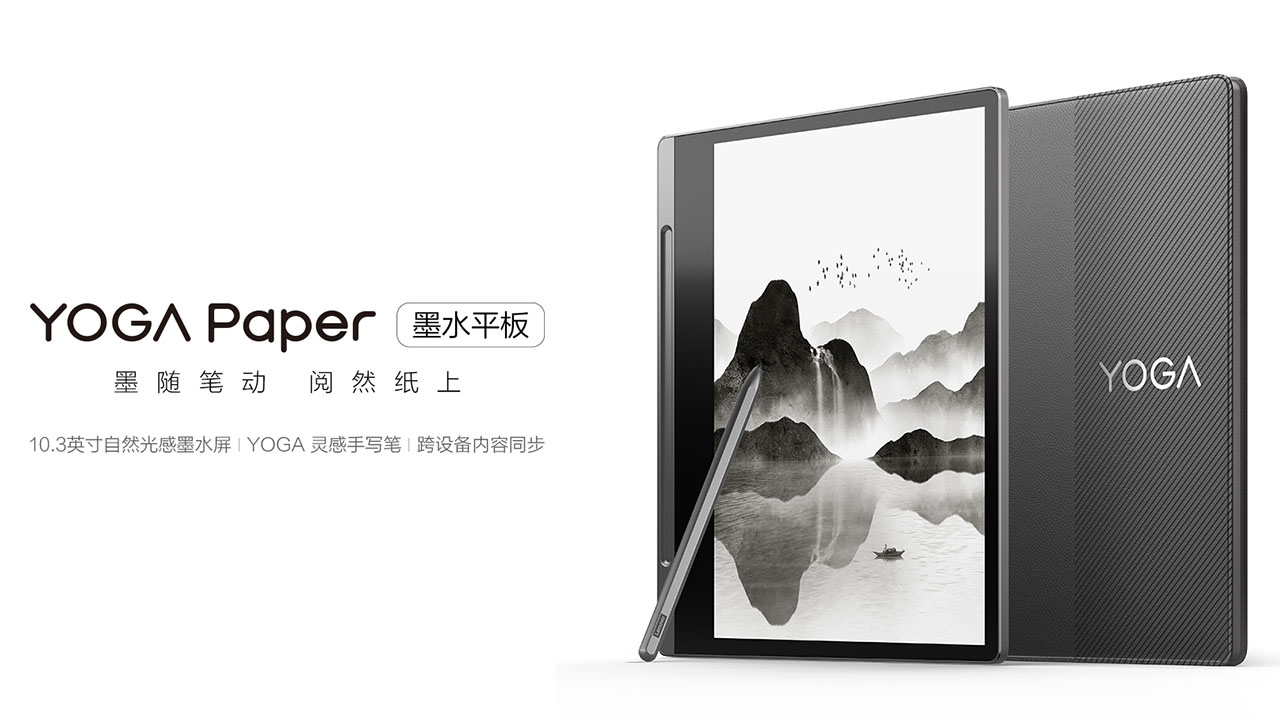 Tech giant Lenovo has launched its new YOGA Paper E Ink Android tablet in China with solid performance-centric features. The tablet features a 10.3-inch display, a Rockchip RK3566 processor, 4GB of RAM, and 64GB of storage, and comes packed with touch and stylus input. It has an E-Ink display that sets it apart from its competitors.
This is a power-packed device that is designed to offer users a paper-like reading experience with a high-contrast black-and-white display. There have been several rounds of speculations making the buzz about the tablet for a while. The device is now available for pre-order in China for 2,699 CNY (about $390).
On the specification front, Lenovo Yoga Paper E-Ink Tablet offers a 10.3-inch flicker-free e-ink display. You can tweak the color temperature for the screen depending on the surroundings you are working in.
To ensure a tighter grip, the device offers a paper-like texture and matte screen coating. It also makes sure that the display doesn't get scratch marks after long-term use. The tablet smartphone has a durable 5.5mm thin metal body built with CNC-integrated high-end technology. The tablet offers you the best comfort in either of your hands.
The company hasn't made any words on when the device will go for its global release. However, the guesses on the pricing reveal that the device would be an expensive one.
The tablet is one of a kind with an E Ink feature. Lenovo is the first company that has launched its tablet with this feature. The tablet PC market is over-occupied by some leading players. Lenovo is now entering the fore with a feature-loaded device with a CNC aluminum chassis and side bezel.
The device is measured 5.5mm (0.22 inches) with a space in the side bezel for placing the stylus. Its display boasts 23ms latency and the pen supports 4096 levels of pressure sensitivity for the next level of writing experience.
By using the Lenovo Yoga Paper pen, you can effortlessly draw pictures, annotate documents, or take handwritten notes. The device supports handwriting recognition, a feature that you can use to convert handwriting to printed, searchable text. Moreover, you can also sync your notes and other documents to the cloud.
The Yoga Paper is even better with certain classy features onboard. The device offers features like text-to-speech to enable users to listen to eBooks or other documents. There is also a translation feature that lets you see eBooks in their original language on one side of the screen. You can also see the language of your choice on the other side of the screen.
To multiply your book reading experience, the device hosts a huge collection of online books, resources, and third-party reading applications. You can also import e-books in multiple formats.