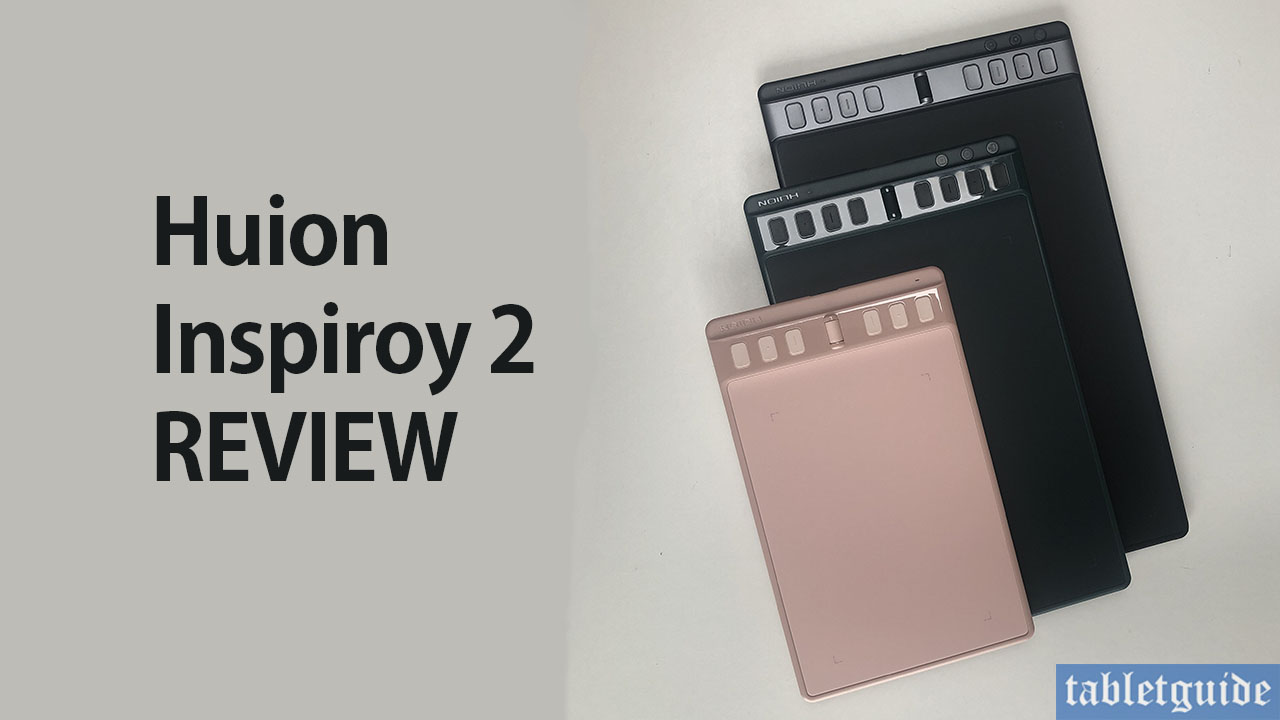 Earlier this this year at the CES 2023 event held in Las Vegas, Huion (amongst many others!) announced a slew of new products. Among them are the three we're taking a look at today – the new range of Inspiroy 2 Pen tablets, Small, Medium and Large!
Before we get into it, here's a breakdown of the specs:
The smallest of the trio, the Inspiroy 2 S (Small) looks like this: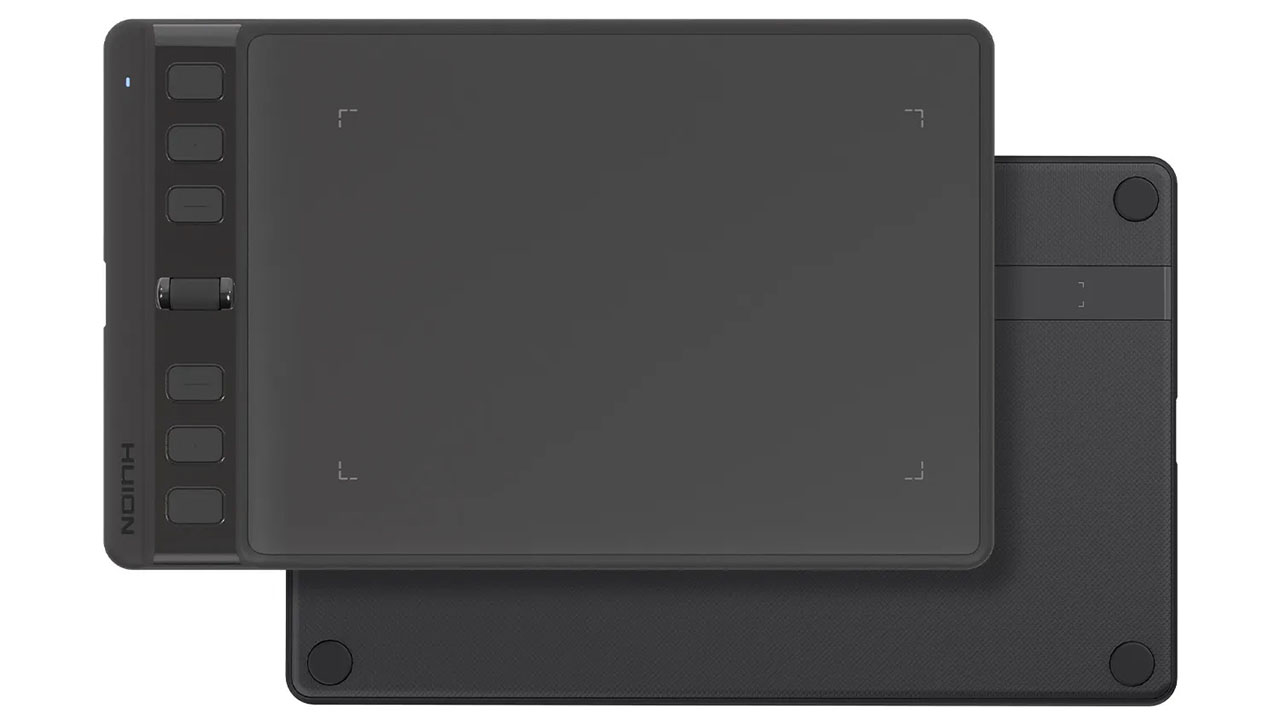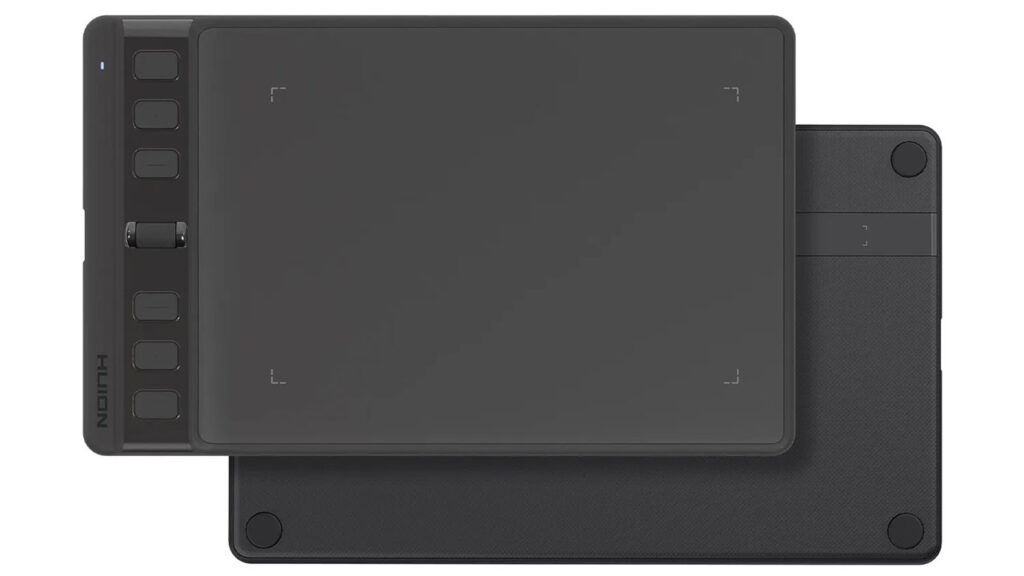 Color: Black or Sakura Pink
Dimension: 246 x 152 x 7.5mm
Working Area: 160 x 100mm (6.3 x 3.9inch)
Net Weight: 275g
Interface: USB-C
Digital Pen: PW110 (with PenTech 3.0 Technology), Battery-free EMR
Pen Resolution: 5080 LPI
Pressure Sensitivity: 8192 Levels
Sensing Height: >10mm
Report Rate: >260PPS
Accuracy: ±0.3mm
Press Keys: 6 Programmable Press Keys and a 'Scroller'
In the middle sits the Inspiroy 2 M (Medium):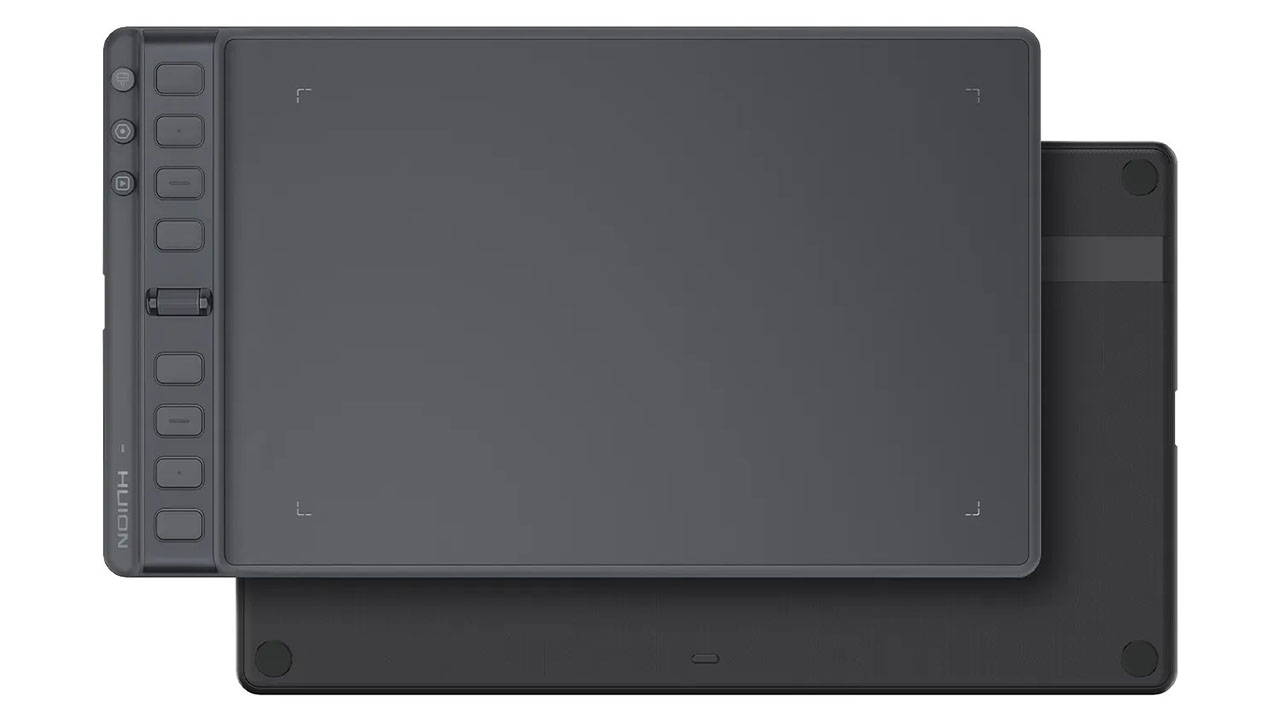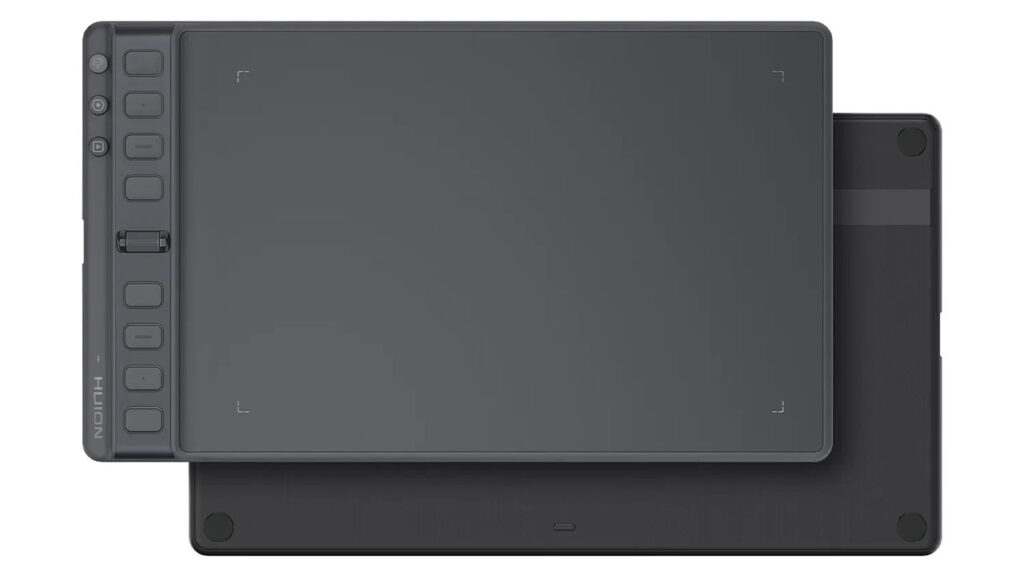 Color: Black, Pine Green
Dimension: 306 x 180 x 9.5mm
Working Area: 221 x 138mm (8.7 x 5.4inch)
Net Weight: 420g
Interface: USB-C
Digital Pen: PW110 (with PenTech 3.0 Technology), Battery-free EMR
Pen Resolution: 5080 LPI
Pressure Sensitivity: 8192 Levels
Tilt Support: ±60°
Sensing Height: >10mm
Report Rate: >260PPS
Accuracy: ±0.3mm
Press Keys: 8 Programmable Press Keys, 3 Group Keys and a 'Scroller'
Finally, the largest of the bunch is the Inspiroy 2 L (Large):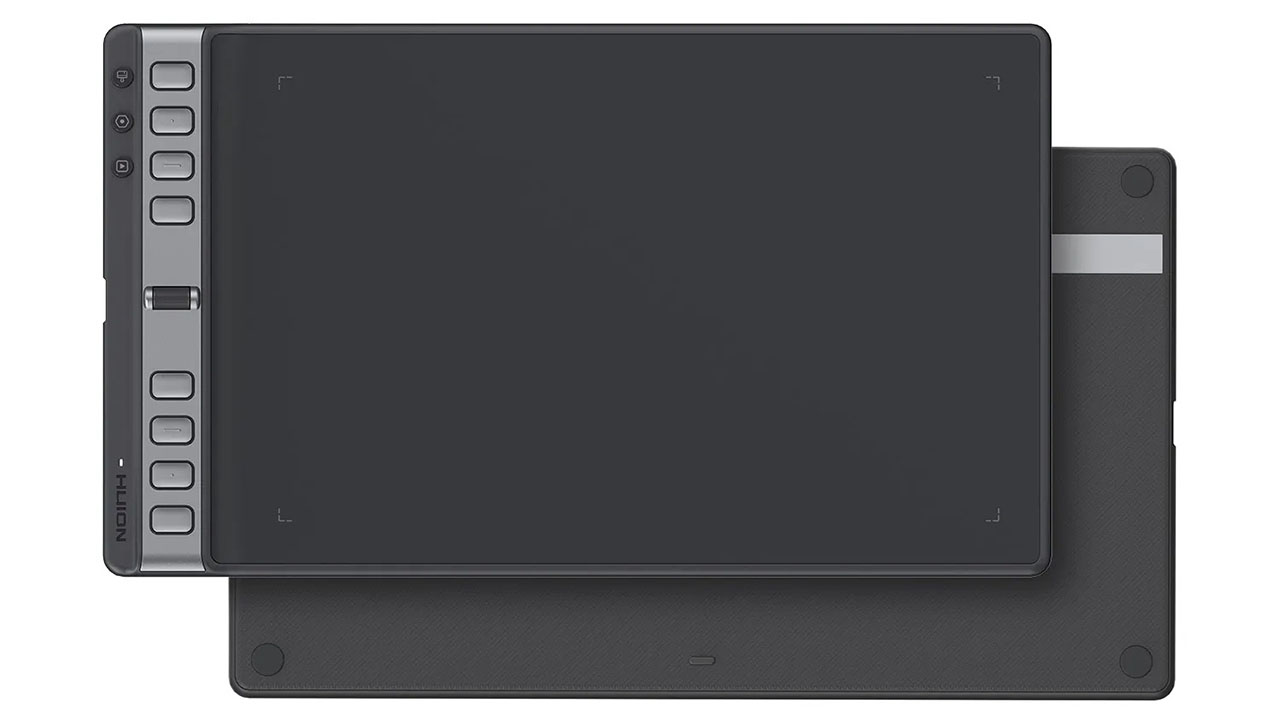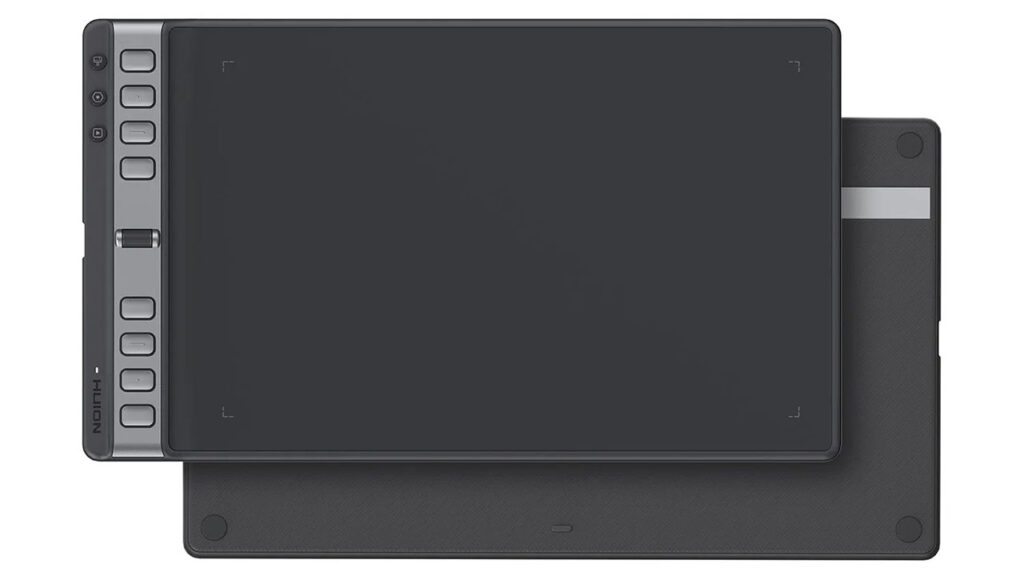 Color: Black
Dimension: 352.5 × 208.7 × 9.5mm
Working Area: 266.7 x 166.7 mm (10.5 x 6.56inch)
Net Weight: 600g
Interface: USB-C
Digital Pen: PW110 (with PenTech 3.0 Technology), Battery-free EMR
Pen Resolution: 5080 LPI
Pressure Sensitivity: 8192 Levels
Tilt Support: ±60°
Sensing Height: >10mm
Report Rate: >260PPS
Accuracy: ±0.3mm
Press Keys: 8 Programmable Press Keys, 3 Group Keys and a 'Scroller'
The three tablets come shipped nice and safely packed away in a white box adorned with Huions now familiar logo tucked away in the top left corner and placed in front of some cool wavy lines are the product shots of each tablet – only the larger 2L sits there alone – the other two show its color variants stacked on top of each other.
One thing they do all have in common is Huion's new 'Scroller', something I've never seen on a tablet before, so it was interesting to find out how it works.
Basically, instead of a traditional dial to increase brush size, zoom in and out etc, you can simply scroll and up down to achieve the same effect! Initially I didn't like the look of it, but it did grow on me the more I used it! 😊
Huion Inspiroy 2 S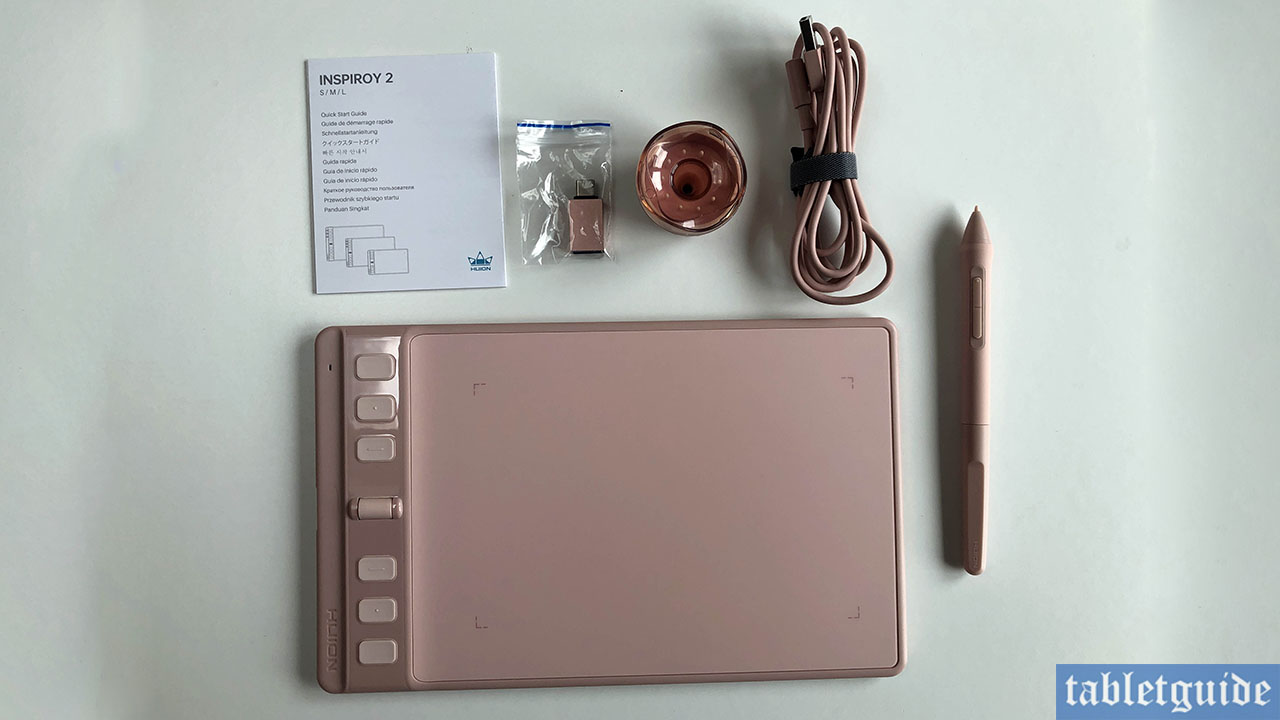 The Inspiroy 2 S tablet is a perfect size to stick into your bag, back pack or briefcase etc as not only is it quite compact, it's also very light.
Don't forget the cable though as this, like its larger siblings, isn't wireless and/or Bluetooth – you have to plug it in to use it (after you've downloaded and installed the relevant software drivers, but you knew that right…right? 😊)
The tablet has 6 programmable buttons, or keys, to help you in the design/illustration process – these can be reconfigured in the aforementioned driver software, but all the usual suspect are covered; Brush, Inkdropper, Erase, Save, Spacebar and Ctrl+Alt+Z.
In the slightly misleading promo video for these tablets, when pressed, the button functions and icons appear on the tablet itself(!), whereas in reality they pop up from the left side of your monitor screen which actually is a great way to help remember what button does what – especially if you're using one of the larger models with their up to 24 'Group Key' functionality!
The buttons are housed down the left side in a vertical 'bar' running top to bottom. They are slightly raised by 2mm from the surface so it's easy to differentiate between them.
There is a small ridge to the left which houses a small LED at the top to indicate its 'on' and in use. At the bottom sits the Huion logo.
The buttons have a nice feel/resistance to them when pressed and are nicely spaced apart.
The 'Scroller' can be used to Zoom in an out of the document/canvas and is quite effective – possibly even more so than a dial it seems!
Drawing with this device was a breeze – the PW110 pen, in a matching pink color to that of the tablet, is nice and light and feels very comfortable to hold and use with its rubber grip around the two buttons. These buttons too can be changed, but I find that 'Eraser' and 'Right Click' work just fine.
Pressure sensitivity worked perfectly as you would expect and the pen lines tapered off nicely. The harder you press, the thicker the line and vice-versa.
The surface now apparently 'increases friction by 20% over its predecessor' Huion claims, but to me it felt the same to be honest.
I still don't think it really 'feels' like drawing on paper (only drawing on paper does that!) but it works perfectly. Actually, get yourself some felt nibs as the drawing experience is even better using those I've found.
If you want to draw on your phone, you can using these tablets, as long as its Android! Being an iPhone owner I was unable to test this, but there is an adaptor included in the boxes for this purpose.
Speaking of what's in the box, you get the tablet (obviously!), USB-C cable (right-angled), the pen, a pen holder containing spare nibs, Quick Start Guide and a phone adaptor.
The tablet(s) can be rotated around and are perfect for use by left-handers too.
The driver software is shared by all three tablets and it automatically detects which one is being used.
It's here where you can adjust settings like pressure sensitivity, either by 'trial and error' yourself or by using the available handy pre-sets, enable/disable the keys and turn off the 'Press Key View', change the pen buttons, assign hot-keys, head over to Huions site for updates and even change the color of the software!
There's so many changes you can make that I never really bother, except to play with the pressure settings really – for everything else I still use my trusty keyboard sitting next to the tablet whilst in use.
Whilst it's a nice little tablet, arguably aimed at beginners new to digital art etc, I did find it a bit small for my needs. That's not to say you can't create a masterpiece using it, but I prefer something a bit bigger, which nicely leads me to…
Huion Inspiroy 2 M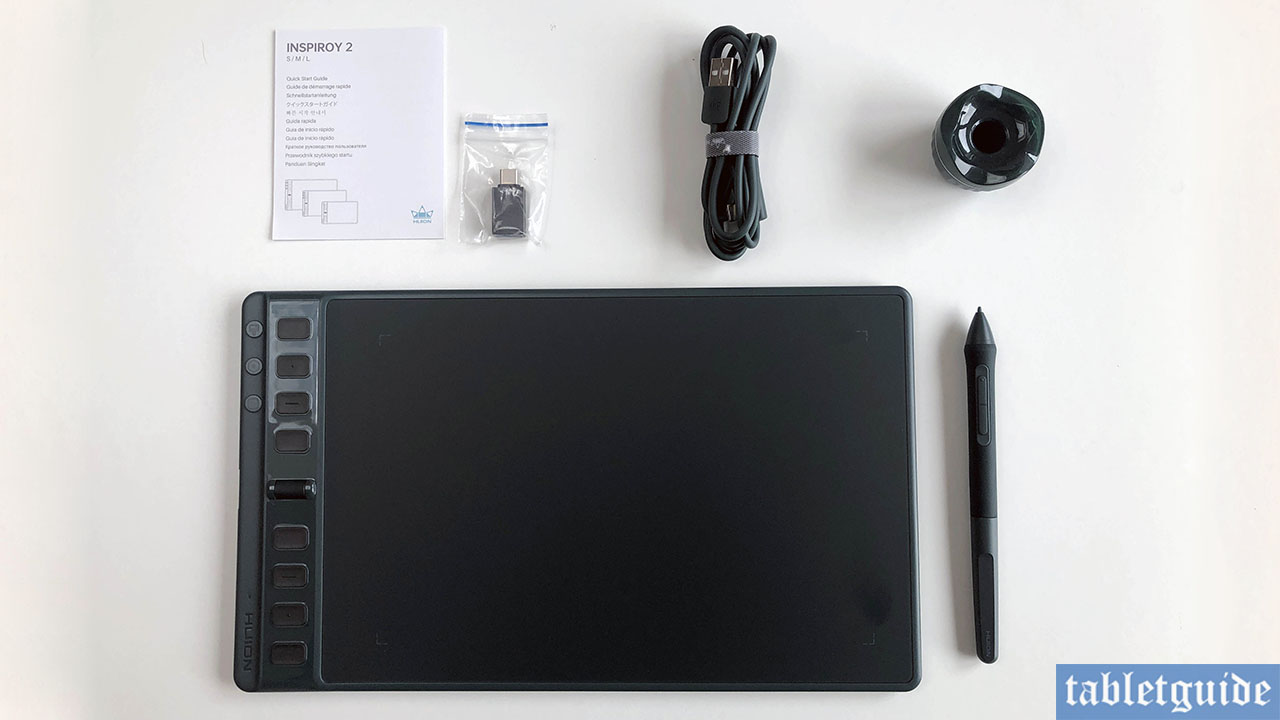 This is where it gets really interesting! The Inspiroy 2M, like its larger brother the Inspiroy 2 L, has what Huion call 3 sets of 'Group Keys' which actually give the tablet 24 shortcut keys!
Again, the 8 keys are vertically laid out on the left side of the tablet in a small strip/bar (4 on top and 4 below the Scroller) but here the power LED is shunted down the bottom to sit above the Huion logo to make space for an extra set of 3 keys at the top left!
These small (illuminated!) 3 buttons are assigned 8 fully customisable functions, e.g. the top button, with its 'Brush' icon, when pressed displays all the useful functions and keys you'll use during the drawing process i.e. Brush, Eraser, Spacebar, Save etc and the Scroller defaults to Zoom In/Out'
The middle 'Settings' button has functions set like 'CTRL+L', 'CTRL+M', 'CTRL+U', 'CTRL+B' etc and the scroller here is used for 'Brush Size'.
The bottom 'Multimedia' button can be used to control your music whilst drawing i.e. Previous/Next track, Mute, Volume Up/Down, Play/Pause etc.
It's a great idea which works well as with so many choices and options available to you like this, you'd be hard pressed to remember them all!
As I've said before, I don't really tend to use these shortcut keys being more of a keyboard kinda guy, but these do open up a new world of possibilities in the way you work.
As before, drawing on this device worked like a charm. This too comes with a pen coloured the same as the tablet, in this case green (which wouldn't have been my first choice to be honest haw haw!) but it's the same PW100 stylus across the board.
Again, pressure sensitivity worked perfectly and I had no issues making my lines fatter or thinner as required.
Lines tapered off nicely actually and using the Scroller to adjust brush size felt quite cool! 'Tilt' worked as expected and produced some nice shading effects. The silicon grip around the buttons feels nice to hold and the pen itself is quite light
It's a good size to draw on too with its 'Work Area' of 8.7 x 5.4inches and has a nice build quality. Edges are rounded off and the buttons again felt good to press.
One thing to note with this (and the larger version) is that when re-assigning the 'Group Keys' is that you have to actually physically press the button to access the key settings whilst in the driver software i.e. pressing the key onscreen with your pen won't work – you have to go 'old-skool' and use your finger! 😊)
The test unit received as previously mentioned was green, but it's also available (in the waaaay cooler!) Black color too.
In the box is the tablet, pen, Quick Start Guide, right-angled USB-C cable, pen holder (containing the spare nibs) and phone adaptor.
And only available in black is the…
Huion Inspiroy 2 L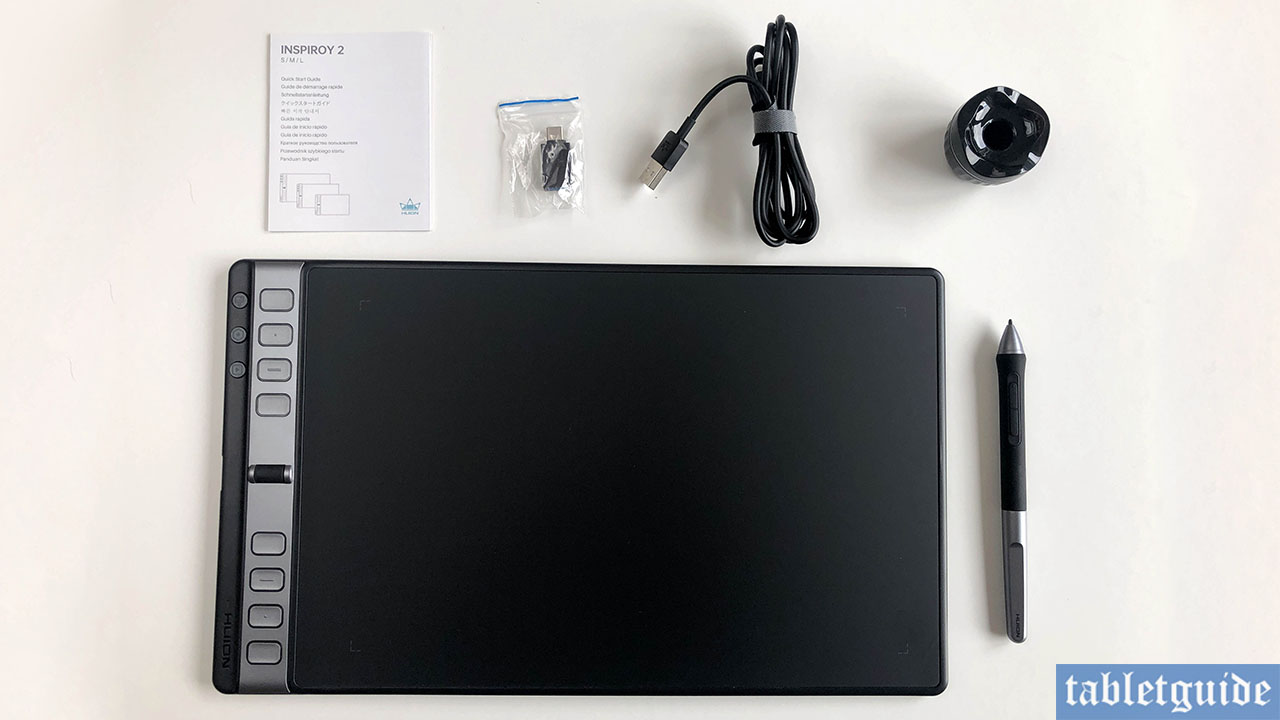 The largest of the Inspiroy 2 range is the 'L'!
With a work area of 10.5 X 6.56 inches this felt for me the best one to work on, providing you have the desk space. It shares all of the qualities of the medium version, just larger!
The 'Group Keys' work in the same way, as does the 'Scroller'.
The pen shares the tablets cool two tone 'black and silver' aesthetic and looks the best of the bunch.
Although budgets are obviously to be taken into consideration, this is the one I'd get! With its sleek design and coloring. it'll look great on any designers desk! The fact that it works perfectly is a bonus!
As previously mentioned, I didn't initially like the look of the Scroller, but here it seems to 'fit' better in the sleek overall design. Adjusting the brush size, zooming in and out with this was effortless and it works brilliantly.
As with the other tablets, I didn't really get the 'drawing on paper' feel, but nevertheless the pen easily sweeps over the tablet surface and produces perfect variable lines and strokes. As I said before, treat yourself to some of Huions felt nibs and it'll feel even nicer!
Any changes you need to make to the settings, just like the other devices, are done in the driver software.
You can re-assign the keys to match the way you work and adjust pressure sensitivity via the supplied pre-sets, or by manually changing the 'Pressure Sensitivity Adjustment' graph and drawing in the 'Pressure Test' box until you get the lines you want, with the pressure you want.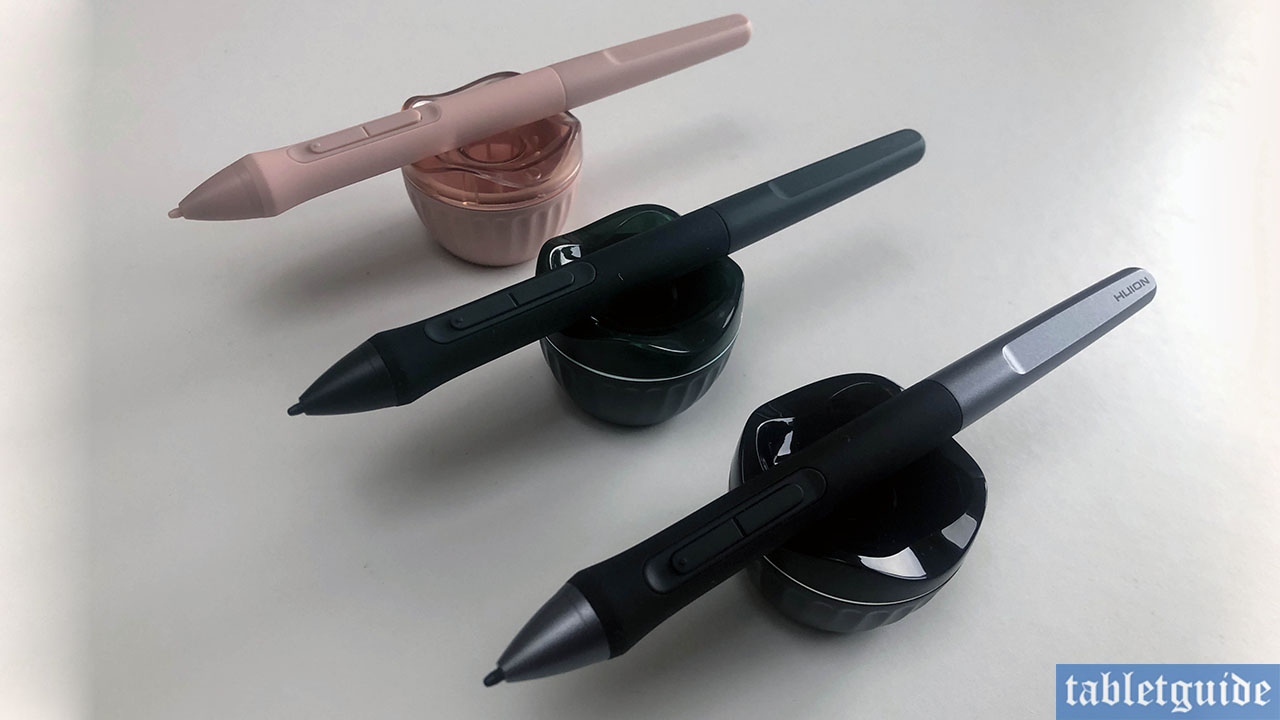 The buttons on the pen too, as usual, can be re-configured. They are all battery free, never need charging and need only be 10mm away from the tablet to register.
I used Adobe Photoshop on Windows for the accompanying video review, but these devices are compatible with Windows 7 or later, macOS 10.12 or later, ChromeOS 88 or later, Android 6.0 or later and Linux (Ubuntu 20.04 LTS).
All the usual bunch of creative software will work with these like Adobe Illustrator, Clip Studio Paint, MediBang, Corel, Krita etc as will most software apps where you'd use a mouse!
It's a shame these tablets don't come with a bag or something to protect them when in transit (in your own bag or holdall) as they may be susceptible to scratches etc but properly looked after these should last a long time.
All in all, it's a great set of tablets for a variety of users, desk spaces and budgets.