On 27 July 2020, Honeywell launched a new multi-functional RT10 rugged tablet featuring minimized TCO with Mobility Edge and advanced data capturing technology suitable for all small to large enterprise workers. Powered by Honeywell's FlexRange dual-imager, the new 10-inch tablet is designed to capture and scan barcodes from a distance of 0.1 meters up to 10 meters.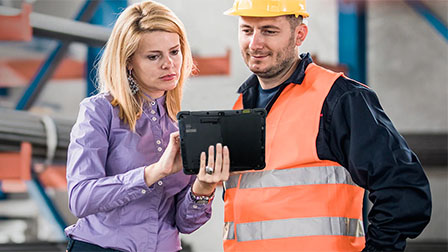 Using the FlexRange dual-imager, the tablet feature two complete optical paths without any moving parts to simultaneously capture near and distant images with no latency.
Catering to the industrial requirement it is useful for scanning warehouse pallet racks. It also adds to the flexibility of using one tablet for multiple functions.
Offering rugged drop specification and IP65 rating the new Honeywell tablet is sturdy and built to withstand damages. It also has a long-lasting battery life for optimal productivity saving the time spent waiting for the device to charge.
The new RT10 rugged table is compatible with both Windows and Android operating systems. The Android version of this tablet is said to be 10th mobile computer engineered using Honeywell's Mobility Edge platform.
The tablet can be paired with a cloud-based software solution called the Honeywell Operational Intelligence platform to easily track, manage, and improve mobile computer networks through the operational lifecycle.
The Windows and Android versions of the new tablet can also download and support apps like Momentum and Honeywell Smart Talk. The ingenious Honeywell Smart Talk app is specially designed to enhance communication within the workforce.
It is useful for quickly exchanging voice calls, texts, and other media messages on the go. By providing integrated and fast connectivity, the Honeywell RT10 tablet is said to enhance response time and reach-ability.
From reducing the communication barrier to connecting both the physical and digital world Honeywell's new tablet is equipped to maximize workforce and workflow. Its advanced features along with easy user interface make it a great tool for managers, supervisors, forklift drivers, and other staff.
Adding to the feasibility, the new RT10 tablet also provides a wide range of useful hardware accessories. It includes hand and shoulder strap to intact the tablet by your side and vehicle dock transforming the tablet into a vehicle-mount computer streamlining the forklift operations. Moreover, the tablet comes with a non-transferable limited warranty and 24/7 service support.
Honeywell is a reliable partner of mobile warehouses, numerous manufacturers, and field service works. It is also a leading brand when it comes to supplying a variety of products across the globe. Focused on improving safety and productivity Honeywell products are hi-tech and durable.