Samsung Galaxy Tab S6 is a high-end Android 9 Pie based tablet designed for reaching new boundaries where creativity meets innovation to deliver the best. With Apple iPad Air, it is true to say that styling meets advance technology to unfold never before known avenues. The primary aim of this write up is to make a detailed comparison of these two pioneering devices to provide a better insight of their features and performances.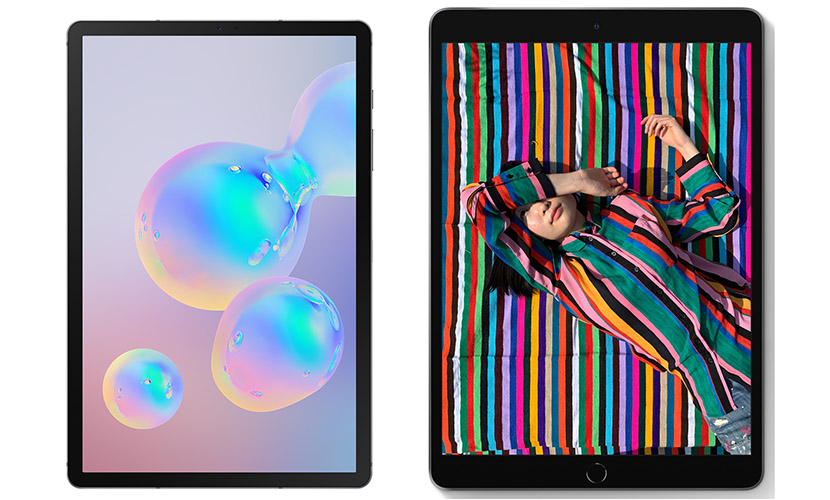 Appearance and Style
Samsung Galaxy Tab S6 defines grace and style. It is super sleek and carries an aura of elitism and sophistication with it. It flashes an effective, almost bezel-less sAMOLED display of 10.5 inches. It is just 5.7mm of thickness and weighs 420g. Being thin and lightweight adds to the advantage of maximizing the utility of the device. It is available in three pleasant shades, Cloud Blue, Rose Blush, Mountain Gray with color coordinated S Pen attached in the rear side.
Now, as far as Apple iPad Air is concerned, designing in aesthetic terms can be defined as divine. It features productive 10.5‑inch Retina display with True Tone that makes it ideal for long usage without causing discomfort to the eyes. Being 6.1 millimeters thin, it weighs 456 grams. Thus, it is highly portable and can be conveniently carried along everywhere. Gold, Silver, and Space Grey are the colors options available.
S Pen vs. Apple Pencil
Another fine attraction of Samsung Galaxy Tab S6 is the S Pen that increases the level of effectiveness of the device. It provides ultimate accuracy and precision to all creative thoughts, drawings and sketches through 4,096 levels of pressure sensitivity. Users can enjoy complete control with fatigue free grip of the pen.

The S Pen magnetically attaches to the back of the tablet and get automatically charged when attached. With the help of Samsung Notes or by simply adjusting the screen transparency, the device helps to make prompt important notes on the tablet itself without the need to pause or stop the running video. Bluetooth connectivity and S Pen Air actions further makes it easy to operate the device by pressing the S Pen button or by just hand movements.
On the other hand, Apple iPad Air features the extremely responsive Apple Pencil with high level of precision and fluidity. Taking notes were never this simpler. The helpfulness and worth of this pencil can be understood from the fact that the hurriedly jotted down notes can be converted into text. With Apple Pencil, it is possible to mark documents, place drawings on notes and photos and screenshots.
The Processors
Galaxy Tab S6 gets its incredible processing power to match all aspirations through its octa-core Qualcomm Snapdragon 855 processor. It is the A12 Bionic chip with Neural Engine that powers and transforms iPad Air into a dream.
Knowing the Cameras
Galaxy Tab 6 comes with dual camera. The rear-facing camera is 13MP and the front camera is 5MP. Enjoy and optimize smart features like Ultra Wide angle, Smart AI and Adobe Premiere Rush to give an expertise finish to pictures and videos.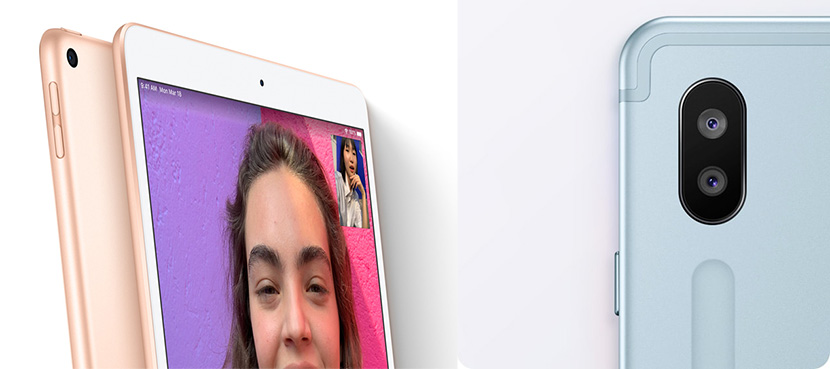 Now coming to Apple iPad Air, it comes with an 8 MP rear camera and 7 MP Face-time High Definition Camera. Be it creating HD 1080p videos to capture every minute detail within the screen space or scanning and signing of documents for faster productivity, iPad Air makes all achievable. Life is made simpler with exciting and innovative features like Group Face-time Call. It is perfect for Augmented Reality.
Display Comfort, Clarity and Quality
Apple iPad Air presents ultimate safeguard for eyes of users and are ideal for long hours of viewing and reading with True Tone actively adjusting the white balance. This presents photos and videos with a natural touch and keeps you close to reality. The super engrossing 10.5‑inch Retina display with anti-reflective coating and wide colors with True Tone gives that extra touch of magnificence and clarity to photos and videos. Galaxy Tab S6's 2560×1600 WQXGA screen with 287ppi and a 16:10 screen ratio gives an extra realistic touch to the visuals and ensures flawless display that is soothing to the eyes.
Keyboard Convenience
Experience the comfort of working in your personal workspace by transforming this tablet into a quick desk. This is made possible with the convenience of portable Book Cover Keyboard accessory that comes with a dedicated key for Samsung Dex. The cover also has a touch-pad and has adaptability to be connected with any other display.
With Apple iPad Air, the designing is made to make the most of the device. Like the lightweight, foldable cover that actually works as the smart keyboard when needed. This can be easily connected with the device without the need of charging and pairing.
Security
Galaxy Tab S6 users dwell in great sense of security and privacy. Onscreen optical fingerprint scanner is incorporated to maximize handiness and security. It recognizes the saved fingerprint and will not give access to intruders. It's a great way to enjoy hassle free security, and also gives freedom from the agony of memorizing painful passwords. iPad Air is designed to provide the ease of performing all with ease without making you worry about security and privacy. Its Touch ID sensor identifies the saved fingertips for unlocking the screen, thereby making the process both safe and simple. It also saves from the unnecessary tensions of remembering complicated password.
Highlighting Other Winning Features of Galaxy Tab S6
Galaxy Tab S6 has been developed with the goal of increasing efficiency and thus provides all features that supports multi-tasking. Its screen can skillfully split into multiple windows to help simultaneous apps to be used together, thus giving extra convenience and ease of doing work as per need and choice.
Another factors that assures effortless and worry-less carrying of this device is powerful and lag free wireless connectivity and long lasting battery life. Once charges, battery provides continuous service for almost 10 hours. Galaxy Tab S6 is meant for continuous all day usage with its powerful 7040 mAh battery that surprisingly lasts for 15 long hours on a single charge.
As far as storage space is concerned, with Galaxy Tab S6, two options are available. One is of 6GB memory and 128GB of storage and another is 8GB and 256GB. Additional SD card support gives the option of extra terabyte6 of storage.
Galaxy Tab S6 supports download speed at up to 2.0Gbps and upload speed up to 150Mbps with LTE connectivity. And with proper Wi-Fi connection, the speed gets accelerated to 867Mbps for uploads and downloads.
For Galaxy Tab S6 users, life is made systematic and you are in utmost control as it comes with Smart Things and the new Bixby. Managing and controlling homely appliances remotely was never simpler, Bixby recognizes voice information and performs important voice command over other smart devices back home. Galaxy Tab S6 also syncs with Galaxy Smartphone, thus always making it possible to stay reachable and informed.
Highlighting Other Winning Features of Apple iPad Air
iPad Air functions on the pro advanced mobile operating system iOS that befits it to perform all with just a tap. It offers complete operational control through gesture command, is ideal for multitasking. Accessing all files irrespective of where they are stored is possible through File app.
With it, files that are stored in the iCloud Drive, Box, Dropbox, or iPad Air, are always within reach when needed. Coming from Apple, iPad Air is loaded with dedicated apps like Photos, Maps, Messages, Mail and Safari, Pages, Numbers and Keynote GarageBand and iMovie.
Other than this, millions of apps can be downloaded from the App store that is specifically developed for Apple powered devices. Files once stored in iCloud are always accessible and manageable from this apple tab. Along with that, there is the convenient file app that keeps the file organized.
With iPad Air, a whole new dimension is given to the concept of boundless and swift accessibility. From Voice Over to Switch Control, its accessibility programs support all types of remote interaction technology without even the need of touching the device.
Apple iPad Air is fitted with built‐in rechargeable lithium‑polymer battery of 30.2-watt-hour and offers up to 10 hours of continuous usage when charged totally for all models and 9 hours for Cellular+Wi-Fi models. Apple has two storage capacities for iPad Air – 64GB or 256GB.
Verdict
It is quite evident from the above detailed discussion that there cannot be a clear winner in this case. Both the names, Apple and Samsung, do stand for self-guarantee and has become synonymous to high class performance. They are both dominant and leading players always defining the next generation development from the virtual world to mark a new accomplishment. Thus, it is difficult to rank them.
Samsung Galaxy Tab S6
Apple iPad Air
Processor
Qualcomm Snapdragon 8150 Mobile Platform
(2.8GHz + 3 x 2.4GHz + 4 x 1.7GHz)
A12 Bionic Chip
M12 Co-Processor
Display
10.5" WQXGA (2560x1600) Super AMOLED 287ppi
10.5" Retina (2224x1668) 264ppi
Memory
(6GB + 128GB) or (8GB + 256GB)
64GB or 256GB Storage
Camera
Front: 8MP
Rear: 13MP Dual Camera
Front: 7MP FaceTime HD
Rear: 8MP
Battery
7040mAh
30.2 Whr
OS
Android 9 (Pie)
iOS 12
Price
Starting at $649 | Amazon
Starting at $499 | Amazon
There are areas and features in which Samsung provides the best, while Apple might undoubtedly excel in other aspects. Both Apple iPad Air and Samsung Galaxy Tab S6 has seen increasing demand owing to their extraordinary performance and simplicity of operation. For some, Samsung Galaxy Tab S6 might have answer to all their problems, while for others Apple iPad Air is what they have been waiting for.
Thus, users can choose between the two depending on their preferences and needs. Here, budget will surely be a crucial deciding factor. Hence, whether it is Apple iPad Air or Samsung Galaxy Tab S6 that you are choosing, you will surely turn out to be the gainer and it is worth spending on them.