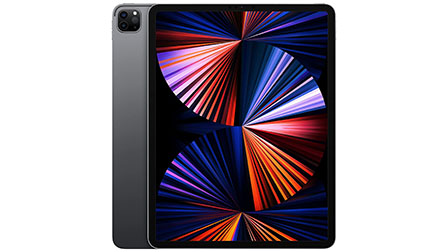 The tech giant rivals, Samsung and Apple are in a constant battle to provide us with the best flagship experience of their brands. When it comes to tablet computers, Samsung leads the Android platform whereas Apple is the top dog featuring its own iOS platform. And the rumor is making rounds that Apple is now developing a 15-inch large tablet.
Bloomberg's famous newsletter, Power On by Mark Gurman revealed that Apple will launch a 15-inch tablet in the near future. The newsletter is dedicated to inside scoops on Apple and its all consumer tech.
The first thought behind this new tablet we came across is that Apple wants to compete with Samsung's Ultra device. Samsung is reportedly going to launch and produce its Galaxy Tab S8 Ultra, Galaxy Tab S8, and Galaxy Tab S8+ in Q1 and Q2 2022. Not only that the company also is going to launch its Lite version of tablet later in Q3-Q4 2022.
Among all S8 series tabs, the S8 Ultra will be produced in the least quantities making it a premium device with high-end features. It is going to feature a 14.6-inch display. A screen this big is similar to small size laptops.
If we believe rumors, Apple's new 15-inch large tablet can make an appearance in 2023. This will provide more insights into how consumers like a large tablet. All in all, Samsung's success will be a huge deciding factor in what we can expect from this new large iPad.
That large tablet is likely going to have more thickness than usual to accommodate bigger speakers for stunning audio experience. Also, it will have a wall mount as well as power plug on the back side. That way, it could also be used as a display that can be wall mounted and plugged from behind.
Well, this goes against the Apple's idea of making sleek devices focused on productivity and entertainment simultaneously. This 15-inch large tablet will be thicker and bulky compared to Apple's standard iPad, iPad Mini, and iPad Pro. Meaning, with the larger tablet, the portability of it will be compromised and at the cost of better entertainment.
However, we are speculating that Apple will feature a new and robust SoC (System on Chip) to maintain iOS experience. We will have to wait for more details on this mysterious device.
The max screen size of iPads so far is 12.9 inches. So, we're excited about its power and other features. With a massive storage of 2TB and robust SoC M1, iPad Pro 5th Generation prevails as the best ever tablet we could ever witness. This news has created curiosity about its processor, RAM, display features, camera, portability, sound system, orientation, and a lot more.
There are no confirmed news yet about new iPad launches for the year 2022 yet. Except, many users have complained about jelly lagging display in the latest iPad Mini 6th Generation. That said, the tech giant may bring a new version of iPad Mini to overcome that shortcoming. However, Apple has clarified that such occurrence is common with LCD displays.
We're also speculating that this new 15-inch tablet will have a new and better version of Siri. The talks about Siri's need to be better and stronger are prevalent in online communities so it is likely that Apple will appreciate this fact. Well, the year 2023 is one full year away and we are really hopeful of new and better technology in new iOS devices.