Popularly graphics tablet brand, XP-Pen, has announced that it will be releasing the all-new, Innovator Display 16, which is loaded with terrific features to help the artist in you showcase the skills. The Innovator Display 16 has a 15.6-inch screen with controls on the side.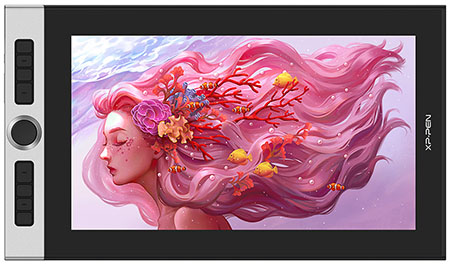 The controls include 8 shortcut keys, a manual wheel, and a virtual wheel that gives you better control over your brush and a chance to make your drawings come to life.
The keys can be programmed as per the needs of different software for a continuous flow of your work. The wheel helps you in navigating the page by letting you zoom in and out and by helping you adjust your brush size for sketching fine lines.
Innovator 16 is the slimmest first-in-class display with a 9mm profile making it easier for the people to stay creative and productive anywhere they go. The 344.16*193.59mm screen makes it perfect for the artists to create their own masterpiece. The user never has to worry about the stylus pen running out of battery as Innovator 16 comes with a battery-free stylus.
This gives artists the flexibility to mold and shape and put their ideas on a tablet without any interruption. The sketching and shading appear to be effortless thanks to the 60-degree tilt action of the battery-free stylus. The 8192 levels of stylus pen sensitivity enable the artists to draw fine lines and make the sketches more expressive.
The display empowers and enhances the artwork of the artists by providing them with a screen color gamut of 92% Adobe RGB along with 88% NTSC and 125% sRGB. This screen offers a wide range of radiant colors that shows the great work of the artists down to the meticulous details.
The lamination technology that is used while constructing this display is such that the amalgamation between the glass and the screen creates minimum parallax. Innovator 16 is highly compatible with Windows 7 (and higher) and Mac OS X 10.10 (and higher). The support of top-quality editing software like GIMP, SAI, Blender 3D, Illustrator, Photoshop, and more makes it is a compelling product.
The Innovator 16 is boxed along with other useful accessories like the battery-free stylus, a three-in-one USB cable, a power adapter, a quick guide, and an extension cord. The USB cable allows the users to connect the display with other devices. With convenience at the heart of this device, the package also includes a portable stand, a cleaning cloth, a pen holder that comes with 8 nibs, and a black drawing glove.
The Innovator 16 pen display has all the necessary as well as advanced features that make this product highly appealing to the customers.