In a nutshell the XP-Pen Artist Display 22R Pro is the first graphics tablet ever to support Type-C to Type-C connectivity. But there is clearly more to it than just this. Artists are slowly opening up to the idea of graphic tablets and computer-aided art. To cater to this niche market, many manufacturers have jumped into developing graphics tablets. XP-Pen is one of the leading graphics tablet manufacturer worldwide. They are known for their innovative design and artist-centric features on their tablets.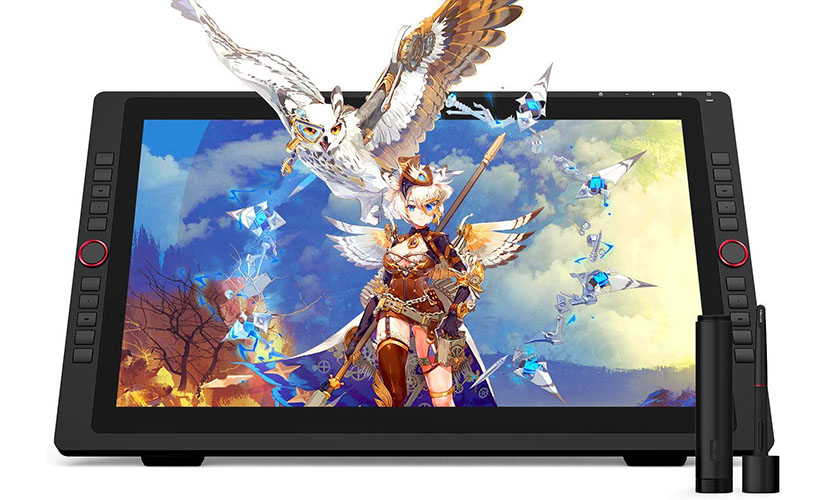 With their latest offering – the Artist 22R Pro, XP-Pen has once again proved that they understand the pulse of their customers very well. With a large and sharper screen, improved sensitivity, generous connectivity options, the device will definitely become one of the first choice among the serious artists and graphics designers' community.
XP-Pen Artist 22R Pro Specs
Dimensions
22.44 x 13.18 x 1.76 Inch
Working Area
18.74 x 10.54 Inch
Display Resolution
1920 x 1080 Pixels
Dial Wheel + Keys
2 Red Dial Wheels + 20 Shortcut Keys
Pen
XP-Pen PA2 Battery Free Stylus
Tilt & Pressure Sensitivity
60 Degree & 8192 Levels
Resolution
5080 LPI
Report Rate
Max ≥ 200RPS
Response Time
14ms
Connectivity
Type-C Port
2 x USB Hub
HDMI
VGA Port
DC Port
Compatibility
Mac OS X 10.10, Windows 10/8/7 and higher
Price
$699.99 | Artist 22R Pro on Amazon
Display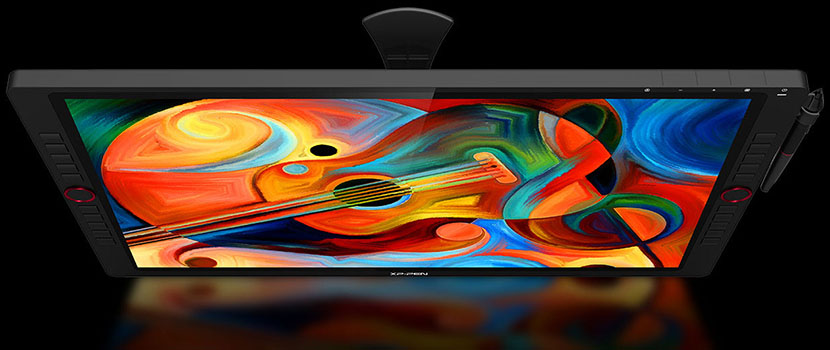 The first complain of many artists who have used a graphics tablet is the screen size. Working on detailing becomes difficult and messy to handle. With the Artist 22R Pro, XP-Pen has definitely solved the screen size puzzle. The device features a 21.5-inch large display that runs on a 1080p resolution. The company also claims that the display provides precise accuracy with colors and will add to the vibrancy in comparison to previous models. The icing on the cake is a scratch-resistant and anti-glare screen for better visual comfort and accurate color reproduction.
Design

XP-Pen has given attention to every detail while designing the tablet. The adjustable stand will enable users to play around with working angles and figure out the most comfortable position based on individual preferences. The control panels are perfectly placed on either side of the screen and any user can easily reach out for the keys and two dial wheels. Finer details like a pen-holder to rest the pen when not in use gives an impression of good design choices made by the company.
New Improved Pen
The core job of a graphics tablet is to draw and paint. Manufacturers strive to bundle the whole experience into a piece of technology that should feel as similar as possible to drawing on paper or canvas. The pen is an important part of it. XP-Pen has designed the pen to suit an artist.

It's a PA2 battery-free Pen that supports up to 60 degrees of tilt function and provides superior line performance to create the finest sketches and lines as claimed by the company. It is accurate up to 0.01 inches which is better than the industry average. The precise cursor positioning also enables the device to provide a seamless drawing experience even at the extreme corners.
Connectivity
The highlight of the tablet is how easily it connects to your PC. It has every possible port that you will ever need to connect it to your computer. The XP-Pen Artist 22R Pro has two USB Type A ports, an HDMI port, a VGA port and a Type-C port. There is also a DC port to connect the device to the power adapter. All these ports are neatly placed at the back of the screen, which is both easily accessible and yet does not interfere with the screen space.
User Experience and Accessibility
XP-Pen has done some amazing engineering with the accessibility buttons. There are two round dial wheels on either side of the screen along with 10 buttons on each side. Each of the buttons can be customized according to user taste and preference. With 20 shortcut keys, you can almost perform every task right from the tablet without having to run to your PC to make a quick edit, change the brush style and shape or to save the document. It's definitely an welcome addition to have more shortcut keys on a graphics tablet.
Accessories
XP-Pen Artist 22R Pro comes with a generous bunch of accessories from the manufacturer. This saves the buyer an additional cost of accessories. Along with the 21.5" Graphics Display, you can get 2 Battery-free Stylus, a Type-C to Type-C Cable, a VGA Cable, an HDMI Cable, Power Adapter with Cord, Pen Holder with 8 replacement nibs, a Type-C to USB Adapter, Cleaning Cloth and a Black Drawing Glove.
Application & Platform Support
The Artist Display 22R Pro is compatible with both Windows and MacOS platforms. It has also support for old versions of OS starting from Windows 7. So, it can be safely said that it would run on over 90% of the PCs in operation today. All the popular graphics design apps like Adobe Photoshop, Illustrator, CDR, SA, GIMP, Medibang, Krita, Fire Alpaca, Blender 3D and most other tools.
Battery Free Operation
One of the potential downsides of the device is that it is powered up complete from your power supply. Thus it is mostly non-portable. It is understandable that with the large display, it is difficult to be powered by a battery. However, some people might find it a potential deal breaker. But for most people this is not a feature that they would expect on a large screen device like the Artist Display 22R Pro.
Verdict
There is definitely more to the XP-Pen Artist 22R Pro than meets the eye. With all the advanced features and specs, you will find other cool usability features that have nothing to do with graphics design. For instance, you can use the two USB ports to charge your phone or power backup devices. The screen supports 16.7 Million colors and has a contrast ratio of 1000:1.
The device features a large screen and yet it is power-frugal by its standards as it consumes only 36 Watts of power. Even the pen nibs are finer and easier to draw on while at the same time it gives the feel of a real pencil. All this amazing hardware and features are packed in a box that costs $699.99. This makes it a slightly expensive device only meant for serious and professional graphics artists. If you are one of them, get them off the selves!