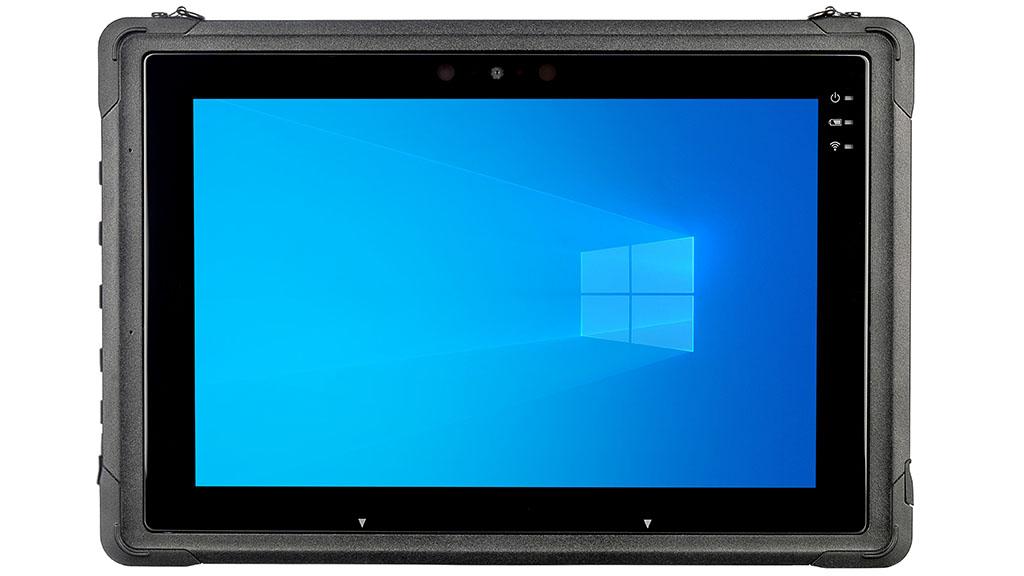 WEROCK, a company with a mission to design, develop, and innovate rugged tablets with sustainable methods has launched Rocktab U210. WEROCK is famous for its industrial and military grade rugged tablets, computers, displays, panel computers, and music and video solutions.
Rocktab U210 is the third tablet in their 'Rocktab Ultra Series'. Ultra series tablets are specifically designed to offer superior features and the highest performance in a compact space. Basically, these are the devices with the best performance with the utmost optimization for outdoor use.
The weight of Rocktab U210 is 996 grams with 15 mm thickness. This makes for quite a good consumer rugged tablet. It offers three different operating system alternatives; Windows 10 IoT Enterprise, Windows 10 Professional, and Ubuntu 20.04 Linux. Also, its future updates will include Windows 11 too.
Rocktab U210 is powered with Intel Pentium N5030 or Celeron N4120 quad-core processors along with 8GB RAM. Again, the set of specs makes for a fast operating device. And such specifications are desired especially when you're working in an industry or outdoors for seamless use of a device.
With this processors and RAM, WEROCK claims that the tablet is quite faster than Atom processors. The tablet comes with 128 GB of in-built storage and has a microSD card slot for extended data storing capacity upto 1 TB.
The tablet is certified with MIL-STD-810G military standard ruggedness for working in extreme outdoor conditions. It exceeds the standard 1.2m drop ruggedness and can withstand shocks from 1.5m drops.
It also passes the drum test which includes repetitive drops to see when its performance is affected by the impacts. Rocktab U210 survived 40 drops.
The operating temperature range is -10°C to +50°C along with IP65 water and dust resisting properties. Moreover, its display is made up of a reinforced glass that surpasses IK06 impact resistance.
Not to mention, the reinforced glass's superior toughness (impact resisting properties) and hardness (scratch resisting properties). The display works just right in the direct sunlight and doesn't affect the readability.
Also, its touchscreen works perfectly fine in rain or with gloves on. This pretty much sums up its ruggedness.
Rocktab U210's 800 nits brightness display offers you a 10.1 inch working space with full HD resolution. This German company also claims that Rocktab U210 offers the contrast ratio and the brightness which is not common in other fully-rugged devices.
The tablet also supports stylus for highly-accurate operations like signature taking whenever necessary in industries and outdoors. However, the stylus is available for purchase separately.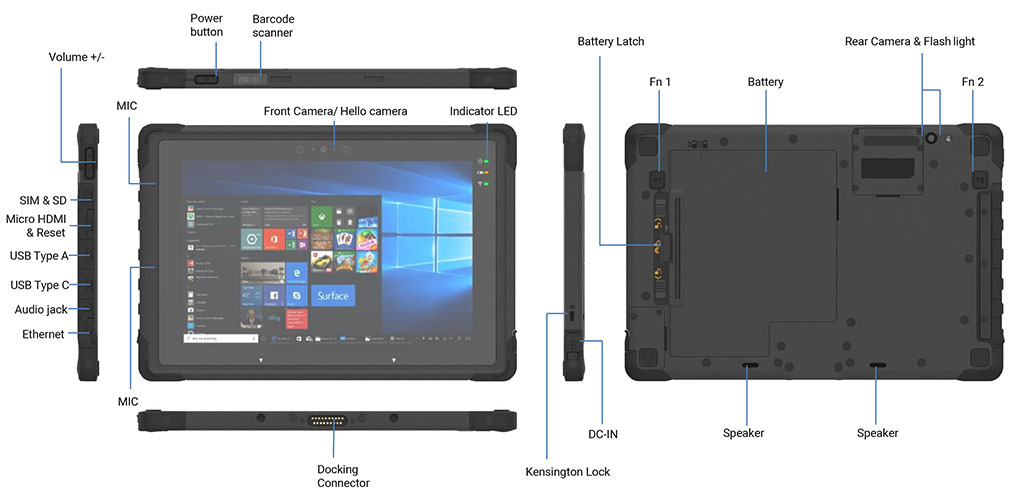 Rocktab U210 has a USB Type C and USB 3.1 Type A for more convenient data transfer. Not only USB but it also comes with with a Gigabit Ethernet port and micro HDMI. This makes it an ultra device in compact space in a true sense.
It has Bluetooth 5.2 connectivity for better industrial and professional operations like barcode scanning, AR related applications, and navigation. Other connectivity features include Wifi 6 with 2.4 GBPS speed and 4g LTE SIM support.
Its GPS is designed by Swiss company uBlox and provides outstanding accuracy outdoors even in denser areas. Rocktab U210 has a hot swappable battery so that you can continue working without turning off the tablet.
The total battery capacity on a single charge is 38 Wh. Considering its specification, the battery lasts about 10 hours on an average. This is great, especially when you can use a replaceable battery. That almost lets you use a tablet for 24 hours straight.
One more beautiful feature it has is the hidden barcode scanner. The superior quality 2D barcode scanner is camouflaged and placed in the front edge of the tablet. All in all, Rocktab U210 is budget friendly with Ultra specs and features.