Wacom is a renowned brand when it comes to drawing tablets. This company has given great hits in the market with some groundbreaking tablets that include Wacom Intuos Pro Digital Graphic tablet and a lot more. Although, the Wacom tablet are bit high in price, but brand assurance and features are just exceptional. There were speculations that Wacom will launch another innovative graphic tablet after its recent release, which is Wacom Cintiq 16. So few days back, Wacom finally launched a new 21.5" Cintiq 22, which is available for users now.
Cintiq 22 has 21.5" display with a FHD resolution of 1920 x 1080, providing very minute details of your work. The screen of the tablet is scratch resistant equipped with anti-glares advancement, eliminating unnecessary reflections that enable you to focus on what you create. This tablet is highly recommended for beginners as switching from paper boards to digital graphic tablet will not seem daunting, it is technological progression. Things on Wacom's Cintiq 22 are pretty natural, making you feel very comfortable and easy going.
On the other hand, design of Cintiq 22 is quite old school type similar to standard designs of Wacom. It doesn't have any express key on the body, just the full screen display. This means everything is dependent on the pen. Cintiq 22 offers the latest Wacom Pro Pen 2, which is outfitted with EMR (Electromagnetic Resonance) technology. It withdraws all the power from Cintiq 22, which is why it doesn't require battery to charge. More so, the design of Pro Pen 2 is aimed to make everything relaxing for your hands while holding it along with great accessibility to buttons. You would just fall in love with this lightweight, yet powerful Pro Pen 2.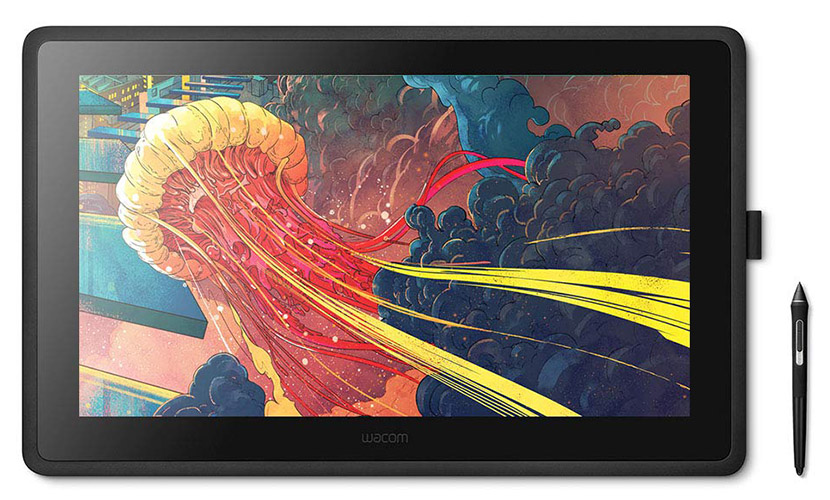 The pen offers 8192 pressure levels and two customizable buttons to make your drawing experience one-of-a-kind with Wacom Cintiq 22. Moreover, you can easily connect with desktops with the small HDMI and USB C-type as the tablet is highly compatible. And the strong adjustable stand, allow you to be in the right position and flaunt your ideas on the wide screen of Cintiq 22 without any hassle. Beginners can find this tablet quite amazing and useful as they come across numerous challenges when it comes to using digital graphic tablets, it usually impacts the habit of designers and artist.
If you're a beginner and planning to purchase a good and robust graphic tablet, then look further than Wacom Cintiq 22. This all new tablet is recently launched and is available on Amazon soon after the release. This tablet has undoubtedly received a lot of appreciation after the release because it's quite easy going with some features. If you have a good budget, then choosing Wacom's Cintiq 22 is not a bad deal at the price of $1199.