If you expect a professional drawing tablet to quench your creative thirst fully, here's Wacom Intuos Pro (PTH660) Drawing Tablet for you. It meets professional and creative parameters in the fullest way possible. It has a high-quality body build that strikes a beautiful look along with giving great features that brings you great efficiency. This brand brings you this drawing tablet with amazing features that are designed to deliver you great performance and translate your creativity on to the display screen of the device you connect it to. It ensures that it ranks unique from all the drawing tablets that are in the market. Even though it doesn't have a special or unique feature, it has everything that a professional illustrator or graphic artist requires.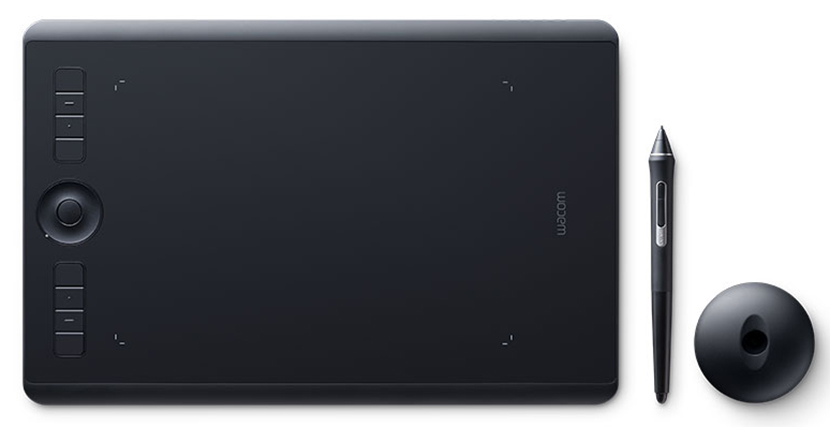 First things first. The promotional video of Wacom Intuos Pro (PTH660) Drawing Tablet robbed my attention, and I observed some finesse and creativity that instantly caught me off my hook. It sure does some magic to your eyes, only to which I realized how powerful the device must be. The drawing tablet surely looked beautiful, but I had to look at it first hand. Upon purchasing it, I could not help but use it for hours because of the efficiency and smoothness of work it gave me. Let's talk in detail about all those features and specifications that bring the efficiency to life, which I have almost mentioned a hundred times. We will see the configuration of both small and medium size tablet of the same version. The main focus would be on the medium size one.
Design
When the eyes met the advertisement that builds the foundation to create a sense of wonder towards this drawing tablet, I thought it was limited to the ad. But when I took a real good look at this tablet, I couldn't help but praise it. It is built with black anodized aluminum with fiberglass composite resin. You can avail it both in medium and large sizes. The body design makes the tablet robust and free from fear of damage. The design precision of this tablet states its premiumness which you can feel it when you touch the body of the tablet with your fingertips. It is comfortable to hold and stays strong on your desktop along with other devices. Such a simple, yet premium looking drawing tablet has a smooth active area that assists in a better translation of your art right from the nib of your digital pen to the monitor in front of you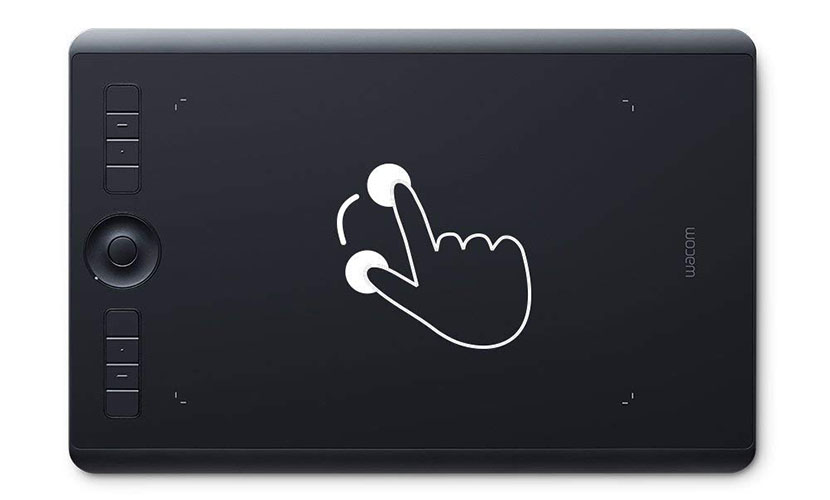 It has also paid special attention to reduce the compact footprint of the device while increasing and widening the active area. The size of this tablet ranges 12.6 x 8.2 x 0.4inch which provides ample creative space on the tablet. To be specific, the active area is 6.2 x 3.9 inch. The medium sized tablet of the same version has an active area of 8.7 x 5.8 inch. Another thing that poses a huge problem is the sensitivity to multiple touches. This tablet ensures that it has several and multi-touch points which are great for an artist as this tablet is meant to be his/her canvas. This multi-touch feature enables the user to zoom, scroll or swipe through the canvas invoking the same creativity of creating on a paper canvas, if not better!
Express keys

It has 8 Shortcut keys and a touch ring which is fitted on to the left side of the tablet. You can use these express keys to assign a shortcut to navigate to a specific function in just a single step. The keys feel very soft and premium to touch which has high significance because it talks a lot about the entire experience of using the device. The express keys are very useful as it comes with the comfort of position and exists solely to reduce the time consumption of your entire workflow. The small size version of the tablet has six express keys, and the medium-sized has eight express keys, both carrying a touch ring. I was super baffled with the precision of working with the multi-touch function and touch rings because it was no less than creating on paper canvas, with an option of erasing unwanted things which is impossible in the other one.
Compatibility and Connectivity
This drawing tablet supports both Windows 7 or later (64 bit necessary) and macOS 10.10 and further. The Bluetooth connectivity to other devices provided with it is a great promise of higher efficiency if you instantly want to switch to mobile devices. You can download the drivers of this device with an internet connection with super simple procedural steps to follow. The latest drivers are available on the Wacom website. The connectivity is not a basic one with few glitches. It came down as a surprise when the device translated the action on to the screen with no lag in response time. It is complemented by OS and the efficiency of the tablet.
Digital Pen
The best feature that makes it a complete experience is the battery-free Wacom Pro Pen 2. This highly efficient digital pen makes no compromise to give you what you want, without demanding you to charge it. It has 8192 pressure level sensitivity, fantastic tilt response, and lag-free or zero glitches tracking of the digital pen ink. It gives you an excellent grip over the pen reducing the difference between a digital and pen-on-paper experience to almost zero! With this pen being so controllable, you can create freely.
Pros
Excellent Active area response
Battery Free digital pen.
8 Express keys with a touch ring
Quick response and translation speeds.
Bluetooth connectivity for other devices.
Sleek and slim body design.
Final thoughts
The Wacom Intuos Pro (PTH660) Drawing Tablet is an excellent device for professionals looking out to create digital masterpieces. Without giving even a single glitch to your creativity and freedom, this device is available for around $300.