Trimble launches T100 Windows 10 rugged tablet for survey fieldwork, mapping, GIS data collection and more. This high-performance driven tablet has it all that makes fast data processing possible for mapping, surveying, and GIS application.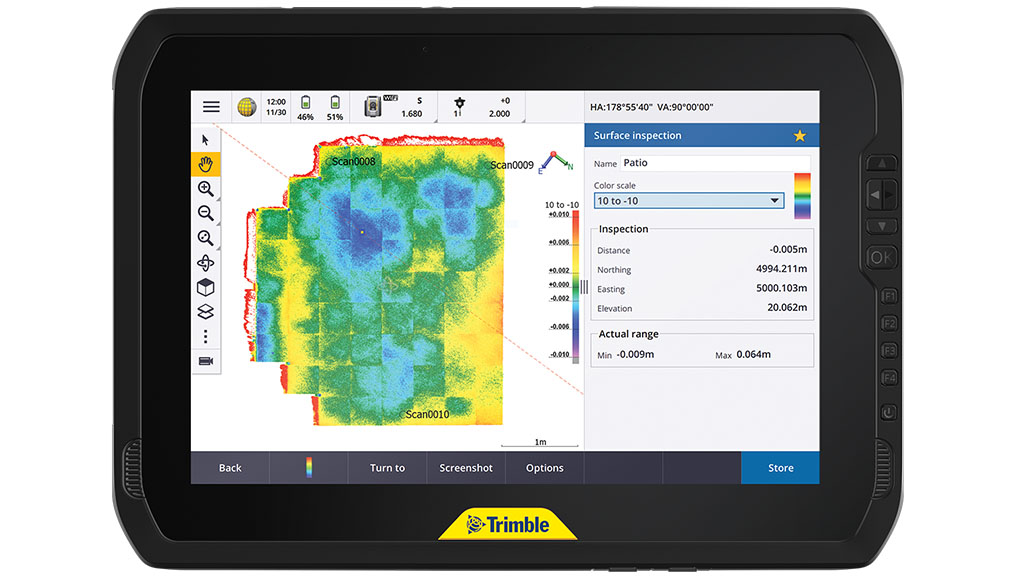 It is meant to facilitate the field-based workforce to carry on their tasks more productively by making all the needful solutions and applications available there. It facilitates GIS data collection, mapping, and field-based survey work.
More About Trimble T100
It comes with a generous 10-inch touchscreen display that supports readability in sunlight. It is based on the latest Windows 10 OS and is designed to be sleek and portable to make handling it convenient and hassle-free. It is built to withstand severe weather conditions and still perform flawlessly to meet the most critical and demanding workdays out in the field.
You can trust it to help you meet all your work-related goals irrespective of the surrounding and climatic changes. It is ergonomically designed to portray a very practical design to maximize comfort. Thus, it is very portable and compact to add to the mobility of field-based workers.
Processor and Battery Performance
Quick data collection and processing of data is possible as it is powered by an Intel i5 processor that also allows users to QA data in the workplace, be it in an open field or office. Powerful Intel i5 processor makes working on critical applications in the field possible and also leads to "high-quality deliverables".
In short, this Windows-based high-computing tablet brings all the facilities and advantages of working in a well-provided office out in the field to make every task and operation smooth and productive. It also supports great memory and storage place. Plus there is a micro SD slot to further expand the storage capacity of the device to be able to meet all the work-related demands.
It is powered by a robust internal battery system that allows it to offer the industry the best battery performance. Also, the fast charging capacity of the battery makes Trimble T100 an ideal tablet to carry out all field-related jobs.
Additional Supportive Features
It comes with a directional keypad for tactile feedback that includes various function keys that are programmable. It is also provided with Wacom EMR Stylus to facilitate jotting down all important notes and points while engaged in some demanding job. It also has a touch control for the weather.
It also supports expandable EMPOWER dual-module functionalities that further provides additional freedom for workers to carry on with their jobs. It facilitates connectivity with optical instruments. It is based on a user-configurable performance setting and meets IP-65 environmental specifications. There is also a rear camera with LED Flash.
Compatibility with Essential Software
Coming from Trimble, it supports all important applications such as Trimble Access Field Software, Trimble Business Centre. It is also compatible with Windows office Suits. Thus, with so much to give, you will have a hard time finding a better alternative to Trimble T100 to achieve maximum fulfillment of all fieldwork-related tasks.
Users are now saved from the harassment of having to carry numerous computing devices to their workplace. TrimbleT100 is engineered to expertly take care of all your needs very systematically. Also, users can complete important jobs a quality control and quality check before they leave the field.
The accessories that will be provided along with the tablet to facilitate better handling and protection are:
EMR Stylus along with replacement tips and removal tools
AC-DC Power adapter along with power cord
A screen protector
USB A to USB C Adapter
Right now, this extremely credible tablet from Trimble is available through Geospatial distribution partners of Trimble. You can visit the official website of Trimble for more details on the same.