Samsung has now successfully established itself a brand well known. Most of us do prefer Samsung when we plan to buy an Android device. Be it a smartphone or a tablet, Samsung has established itself to be the most sought after brand. Rolling out some amazing devices in last few years, Samsung Galaxy series have known to rule the market for quite sometime now.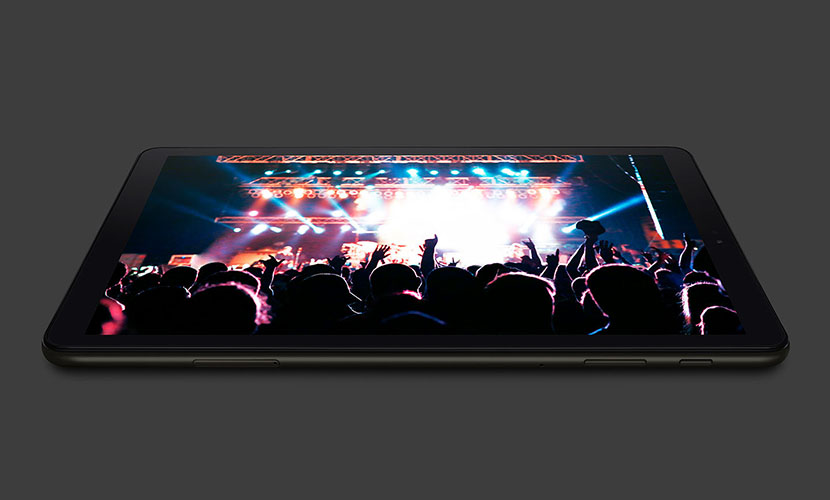 Samsung has always been pioneer in launching some of the exclusive products that stand out and are at par with other products in the market. With competition so high, it is bound that the well-established tech firm maintains its position in the industry. Now that you have come to terms with Samsung being your option, you might be confused as in which Samsung tablet to buy?
Be in terms of design or specifications, Samsung Galaxy tabs hardly fail to outrun other products in the market. So if you are confused about which Samsung tab to buy, we have curated some of the major specifications of Samsung Galaxy Tab A series in comparison with Samsung Galaxy Tab E series.
Design or display, battery life, or processing system, Samsung ensures to provide you best of the quality. With upgraded and latest Samsung tablets being launched every year or two, it is bound to be in dilemma of which one to buy. So, here we ease a wee of your trouble and extend to you our insight on Samsung Tab A and E series.
Samsung Galaxy Tab A
First, let's start with Samsung Galaxy A series. The series is inclusive of Galaxy Tab A 10.5". Galaxy Tab 10.1" and Galaxy Tab 8.0". All the three variants are exclusive and one that will fit your everyday needs quite perfectly or even more.
Samsung Galaxy Tab A 10.5"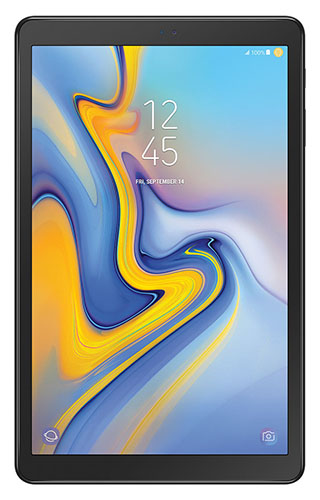 Wide screen and enduring battery life is what makes Tab A 10.5" a perfect tablet for watching movie, designing, or any other every day task. This one is surely perfect to be your travel buddy or most compatible business colleague. Wondering how? Well you can carry it along whenever you travel to watch anything you like and also, go for a business meeting and present your ideas on a good 10.5 inch screen. And, that's not all, there is much more to the tab than just wide screen and battery life. With immersive display and Google Assistant, you get an impeccable user experience. One of the much awaited feature in Samsung is here, this very tab is also inclusive of facial recognition feature that enhances your safety.
Listed below are some of the imperative features of Samsung Galaxy Tab A 10.5",
Portable
Wide Screen
Immersive Display with 16:10 aspect ratio
Fast Charging
Great Battery Life
Google Assistant at your service
Dolby Atmos surround sound technology to extend cinematic sound experience
32GB internal memory
Facial Recognition feature
Samsung Galaxy Tab A 10.1"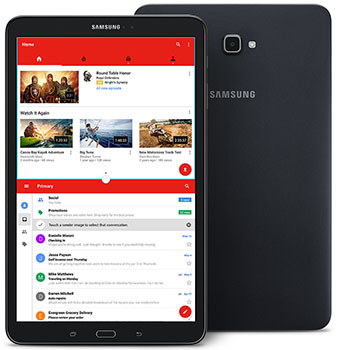 The exclusivity of Tab A 10.1" is that it is inclusive of S Pen. It is precise in functioning and you can be more expressive in your designs or work with it. Just like its companion, Tab A 10.1" also has a long lasting battery life along with high resolution display to multiply your user experience.
You can draw, design, edit screenshots, create GIFs with S Pen and a wide 10.1" screen. Fascinating much? We bet it is. Also, you can save all your masterpieces and much more with expandable storage of 256GB. Also, with long lasting battery life, you get up to 14 hours of web browsing.
There is more to it, we have listed some of the compelling features of Samsung Galaxy Tab 10.1",
S Pen included
Wide and Immersive Display
Enduring Battery Life
16GB Internal Memory expandable up to 256GB
Advanced Multi-Tasking Tools
Samsung Smart Switch feature to ease your device switching process
Samsung Galaxy Tab A 8"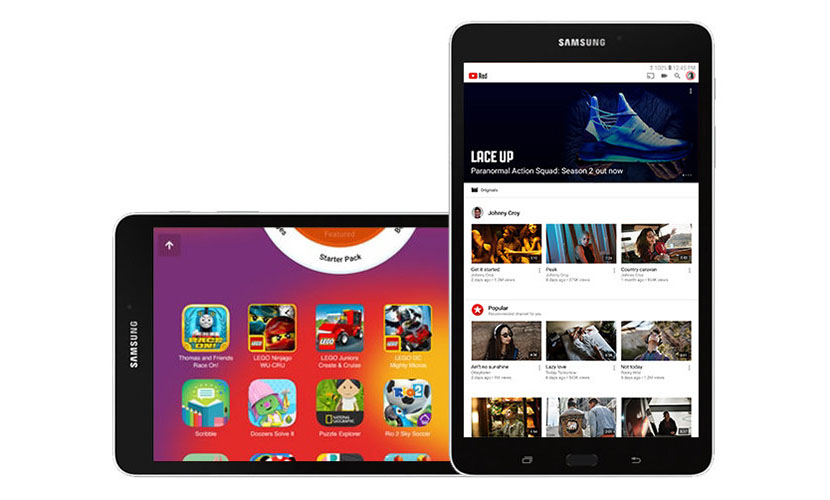 Tab A 8" is more or less alike to Tab A 10.5". It has 16:10 aspect ratio, immersive display and like many Samsung devices, a long lasting battery life. With Android 8.1, the operating system is expected to work well and help you multi task often. The tab supports LTE and is also portable. Hence, making all your travel plans complete. The wide screen helps you get an amazing experience while you stream, browse,  share photos or do whatever you feel like. Also, it is easier to hold with one hand due to being compact and light weight, isn't it what we always wanted?
Exploring more features, mentioned below are some features of Samsung Galaxy Tab A 8",
Wide Screen with 16:10 ratio
Enduring Battery Life
32GB Storage
Lightweight, hence, easy to handle
Kids Mode feature to make it more kid friendly
Connectable to LTE
That'll be all for Samsung Galaxy Tab A series. Now, we'll quickly hop to our another equally impressive Samsung Galaxy Tab E series.
Samsung Galaxy Tab E
With all said and done about Tab A series, we will now see what Tab E series has to offer. Where Tab A has three variants, Tab E has two but equally powerful. Tab E 8" and Tab E 9.6" are two variants under Galaxy Tab E series and we bet they are more than you want and function well in your everyday practice.
Samsung Galaxy Tab E 8"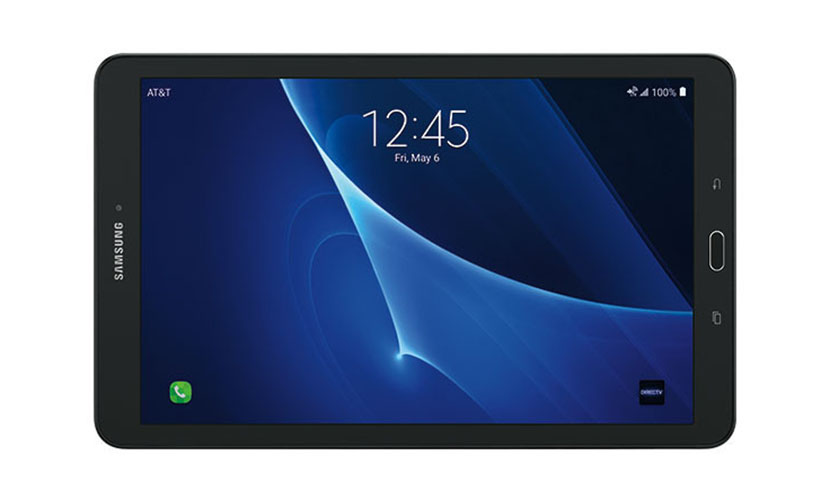 The Tab E 8" is well built to offer a firm grip and comfort in working. Along with bright display, the tab offers 4G LTE network which allows you to browse fast wherever you go without worrying about the Wi-Fi. Tab E 8" has an impressive storage which enables you to store a huge amount of photos, videos, games or movies. One unique feature that is rare to find is Multi-User Mode. Here, you can save preferred settings and app under individual login in order to keep it private in case another user signs in. Also, with Samsung +, you get exclusive content such as device tips, resource library, and also complementary music.
We bet you must be willing to know more, hence, listed below are features of Samsung Galaxy Tab E 8",
Bright Display
Supports 4G LTE Network
Enduring Battery Life
Multi-User Mode
32GB Storage
Kids Mode to make it more kid friendly
 Samsung Galaxy Tab E 9.6"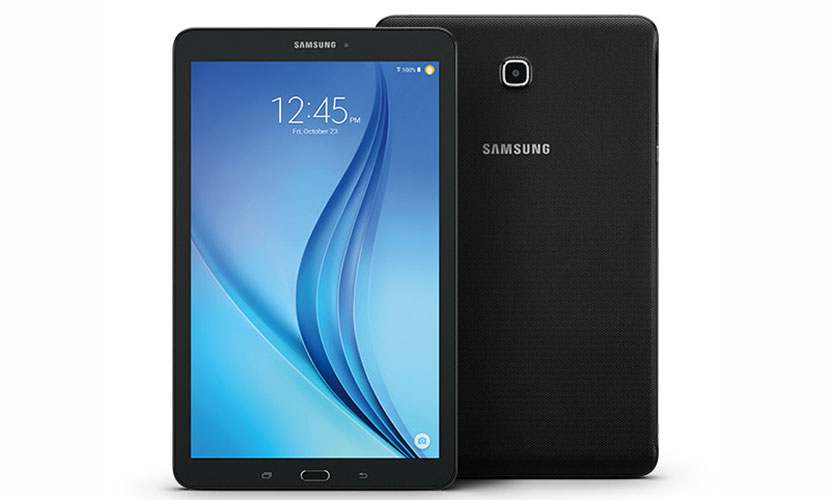 Not vastly different from other Samsung Galaxy Variants, Tab E 9.6" is similarly impressive due to all its features. Expandable storage, 7300 mAh battery life, Kids mode, easy to carry, and much more. The tab is said to have some amazing advanced camera features that help you click some awesome pictures. Features like Panorama and Continuous Shot modes are what makes it exclusive and definitely worth a try. Since, Samsung is well known for rolling out exclusive products, it ensures to have some unique feature in each of its tab as to make it better than the last one.
Samsung Galaxy Tab E 9.6" certainly has more to it, hence, have a look at some of the features that might compel you to try it.
Long Lasting Battery Life
Multi-User Mode
32GB Internal Storage
Kids Mode to make it kid friendly and parent approved
So now you have all the essential details about all variants of both Samsung Galaxy Tab A and Tab E series. Where Tab A series have more variants which go up to screen size of 10.5", Tab E confines itself to maximum screen size of 9.6". Tab A series also offers a variant which is inclusive of S Pen, which might take an edge over the other series.
Have a look at tabulated comparison of both Samsung Galaxy Series.
| | | |
| --- | --- | --- |
| Parameters | Samsung Galaxy Tab A | Samsung Galaxy Tab E |
| Variants | 3 Variants ( 8", 10.1", 10.5") | 2 Variants (8", 9.6") |
| Performance | Quad Core | Quad Core |
| Display | Max. 10.5" | Max. 9.6" |
| Fingerprint Scanner | Yes | No |
| S Pen | Inclusive in 10.1" variant | No |
| Pixel Density | 160 PPI | 157 PPI |
Above mentioned are some of the basic features compared. Although, both the series or more or less alike and equally priced. The price of the tabs depends on the storage capacity, hence, you get to choose according to your budget. Features such as camera, screen resolution, touch screen, audio jack, sound system and others are all same in both Galaxy Tab A and Tab E series.
Samsung is surely a brand that ensures best quality and updated features in its tab, you get to decide which series would you prefer as per your requirement. Choose whichever suits your everyday practice best and also falls under your budget. Happy Buying Folks!