May it be entertainment on the go, or on your lazy couch, Samsung Galaxy Tab A 10.5" does it all! It has the best of features to give you the optimum entertainment features that let you immerse yourself in entertainment for hours. This tablet offers what a family tablet should exactly give. It has the best of display, portability and usability features and specs that separates its league from other family tablets. On the qualitative edge, I am impressed with Samsung Galaxy Tab A 10.5" and Samsung products have been offering quality for years. Right from smartphones to tablets to LCD screens, they have oozed out the best of products into the market that makes the brand stand out. And the story is the same with this tablet.
Features and Specifications
With more and more enhanced features that are infused in tablets these days, it has become evident that what was the best features and specs back in the days has become basic today. With a promise of hands-on thrill experience, does Samsung nail it with this tablet? Let's check it out.
RAM and Storage
A family tablet always has the best of entertainment and usability features. So on a foundational level, this tablet is not built for heavy tasks like gaming or editing or creating your motion graphic. Even though with that fact around, Samsung pays attention to RAM. This Samsung Galaxy Tab A 10.5" has 3GB RAM that is freaking good for the kind of function it delivers. It can handle the best of tasks with the speed and performance it has. For the type of tablet it is, I am definitely with this purchase. It also has a 32GB internal room that makes it possible for all your content to be stored. It is also further expandable up to 400GB with a microSD card. Even though it has a good RAM capacity and decent storage space, this device cannot be a called as the megalith for your needs. It cannot process heavy duties but can afford basic games and functions.
Processor and OS
It has an octa-core processor clocked at a speed of 1.8GHz which gives you speeds and reading rates that favors you anywhere and everywhere. The Qualcomm SDA 450 processor, compared to other top-notch processors in the market, is considered good but not excellent. Qualcomm as a chip has power saving abilities and higher processor speeds that make an efficient processing chip for tablets. Also, the first-hand experience of using the tablet for the first time, the speed rates were excellent! I could not complain. It is not just good, but a better experience. It also runs on the platform of Android Oreo which is a better-updated Android platform which remarks itself as the better and sweeter Android version. The combination of Android O and Qualcomm processor will feed your entertainment needs better and stay in touch with more updates.
Design and Display
If it's a family tablet, the design and display of it are the judged the most. This amazing tablet is a simple yet elegantly built device that has curved edges to make the whole experience of holding the tablet a sweet one. With a 10.5" display screen, it has ample screen space to work on. Also, it has a 16:10 ratio which is a widely accepted visual aspect ratio that suits the visual experience in the best way possible. It was indeed an immersive experience with the FHD 1920 x 1080 it delivered.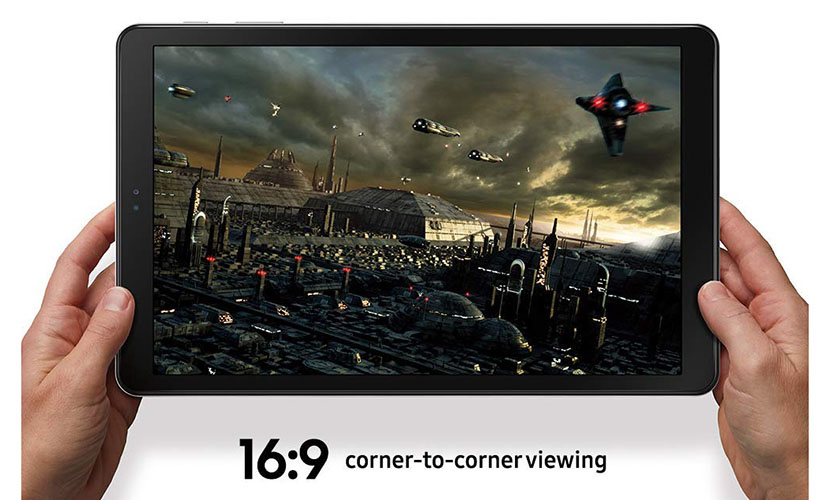 It gives you vivid colors and dynamic sound experience with its quad Dolby Atmos speakers complimenting the visuals. I was pleased with what I traded in for. If you have a fear of carrying it while watching your favorite cinema or tucking it into the backpack and also worried about the weight, then fear not. It just weighs 1.17 lbs, and that answers everything. It is light and portable to carry it around wherever you go. Also with Bixby vision 2.0, get ready to get an enhanced translation of objects into words or vision!
Battery and Entertainment Features
It often happens that when you have to leave for the family trip quickly, you often forget to put your devices to charge. This tablet ensures that worry is past! With Li-Ion 7300mAh battery, you get long-lasting battery along with quick charging that charges your tablet rapidly.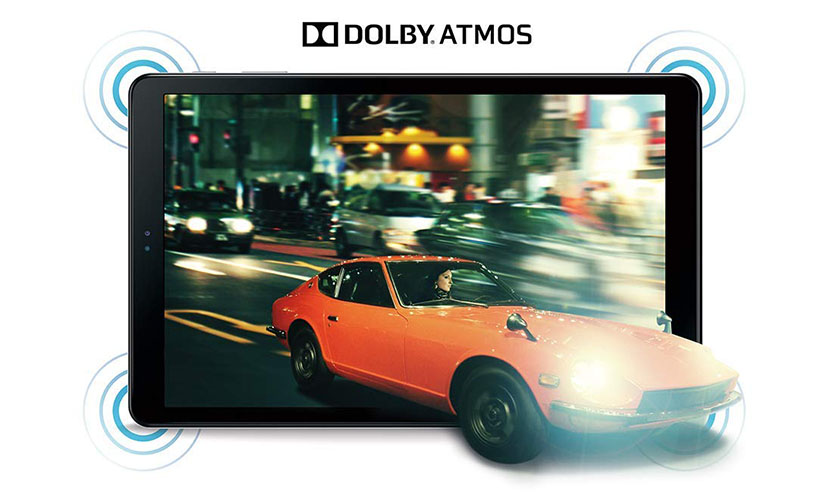 Upon full charge, it gives you 12 to 14 hours of video playback time. It is amazing how supportive this tablet is when it comes to kids entertainment too. It has Samsung Kids which has curated content especially for children that are readily available and can be updated without any in-app purchases. It also has Samsung Flow that gets you from one app to another app without hassle. You seamlessly switch between apps and functions leaving you with an edge of better functionality.
Connectivity, Camera and Ports
This tablet makes your experience a more enhance and versatile one as it has an 802.11a/b/g/n/ac 2.4+5GHz bandwidth that makes your network connectivity easier on the front. It has a direct WiFi feature with Bluetooth v4.2. For extensions and other devices to connect, it is fitted with USB Type-C (2.0), 3.5mm audio jack, microSD card slot and a charging point. The tablet does not stop your entertainment with stunning visuals. It also allows you to create them with 8.0MP front and 5MP rear camera producing natural clicks. It lets you click great selfies of your entire family, and with bigger screen and width, you can fit in all the members.
Final Verdict
The Samsung Galaxy Tab A 10.5" tablet gives you the most fantastic entertainment features that your family would love to have around. While being portable and efficient, it costs $329.99 that fits your pocket and is a bang for a buck!