When I was on the hunt for a perfect tablet that would blend right with my family, I came across Samsung Galaxy Tab A. It fit right into my needs and expectations without costing me heavy. After using this tablet for a while, I have concluded that this is the right device for anyone who is looking for help in hand.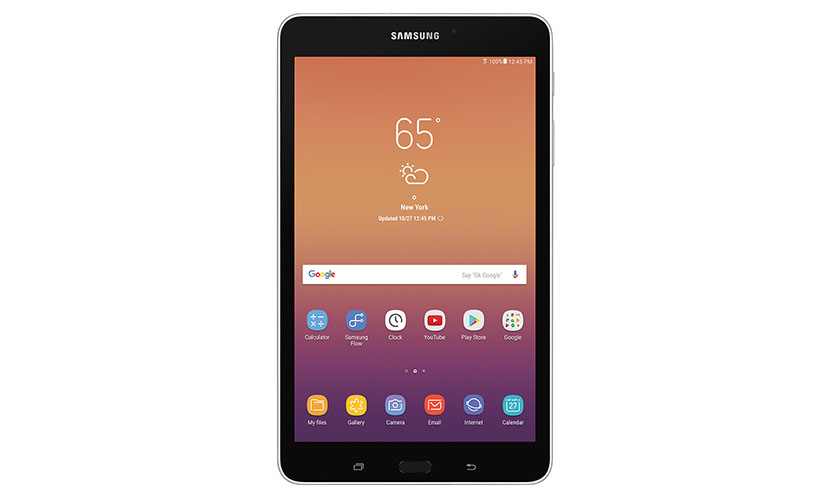 It helps you with daily tasks like creating documents, polishing/editing an image, or watch videos with HD clarity. It undoubtedly won over my fear as I was worried about the quality that this tablet would give me with such inexpensive costs. The features and specifications were pretty efficient too.
Features and Specifications
The Samsung Galaxy Tab A 8.0" offers an impressive widescreen space with HD display that is tripled with a long-lasting battery to give you a fantastic experience of usage. It leaves you with no doubt because it can efficiently take up any tantrum. With all these excellent features, the Galaxy Tab A can be your hero of the day. At least that's what I experienced!
RAM and Storage
This low cost yet high-end tablet gives you 2GB RAM with higher reading rates that can take your large files quickly. Traditionally 2GB flash memory has always been the standard and optimum RAM which is believed to support massive files, HD videos and even massive games. It gives speed that matches your expectations. Right from turning on the device to using various applications, it was quick and smooth in taking my requests. It was a surprise to me that this tab did not give me lags, taking into account the humongous amount of criticism Samsung devices receive. It also gave me a 32GB ROM head start, ideally giving me a huge room to store all my valuable data and movies. You can also expand the storage to freaking 400GB via microSD card. Mostly, if you have less room, there are often issues with syncing and updating your emails. But this problem did not pop up in this tablet.
Processing and OS
With fantastic storage and RAM, this tablet also gives you blazing fast processing with it's Qualcomm APQ8017 Quad-Core processor clocked at 1.4GHz. The Qualcomm processors are generally known for its battery efficient features and deliverance of unbelievable speed. It delivered what it promised.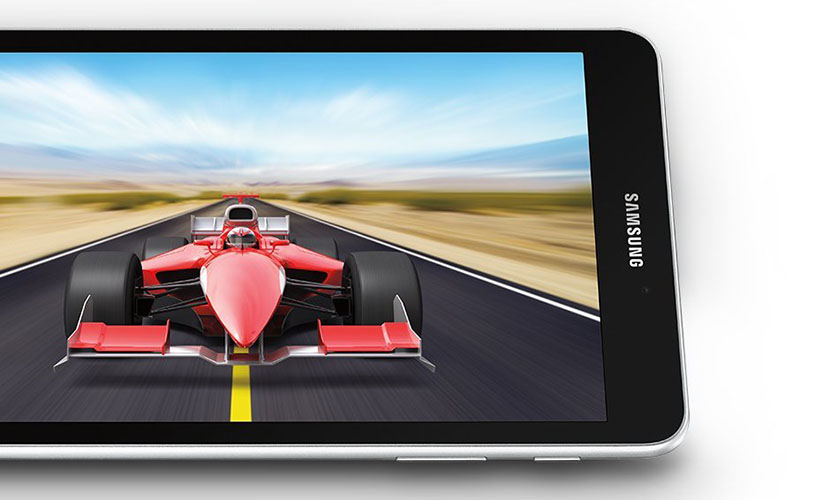 While installing heavy apps or games, the processing speeds were high, and it did not play pull and push with me. The efficiency of the processor that comes along with ample storage makes it so easy that, you will start entrusting this tablet with everyday use without any complaints. Things become easier also because it has the operating front of Android Nougat 7.1. Nougat has new and improved features giving a delightful user experience that only comes with this tablet that provides the foundation for it.
Design and Display
I must say, that this is not the best looking tablet in the market, considering the fact that it dresses the looks of a smartphone with a more significant body. I was definitely not that impressed with the design features, but on the other side, I was impressed with its dimensions and lightweight body. Its frame ranges to 8.35" x 4.89" x 0.35" inches giving a suitable look and feel to the whole tablet experience. Also, it weighs only 0.79 lbs (358g) which makes it light to hold.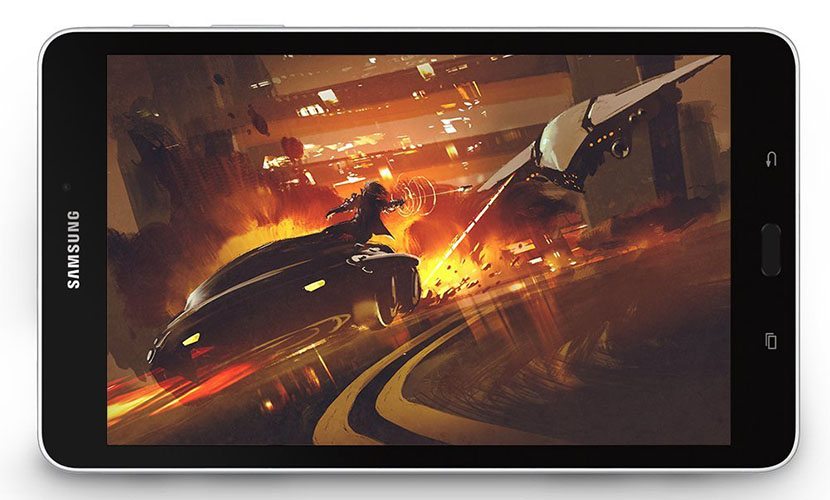 The tablet also comes with fantastic display features which give you amazing visual sense and experience right off the bat. You can easily make this tablet your personal TV because of the widescreen space that comes along with HD resolution (1200 x 800) and fantastic pixel quality that adds to color dynamics of the display. Holding the tablet while watching my favorite movies was perfect!
Battery and Audio
It is powered with a Li-Ion 5000mAh battery which has enormous power to give you hours of usage. It is undoubtedly the best battery life I have ever seen because it becomes a dynamic duo with energy efficient processor which supports it furthermore. The powerful battery gives you 153 hours of music playback, 14 hours of video playback, 15 hours of Internet browsing and 5-6 hours of continuous gaming. The battery life also depends on the network connectivity, for most of the devices, the energy drains out faster. It is not the case with this tablet. As it is ENERGY STAR Certified, it sips on minimum power. The audio aspect of the tablet is not excellent to talk about. While it does give you grainy noise on high levels of audio volume, it doesn't leave you without a decent sound quality. It won't provide you with grandeur and atmos sound, but it will give you decent volume provided you have suitable audio formats with high quality. Talking about the audio reminded me that the tablet has a special subscription offer of three months of Youtube Red for free! You can plug into good music and videos in it, and this tablet won't depress you in that department.
Camera and other supports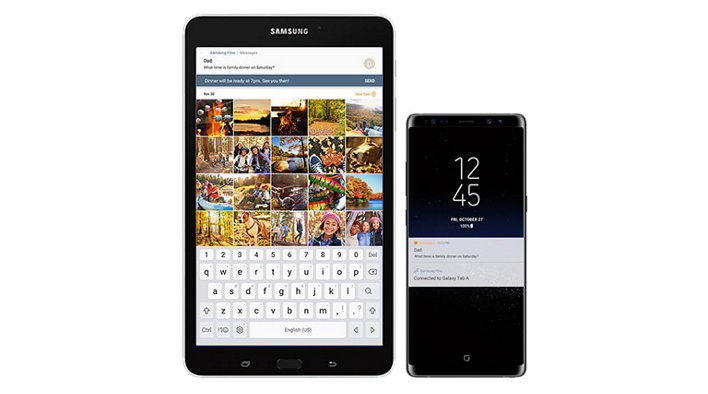 It has a brilliant 8MP autofocus featured a rear camera with a 4x digital zoom that captures high-quality images. It also has a 5MP front camera which has an F2.2 aperture which is not that suitable because you will have to focus on the subjects to get a sharp image manually. But anyway, nobody uses the front camera to get beautiful shots, it's always the rear camera. And it does the job pretty well. Other supports include Bluetooth v4.2, Direct Wi-Fi connection, and a USB Type-C port. I would refrain from calling it a very versatile device.
Final Verdict
With unique features like multi-user profiles and Kids-friendly mode, the Samsung Galaxy Tab A 8.0" is the best tablet for your family that suits individual as well as the family needs. It undoubtedly stands out in the market making it a very inexpensive yet efficient tablet!