Do you know in the 80s for painting or drawing, artists used paper and a wide range of brushes? But the real challenge was to erase errors that may occur in the art! However, when digitalization entered in 90s tools like Photoshop, Adobe Illustrator and Autodesk on computers were introduced to make the lives of artists pretty easier. These tools did a tremendous job for artists, abolishing the need for brushes and paper, making them stress-free whenever they want to erase any error in the art. But we all know that when it comes to digital painting accuracy is crucial, so mouse and keyboards were somewhere not serving with that accuracy and efficiency. So top brands like WACOM, HUION, Parblo, and UGEE– all introduced graphics drawing tablet!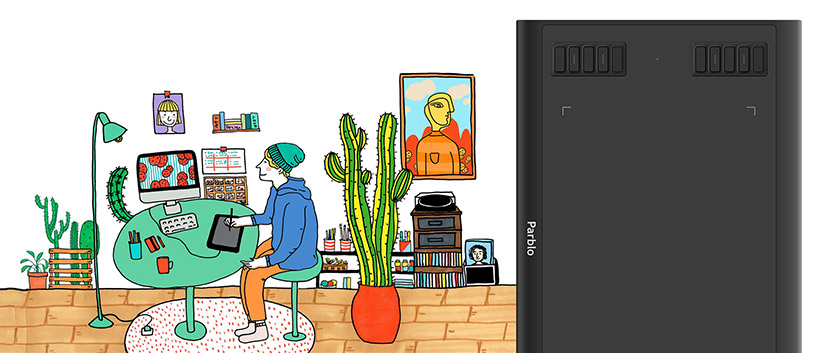 Parblo, however, entered the market later, in the year 2015 but became number one choice among beginners as Parblo mainly focused more on the budget factor of the tablet without compromising on the features. And you can witness the same in its newly launched Parblo A610 Plus, which has been capturing the market at a faster pace.
Design and display
Well, Parblo has really worked hard on the designing part of A610 Plus. The huge display of 10.6 inches allows artists to showcase their talent without any glitches. More so, the back of the tablet has been designed with the help of fashion black cloth, which makes this piece look more eye-catchy and scratch-resist. It gives you a better hold over the tablet as the fabric is quite smooth on the surface and the edges are curvy. The tablet weighs only 3lbs which makes this tablet more handy and comfortable, whereas WACOMs Intuos Pro weighs the same, in the similar price range.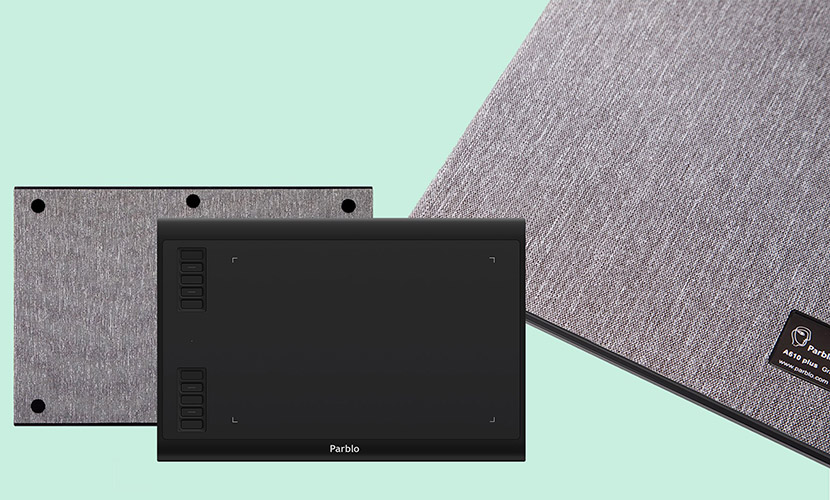 But the accuracy and sensitivity of drawing that Parblo A610 Plus offers is something incomparable to any gadget in the same price range. On the other hand, the display has ten customizable key that enables you to be more creative without any keyboard or mouse. These keys can become your navigator, mouse, in just a few seconds. You can modify your art with the help of these keys.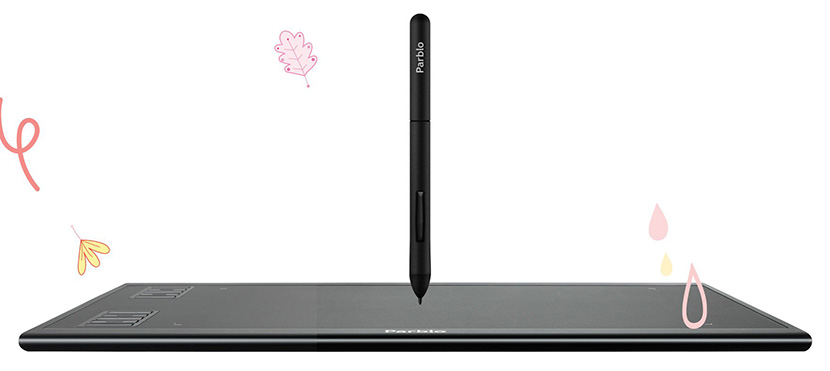 If you find that still, your accuracy is missing by using keys; Parblo A610 Plus has introduced a powerful pen. You'll be surprised with this smartpen as it offers 8192 pressure level that gives you natural writing and sketching abilities with high accuracy and efficiency. Your paintings or designs will reflect like you've used a brush.  The report rate 266 RPS helps you draw lines more perfectly with a resolution of 5080 LPI, pen in Parblo A610 Plus can do wonders for you! The pen is equipped with two spectacular keys that help you maintain your work with better efficiency.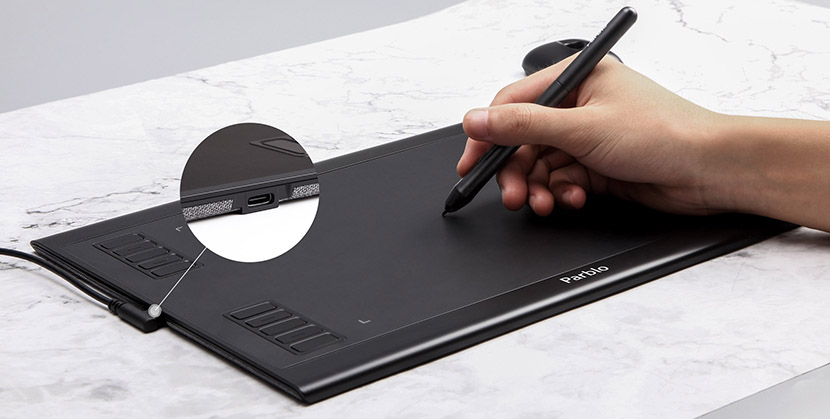 Parblo A610 Plus also offers one-of-a-kind USB Type-C that enables you to charge your tablet quickly and transmit data from your system to another without any hassle.  Now you can seamlessly transfer data and connect your device with other, which also allows you to stay connected to any device.
Compatibility and battery life
Parblo A610 Plus can be your ideal choice because it is highly compatible with the most popular operating system right from Windows XP, 7,8, etc., or Mac OS 10.8 and above. This means you can seamlessly draw your art or design anything you want and share it anywhere. The compatibility feature in the offered budget makes this tablet stand apart from the market. More so, the battery backup of the tablet is outstanding as it can work with you for a whole day without stressing you much. Use it the way you want and take it where ever you want to explore the world with your art.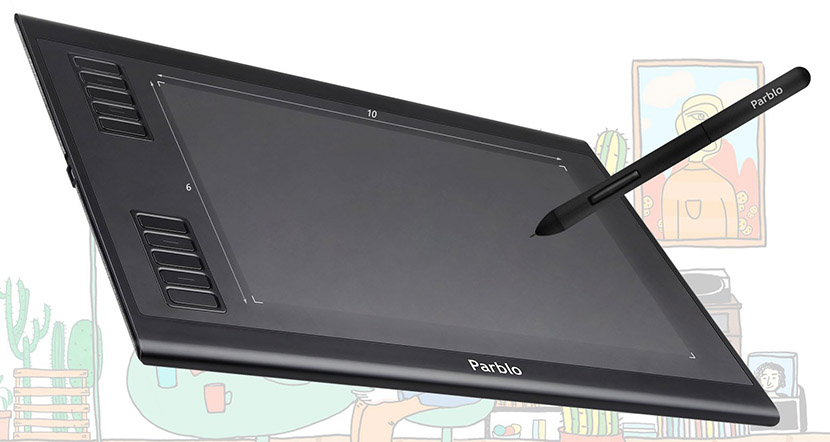 Again it makes your artistry world the way dreamt of, Parblo A610 Plus provides you with top drawing and designing software like Paint Tool Sai, Adobe Photoshop, Illustrator CC, Maya, Magna Studio, 3D Max, Autodesk Sketchbook, etc., so that you can add more spark to your creativity.
Now let's see what's inside the box, well, besides tablet and smartpen, you'll be getting tips holder that includes 8x tip and a tool for removal, one two-finger glove so that you could keep your tablet clean without worrying much. You will also get a cleaning cloth as Parblo understands a clear screen help artists to stay motivated and even a quick guide so that you don't get into turmoil while using the tablet or installing apps. You will also get USB Type-C to charge your tablet!
Well, according to reviews the installation process in the tablet might hurt you as the guidance is written in poor English and if you have to contact the customer center for the same. But if you don't have much technical expertise, then it will be inevitably painful for you.
Final Words
Well, Parblo A610 Plus has done a tremendous job with regards to its physical appearance, but somewhere it lacks in technical terms. However, if you are a beginner, you'll surely prefer a low budget drawing tablet to learn and hone your skills, for which, I would highly recommend Parblo A610 Plus. This tablet is the cheapest tablet of all, which offer so much to people that will absolutely stun you! Furthermore, Parblo A610 Plus has provided a beautiful pen that allows you to draw things seamlessly and naturally, making your artwork unique.
If you are a beginner and looking for a tablet that suits your pocket as well as gives you the kind of appearance you are hunting for so long, then Parblo A610 Plus worth your money. Parblo A610 Plus will indeed win your heart as it is capturing the market increasingly. You can check the reviews online, Parblo A610 Plus drawing tablet is receiving so much appreciation from people who are already using it.