Nokia's mid-range feature phones are popular for superb software specifications. And now it is adding military grade ruggedness to its new smartphone XR20. The smartphone is likely to be available for purchase in late August this year.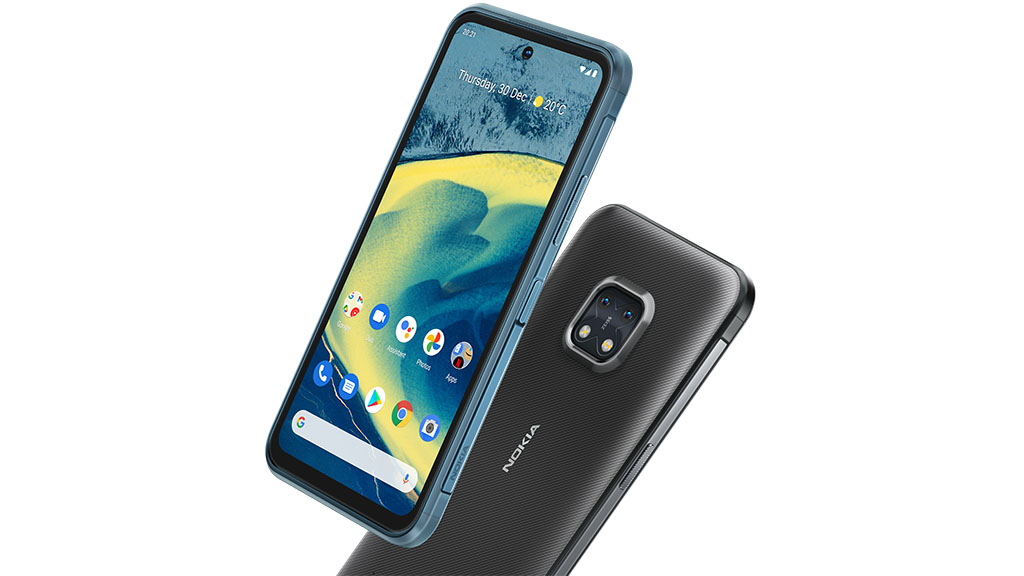 The non-rugged variant of this smartphone is X20 for people who are sure they won't ever spill anything on their phones. Well, the XR20 falls in an affordable smartphones range. Also, the ruggedness it offers doesn't compromise with its aesthetics so you can choose the XR20 over X20 without any doubt.
The dimensions of the Nokia XR20 are 171.64 mm x 81.5 mm x 10.64 mm. And it weighs 248grams. Which is pretty much okay considering it's a rugged device. Nokia claims the smartphone to be environment-friendly as it is meant to last longer.
The smartphone comes with a rugged military grade MIL-STD-810H sleek case for protection against shocks, drops, and other impacts. Moreover, Nokia is offering the toughest screen available, Corning Gorilla Glass Victus in XR20 to protect the screen against any sort of wear, tear, and drops.
The screen ruggedness is important when you're using the phone for shooting videos of adventure activities or operating it in extreme weather conditions. The screen is sensitive enough to be operated with wet hands and gloves on.
Nokia XR20 gets IP68 rating certification for water resistance in 4.9 feet of water for about an hour. You can wash your phone with soap and water when needed without any hesitation. It will be able to operate in 131° F (55° C) to -7.6° F (-22° C) temperature range. Its ruggedness offers protection against drops from up to 5.9 feet. It comes with two years of extended warranty in the US.
XR20 has 5G connectivity and offers dual SIM support. It will run on Android 11 but Nokia is offering 3 years of warranty and operating system update. The release of Android 12 is near, so you'll soon be able to run it on Android 12 after you get the phone. In addition to that, the device will come with 4 years of security updates for protection against cyber attacks.
It has a Qualcomm Snapdragon 480 5G processor along with 4 GB/6 GB RAM. Had there been a better processor, this smartphone could be one of the fastest and best performing devices. It has 128 GB internal storage which can be extended with a memory card up to 512 GB.
Nokia XR20 features a 4630 mAh battery with quick charging. It's surprising that the phone will also feature Qi wireless charging. It offers 18W fast wired charging and 15W wireless charging. All in all, the battery is not exceptionally well but will be long lasting.
The smartphone comes with a rear camera with SpeedWarp mode. The primary rear cam has a 48 MP sensor and the ultra-wide rear cam has a 13 MP sensor with two LED flashlights. The front cam is a punch hole camera positioned on the center of the top width. The speedWarp feature offers the stabilization you need while clicking photos and shooting videos. And it lets you fast forward your captures to the key moments.
Nokia XR20 comes in two different colors: Ultra Blue and Granite. It has a display size of 6.67 inch with Full HD resolution. With other connectivity features and ruggedness, Nokia XR20 will be a good mid-range affordable device.