Traditionally, it was laptops and desktops which have always been at each other's neck, but unlike the late fever, it's the New Microsoft Surface Go and iPad 9.7 running for the baton. Fighting laptops and smartphones, their biggest rivals, it would be unintelligent of me to claim a tablet cannot provide what a laptop can.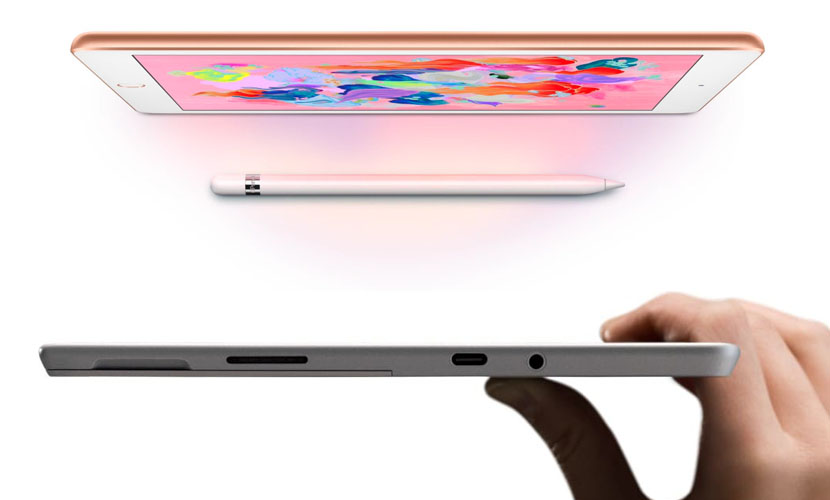 While some part of it is true, a tablet is as good as working on a laptop. Well, cluing in for some features, both of the devices have got me wondering what's the best for you! They have their class, they're suave, their strength. But are you here for both of them? Or to embrace the better and ultimate machine which is the best for you and your pocket? Let's dive in!
Processor and OS
The New Surface Go from Microsoft has an Intel Pentium Gold Processor 4415Y which gives you optimum speed for your quick and daily needs. Apart from being an ultra-low voltage processor, it is hyper threaded and clocked at a speed of 2.3GHz. It's also equipped with HD Graphics 610 GPU and a dual-channel DDR4-2133/DDR3L-1600 memory controller. It has Windows 10 with S mode.
The iPad 9.7 has A10 Fusion chip which makes it much stronger than the above. Apple has geared the same chip processor in iPhone 6 which gave it 2x faster speeds. It is integrated with 64-bit architecture Embedded M10 Processor which gets you the best of motion captures and read. Another prerequisite that you get here is two hours of extended battery life because of its two energy efficient cores among the four cores. It runs on iOS 11.3 which can be further upgraded to iOS 11.4.1.
RAM and Storage
The Surface Go has 8 GB RAM. For a tablet, 8 GB RAM proves to be a bonanza, for it gives you ultimate performance and multitasking. It is also equipped with 128 GB SSD and for a tablet, it's huge enough to store multimedia without any hassle. The lower end of this tablet is also available with 64 GB eMMC drive.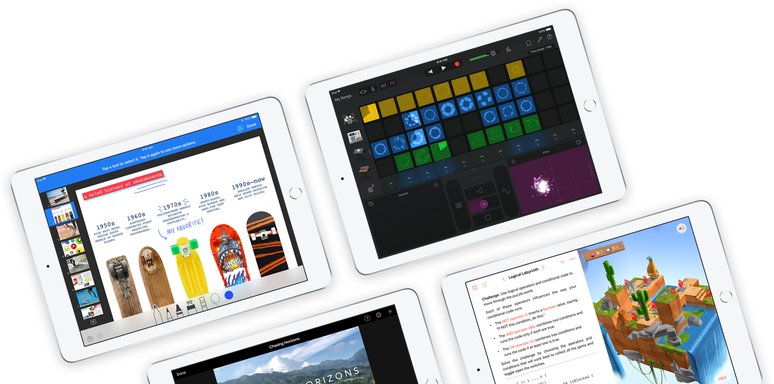 On the other hand, Apple's 9.7 inch iPad comes with 2 GB RAM. It is far less than what Surface Go offers and this is a bummer for Apple. (Even lesser RAM in Apple devices perform efficiently because of factors like Automatic Reference Counting, Better UI rendering, single point manufacturing of hardware, Killing unwanted background processes in iOS). It offers 128 GB storage which is a WOW for Apple. Usually, they have always been in the front of low storage. But in competition with Microsoft, they have rung the bell higher. The lower end of this tablet comes with 32 GB RAM.
Battery and Camera
Surface Pro gives you a maximum of 9 hours of surfing and video playback on a full charge while connected to a Wifi network. It has an 8 MP rear-facing autofocus camera offering 1080p HD video. It also has 5 MP front-facing camera giving 1080p HD skype video quality.
Battery wise, the iPad 9.7 gives you a brilliant 10 hours of long-lasting charge while connected to a Wifi network. Camera in this tablet offers much more clarity and features than Surface Pro. It comes with a brilliant 8 MP front-facing camera with autofocus, Live photos, and delivers up to 43 megapixels in Panorama. The video capturing has the famous Slo-mo (120 fps) feature along with 1080p HD video recording and Time-lapse video with video/image stabilization.
Display and Design
With 10 inches PixelSense Display and 1800 x 1200 resolution (217 PPI), Surface Go was appreciated for its capacitive touch with technology that took its display forward. It has an ample screen space to work with and 3:2 aspect ratio comes as a blessing as it gives 100% view of images or videos in landscape mode. It is also 10-point multi-touch with a coating of Corning Gorilla Glass 3. With dimensions of 245 x 175 x 8.30 mm, the weight of this model starts at 1.12 lbs (522g) and changes according to the model.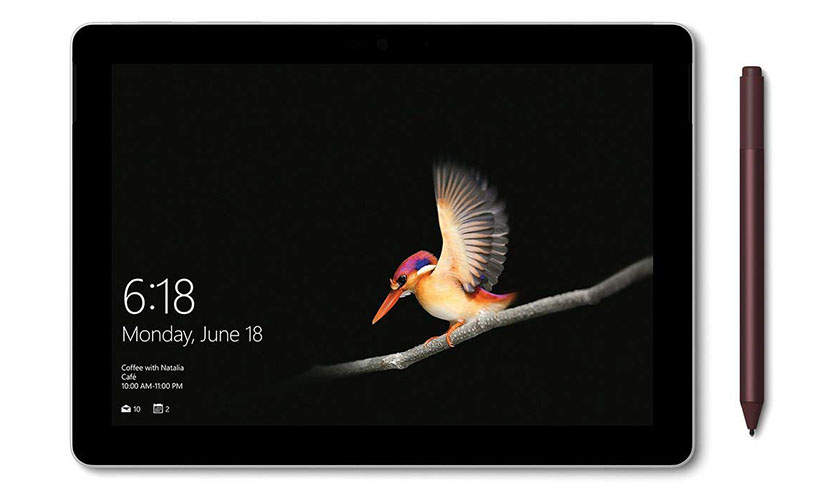 The iPad 9.7 comes with a slightly lower size of 9.7-inch Retina display (diagonal) but higher resolution of 2048 x 1536 (264 PPI). It is also coated with Fingerprint-resistant oleophobic coating that guard against fingerprint patches on the screen. Talking about the pixel density, it's slightly higher, giving you sharper content than Surface Go. But on the whole, the 3:2 aspect ratio of Surface Go beats 4:3 ratio. The dimensions are 240 x 169.5 x 7.5 mm thinner than Surface Pro, and it comes in 1.03 pounds (469 g) and 1.05 pounds (478g), depending on the model.
Ports, connectors, sensors and speaker
Surface Go is outfitted with many ports which makes it more versatile and compatible. It has 1 USB-C, 3.5 mm headphone jack, 1 surface connect port, microSDXC card reader, and Surface Type cover port. Also the Ambient light sensor, Accelerometer, Gyroscope, and Magnetometer shine through the features, making Surface Go a smart tablet. It also has 2W speakers with Dolby Audio Premium which gives an excellent and crisp sound quality.
iPad 9.7 inch has 1 USB 2.0 port, a lightning connector, 3.5mm headphone jack, Nano-SIM tray. It is dressed with a Touch ID, Three-axis gyro, Accelerometer, Barometer, and an Ambient light sensor. It has an improved and much more bassier two-speaker.
Surface Go will cost you $549, and the lower end of the tablet is also available for $399.
iPad 9.7 models start at $349 which stretches up to $449 for higher specs.
Verdict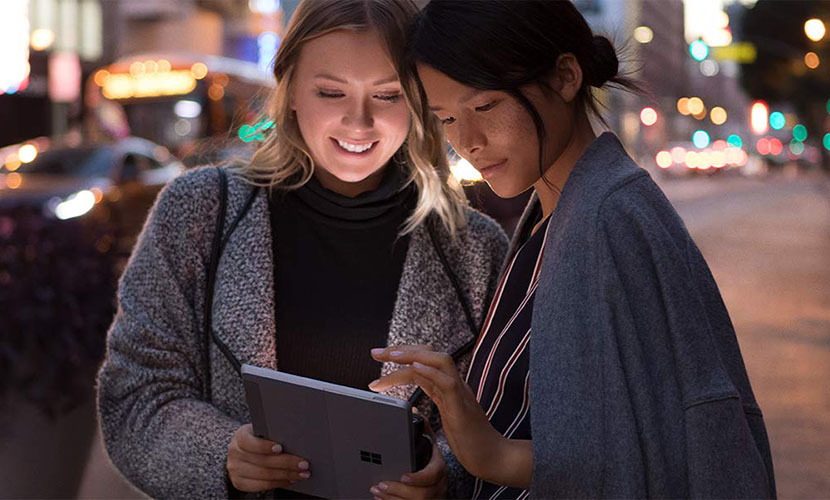 Both the devices are brilliant in performance, design and other features wise. But, people choose the latest one i.e. Microsoft Surface Go and yes, it's on heat these days. After-all, it all depends on how much you want to shell out and the needs you have. Compare and buy a tablet today.