Lenovo lives up to its name The King of Productivity in every possible way with its latest computing device ThinkPad X1 Fold. With Lenovo's newest tablet, we get to witness a major shift in the personal computing space. Folding tablets of this dynamic are equipped with all modern and hybrid features to allow users to unleash their creativity and transform their workflow.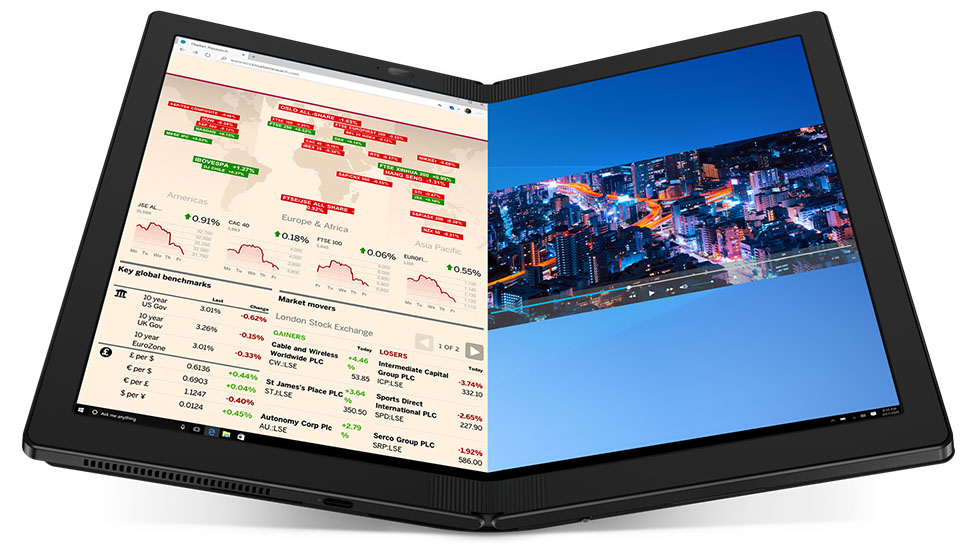 Developing world-changing technologies is the central vision set by Lenovo, and with ThinkPad X1 Fold, it is going to be a reality. The 13.3" OLED screen is something we have seen before, and the pressing issue at hand is the reliability of the folding tablet.
Lenovo has gone iteration after iteration to perfect the interlocking of two carbon fiber plates. Beneath these plates lie about eleven layers, out of which five help in the screen functionality. The rest ensure to live up to claims made by Lenovo concerning MIL-SPEC-level durability.
ThinkPad X1 Fold is a tricky machine to put together, and Lenovo managed to integrate one of the world's best processors into the thinnest folding tablet. The Intel 11th Gen Tiger Lake CPUs perfectly fit mode-switching software, and it enables the user to faster office productivity and content creation. That also includes streaming services. Adding to the insanely fast processors, Lenovo affixed additional X1 Nano features that complement the Windows 10X system.
Multi-tasking and high-level productivity are some functions that always pop up when Lenovo launches a new Tablet. With ThinkPad X1 Fold, it's a little bit different. By embedding two USB-C ports and a SIM-card slot, Lenovo gives user tiered connectivity. It also encourages 5G to stay ahead in the telecommunication systems. To prevent interruptions and lag issues, Lenovo upgraded its RAM to 8GB, and they have given up to 1TB storage to retain digital data.
Foldable designs always result in battery issues, but Lenovo has somehow cracked the code to extend battery life up to 11 hours. ThinkPad X1 Fold has undergone many endurance tests to reach its max potential, and the results were shocking to many experts. This particular folding tablet weighs less than 2.2 pounds, but it's able to generate such numbers with only a 65W battery cell.
ThinkPad X1 Fold is a highly competent display screen that prepares a truly immersive user experience. The 2K display combines with Dolby Vision and Dolby Atmos, so one should get ready to view some stunning visuals and enrich the audio features. The Dolby system is paired with four 360-degree microphones to drive new levels of surround sound. This sort of entertainment dynamic enables future-ready connectivity.
Lenovo has paved their path to innovation with a mix of portability and versatility, but they never forgot about the user's safety. ThinkPad X1 Fold ensures the security of user's data by deploying several ThinkShield features such as Biometric, voice recognition, and AI helps in human presence detection. To prevent unauthorized logins, X1 Nano implemented a device lock and Chip Fingerprint Reader.
Folding screens of this size usually don't work on standard tablet interfaces, so Lenovo inculcated countless Fold in configurations to align the user functions correctly. It also provides an indicator tray to tell the mode of software it is presently on. Adding to this, X1 Fold has a unique landscape orientation and split-screen functionality to enable the on-screen keyboard to come down to the lower portion of the display.