A Chinese American multinational company, Lenovo, is working on a new tablet computer with the codename TB125FU. The tablet with 'Portable Tablet Computer' product name has just appeared on the Wi-Fi's website. This means that Lenovo TB125FU could hit the shelves of electronic stores soon.
We don't have the detailed specifications for this tablet. However, some tech experts have confirmed that Lenovo TB125FU is Lenovo Tab M10 Plus 3rd generation. The 2nd gen Tab M10 Plus was launched in March 2020. That said, Lenovo TB125FU will be a good upgrade for people using M10 Plus.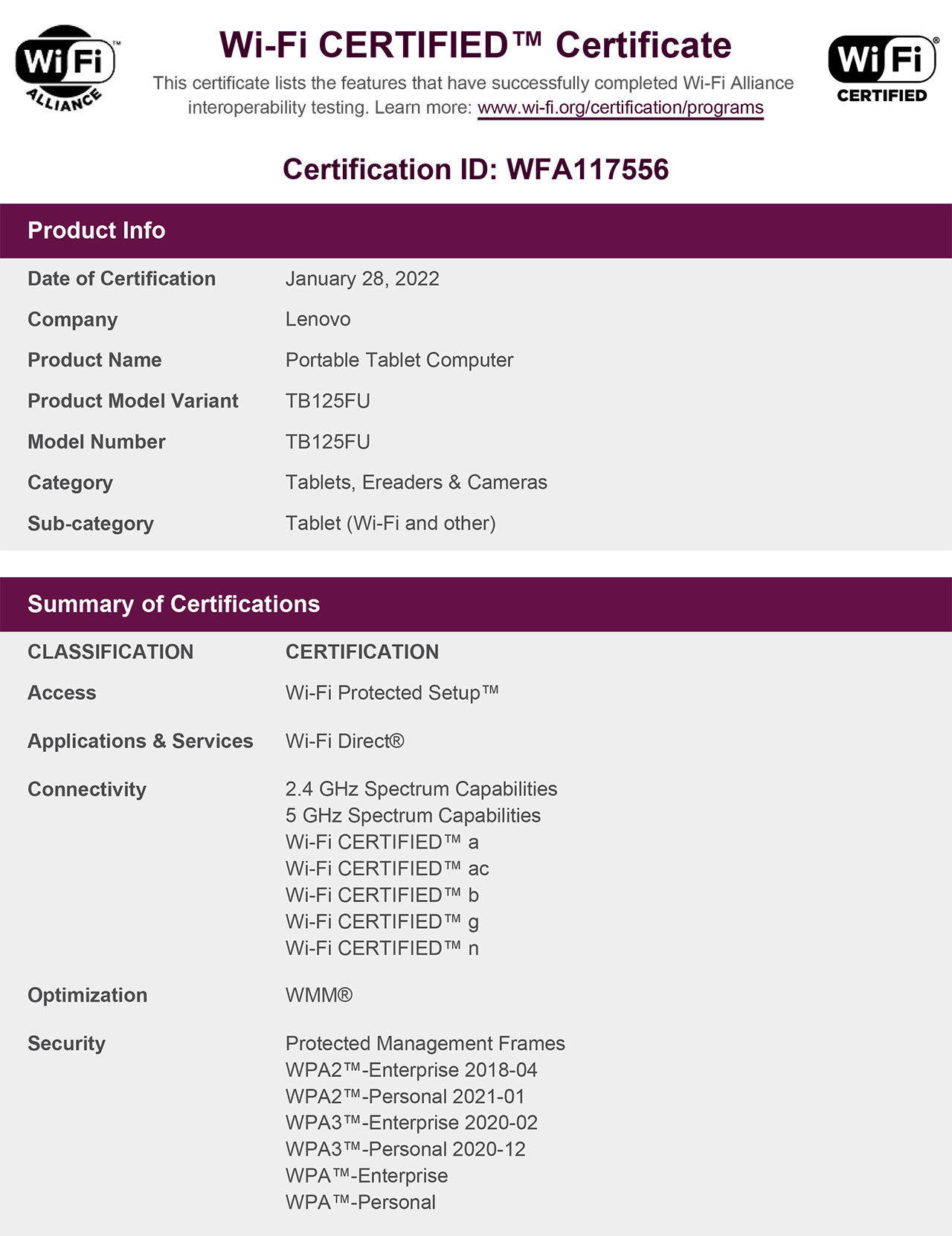 The tablet received Wi-Fi certification on 28th January 2022 with the Certification ID WFA117556. The document reveals that Lenovo TB125FU falls under the 'Tablets, Ereaders & Cameras' category and the 'Tablet (Wi-Fi and other)' sub-category. Lenovo TB125FU equips 2.4 GHz and 5 GHz spectrum bands.
If the tablet comes out to be the Lenovo Tab M10 Plus 3rd gen as some experts have speculated, we can expect an Android 12 operating system with 6 GB/8GB RAM. The 2nd gen tablet was offering just 4 GB of RAM.
The previous gen tab comes with Mediatek MT6762 Helio P22T SoC. We can expect a better processor this time. Maybe a Qualcomm Snapdragon CPU and GPU. The tablet is categorized as an eReader as well. That said, we can expect a better display that's easy on eyes.
The 2nd gen Tab M10 Plus came with an IPS LCD screen. We are speculating that the 3rd generation Tab M10 Plus will feature an AMOLED screen with a better refresh rate, resolution, and brightness.
We will keep you updated with leaks and more information on Lenovo TB125FU. Stay tuned!