Having years of experience designing and developing interfaces for mobile and desktop applications, websites and more, Alexander Käßner has most recently come up with a rather intriguing concept for the main menu of the iPadOS.
Apple has constantly evolved over the years and presented cutting-edge technology to its users – with features such as Split View and Slide Over that were both introduced with iOS 9 – to enable smooth functioning of multiple apps at the same time.
Now, more recently, UI/UX designer Alexander has brought a new concept that's bound to make navigating on the iPad a lot easier. With this concept, Alexander aims to promote professional apps by making them far more accessible and easy to use.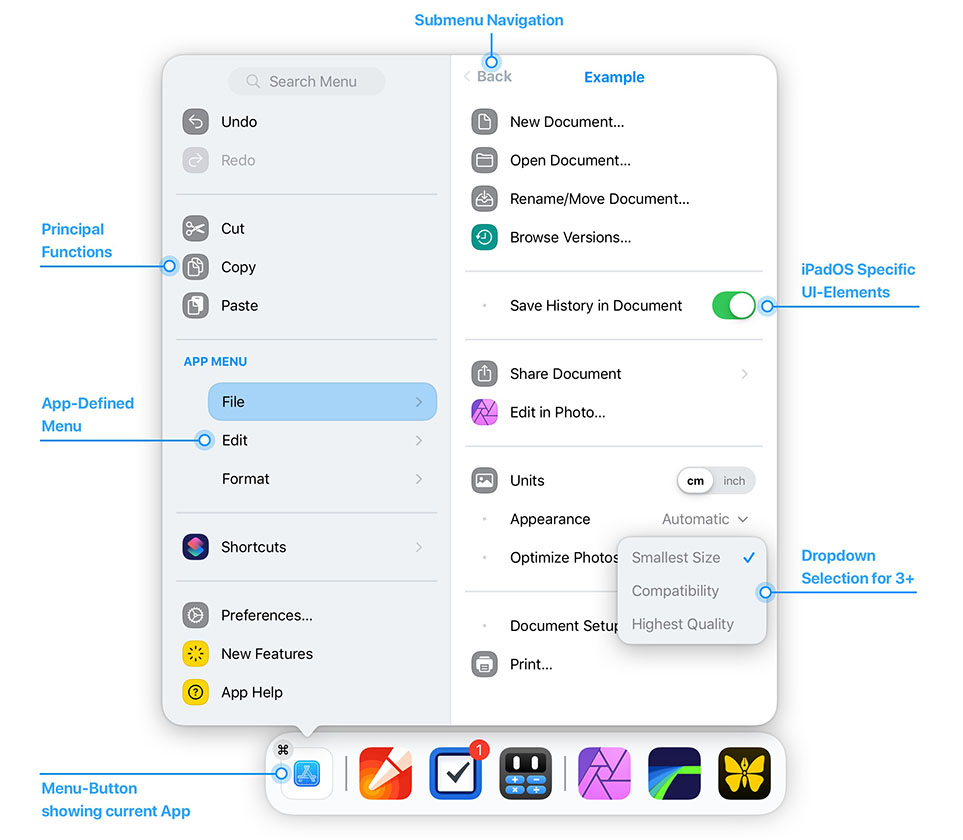 This new main menu concept brings a Mac experience to the iPad, which has the advantages of a written menu but with an interface designed keeping the touch device in mind.
The concept ensures that navigation and consistency are not compromised in the OS, by providing an efficient way to discover all the features of an app. The menu will always be accessible on the dock and will have the same layout, no matter which view you have in front of you.
The main menu is as transparent as it can get with all features of the app structured and grouped in front of you, using self-explanatory UI elements. The concept has the iPad main menu located a layer above the existing interface. This way, app developers are free to include more functions without creating multiple corresponding buttons for each.
Now, coming to how you can actually access the main menu, the iPad's dock will have a dedicated button for it, which will be located at the far bottom-left of the screen – much like your windows PC main menu. For the iPad Pro, this main menu is also accessible via a quick three-finger tap anywhere on the screen. If you're using Split View or Slide Over, the location where you tap will determine which app's menu will pop up.
Coming to the layout, we can't help but compare it to the windows PC wherein you would click on Start and then move your cursor to a particular menu, which would then open up several more menus in that category while still retaining the previous path you took – sort of like a systematic flow chart tracing all your steps. The main menu of the iPadOS will also have a two-column layout, which allows it to have a smaller footprint at first sight.
At first, the menu will open a compact view of options on the left column, and as you pick the one you're looking for, it will open up another column to its right. Common actions for every app are located on the left side column whereas once you select a specific menu, the right side reveals contents of each corresponding app menu. This lets you quickly scan every available app menu at one go, without wasting time.
Often, app interfaces face a problem of heavy use of icons and to combat this issue, the new main menu concept offers labeled icons that are not only easier to understand but also help look for further icons. The main menu icons also familiarize users with each app's native icons. The iPad main menu can do so by introducing a color system to categorize certain icons by feature.
This menu is also completely compatible with external keyboards and you can navigate with ease without lifting a finger. Once an external keyboard is connected, each menu action will display a unique keyboard shortcut pertaining to the app in use.
Currently, the keyboard buttons configuration placed next to text suggestions is inconsistent and could even be confusing. Each app can customize these buttons, leading to constantly changing layouts. The new standardized set of common actions on the left column of the main menu solves this problem. It also ensures easy and consistent access to the most important and common features.
Users will directly be able to view a mini version of the format menu on apps that support text formatting. This way, you can quickly navigate between common text attributes such as underlining, alignment etc.
Related:
The new concept of the main menu changes the whole landscape of the iPadOS and promises a more effective navigation system. Moreover, even apps that aren't auto updated will appear on the menu. The main menu supports common daily functions such as cut/copy/paste and will also show shortcut actions inside the menu.
Interface-wise, it will solve a lot of problems that OS currently faces, however technical aspects will need to be thoroughly inspected before rolling out the feature, as it will change the way users work on the iPad.