There are tons of drawing tablets out there to suit the requirements of budding artists, graphic designers and illustrators. But, what's unique about Huion's newly launched Kamvas Studio 22 is that it not only serves as your regular drawing tablet but also packs in the power of a PC.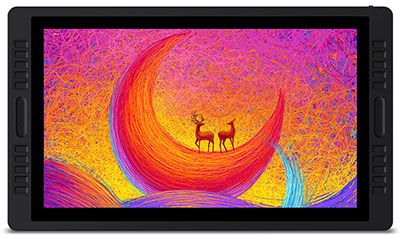 So, if you're used to working on a desktop computer, it ensures a seamless transition to this highly portable device and offers the same capabilities (if not more) to boost efficiency and productivity. The Kamvas Studio 22 makes working on the go a whole lot easier with its class apart features and specs.
Huion Kamvas Studio 22: Overview
All in all, the Huion Kamvas Studio 22 is a great device for multiple functions. Its capability of switching between a pen display for work and computer for play helps users strike the right balance. The installation of dual drives in the system not only ensures a high operational speed but also provide ample storage for files in varying sizes. It has ten interfaces on the rear including USB, VGA, HDMI and network interface to support all kinds of connections for various purposes and functions.
Huion Kamvas Studio 22: Specs
The Kamvas Studio 22 is an all-in-one device that's ideal for travelers and home-bound individuals alike. With its sleek exterior and compact design, the machine offers the flexibility and portability of a standalone drawing tablet as well as the super-fast processing speed of a PC. It's essentially a pen display integrated with a computer system.
Huion Kamvas Studio 22 Specs
Processor
8th Gen. Intel Core i5-8400
RAM
8GB or 16GB
Storage
1TB HDD + 120GB/240GB SSD
Display
21.5" 1920x1080 250cd/m²
Fully Laminated
Working Area
476.64 x 268.11 mm
Response Time
8ms
Pen
PW500 Battery-free
8192levels | 5080LPI | 266PPS
OS
Windows 10 Pro
Price
Starting at $1195 | Buy at Huion Store
It has a 266 PPS (points per second) which basically indicates the number of times the device notifies the computer per second where your hand or pen touches the screen. For a drawing tablet, visuals and colors are of utmost importance and the Kamvas Studio 22 provides a 120% sRGB color gamut, which boasts of 16.7 million colors.

The device pen (PW500) has tilt support technology (with a range lying between -60 degrees to +60 degrees) and comes with 8192 levels of pressure sensitivity to explore your potential to the maximum possible limit. You can have several tabs open and use multiple apps at once because the device runs on Intel Core i5-8400 Processor, which ensures smooth functioning of software such as PS, AI and Pr.
When you're working on large files, you don't have to worry about storage because the Kamvas Studio 22 carries a 1TB HDD and additionally offers a capacity of 120 GB/240GB storage space. The SSD also ensures large storage capacity. The device comes in 8GB and 16GB of RAM. So, you can rest assured that your files will be secure.
Huion Kamvas Studio 22: Features
Coming to the features of Kamvas Studio 22, the device has tons to offer especially since it combines the power of a PC and the flexibility of a standalone drawing tablet. The 21.5-inch IPS monitor has a resolution of 1920×1080 pixels and offers a viewing angle of 170 degrees, which presents every minute detail on screen with precision, when viewed from different directions. The colors it offers are bound to make your creative pop and have an exceptional visual effect on screen.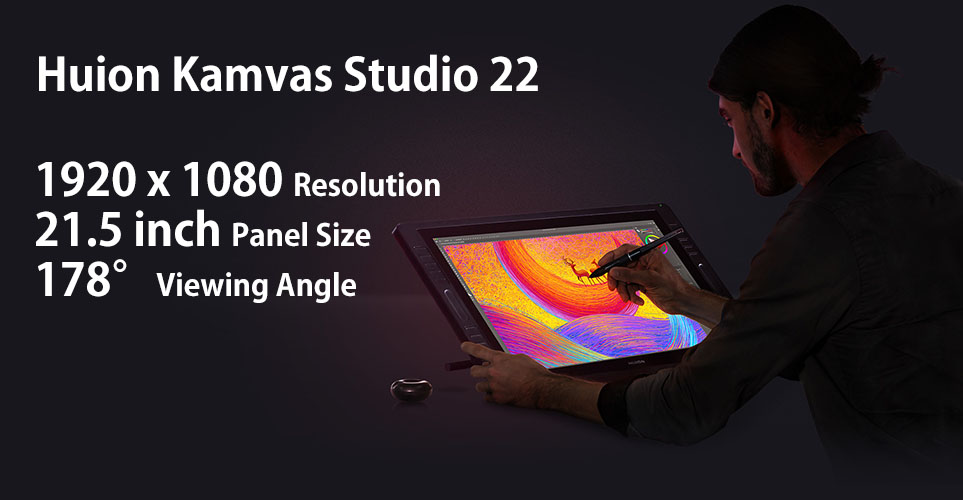 The device comes with a full laminated screen to reduce parallax that occurs to the cursor and etched anti-glare glass to give users a paper like drawing experience. The digital pen (PW500) that comes with the Kamvas Studio 22 is battery-free and can accurately draw lines with varying widths based on the pressure applied – the 8192 levels of pressure sensitivity provides a wide range of options.
Its in-built tilt recognition technology gives you an enhanced brush effect as well as smooth color transition to make the experience a whole lot authentic.
The Kamvas Studio 22 is available in two storage variants – the 8GB RAM with 120GB SSD plus 1TB HDD and the 16GB RAM with 240GB SSD plus 1TB HDD. Depending on the space requirements, you can pick the one most suitable for your work.

When working on heavy files and running multiple programs simultaneously, every system tends to get heated up but the Kamvas Studio 22 has a solution to that. It comes with a strong internal ventilation system, which is designed specifically to cool down the processor and ensure stable performance without causing any disturbance to the device.
The Kamvas Studio 22 also has high performance inbuilt speakers with 3D audio effect to give users an all-immersive experience. Another great feature is that the device has programmable press keys and touch bars on either side of the panel to support both left-handed as well as right-handed users and is extremely convenient to use.
It also has an adjustable stand at the rear (ST100) that offers support and balances the device. You can pick the angle you're most comfortable working on – anywhere between 20 degrees and 80 degrees. All you need to do is pull the slider bar on the stand and release it to fix your preferred angle choice.