For those of you who are always on the go, Huion's new multipurpose device is about to make your business trips a whole lot easier. With its compact design that makes it highly portable, The Kamvas Studio 22 also has a highly performance screen similar to the Huion Kamvas series pen display.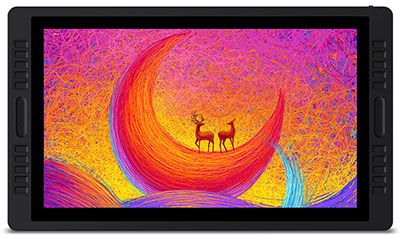 It has advanced computing capabilities and uses a lightening speed 6C/6T processor. Basically, with Intel core i5-8400 processor and 8GB/16GB of RAM, the device can process multiple tasks simultaneously, without slowing down the system.
Its complete lamination technology gives you a paper-like drawing experience, and its 21.5-inch full HD IPS display comes with anti-glare glass etched to the surface of the screen.
The Kamvas Studio 22 is packed with a dual-channel memory of 1TB HDD and 120GB/240GB SSD that offers ample storage space. The tablet also features an impressive 120% sRGB wide-gamut for stunning visual representations. It's also super convenient for both left-handed as well as right-handed users since it has a dual-touch bar and 20 programmable press keys that are symmetrically places on both sides of the panel.
The battery-free pen that comes along with the device – PW500 – is equipped with tilt recognition technology and 8192 levels of pressure sensitivity, which completely avoids lags and minimizes technical glitches.
Huion Kamvas Studio 22 also has ten different interfaces at the back to support your gaming requirements. When you're multi-tasking and running several programs at once, your system tends to get heated really quickly but the Kamvas Studio 22 comes prepared. It has a special cooling system that prevents your processor from heating up, giving you an all-round stable performance at work.
Available at Official Huion Online Store
To give you a PC-like experience, the tablet has an adjustable stand – ST100 – attached at its rear end that can be fixed at any angle between 20 degrees and 80 degrees. All you need to do is pull the slider on it when you wish to use it. The device also comes with a wireless keyboard and mouse, which can be connected via a wireless USB receiver offering a range up to ten meters. The keyboard functions with a special scissor-switch feature to help improve typing precision.