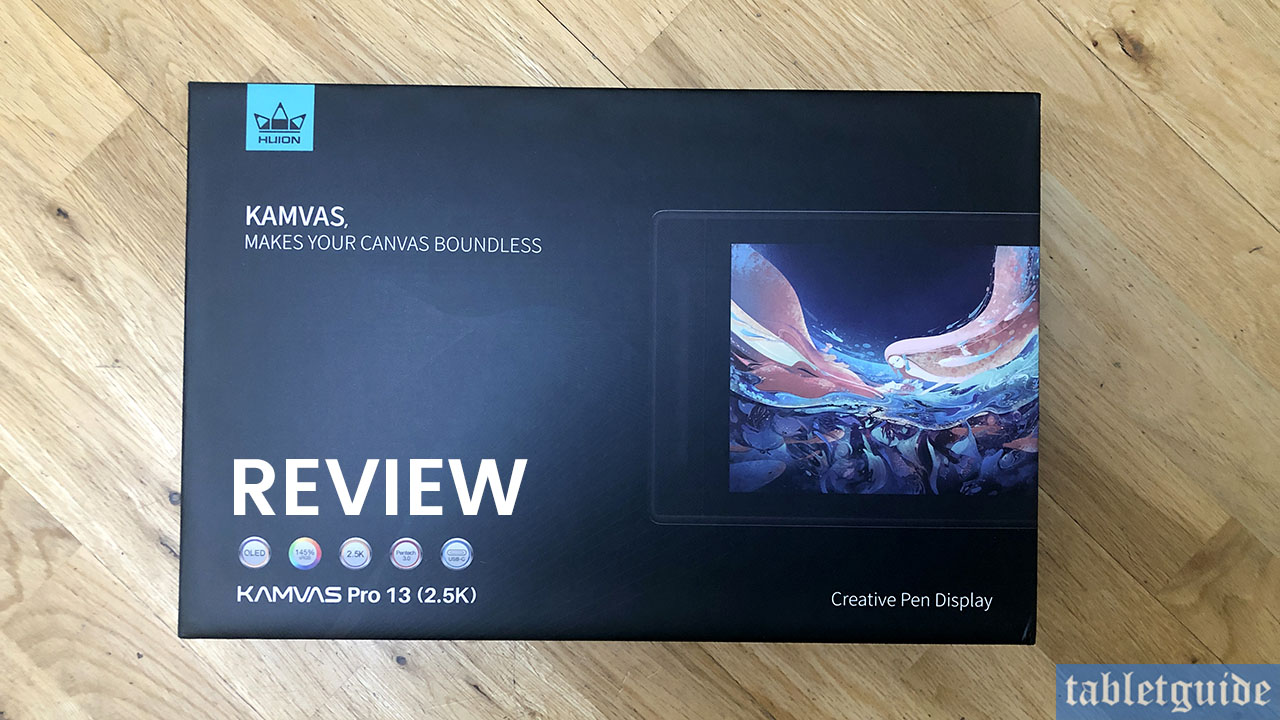 To satisfy the demands of designers and illustrators everywhere who have been calling for them, HUION have recently released two new QHD (2.5K) resolution pen displays, the Kamvas Pro 13 (2.5K) and the Kamvas Pro 16 (2.5K).
These sit in the 'middle' of 1080p and 4K resolution devices and in theory should work really well on these medium size tablets. This review will be putting that to the test as we take a look at the former, the Kamvas Pro 13 (2.5K).
What's in the box: Pen Display, Digital Pen PW517, 3-in-2 Cable, USB Extension Cable, USB-C to USB-C cable, USB Power cable, Foldable Stand ST200, Pen Holder PH05F, Standard Nib x 5, Felt Nib x 5, Nib Clip, Glove, Cleaning Cloth and Quick Start Guide.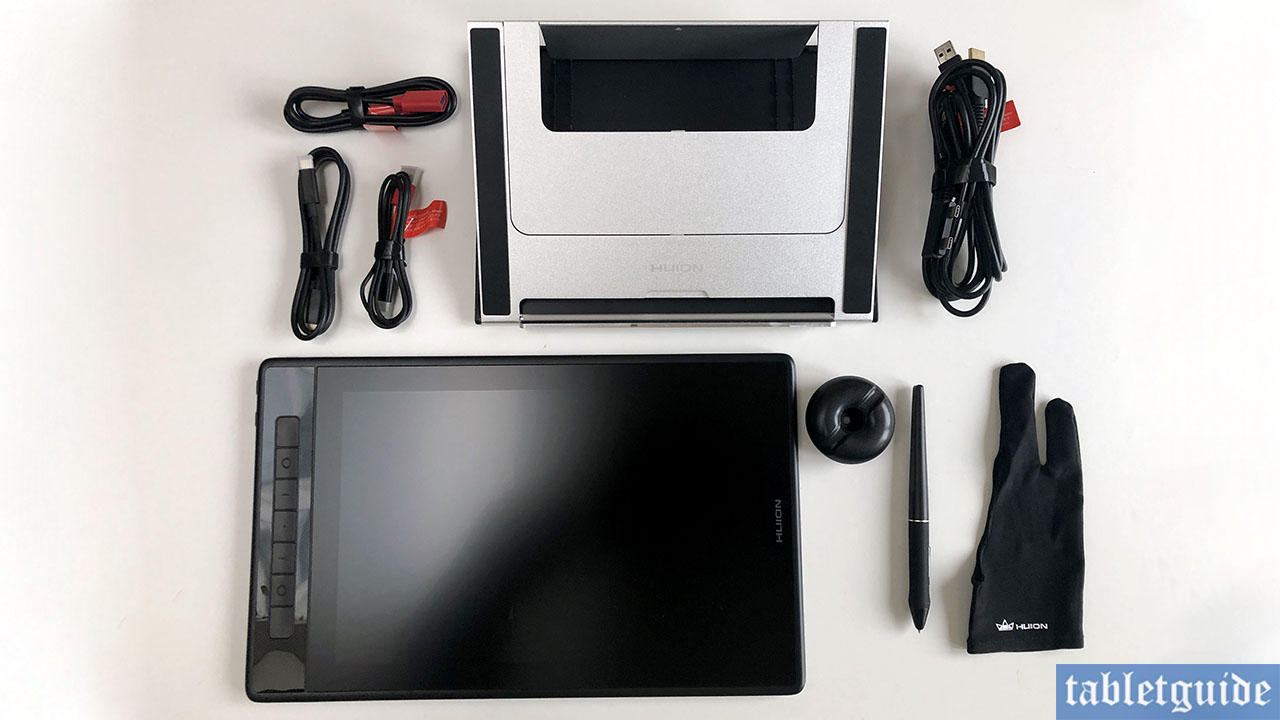 The Kamvas Pro 13 (2.5K) is housed in a nicely designed black box, showcasing 2/3rds of the tablet itself on the right side, while the left side proudly boasts the tablet's spec at the bottom, displayed in little round circles, with the HUION logo and strapline adorning the top left.
Flip it over and you're treated to a nice, almost neon coloured light blue(?) typeface and icons showing you what's in the box and instructions on how to set everything up – all in all, it really looks pretty cool.
On opening up the box and taking everything out, I was surprised at the tablet's weight – it's slightly heavier than it looks, but the build quality is great.
Next was the stand. Although at first it looks and feels somewhat 'flimsy', it actually does a great job of the keeping the tablet safe and still on your desktop. It is adjustable, but don't expect too many angles. It also has a nice little flip-down….er, flap(!), on which to place the bottom of the tablet on to ensure it doesn't slip off!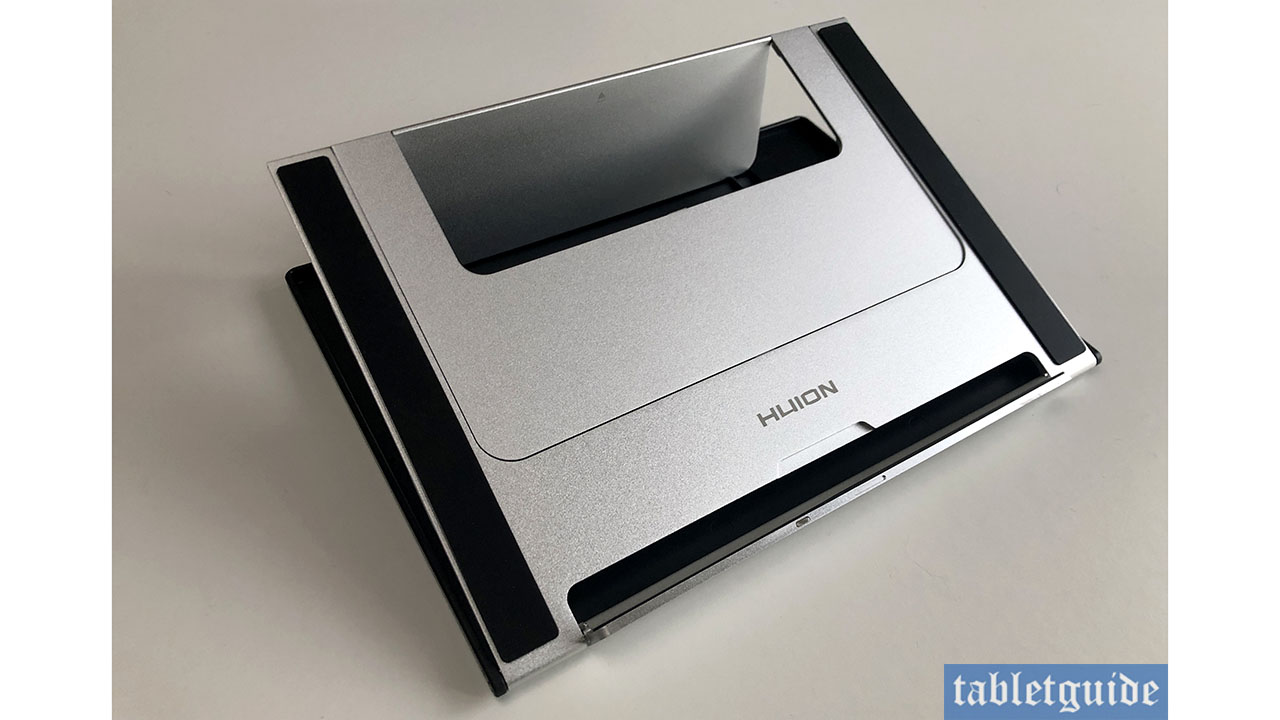 The remaining items in the box are contained within their own little black boxes, again adding to the overall premium feel of the product. Inside are pen, 10 spare nibs (5 of them felt) contained in the usual 'doughnut' type housing, all the cables you'll need, drawing glove, screen wipe, instructions etc.
A quick trip to HUIONs website to download the drivers for the tablet went without a hitch, so it was time to connect everything together. I've never seen this '3-in-2' type cable before, but it was simple enough to connect the two USB-C plugs into the pen display and then at the other end, the HDMI and (black) USB plug into my laptop.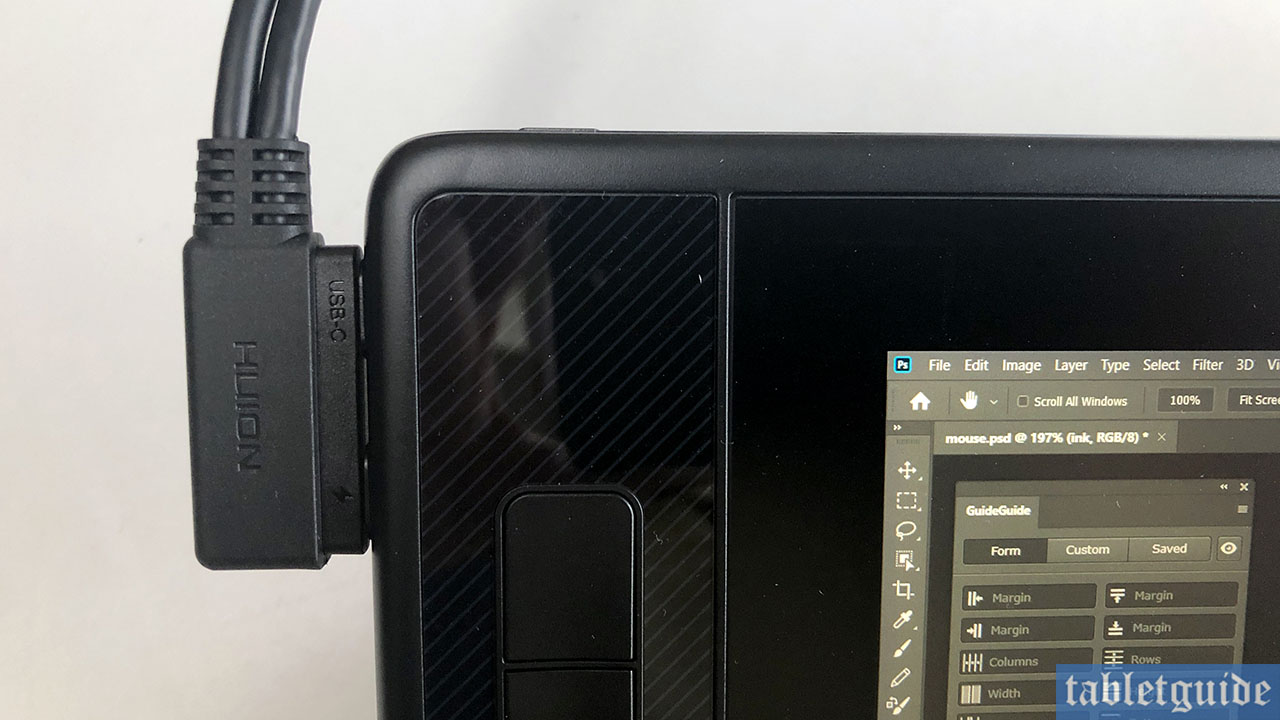 If your machine isn't powerful enough, you may need to also plug in the orange USB into a plug socket (a cable extension lead is provided if you aren't close enough – a nice touch!). Note that the 'double USB-C' cable can only be plugged in one-way to the tablet as one is for 'video' and the other powers the tablet – it sticks up a bit at the top, but it seems quite rugged and should last some time.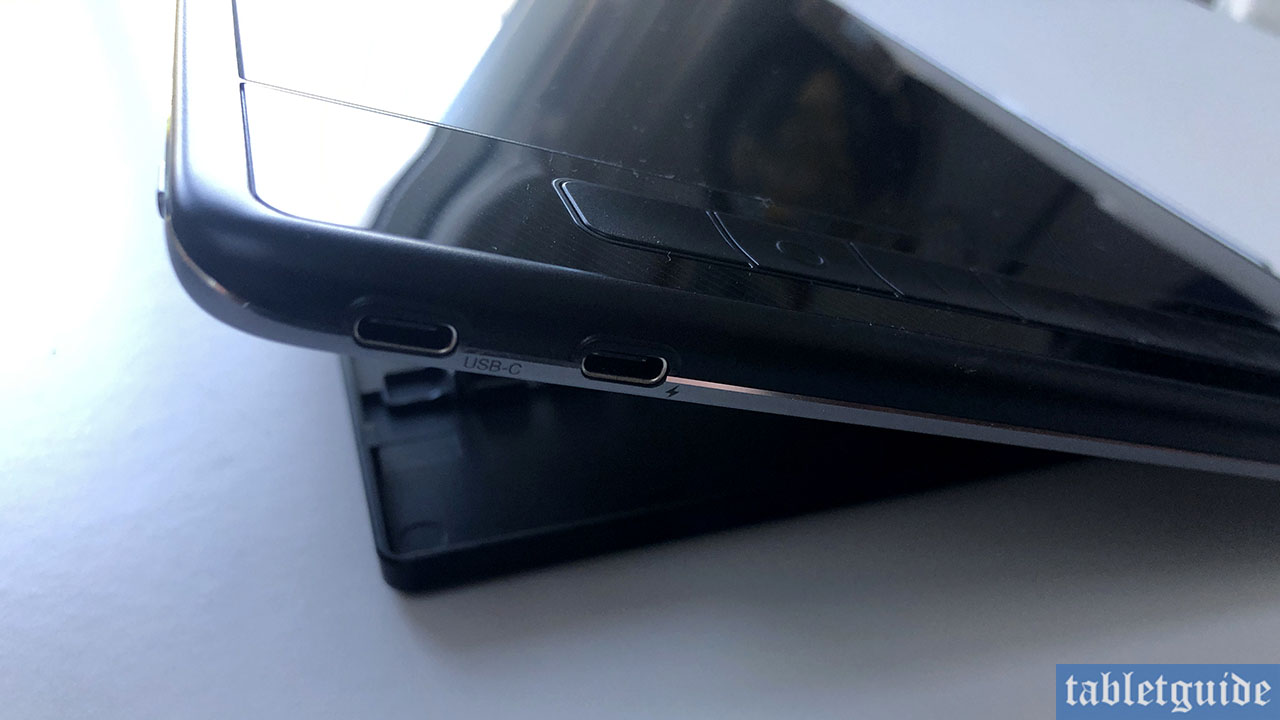 The supplied pen stylus is the now familiar battery-free PW517 which utilises what HUION call 'PenTech 3.0 technology' which 'optimises the precision of the cursor position and stability of the pen tip to perfect your details'.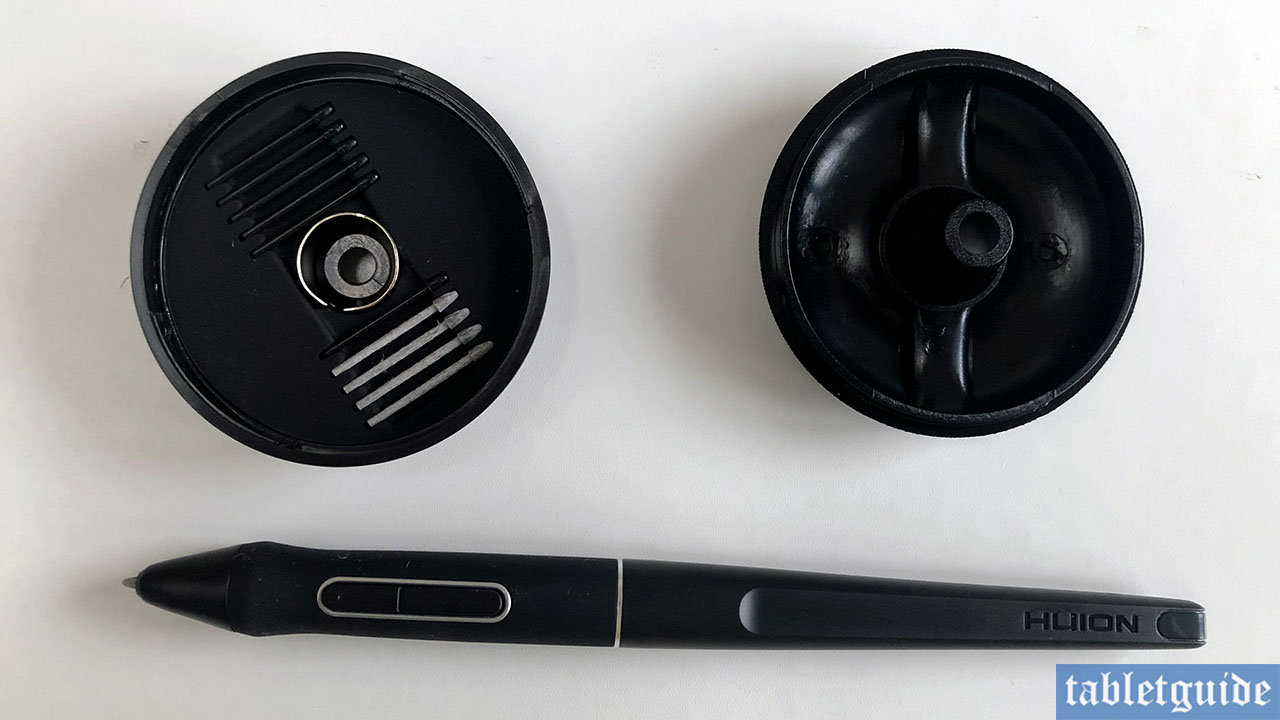 I think this means that when you are drawing, the nib doesn't wobble about or retract too much into the pen! Whilst using the pen for the accompanying video to this review, I actually used one the grey felt nibs – this had a really nice 'feel' to it whilst drawing and nicely slid over the glass of the tablet.
The tablet is fully laminated, which means there is no longer a 'gap' between the pen nib and the 'ink' or stroke, that you see under the glass – this is known as 'parallax'.
The pen itself is nice and light and feels good to hold. It has two programmable buttons, but I like to leave at the default settings of 'Eraser' and 'Right Click' – old habits I guess… 😊
Pressure sensitivity worked like a charm. Thicker lines are produced by pressing harder and vice-versa. Depending on how hard you like to press, this can be configured easily enough in the software.
It also has a set of pre-configured settings to help choose what suits you best – you can quickly try it out by scribbling in the box on the right. 8192 levels of pressure sensitivity are supported, as is 60° of 'tilt' – perfect for shading in type work.
The overall drawing experience with this pen display was very satisfying. I normally prefer working on a larger screen, but this is ideal for shoving into a bag and taking to the office for the 2 or 3 days we're expected to go in nowadays! 😊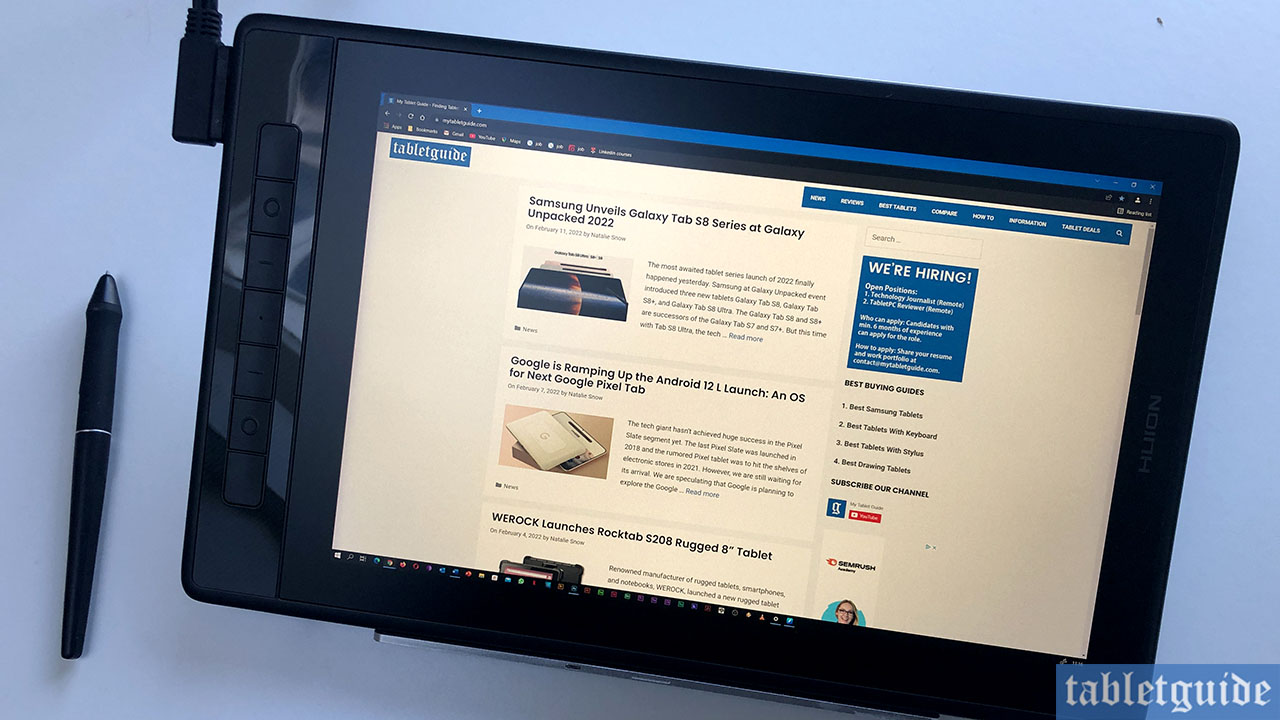 Down the left side of the tablet are 7 programmable express, or shortcut keys. These are a great asset for speeding up the design/illustration process as they use the most common keyboard shortcuts at the press (or click!) of a button.
By default, from top to bottom they are: ''Brush, 'Increase Brush size', 'Decrease brush size', 'Zoom in', 'Zoom out', 'Spacebar/Hand too' and 'Undo'. I personally still prefer to use an actual keyboard whilst drawing, but you do get familiar with the keys after a short while.
The tablet has a very solid build quality and should last a long time with careful handling. On the top left is the power button which also doubles up as a handy way to get the OSD menu – depress the power button for a few seconds and an onscreen set of menus appear which can be controlled and updated with the pen like Brightness, RBG values etc – if you mess things up, a handy 'Reset' button can undo any changes.
This isn't a 'touch-screen' as such, but the ability to make changes like this are a welcome addition, rather than fumbling around the top or side buttons etc. The reverse of the tablet is covered in an aluminium casing with four rubber feet in the corners.
What sets the Kamvas Pro 13 (2.5K) from other tablets of this size is the QHD resolution. Otherwise known as '2.5K', this works quite well with medium size tablets like this.
To be honest, I found that on a 13.3" tablet like this, the icons etc did seem a tad too small running something like Photoshop, so I did 'scale up' to 125% to make them bigger, Whilst this may seem counterproductive, it made things easier to see whilst drawing. Either I need glasses, or possibly I should have got the Kamvas Pro 16 (2.5K) instead haw haw!
I didn't colour calibrate the tablet, but everything looked great at their default 'out of the box' settings.
Going back to the driver software, this is nicely laid out and simple to navigate. You can customise the pen and tablet buttons, plus even change the colour of the dialog boxes! There's also a handy link to HUIONS website.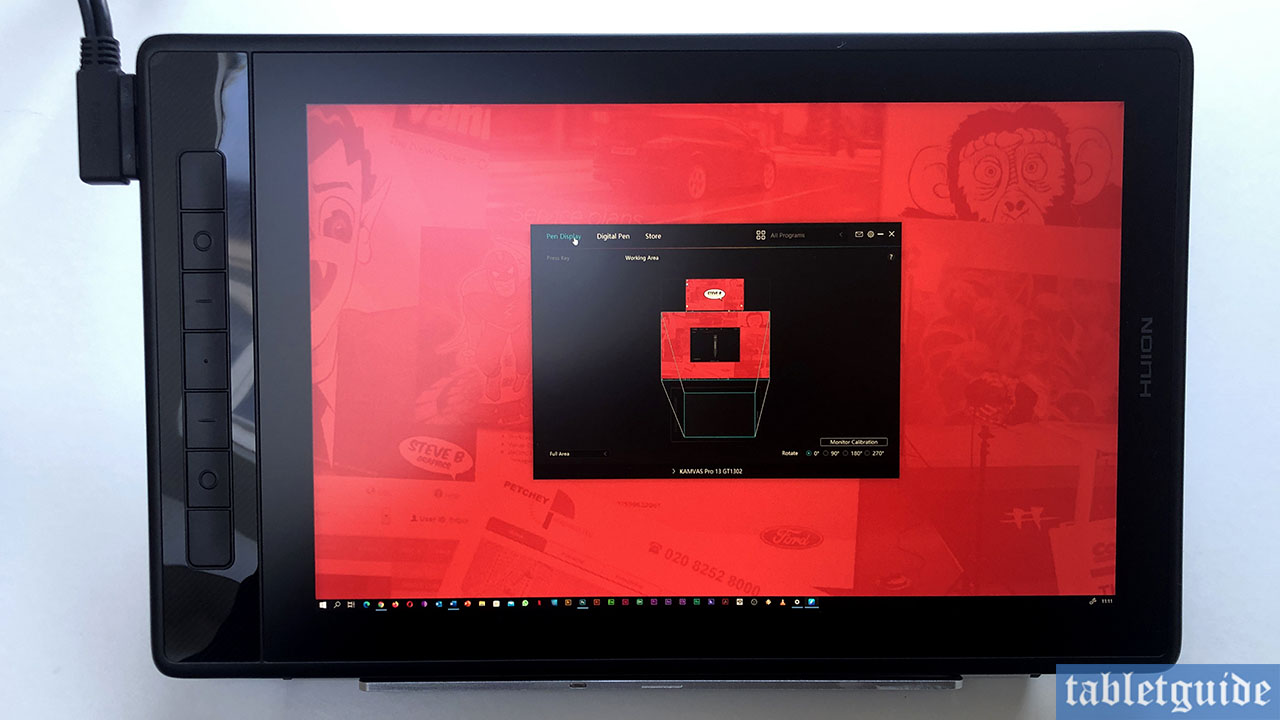 If you have more than one monitor (which I'm sure most designers do nowadays), you can map the device to whatever screen you need. Another option is you can reassign the keys to perform multimedia tasks like increasing and decreasing volume, next song etc – there's a lot of options to mess round with.
I've been fortunate enough to play around with and test many HUION tablets and once again they haven't failed to impress. The Kamvas Pro 13 (2.5K) is a high-quality pen display that any designer/illustrator should look into purchasing if they are looking for a portable and not-too expensive pen display.
The 2.5K resolution may suit the slightly larger 16" tablet a bit better, but this comes at a higher price and is just my personal opinion… or maybe I actually do need glasses! 😊
The Kamvas Pro 13 (2.5K) can also be used with a variety of Android phones and tablets. Although I didn't test this functionality, a trip to HUIONS website will provide you with a large list of compatible devices.
All of the major design and illustration packages work with this device like Adobe CC, CorelDraw, Clip Studio Paint, GIMP etc – you can even use it as a mouse replacement for any software app for that matter, but obviously it's for drawing that these devices really excel… and this one does really excel – keep up the good work HUION! 😊
Both the HUION Kamvas Pro (2.5K) 13" and 16" are compatible with Windows 7 or later
macOS 10.12 or later and Android (USB3.1 DP1.2 or later).