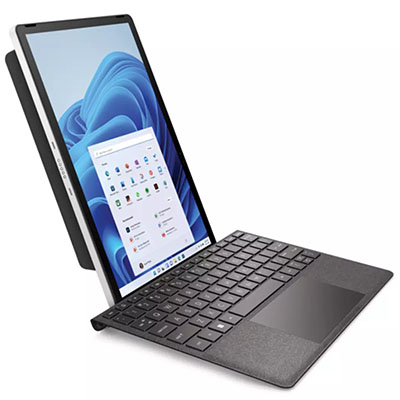 The tech giant HP has announced the arrival of a new 11-inch tablet PC along with Laptop PCs, Desktop PCs, and HDR Monitors.
It will be available for purchase in this December with the starting price of $599. The tablet is also said to be available at Best Buy in December.
HP has been constantly innovating features in its new devices with keeping in mind the change we all have witnessed.
Last 18 months has brought a shift in how we work, play, and relax, so there is a need of digital devices that lets you easily switch between work, play, entertainment, and creative tasks.
HP partnered with Google to launch its new Chromebook tablet recently which also was inspired by our hybrid lifestyle. However, this tablet and other PCs launching along with it will be powered by new Windows 11 and its features.
HP did a press release yesterday about this new products it's planning to launch. It also mentions the studies and surveys they did. According to it, 73% of respondents want a device that lets them represent creatively and has a powerful features to work out professional tasks.
Well, it makes sense because you wouldn't want a separate device for video calling your friends, attend work meetings, and binge watching your favorite show or write stories.
HP 11-inch tablet PC is world's first tablet with rotatable camera. A tablet fills the gap between the convenience of working on a computer and smartphone. So, when a tablet is designed for a hybrid lifestyle, it can eliminate the need for a PC as well.
With a default portrait mode, this new tablet has stunning features and specifications. Its stupefying 13 MP camera can flip itself from front to back in an instant. Its first impression is it's like a Microsoft Surface Go. But HP 11-inch tablet PC is uniquely different in its own way.
It is the first tablet by HP working on a Windows platform. Moreover, it allows you to use Windows 11 Snap Layouts in portrait and landscape mode for ease and convenience while presenting in a meeting. This becomes much better with the innovative built-in kickstand it comes with.
The new HP 11-inch tablet PC is compatible with an optional magnetically detachable keyboard that works in both modes – landscape and portrait. Other additional features include the support for HP Rechargeable Tilt Pen, Windows Ink, and HP Palette software. It has a USB type C connectivity port.
Let's see what HP Palette software can do. HP Palette offers four different applications and is also available on HP Specter and ENVY PC devices.
HP QuickDrop: This application allows you to send and receive images and photos from your tablet to any device even if working on a different operating system quickly. The feature is quite useful on the go.
PhotoMatch: It is an image search too developed by HP Labs that lets you easily search photos on the tablet. The app works on AI Face Recognition.
Concepts: It is a tool that makes sketching and editing a drawing or document quickly. You can further share it using QuickDrop too. The basic version of this tool is free and pre-installed. However, there's an advanced paid version available as well.
Duet for HP: This feature lets you use the tablet as a secondary device for ease in working. For instance, if you're preparing a presentation on your computer and you want to make some edits, the tablet can be attached with your laptop, All in One device, or another tablet easily and you can edit it quickly using HP pen and touchscreen.
All in all, all features and specifications of new HP 11-inch tablet is looking quite promising. We can't wait for it to hit the shelves of stores and review it for you.