Imagine being able to do everything you're doing on-field right now, but only with accelerated efficiency. Handheld's latest ALGIZ RT8 Ultra-rugged Android tablet will let you do exactly that if not more. The ultra-rugged device built with a hard screen and user-friendly design can withstand all kinds of terrains, extreme temperatures, humidity, water and dust exposures.
ALGIZ RT8 Features and Specs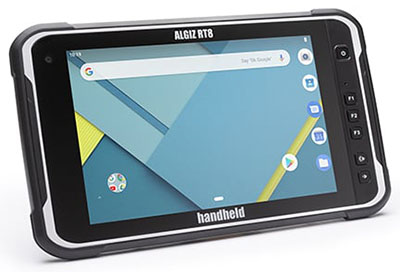 The ALGIZ RT8 ultra-rugged Android tablet comes with built-in tools and optional accessories that increase productivity and efficiency. Its IP67 rating and MIL-STD-810G testing, makes it extremely portable within the field, giving you the option to pole-mount it, holster it or even swing it over your shoulder in a sturdy case.
All of this while keeping your data secure. You can work long hours without interruption owing to its long battery life and field-swappable spares. The 8-inch tablet with a multi-touch display and hard Gorilla glass, has an 8-core Qualcomm Snapdragon processor that operates on Android 9.0.
The tablet's wide operating temperatures range between minus 20 degree Celsius to 60 degree Celsius (which is approximately minus 4 degree Fahrenheit to 140 degree Fahrenheit). It's got super speedy connectivity with 4G/LTE data, WiFi, BT (British Telecom) and NFC (Near Field Communication) to elevate your internet browsing experience. Furthermore, ALGIZ RT8 Ultra-rugged Android Tablet is also GMS certified which means users can access Google Maps and the Google Play Store on-the-go. It comes with a dual camera – 5 megapixels on the front and 13 megapixels on the back. If you wish to dock the rugged tablet in the office, it has an HDMI-out via a pogo pin connector to enable easy access.
Overall, the rugged tablet is ideal for professionals working in all kinds of terrains. Its range of accessories include vehicle mount solutions, rotating hand strap, carry cases, pole mount etc. for work efficiency in different field requirements.