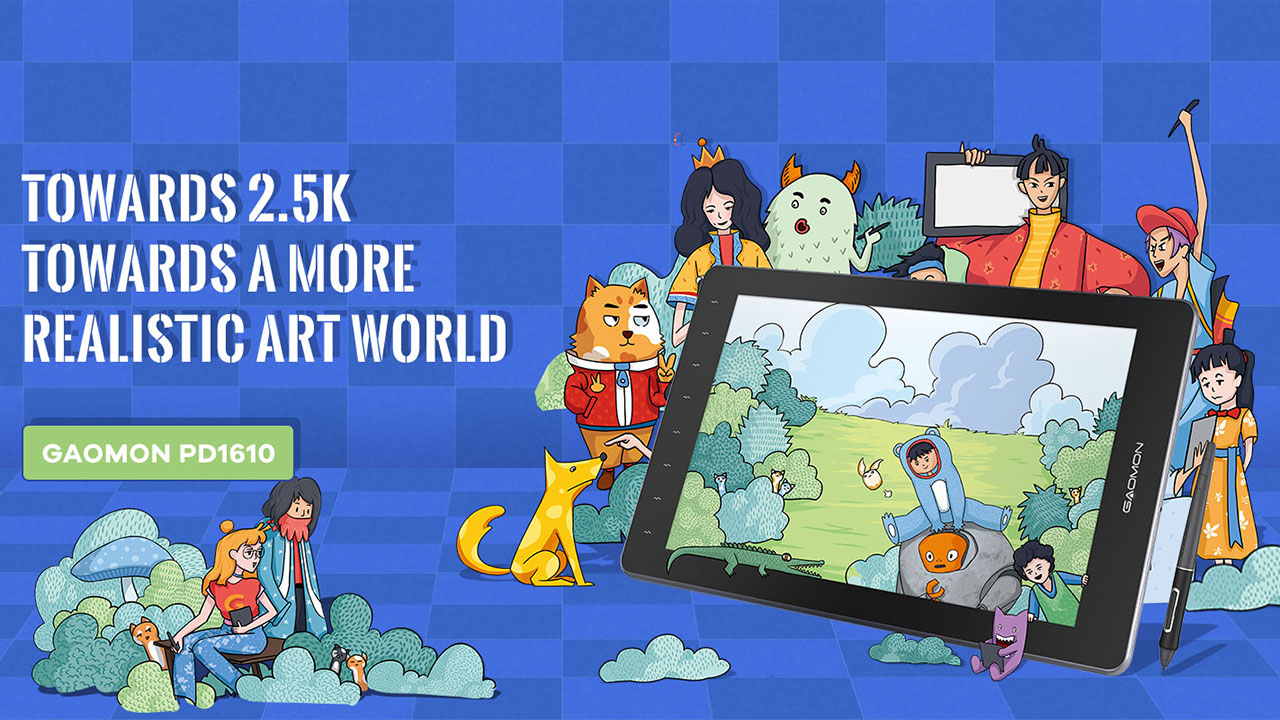 GAOMON launched a 16-inch pen display PD1610 in July 2022. The device is ideal for young and talented digital artists in encouraging them to unleash their creative juice more conveniently. Supported by a powerful 2.5K display monitor and a new-generation digital pen AP51, PD1610 delivers sharp pictures and an excellent pen-on-paper drawing experience.
The device is designed with the intent to equip digital artists with a digital art tool that can enable them to create digital artwork effortlessly and more efficiently. GAOMON is known to be a brand that understands young creative minds better.
Therefore, this 16-inch pen monitor launch is great news for digital art practitioners. The digital pen AP51 enables artists to convey their thoughts and feelings effectively, and add life to their artwork.
As per some observers, professional digital artists may find the device performance affecting their creative side and productivity. But, the device can bring out the artist in its customers!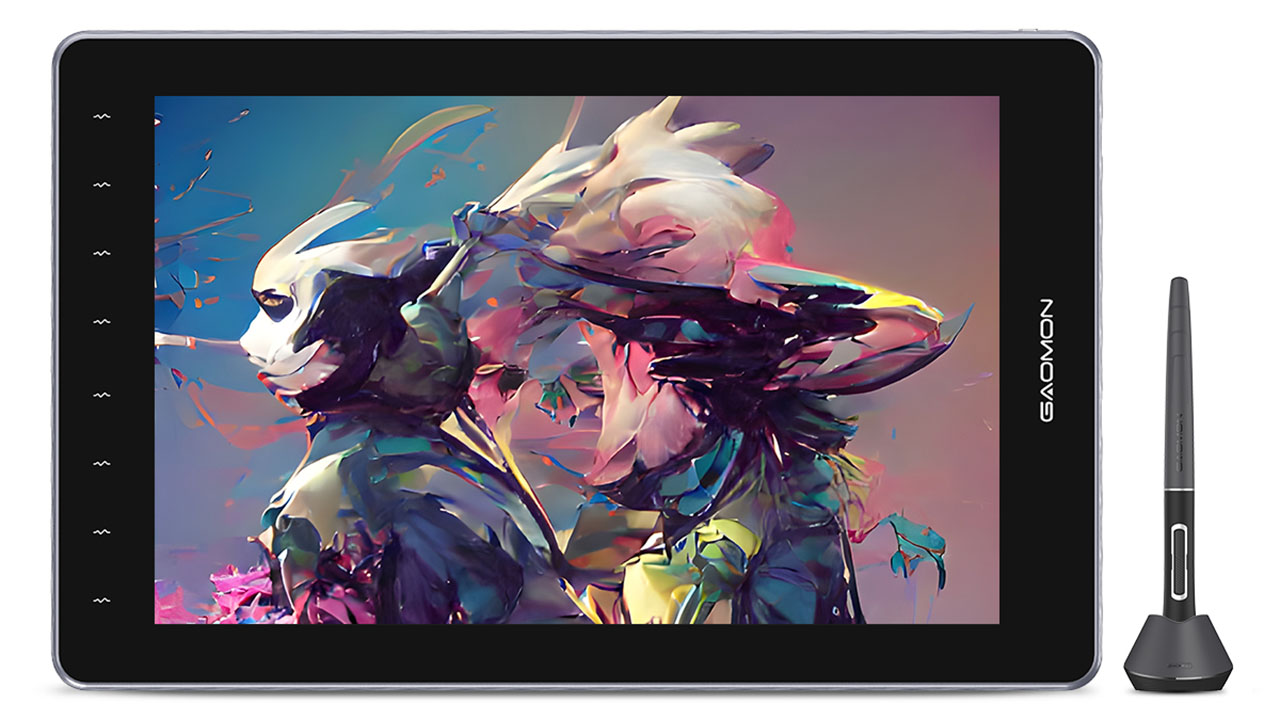 GAOMON PD1610 pen monitor is very impressive when the matter is about resolution, display color, range of colors, and more. The big screen features a larger canvas with a 16:10 aspect ratio and more vertical screen space with no obstruction.
This allows the art creators a wider viewing space, making artwork creation more comfortable without zooming out or frequently scrolling up and down.
The 16-inch display is an absolute beauty in terms of color reproduction. It sports a 2.5K resolution and a 120% sRGB wide color range and also assures natural color transition, delivering more enriched and accurate results.
GAOMON PD1610 2.5K Specifications
| | |
| --- | --- |
| Dimensions | 16.92 x 10.62 x 0.45 inch |
| Active Area | 13.58 x 8.48 inch |
| Resolution | 2560 x 1600 QHD+ |
| Color Gamut | 120% sRGB |
| Brightness | 220cd/m2 |
| Keys | 8 Customizable Touch Keys |
| Pen | AP51 Battery-free Electromagnetic Resonance |
| Pen Pressure | 8192 levels |
| Pen Resolution | 5080 LPI |
| Response Time | 26ms |
| Tilt | ±60° |
| Reading Height | 10mm |
| Video Interface | 2 x Type-C, mini HDMI |
| OS Compatibility | Windows 7 or later, macOS 10.12 or later and Android (USB3.0 DP1.2) |
It enables more vibrant and lively pictures with an amazing color gamut. At a time, 1.07 billion (8 bit + Hi – FRC) colors can be revealed, bringing out more vibrant and striking image effects.
The full lamination technology eliminates bubbles inside the screen; thus, your pen strokes on the screen will appear just the way you want them.
The device surface comes with full-laminated anti-glare glass protection for eyes to block surrounding and irritating light and reflections from outdoor or indoor sources to prevent eye strain while in use.
The screen also has a delicate matte texture to create a natural pen-on-paper experience while drawing. Additionally, the viewing angle of ultra-wide 178° creates an immersive visual experience. With GAOMON PD1610 as your companion, you hold the freedom to express the beauty of the art world and become an inspiration to many.
The device is a welcome addition to experiencing beautiful art creations.
Pressure sensitivity has an essential role to play in terms of influencing the pen display performance. Supported by pressure sensitivity of 8192 levels and a report rate of ≥220 points per second, GAOMON PD1610 along with its innovative digital pen AP51 creates an instant and striking display of lines and strokes left on the screen.
The new-generation digital pen AP51 that comes along with the PD1610 is backed by the latest pen technology of GAOMON, reducing the gap between the tip of the pen and the magnetic core to 3.5 mm. This has enabled more efficient pen strokes and a more consistent drawing experience.
The AP51 digital pen with ±60° tilt recognition and rotation sensing attributes come as a very convenient tool for artists as it can digitally render exact brush details as done traditionally with art tools. It makes the drawing experience even more fun-filled for those accustomed to pencil sketches, paintbrushes, or airbrushes.
Additionally, thanks to its battery-free technology, the device does not need charging or batteries. It makes the innovative digital pen AP51 a perfect pick for long work sessions. It makes the experience of creating artwork even more comfortable.
And it does not stop here!
The 16-inch device is a perfect choice for fun-loving people. With the help of dual Type-C ports and an HDMI port, GAOMON PD1610 can be connected to all devices like desktops, Android phones, tablets, or laptops. Furthermore, to make the atmosphere musical, the 3.5mm headphone jack comes as a rhythmic accompaniment.
In terms of compatibility, GAOMON PD1610 is very consistent while editing, designing, and drawing using all usual and established designs and drawing apps. It functions perfectly with devices that are on Mac, Android and Windows. This enables artists to work conveniently across systems, be it for personal entertainment or office work.
Additionally, GAOMON PD1610 sports 8 customizable touch keys on its left side. These keys are incorporated with the screen surface glass. These keys are handy in simplifying workflow and improving drawing efficiency. The device that weights 1500 gm looks very stylish and trendy in its aluminum alloy back case.
The 11.5 mm thick, 16-inch stylish pen display in metallic silver color with a 2560*1600 screen resolution from GAOMON is expected to create a sensation among young people for the unlimited possibilities of unique fun, entertainment, and digital creation it offers.