Hi there – nice to 'meet' you all! I'm Steve Brown, a Digital Designer/Illustrator from London, UK. This is my first review for My Tablet Guide, so without further ado let's get started with the Dragon Touch Max10 tablet.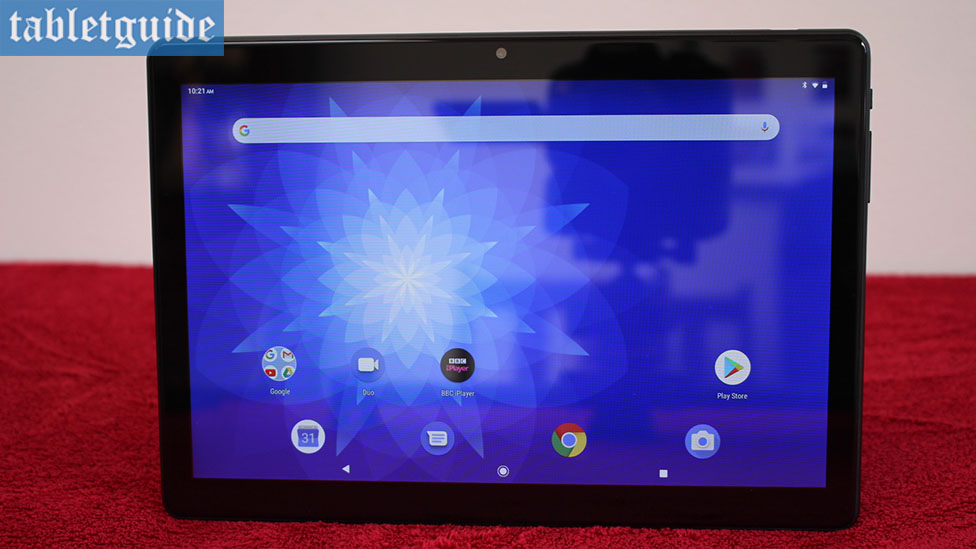 The Dragon Touch Max10 tablet is a 10.1" tablet running Android 9 Pie OS with 3GB RAM (there is a 2GB variant also), 32GB storage (which can be updated to 128GB via the microSD slot), a 1200×1920 IPS HD display, an Octa-core processor, a USB Type C port/lead and 2.4G+5G (dual) WiFi.
Buy Dragon Touch Max10 at Amazon
Starting from the outside in, the tablet is housed in a nice plain white box with the tablet taking pride of place in the centre, 'Dragon Touch' B&W logo top-left with the product number 'MAX10' top-right in silver print (this seems to be a quite common design for a lot of tablets and devices from various companies – but why not – it looks really nice and makes it quite desirable!)
Inside the box is the tablet (no surprises there!), mains plug/USB adaptor, USB lead, (2 year) Warranty card and the User Manual.
I'm sure it varies from person to person/product to product, but on powering up the tablet for the first time I had 96% battery life so was able to get 'stuck in' straight away.
The tablet has a nice premium feel to it, although it is a budget tablet. The back is metal (aluminium?) and although not particularly heavy, it feels good in the hand(s).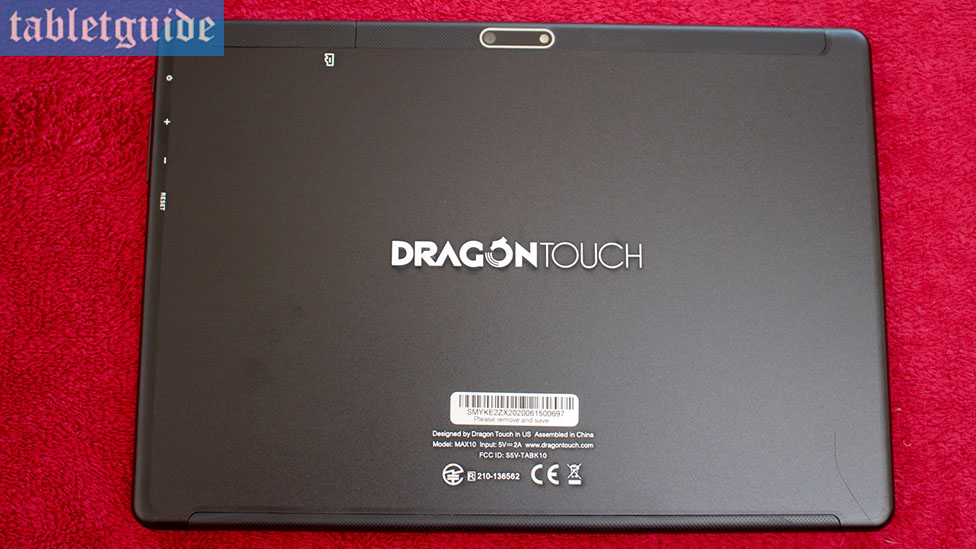 It runs on the Android OS and there was no bloatware or unexpected apps pre-installed, so if you're looking to add to what's provided (access G-Mail, YouTube, Google Maps and Google Play goodies etc), you'll need to log-in and head to the Google App store (the other way round works too!) to get your other favorites like Netflix, Instagram, Amazon, eBay apps etc. There's roughly 25G of space left once you take into consideration the OS etc.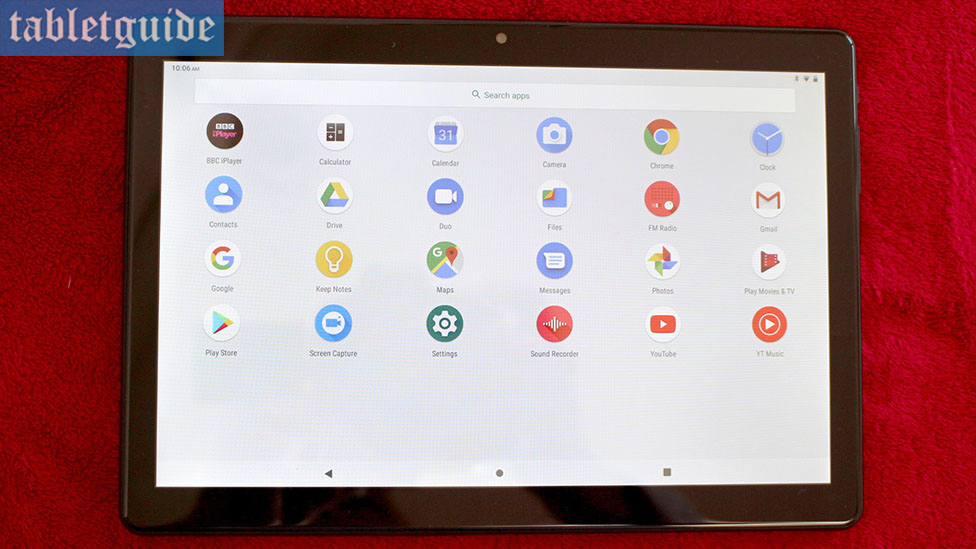 Holding it in the 'default' landscape way, you have the USB-C port on the top-right, 3.5mm headphone socket (yay!), power button, volume controls and Reset button/recess (in that order!) on the right side and underneath are the two stereo speakers. Flip the unit over and you get the camera lens/flash and also the expandable memory slot/panel.
To test I installed the BBC IPlayer app and watched a few YouTube videos and was impressed. Admittedly in my home studio I do have a fast Wi-Fi connection, but there was no lagging and/or stuttering and the picture quality and colors looked really good. The system is fast and responsive and I didn't have to wait whilst web pages loaded etc.
Touch/taps all registered perfectly and onscreen UI animation was nice and smooth. The IPS screen is clear and viewable from a variety of angles.
Battery life is supposedly 10 hour video playback capable, so if you have a few unwatched series of Game Of Thrones or suchlike, I'll leave it to your to prove this – I've had a quick fumble around with it over a couple of days and still have around 40% of battery life left – so far so good!
You probably won't be using this tablet for any serious type photography (but then who does?), but for things like scanning documents etc its 2MP will suffice.
This would be a good budget tablet for the bedroom or one for the kids if you have a more expensive one to look after! That's not to sleight this tablet in any way, as so far reviewing this unit I've been very impressed.
To further expand on the capabilities of this tablet, you can purchase a Bluetooth keyboard to make it feel more like a laptop. You can also check out some of the best 2-in-1 tablets with keyboard here.
As stated, this is primarily a 'budget' device akin to something like the Amazon Fire type device, but don't let that out you off – this is a very functional, fast device with a great display.
The only downside I felt this tablet had was in the audio department – the speakers are very tinny and under-powered at only 1W. Even at 'full-blast', it wasn't too loud but at the same time they weren't actually distorting the sound, but there was no depth and/or bass.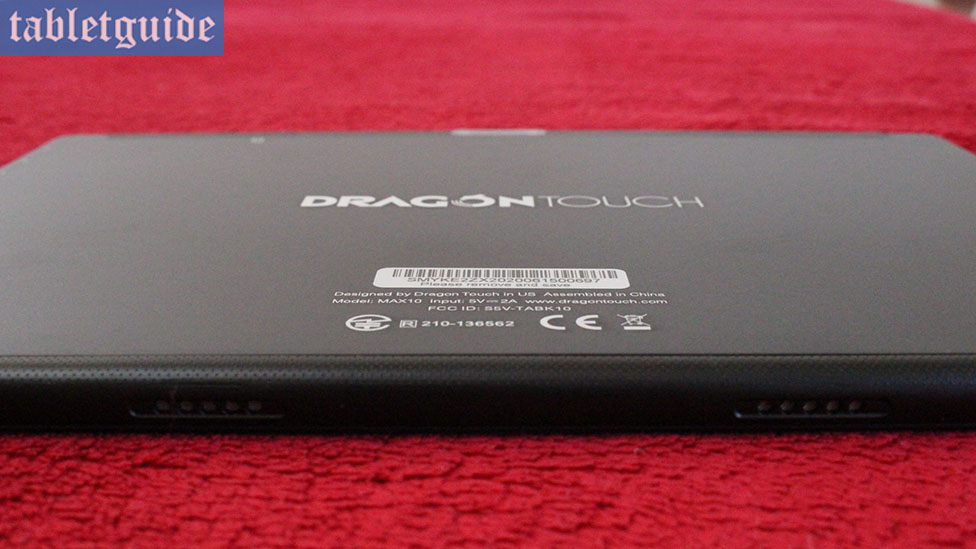 Even listening though headphones, the result was the same, but as I said, for binge-watching your box sets in the bedroom, this isn't really a problem as such – as least it won't wake your partner!
Overall, for the money, this is a great little device. This was my first time using anything from Dragon Touch, but I'll be taking a bit more notice of them in the future.