Tablets these days are setting a statement; it has become a need of an hour to have one. With top notch tech firms rolling out their best products, it gets a pretty tough competition in the market. For all those people who are tech freak themselves, these products have to be nothing but the best.
Parameters
Microsoft Surface Pro 6
Apple iPad Pro
Starting Price
$799
11 Inch: $799
12.9 Inch: $999
Resolution
12.3 inch (2736 x 1824)
11 inch: 2388 x 1668
12.9 inch: 2732 x 2048
CPU
8th Gen Core i5 or i7
A12X Bionic (8-Core)
RAM
Up to 16GB
-
Graphics
Intel UHD Graphics 620
-
SSD
Up to 1TB
Up to 1TB
Ports
USB 3.0 | Mini DisplayPort
3.5mm audio jack | Surface Connect
microSD card slot
USB Type-C
Nano SIM slot
Colour Variety
Matte Black, Platinum
Silver, Space Gray
Weight
1.7 pounds
11 inch: 1.03 pounds 
12.9 inch: 1.4 pounds
Buy
Amazon
Amazon
With some big firms ruling the market, there are new tablet launches every year. In the year 2018, we witnessed much awaited iPad Pro and Microsoft Surface Pro 6. There are many features that they have in common yet the distinguishable.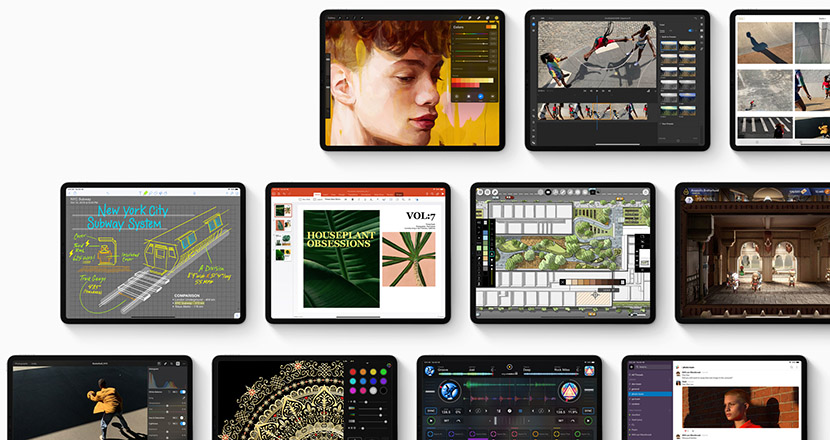 The two tech rivals are in the market working their best to attract customers. First, talking about the iPad Pro, Apple is significantly the most sought after brand for people. It ensures to roll out best features in market and the prices speak for it.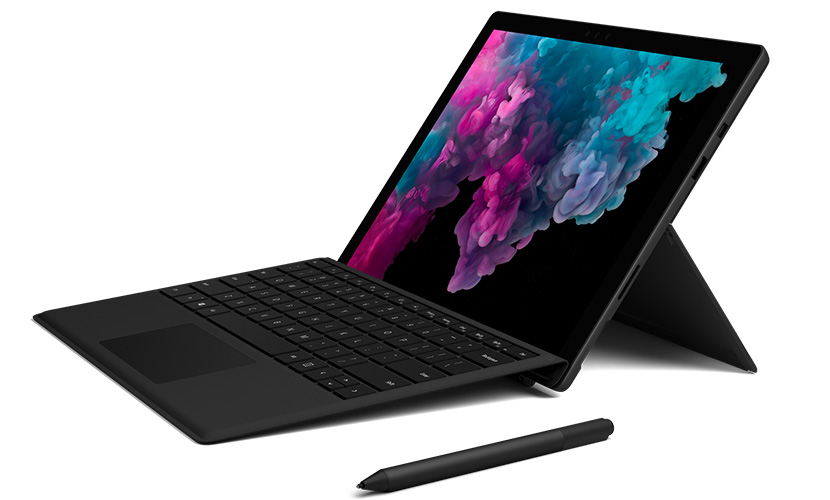 Hopping on to Microsoft Surface Pro 6, the tab is launched by most trusted brand Microsoft. We have been using windows since forever now, primarily in our desktop computers, then laptops and now tablets. Microsoft's Surface Pro 6 is imbibed with some great features that can give a tough competition to other tech rivals in the market.
iPad Pro
First things first, let's look at the imperative features of iPad Pro: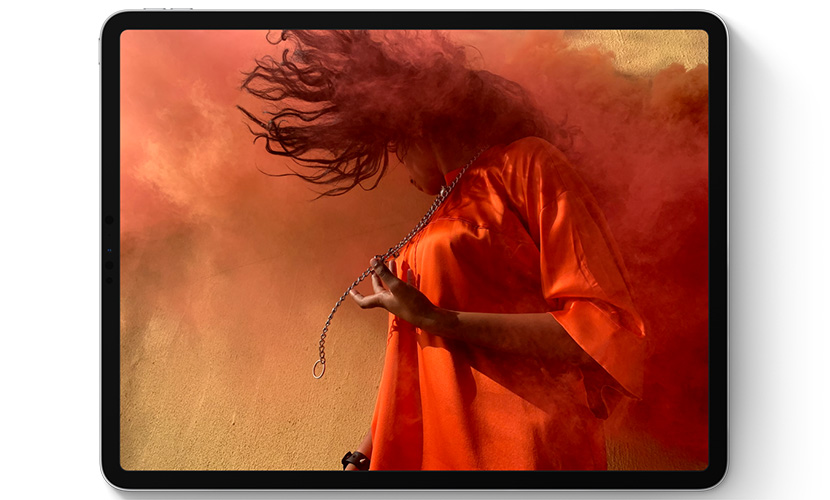 Apple's iPad Pro is said to be the most desirable product in the market. Its features and configurations are what core tab user would need. Although, the prices might not just land in its favor.
Variety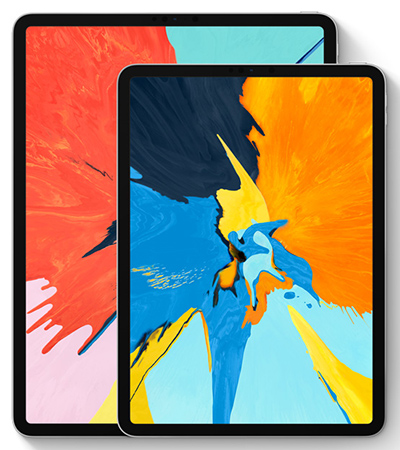 Variety is spice of life, isn't it? How much we love to have options to choose from, and more, the merrier. Hence, we get iPad Pro in 2 colors- Silver and Space Grey. Also, not just that, Apple has launched two variants of iPad Pro, one that is 11 inches and other that is 12.9 inches. Both the variants are offered in different prices with almost same configurations. The only difference is the size of the tab, which might be a considerable factor for some.
Hence, with iPad Pro being Apple's recent launch, the hi-tech brand have ensured to extend as many possible features it could along with variety of accessories which have to be bought separately, which can be a kind of drawback.
Storage Capacity
With storage being an essential factor of our purchase, we get enough in iPad Pro. Like literally enough. The maximum capacity offered by Apple in iPad Pro is 1TB, which is insanely much. And, as said earlier, iPad always excels in extend variety to its consumers. The tablet is available in 64GB, 256GB, 512GB and 1 TB. Hence, you can now get your favorite Apple product with storage as per your suitability.
The prices of the product might vary in accordance to the storage capacity you ask for. This can or cannot be considered as a drawback because every product in the market has certain criteria of set price. It is bound to increase with increased configurations.
Operating System
Okay! So there isn't any doubt about the fact that iOS is utmost user friendly operating system that offers immersive user experience. Although, mostly it is just about a notion that we get used to working on windows as we have been using it since our early days of learning computer. iOS are specifically designed to focus on a touch of the product, hence, making iPad Pro or any Apple product for that matter, nearly the best touch in the market.
Thus, if we talk about operating systems, iOS certainly have an edge over other products and there are certainly no apprehensions related to it.
Design
Apple sure has a unique design to offer when it manufactures a product. The recently launched iPad Pro does not have a home button, which might be a good or bad factor as per the user's choice. Since Apple is transforming its products in the aspect of design, there are both likes and criticism for the same. Yet, has it stooped Apple's sale? I bet not! You get iPad Pro in two colors, Silver and Space Grey.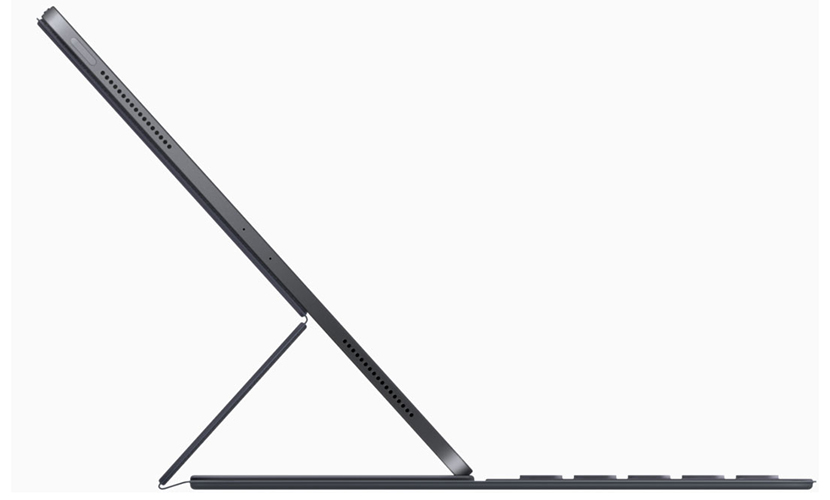 Since the design is one of the vital and considerable factors, tech firms ensure to have one of the best. While Apple is concerned, it has ensured that iPad Pro has a very simple and eye-pleasing design with a sleek look. We sure you'll love it.
Weight
Tablets are most innovative and useful product launched for users that need to travel with it. Light weight and sleek design, you indeed have your best choice when you buy iPad Pro. As mentioned above, iPad Pro is available in two sizes, 11 inches and 12.9 inches. With size of the tab, the weight varies too. 11 inches is weighed as 1.03 pounds and 12.9 inches as 1.40 pounds. Light weight and easy to carry, if this is not your travel essential then what is?
Your every outdoor meeting or long flight struggles have been sorted now. Just carry your tab along and you are good to go.
---
Microsoft Surface Pro 6
Post this, Now we'll have a look at some of the features of Microsoft Surface Pro 6:
Surface Pro 6 is Microsoft's flagship model that has been recently launched and has certainly hit the market with utmost zeal. The 2-in-1 tablet is detachable and exclusive for core business users. The tech device has indeed left an imprint and given a tough competition to all the tech rivals.
Battery Life
Ah! We function on batteries as much as our tabs and the mini heart attack that we get as soon as we see a warning sign for battery is inevitable. With Surface Pro 6, the struggles have somewhat ceased. Enduring battery life extends ease of working without charging hassle. 13.5 hour long battery life is what you get with Surface Pro 6, sounds pretty great, isn't it?
Now you can have ease of carrying your tablet anywhere and everywhere without having it to charge twice or thrice a day. One of the most vital feature to embed, indeed.
Display
The 12.3 inches tablet has 2736 x 1824 pixel resolution, hence, offering an amazing display. Also, you get 10 point multi-touch. Do we need to say more? With display that amazing, Microsoft Surface Pro surely leads and has successfully surpassed iPad Pro.

Now, though apple is not too far behind in race, but if a tech freak in you urges to have an excellent display quality, Microsoft Surface Pro 6 has to be your choice.
Design
According to some tech freaks themselves, Microsoft has an excellent built quality and blacks suit it right. Design might not be as simple and sleek as iPad Pro, yet the tablet sheds classy looks in style. It instantly adapts according to your needs and is adjustable when combined with a keyboard.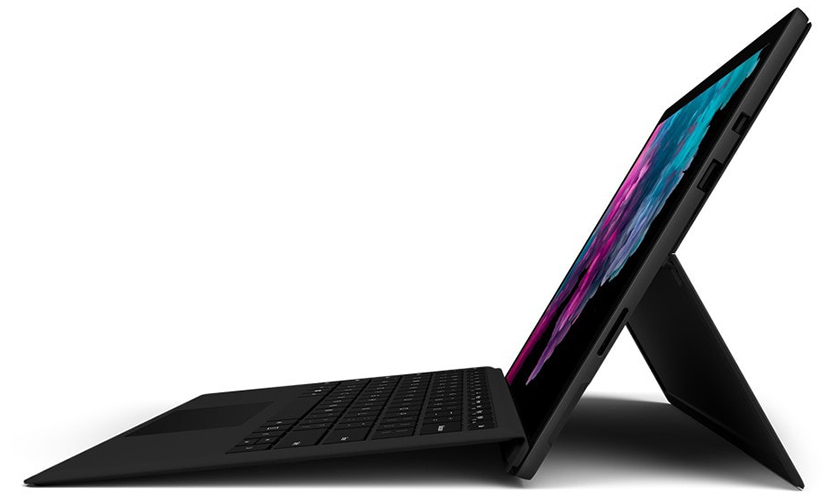 Microsoft has designed Surface Pro 6 in a style that it is bound to give you feel of three different spheres. You can turn it into a laptop mode by attaching a keyboard, studio mode by using built-in kickstand and type cover and the innovative tablet mode to use it just as it is. We bet, it couldn't get any better!
Multi-Tasker
With up to 16GB RAM, Microsoft Surface Pro 6 extends an amazing multitasking performance. Also, the 8th Gen Core processor plays a vital role in the same. Since, multitasking is our day to day lifestyle, we ought to work on many different things while we work on our tablet, and this indeed is a feature to consider the most.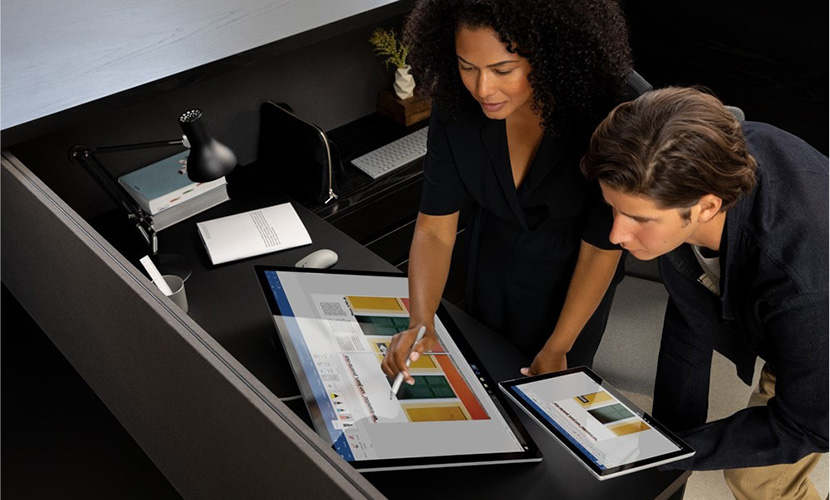 Microsoft Surface Pro 6 is innovated to replace laptops and with components imbibed, it is successfully winning at its purpose.
Conclusion
At last, concluding, the tabs are results of hi-tech brands that practically ace at being what they are. The tech rivals haven't left an ounce of chance behind to gain most of the market's attracting. And boy! They are killing it.
Now, the tablet you buy is entirely your preference, where Microsoft Surface Pro 6 is a bit less expensive and adjustable according to your need, iPad Pro has an excellent operating system but falls under the expensive range of tabs.
Now what do you wait for? Go get your preferred tablet and thank us later.