The new iPad Pro has definitely, undoubtedly caught the euphoria of the entire tech world and have baffled the consumers with its sheer design and capacities. Another masterpiece from Apple, the New iPad Pro has excelled in almost every feature that makes it the talk of the town. Its sheer ability of incredibly powerful processing and the enriching display with the premium body build it has that delivers a royal look and feel along with a substantial magnitude of performance.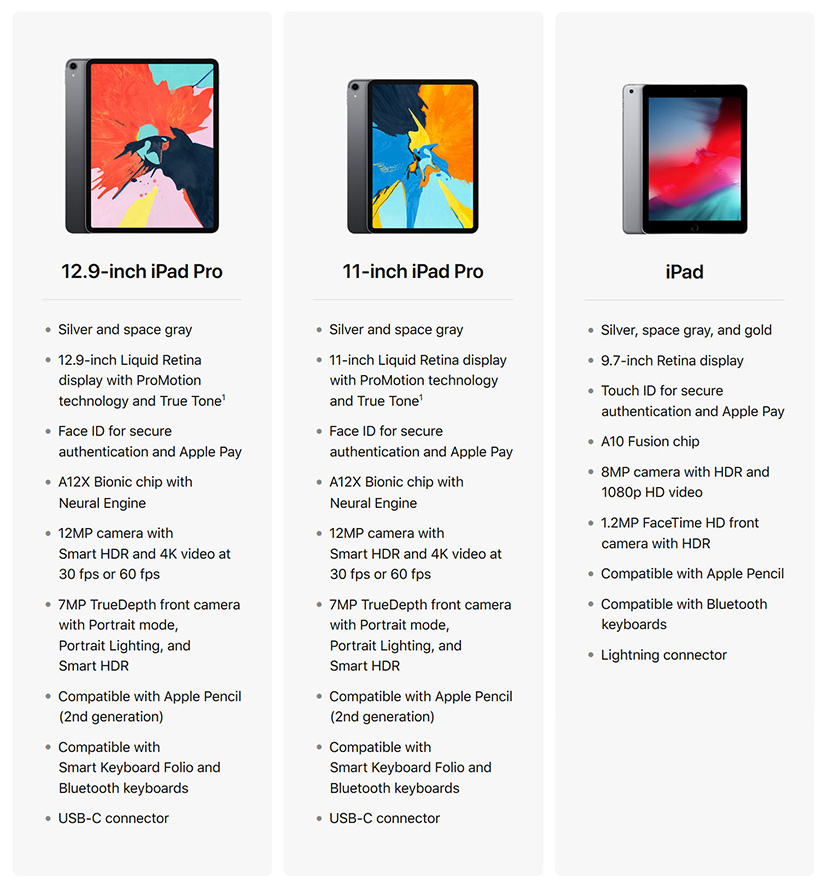 With all that, it does cost you a hefty price, but you can always expect that with an Apple product. It might have the capacity to outdo the Macbook, but we will have to check once and compare it with the iPad 9.7". The features and specifications of both are terrific, but you will have to introspect in detail so that you have the right decision in hand before you buy.
Processor and Storage
iPad 9.7" – It is geared with the A10 Fusion chip along with M10 coprocessor. They have super fast processing with 4-cores in which two cores function at high capacities while the other two gives comparatively lower processing saving battery consumption. They work in favor of high-speed processing. It is available both in 32GB and 128GB options depending upon your needs and the price you are looking out for.
---
iPad Pro – It is embedded with A12X Bionic Chip with 64-bit architecture along with M12 coprocessor. Compared to iPad 9.7", it gives obsessively fast and incredibly powerful processing. It comes in four storage capacity options. It has 64GB, 256GB, 512GB and 1TB options for storage making it a beast for storing files and better than iPad 9.7".
Design and Display
iPad 9.7" – This tablet from Apple is 7.5mm thin and super light for you to pack it in your bags and take it anywhere as you please. It has comparatively thicker bezels than iPad Pro giving it the back draw of design. As this tablet is available in both Wifi and Wifi cellular model, it weighs 469 g and 478 g respectively making this tablet portable and efficient to use anywhere and everywhere.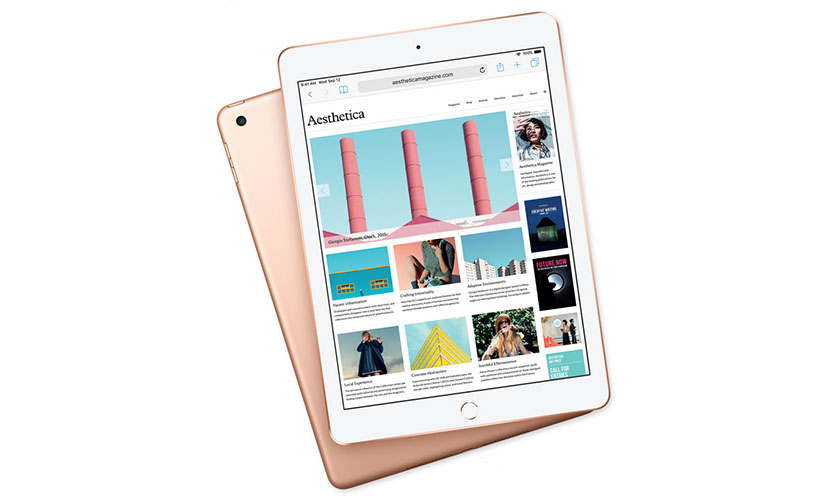 It has a 9.7-inch display 2048×1536 pixel resolution delivering you vibrant and real-life-like detailed images and visuals on the screen making it your perfect partner for either games or movie watching. It has an oleophobic coating because of which you won't see ridiculous fingerprint patches on the screen. With 264 PPI, the display is also multi-touch with IPS technology. It has all swipe and slide gestures that favor the efficient working of the tablet.
---
iPad Pro – The new iPad Pro has blown all minds with the elevated design and display that it has brought on to the table. It is thinner than iPad 9.7"; only 5.9mm thin! It looks very premium with its super thin bezels packing in an amazing performance at the same time. With rounded edges and super sleek body design, this tablet from Apple also has a Liquid Retina Display supported with ProMotion technology.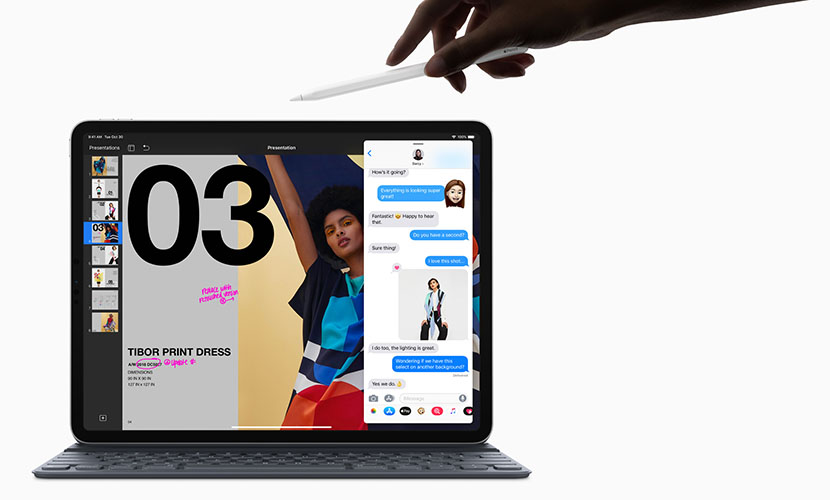 This display gives you 600 Nits of brightness, anti-reflection screen, True Tone which adjust white balances to retain the natural color accuracy of the image or video you watching along with P3 wide Color Gamut. Even this tablet is available in 11" and 12.9" sizes. In comparison to iPad 9.7", this latest tablet beats it in every possible way with innovation reaching its peak keeping display, design, and performance, all three that goes hand in hand. This is the best design work from Apple to date.
Apple Pencil
Both iPad 9.7" and the new iPad Pro carries an Apple Pencil that is intuitive and has an accuracy that matches your level of perception. It steers away from any lags and has the body that suits your working, that is writing, drawing or tapping, anything you please. It has double tap features on the body of the pencil making it smooth for you to function, as smooth as the matte finish it has. It is comfortable to use and to charge with auto-pairing that attaches the pencil magnetically to the body of the tablet. The pencil also has a seamless design that matches the design of the tablets.
Camera and Battery
iPad 9.7" – This tablet has an 8MP camera that delivers 1080p on facetime calls or video recording. It has excellent properties of HDR, panorama, and Auto-focus which makes the whole experience of capturing moments more efficient and versatile. It also has a front camera that gives impressive clarity on selfies. It also has a slow-mo feature with 120 fps. This tablet is also powered with a battery that offers 10 hours of battery life. It also depends on your activity.
---
iPad Pro – The latest innovative tablet from Apple packs in a 12MP camera with smart HDR, 4K video recording and AR feature. It also has a True Depth Camera for portrait selfies, brilliant quality during FaceTime.  The camera properties are excellent and surpass the specs of iPad 9.7". So it wins in this category. For long-lasting usage, it delivers 10 hours straight run and especially with high-grade processor and battery saving features, it gives you more in return.
Other features
iPad 9.7" – It has the option of Bluetooth keyboard and can be attached easily for any work. It has Touch ID, Three-axis gyro, Barometer, Ambient light sensor that makes this iPad a fantastic piece of device. It also has Face ID that recognizes and gives fast access.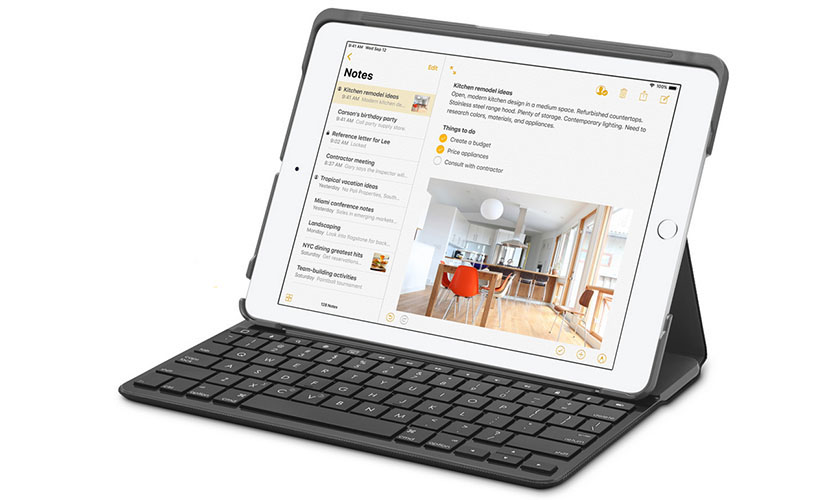 ---
iPad Pro – This is a marvelous piece of a device with the power to support thousands of apps including premium apps like Adobe Photoshop CC. Having the True Depth camera, FaceID is faster and more efficient and branches out to other categories like unlocking the device and securing personal data too.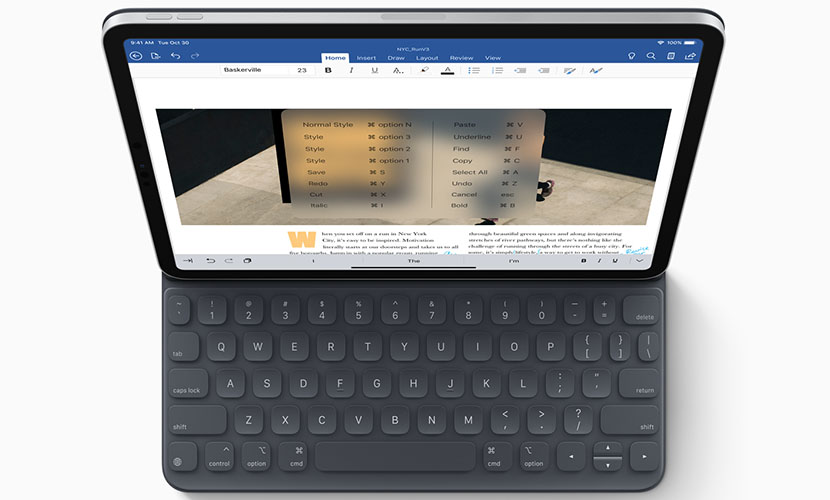 Final Thoughts
The New iPad Pro is a beautiful device with all the innovative features that come with it. This new tablet from Apple ranks higher than iPad 9.7" but also has a price that is higher than the iPad 9.7". My take from both would be the New iPad Pro.